How to sell on Instagram: A complete guide for selling directly on Instagram
This article was originally published on Jan. 8, 2020 and updated on Jan. 5, 2022.
With more than one billion users, Instagram falls only behind Facebook and YouTube as the most popular social media platform in the world. Yet it's also the only one that doesn't allow you to include links anywhere in your posts—you only get one single link, in your bio.
For eCommerce brands, this can be a challenge. No direct links can translate to fewer people going to your site from Instagram, which certainly can affect sales. In 2018, Instagram created a solution: Instagram Shopping.
Instagram Shopping doesn't just combat the "no links" problem, it may even enhance the shopping experience for users on the platform and make it a more effective place for sales. Rather than dealing with cumbersome and unattractive links, Instagram Shopping posts and stories feature clickable images that allow customers to take a closer look at featured products and shop for them—without ever leaving the platform. It also enables brands to partner with influencers to drive sales.
Going into the 2020s, social commerce will continue to play an ever-increasing role for online shopping with more than 75 percent of brands using Instagram, a dramatic increase from just 53 percent in 2016. Plus emerging technology like augmented reality will make social shopping an even greater phenomenon in the upcoming decade.
That means now is the time to set up your brand on Instagram Shopping to make sure you're taking advantage of all the features it offers eCommerce stores.
Setting up your shop on Instagram
The process of setting up an Instagram Shop is fairly easy (and free), with only a few standard requirements. If you have an Instagram account, go to Settings -> Shopping. (Or, if you don't have an Instagram account, create one.) Then you'll need to:
Create a Business account. If you already have a non-Business Instagram account, you can easily convert by going to Settings.
Connect your Facebook page. Your Business account must be connected to a Facebook page.
Have physical products and goods. Right now, Instagram makes its Shopping features available only to brands with physical goods.
Connect your Facebook catalog. You must connect your account to a Facebook catalog, which you can manage through Facebook or eCommerce platforms like Shopify and WooCommerce.
Editor's note: Sell your products from one place on the web's popular marketplaces such as Instagram, Amazon, Google, eBay, Etsy, and Walmart with our integrated multi channel listing software.
What features does Instagram Shopping offer?
Over the past few years, Instagram has expanded its Shopping features, making it easier than ever for brands to not only advertise their products but to further engage with their customer base.
As of the beginning of 2020, here are some of the most important features brands can take advantage of. In this article, we'll go into detail on all of them.
Shoppable posts
Shoppable stories
Influencer tagging
In-app checkout
Instagram Shop
Explore Shop
Augmented reality
Shoppable posts
When shoppable posts were introduced to Instagram in 2018, it was the first time a brand could feature products on their profile along with a direct link for users to purchase the items on the brand's eCommerce site.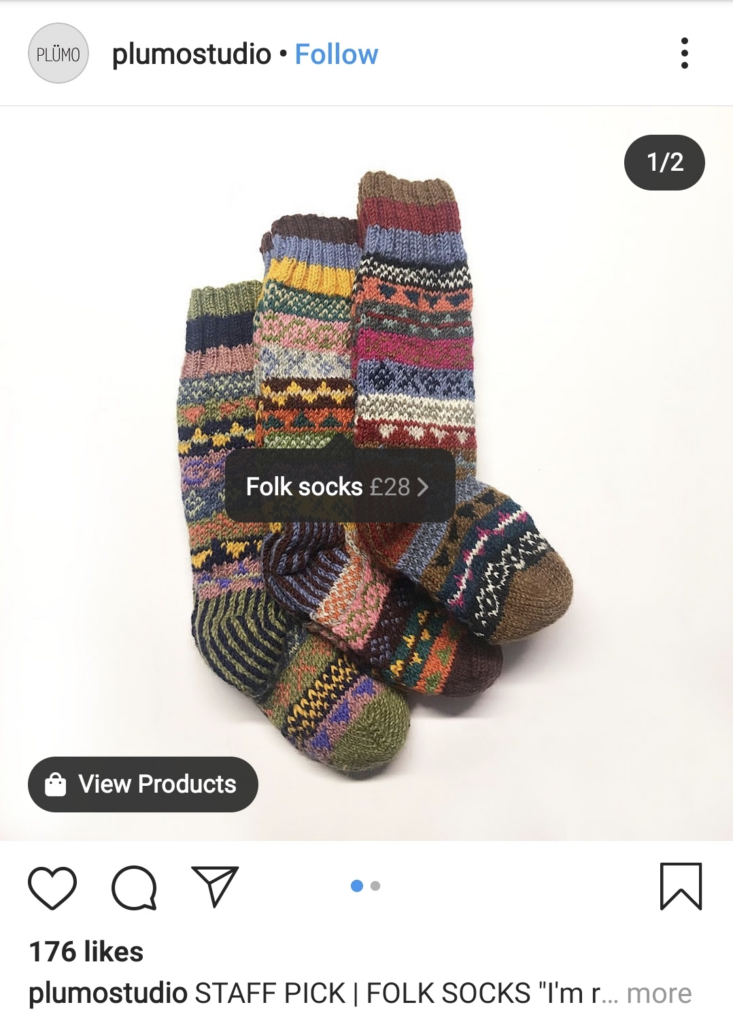 You can highlight an individual product or tag multiple products per post, either in the form of a single image or carousel.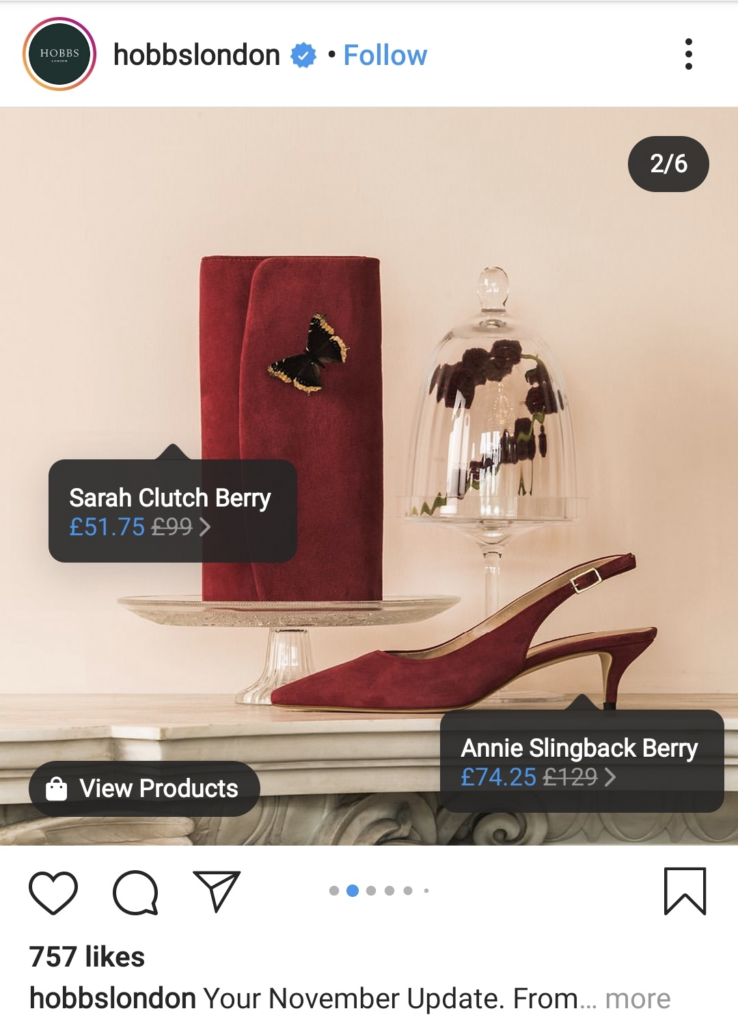 Shoppable posts only work on the Instagram app on mobile, not on the limited version of Instagram you can browse on a computer. And with mobile shopping on the rise, shoppable posts give Instagram users an easy way to follow a brand, discover new products, then purchase them directly from their phones—all of which makes Instagram an effective sales channel for eCommerce brands.
Shoppable stories
Just like shoppable posts, shoppable stories allow brands to direct users to links featured in their Instagram Stories. But unlike posts, stories have a more interactive element that brands can use creatively by mixing in things like videos, swiping, and polls.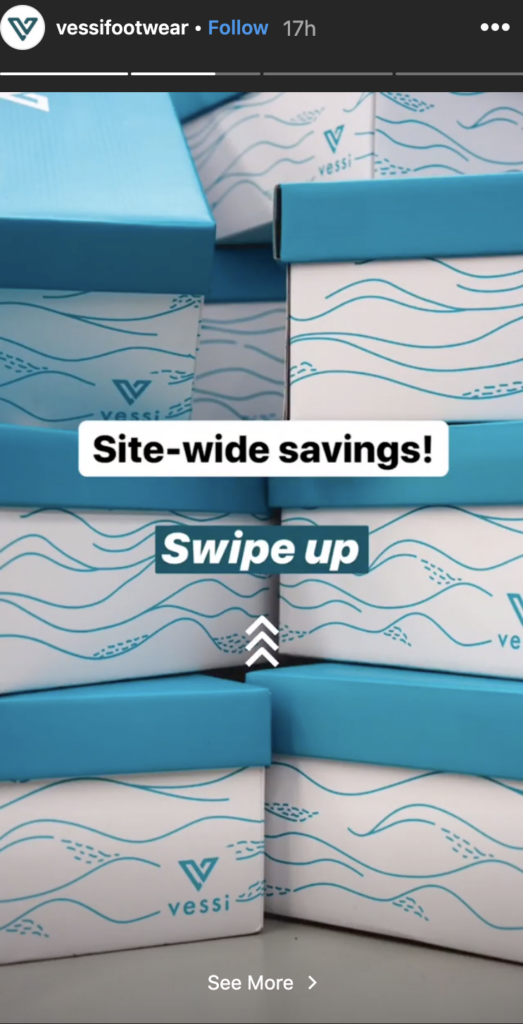 Instagram reports that one-third of the most viewed stories are from brands and that 60 percent of total users discover new brands or products on the platform. Brand stories also have a whopping 85 percent completion rate—indicating the number of people who actually view the whole story—signaling a wide potential reach and high engagement.
Influencer tagging
In 2019, Instagram introduced a new feature for influencers that takes the power of social shopping to a new level. Instead of limiting product tagging to brand posts only, the platform now allows influencers to tag products on their own posts as well.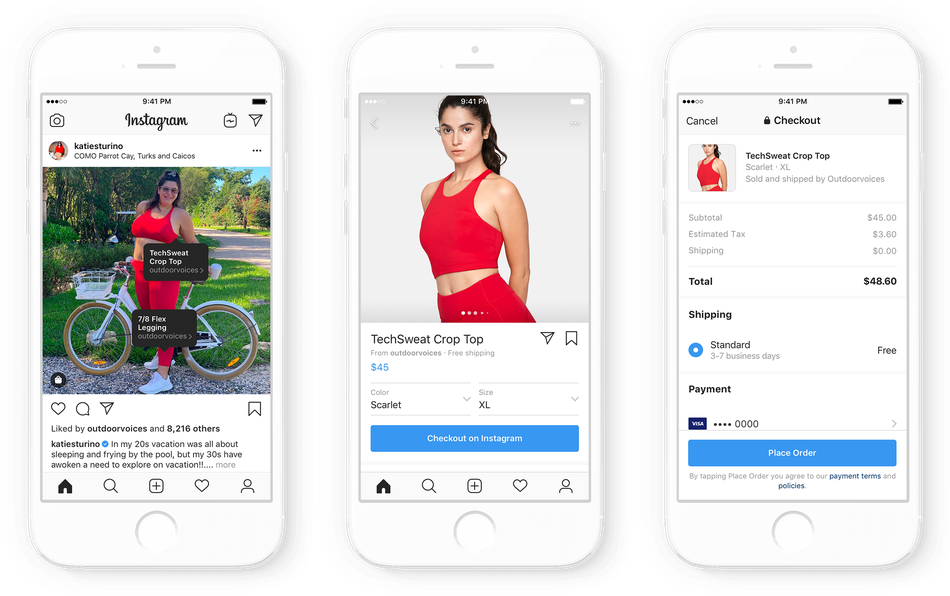 Studies on the human psyche show that when you see a product on another person, it serves as "social proof" for the product—a term first coined by Robert Cialdini in his 1984 book Influence: The Psychology of Persuasion. This is why products promoted by celebrities (or even micro-influencers) work so well. By working with active Instagram influencers, brands can advertise their products more effectively directly on the platform.
In-app checkout
Another feature introduced in 2019 is Instagram Checkout. It's as straightforward as it sounds but revolutionary for the platform in that now users don't even have to leave Instagram to buy an item.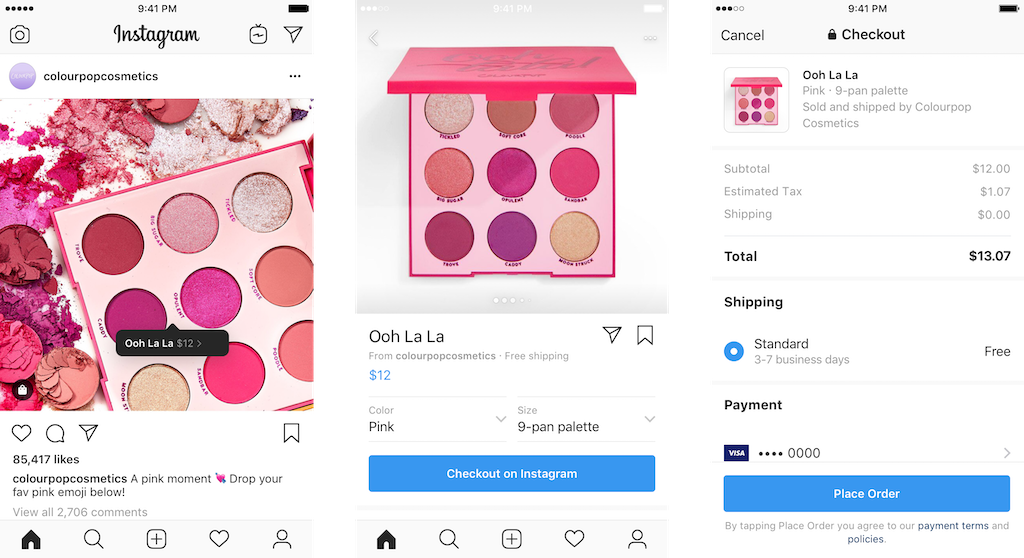 The Checkout function doesn't just allow users to make a purchase directly in Instagram, it also includes features like tracking and shipping notifications on the platform. And users can save their payment information for future purchases—which is good news for you as a brand, as it eliminates a layer of friction in the buying process.
Though the Instagram Checkout feature is currently restricted to a select few brands in the U.S., it's very likely the platform will start rolling it out to more and more brands soon.
Instagram Shop
An essential for brands on Instagram, the Shop tab lets brands set up their shop directly on their account. Interested customers can scroll through your catalog to see all items on sale, then click through to your website to make a purchase.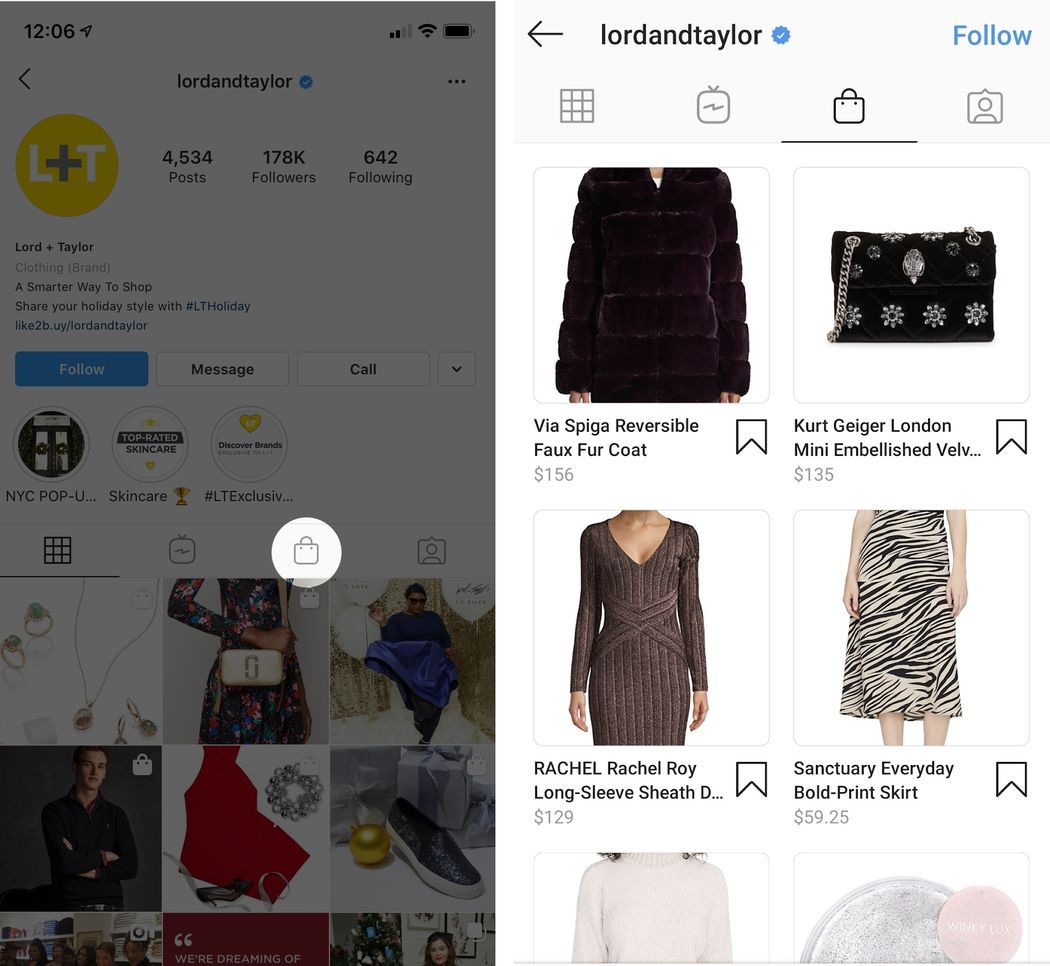 The Shop tab is not just accessible through your profile but may also show up on users' shopping feeds whenever they're looking at similar items (more on that below).
Explore Shop
Any Instagram user can click on the Explore tab on the app and go to the Shop tab at the top of the screen to see curated products from brands that suit their interests, based on their previous activity on the platform including brands followed and posts viewed.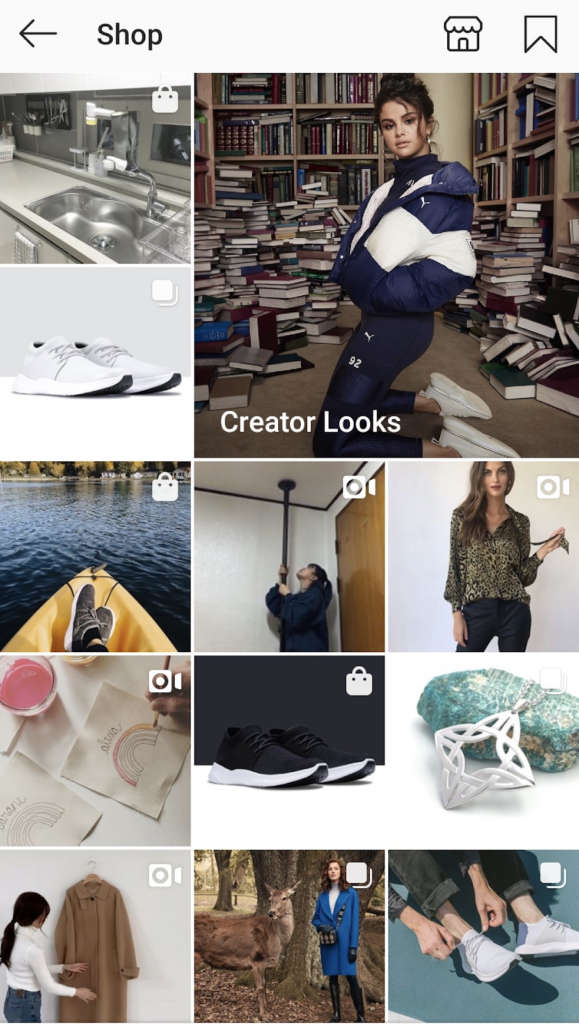 For brands who have enabled the Shop tab on their profiles, this "explore shop" feature gives them further opportunity to reach more users—including users who might not have known about their brand before but liked similar brands—who are actively interested in shopping for items.
Augmented reality
Augmented reality (AR) is the latest shopping feature to arrive on Instagram, and enables brands to use the technology to add a highly interactive element to their product advertisements.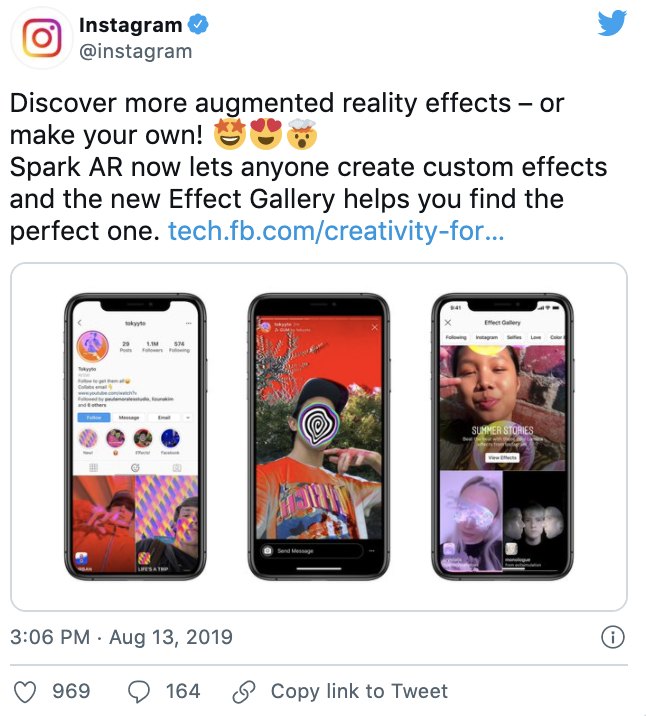 Through the AR filter, brands can create various effects, essentially allowing users to try on items before buying them as they would in the store. Like the Checkout feature, the AR filter isn't available to everyone just yet but it's definitely something to keep an eye out for in the future.
How to attract shoppers to your brand on Instagram
Now that you know what features are available to you as a brand, here are some strategies to increase engagement and interact with your customers.
Use hashtags for community and discoverability
Ever wondered why people use so many hashtags on their posts? There are mainly two reasons why you'd use them on Instagram—community and discoverability.
When a user clicks a hashtag in Instagram to search for more posts with that hashtag, your posts can show up, which widens your reach. But for this exact reason, it's important to use the right hashtags rather than random ones that won't reach your ideal audience.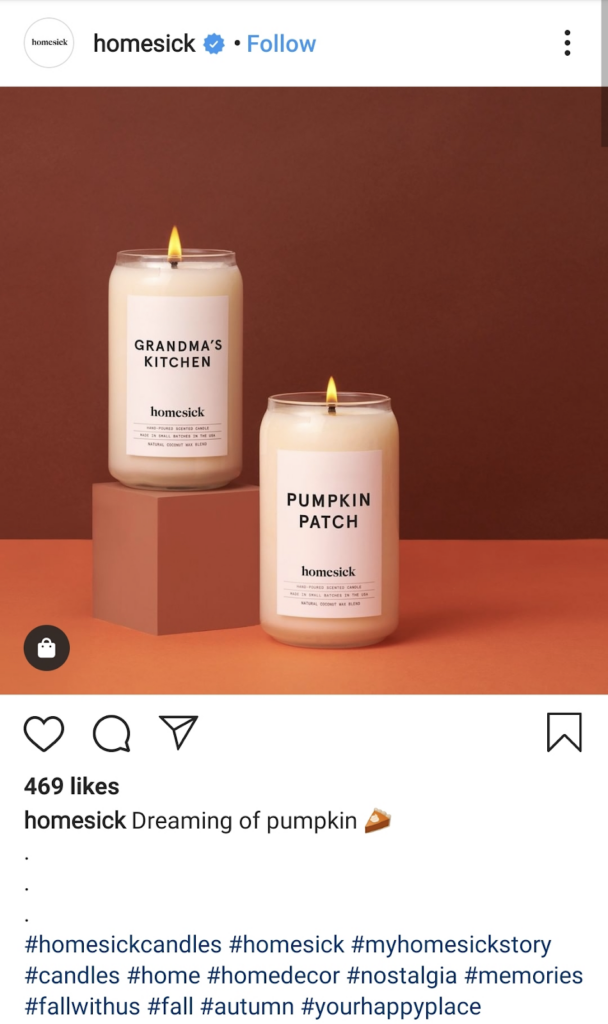 In this example, Homesick uses multiple hashtags on their post but not an overwhelming, spammy number. They also feature hashtags in several categories:
Brand hashtags: #homesick, #homesickcandles, #myhomesickstory
Relevant category hashtags: #homedecor, #candles
Communal and sentimental hashtags: #yourhappyplace, #fallwithus
A study found that about 11 hashtags per post is a good balance to improve your discovery without looking like spam; the current maximum you can use is 30.
Generate excitement with promotions and giveaways
An excellent way to promote a new launch of a product or upcoming sale is to generate buzz in advance through promotions and giveaways. Doing this on Instagram can drive up engagement by adding more followers through direct referrals from friends.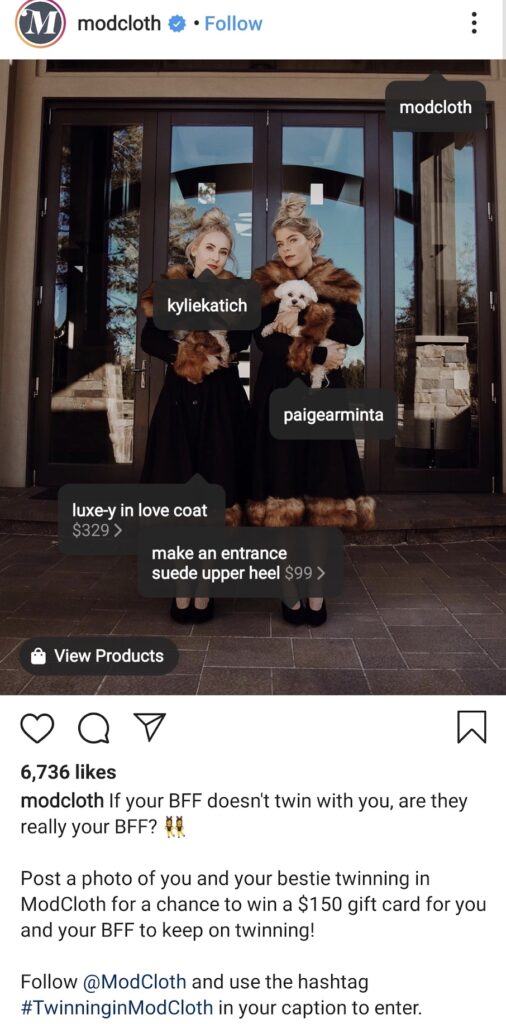 This creative giveaway by ModCloth encourages customers to post photos with their friends dressed in their products for a chance to win a gift card. If an existing customer has a friend that isn't also a customer, this is a great way to gain word-of-mouth referral.
Of course, there are even easier ways to generate buzz, like simply asking users to tag their friends in the comments. Users who've been previously unaware of the brand can now follow it through their friend's referral.
You can also ask users to sign up for your email newsletter through a contest (or just a regular Instagram post where you lay out the benefits of subscribing via email as well). To do this, you'll either have to pay for Instagram Ads and direct your CTA to a sign-up page, or instruct users to click the link in your bio and have it take them to a subscription landing page.
Repost, tag, and feature customer content to drive loyalty
One effective way to create community is to encourage users to post photos with a promoted brand hashtag, and then featuring them on your profile using a reposting app.
By including that hashtag, it makes it easier for you to discover users and influencers who are posting photos or stories about your products—and to repost their photos or tag their accounts on your posts or stories.
When your customers feel like you're engaging with them and appreciating them (and giving them attention and public recognition), it generates more loyalty, engagement, and satisfaction beyond the product purchase.
Key takeaways
Demographics-wise, millennials predominantly prefer Instagram over other social media, second only to Facebook. This is also true for Gen Z shoppers, the only difference being that the most popular app is Snapchat, followed by Instagram.
Gen Z shoppers are also more active on mobile, with 53 percent of surveyed teens making a purchase on mobile over the past six months and a further 80 percent of teens getting their beauty tips from social media influencers.
These trends point to the rising influence of social commerce for the younger generations, which will inevitably contribute to shaping shopping trends in the new decade. As more and more features become available to brands, there will be further opportunities to create immersive, never-before-seen online shopping experiences that will draw users to your products in highly engaging ways.
Instagram Shopping is the perfect example of this new shopping experience, where customers actively use the platform to shop; yet it's primarily a social, rather than commercial, experience.
To make sure your brand stands out on Instagram, take advantage of the following features.
Shoppable posts. Tag products in your posts, linking users directly to your site to purchase.
Shoppable stories. Feature products in your Instagram Stories, letting them swipe up to see more details.
Influencer tagging. Partner up with influencers to them tag your products in their own posts.
In-app checkout. Set up an in-app payment option so customers don't have to leave Instagram to make a purchase.
Instagram Shop. Feature your store catalog directly on Instagram so users can browse products on your profile page.
Explore Shop. Set up your Instagram Shop so it becomes discoverable for users with relevant interests.
Augmented reality. Use AR to create unique experiences for customers as they view your stories.
While using these features, use different strategies to drive up engagement and make browsing and shopping your brand an enjoyable experience for users.
Use the right hashtags. Pick hashtags that will help people discover your products through product searches, product categories, and emotions.
Host promotions and giveaways. Reward your loyal followers, attract new ones, and potentially grow your email list by doing regular giveaways and other promotions.
Feature customer content. Create a sense of community by reposting user-generated content featuring your products.