How to sell on Walmart Marketplace: A complete guide
Just like most major marketplaces out there, Walmart Marketplace is experiencing tremendous growth. It has over two million sellers so far that cater to over 100 million unique monthly visitors. In terms of size and popularity, Walmart Marketplace isn't far behind the likes of Amazon and eBay.
Part of the reason for Walmart Marketplace's rapid growth is that they have acquired smaller marketplaces that target millennials. Considering the fact that millennials have the most buying power out of any other generation, this was a smart move for Walmart.
However, these acquisitions and growth mean that there's lots more competition between sellers. You might have the best products, but if no one sees them, it's like you don't exist in the marketplace.
So how exactly do you sell on Walmart Marketplace?
You need a way to stand out, that's how.
In order to stand out, you'll need to incorporate best practices into your daily operating practices. To get you started, here are 14 best practices — based on different parts of your listings — that are sure to get you noticed and enjoying more clicks.
Editor's note: Sell your products from one place on the web's popular marketplaces such as Instagram, Amazon, Google, eBay, Etsy, and Walmart with our integrated multi channel listing tool.
14 tips to sell more on Walmart Marketplace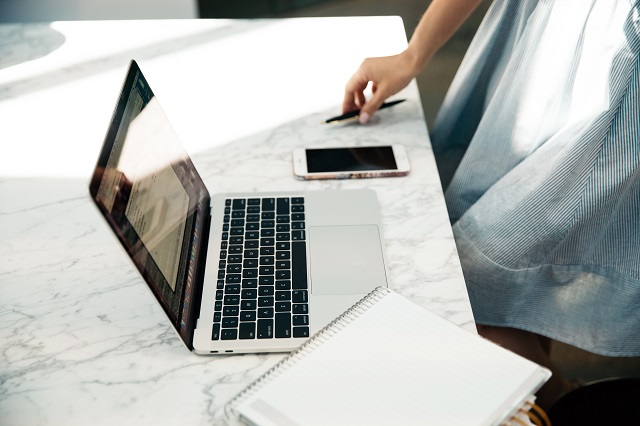 Often, when shoppers head to Walmart.com, they have a specific product in mind to buy. Shoppers use the search feature to find the product and then scan listings on the first page before clicking on a few of them. The more search results pages there are, the less likely shoppers are to keep clicking to see more products.
To increase the likelihood of your products being seen, you have to be on the first page.
Fortunately, Walmart Marketplace's search engine optimization (SEO) works similarly to SEO for Google. The difference with Walmart Marketplace is you're choosing keywords to get your listings to appear at the top of product search results. Once you choose your target keywords, here's how to use them to get your products seen.
1. Use short and concise listing titles
The ideal length of a listing title in the Walmart Marketplace is between 50-75 characters. This length makes the titles easier to read and rank higher up in searches. To rank higher than your competitors, consider incorporating your keywords, an audience pain point, your brand name, or product attributes.
For example, a person shopping for a tent might have specific requirements like size or style. Depending on what's important to your audience, include details like these in the title. This way, as shoppers scroll through the search results, your listings stand out:

The listing title above includes:
Brand name
Product size
Capacity
Keywords — 'instant cabin tent'
All of these factors combined help this product appear on the first page of search results when shoppers search for words like 'instant cabin tent' or 'large tent'.
2. Use unique product names that stand out
Another way to stand out and rank high in search results is to use unique product names. When shoppers search for specific terms, your listings will appear above your competitors.
For example, wearable tech is becoming more popular. Shoppers head to platforms like Walmart Marketplace to find the latest models. For smartwatches and fitness trackers, one of the newest features is gesture control. If you offer a feature not many of your competitors do, include that in your listing title:

Even though the title of this listing is longer than 75 characters, it mentions a key feature and includes keywords like 'Bluetooth smart watch' and 'wearable device.'
3. List multiple product benefits in the description
Shoppers want to be able to quickly determine whether the products they're interested in will meet their needs. Use your listing description to explain the benefits your products offer.
In this listing for a computer monitor, the listing offers a lot of details about benefits to help shoppers make a buying decision. For example, the description calls attention to features like anti-glare and high resolution:
Listing descriptions are also a good place to include your keywords. Your product benefits might also align with your keywords based on what shoppers are looking for. Include these keywords throughout your description to help your listing show up at the top of searches.
The listing above goes one step further and includes a comparison chart that lets shoppers compare one product to two similar products.
This approach lets shoppers see how features they're interested in compare between products. This approach also shows where your product is stronger than your competitors'.
Related: How to write product descriptions to increase sales
4. Use bullet points
The majority of shoppers scan listings to gather information. If these shoppers click on a listing and see a block of text in the description, it is harder to hold their attention — they don't want to read the entire paragraph.
A better approach is to use bullet points throughout your listing to make your description easy to scan. Also, include your keywords in your bullet points.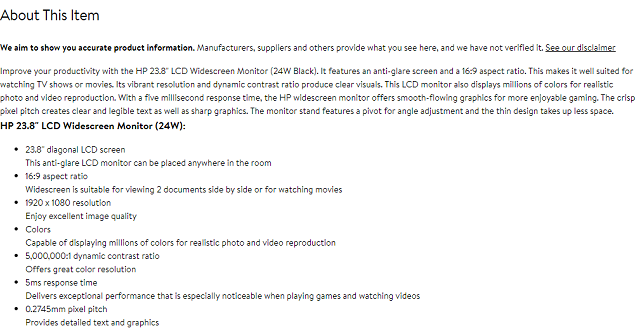 If you know that your audience searches for specific features include mini headings that create sections:
When it makes sense to, include your keywords in the headings and use bullet points below each one to make it easier for shoppers to find what they're looking for.
5. Include multiple images
Walmart Marketplace lets you include multiple images in your listing. Use product images to show your product from different angles. The goal here is to give shoppers more information to base their buying decision on.
Include at least four images and show pictures of:
Product features
Accessories that come with your product
The product in use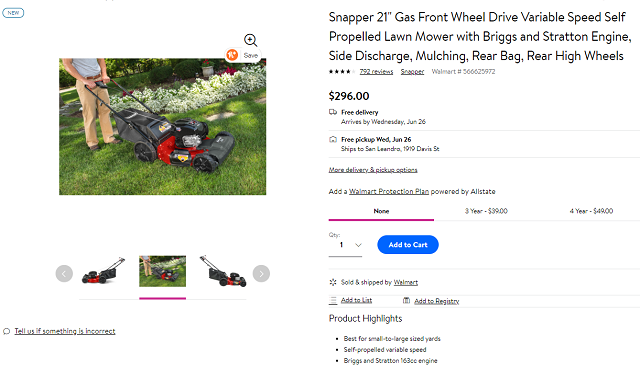 Enable zoom on your images so shoppers can explore your products in more detail. Also, consider adding a demo video or 360-degree image to show even more product details.
6. Use professional images
You've probably heard this a few times over the years, but it's true — a picture is worth 1,000 words. Even if you have the best products in your niche, if your images are dark, blurry, or just generally low quality, you're going to have a hard time selling your products. Often, image quality translates to product quality in the minds of customers.
Smartphones are more equipped than ever to take quality images.
You can even invest in a lightbox to make your images look professional. But unless product staging and photography come naturally to you, invest in professional photography if your marketing budget allows. This will give you high-quality, high-resolution images that show the best qualities of your products.
Upgrade product images to improve customer perceptions
Descriptions are important for your listings, but high-quality images back up your claims. People rarely buy products online without an image to accompany the listing.
This is because most people are visual learners — they get more information by clicking through product images than by reading a listing.
This is important in e-commerce since shoppers can't touch and feel your products before buying them. Your product images give shoppers information about features, appearance, size, and more.
The better your images look, the better the chances of customers clicking on the listing to learn more.
Related: How to take product photos that will help sell your goods
7. Use a white background
There are a lot of sellers to compete with on Walmart Marketplace, so your images should be unique and stand out. Other than your main image that predominantly features your product, use the image gallery to show creative layouts that feature props or product accessories. One thing to avoid, though, is using a background color other than white.
White backgrounds look more professional and make your products the focal point of the image.
8. Send shipping and tracking information to customers
There's excitement and anticipation after a customer buys something online. They've found what they wanted and soon it'll be on its way. Maintain these positive feelings by telling customers when their order will arrive.
First, send customers a confirmation email or text message after you receive their order. Next, send a follow-up email or text message with the delivery date and estimated time of arrival to avoid missed messages.
Your courier service will share tracking numbers that you can forward to your customers. This information lets customers know where their order is and when to expect it — this is vital for maintaining a positive customer experience.
Update shipping to improve customer experience
As a third-party seller on Walmart Marketplace, shipping is your responsibility. New sales are tracked in your Seller Center dashboard and, based on the shipping options you offer, you have to make sure customers receive their orders on time.
To compete with the likes of Amazon, Walmart.com gives you the option to offer free two-day shipping.
The introduction of free two-day shipping is huge for Walmart for several reasons:
Shoppers can filter by shipping preferences. If you offer free two-day shipping when shoppers filter so that only products with free, fast shipping appear, you improve the chances of your products being seen first.
Free shipping tags appear on product listings. Products with free shipping show this on the search page. This way, shoppers scrolling through search results can quickly see which products have free shipping.
Sellers experience an increase in sales. Adding free shipping makes your products look more attractive in the Buy Box. Even if your prices are a little higher than competitors', free shipping might be enough to win new customers. More on the Buy Box in a minute.
Deliverr has partnered with Walmart to make sure sellers have the inventory available and the fulfillment services to meet customers' growing expectations of free shipping.
In addition to the shipping best practices we discuss below, consider offering free two-day shipping since it improves your chances of standing out and attracting more shoppers. Plus, even if you don't sell products on Amazon, Walmart Marketplace's free shipping option makes it easier to be competitive and offer features that shoppers value.
To keep your rating up as a trusted seller, make sure you have achievable shipping standards. If you're new and just starting out, two-day shipping might not be realistic until you have more experience in the marketplace.
Keep in mind, shipping is closely tied to customer experience and your bottom line. When customers have a bad experience, it impacts the likelihood of them coming back to buy again.
9. Simplify returns
You're responsible for managing your own returns. When you create your Walmart Marketplace seller account, you're required to share your return policy. It can be up to 4,000 characters long and include as much detail as needed to clarify the return process for customers.
As a seller on the marketplace, you also have to make sure that returns due to damaged products are less than 3% of the product sale price. This is just one of many standards sellers have to abide by to continue selling on the marketplace.
Make returns easy for customers by:
Offering a wide return window — start with at least 30 days
Giving customers the option to print their own return label
Quickly responding to customer questions
Communicating return shipping fee details upfront
Processing returned products within 48 hours of receiving them
Sharing tracking information of replacement products
Related: Returns and refunds policy templates for online shopping sites
10. Setup an inventory tracking system
Online sellers use many marketplaces to sell their products. If you have a multi-channel e-commerce business, you need a way to track your inventory across multiple platforms.
The last thing you want is to accept payment for a product on one marketplace only to realize that you don't have the in stock.
Effectively managing your inventory levels across multiple channels is crucial, especially if you sell similar products as other sellers. Use an inventory management tool for customers going to other sellers to have their product needs met.
11. Offer multiple shipping options
With the growing option of free one- or two-day shipping by large marketplaces, more sellers are updating their shipping options to appeal to more shoppers. Improve customer experience by offering more than one shipping option. Walmart Marketplace has two options available to you:
Standard: 2-5 business days
Express: 1-2 business days
What you charge for shipping is up to you. For example, you can charge a little more for Express shipping or offer it for free in exchange for customers joining your membership program.
Express shipping is optional, but consider offering it and Standard shipping since it gives customers more options to choose from.
12. List low to qualify for the Buy Box
Like we see in the example above, more than one seller can sell the same product. All relevant listings for a product appear in one listing. To help shoppers decide which product to buy, they can compare all the listings and click on 'Add to Cart.' Whichever product is chosen, that seller wins the Buy Box.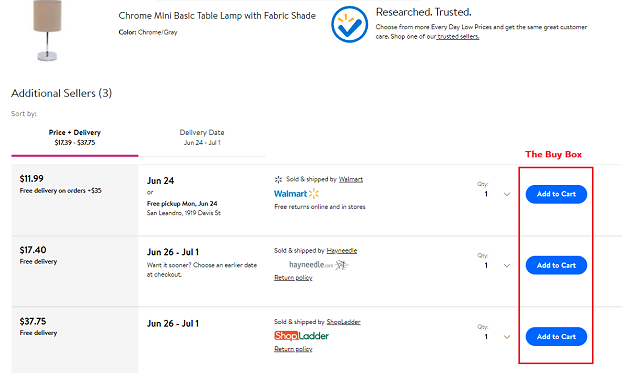 The best chance you have to win the Buy Box is to:
List your products lower than the competition
Offer additional incentives — like free or fast shipping
Have mostly positive product reviews
Also, make sure you have plenty of inventory to avoid running out of products and make sure your products always ship on time. This keeps you in good standing as a seller on the marketplace and also improves the customer experience. Lots of marketplaces have Buy Boxes but keep in mind, they aren't connected to each other.
You might win the Walmart Buy Box, but not the Amazon one.
Manage pricing to be more appealing to customers
There are lots of sellers on Walmart Marketplace selling similar products. One way to get shoppers to choose your products over the competition is to offer competitive pricing. If all things are similar — size, style, etc. — and your prices are lower, you have a better chance of selling your products.
Take this lamp for example. It's sold by three different retailers: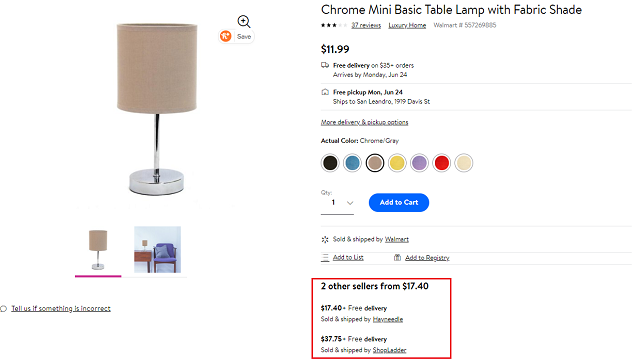 All three retailers sell the exact same product, but there's a drastic difference in price. For budget-conscious shoppers, the lowest-priced option is the more attractive one. Here are three more opportunities for you to generate more sales for your store.
13. Encourage customers to leave reviews
Shoppers are more likely to listen to how other shoppers feel about your products than only taking your word for it. As a result, reviews act as social proof and show shoppers that other customers trust you. The majority of shoppers research products before they buy and 90% of them say that reviews influence their buying decisions.
If you're following the standards Walmart sets for third-party sellers — like on-time shipping, low cancellation rates, and low issue escalation rates — you're in a good position to offer exceptional customer experiences.
If these experiences are reflected in your reviews, you're making it easier for shoppers to choose your products.
After customers receive their order, follow up by email or social media message and ask them for a review. If they had a good experience — from browsing to buying — chances are, they're still happy about their purchase and they're willing to share their thoughts.
14. Run ads
As a seller on Walmart Marketplace, you don't have to rely solely on 'external' advertising like Google PPC ads or social media ads. These options are valuable and have their benefits, but Walmart Marketplace offers four ways to advertise your products on the platform:
Sponsored ads
Organic search
Native Ads
Banner Ads
The benefit of using these advertising methods is the increased exposure you get on the platform. Plus, since you're advertising on the platform, you're only competing with other sellers in your niche, not every e-commerce competitor across the web.
To improve the impact of your ads:
Link your ads to specific product pages
Include the Walmart logo in campaigns
Review data from your ads to make improvements
Run ads for more than one product to increase traffic to product pages
Create an advertising calendar so you're publishing regularly and staying top of mind
Learning how to sell on Walmart Marketplace
There are lots of best practices here, but find a way to incorporate them into your business plan. They're designed to make you more efficient, stand out as a retailer, and improve your sales. Experiment with each option and add in your own special features to showcase your uniqueness. For example, turn keyword research into an ongoing project so that you're always improving your product descriptions. Over time, you'll see your efforts pay off.