How to write a romance novel — Laying the groundwork ahead of time
When I first started writing, I knew nothing about how to write a romance novel. I'd sit in front of my computer, typing out pages the moment an idea flooded my mind, and slam back caffeine as days bled into weeks. Now, I do things a little bit differently when writing a romance novel (I still rely heavily on caffeine — it's a writer's staple).
If you're just starting out and want to learn how to write a romance novel, it's imperative that you lay the groundwork beforehand.
I've lost count of how many times I've gotten myself into a pinch because I didn't understand genre mechanics or fill out a character beat sheet. The point is, there are tons of tools and resources around, and there are a number of things you should consider doing before you put pen to paper (or fingers to keyboard).
How to write a romance novel in 5 steps
When it comes to writing a romance novel, there are five key steps you should keep in mind.
Determine your genre.

Read widely in your genre.

Get involved in writing groups.

Sign up for or follow resource sites.

Start writing.
With these five steps, you can get a good grip on learning how to write a romance novel. Let's take a closer look at each one so you can start drafting with confidence.
1. Determine your genre
But wait, I'm writing romance — isn't that the genre? Sort of. There are actually a handful of common subgenres, as well as some new and emerging mashups, that could influence the style of your novel.
Here are some of the most common genres you might find while browsing through romance novels:
Contemporary romance — A romance that occurs from 1950s to present.
Historical romance — A romance novel set prior to 1950.
Romantic suspense — A romance novel where suspense, mystery and/or thriller elements are key to the plotline of the story.
Erotic romance — Sexual interaction is integral to the plotline of the story.
Religious/Spiritual romance — Sometimes referred to as "inspirational," these novels incorporate religious or spiritual beliefs that are integral to the plot's progression.
Paranormal, sci-fi or fantasy romance — Fantastical or science fiction elements are integral to the progression of the story (i.e., instances of magic, space travel, non-human characters, etc.).
Young adult romance — While this subgenre can blend elements of any of the above categories, its primary telltale sign is the age of the main characters and the presence of issues related to young adult life.
There are more characteristics associated with each one of these subgenres, but the biggest element to consider when writing a romance novel is HFN or HEA — in other words, Happy For Now or Happily Ever After. While there are some exceptions to this rule (think Nicholas Sparks), the majority of readers expect the main characters to have a satisfactory, love-filled ending — across all subgenres.
2. Read widely in your genre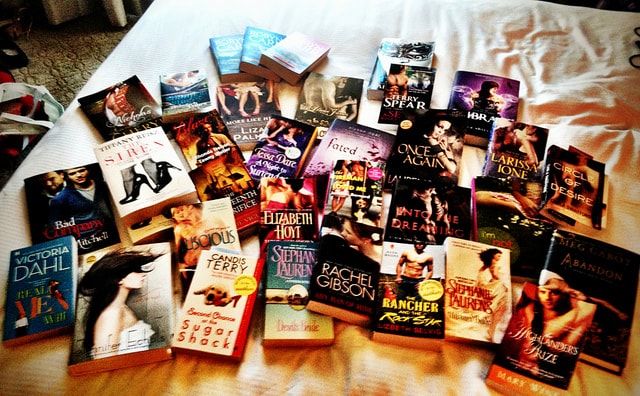 So once you've decided which genre suits your fancy, it's time to hit the bookshelves. Each one of the above subgenres has its own respective quirks and expectations, so if you plan on learning how to write a romance novel, the best place to start is with the pros.
Check out
Goodreads
 or Amazon to see ratings of books and get insider reviews ahead of time.
On Goodreads, a lot of readers will "shelve" books according to their genres, so you can peruse pre-established lists to see what romance novels are out there. And don't be afraid to read outside of your preferred genre, too. Who knows, while you might initially lean toward writing contemporary romances, you just might find a new love for historicals and cowboys in the Wild West.
3. Get involved in writing groups
Writing a romance novel isn't easy (nor is writing any other type of novel, for that matter). There's an emotional rollercoaster associated with writing and editing and submitting and writing again. You'll likely start over more times than you can count, and sometimes, the ideas just aren't flowing. And that's what writing groups are for.
Get involved in the writing community. It truly is a wonderful collective of bright-minded, caring individuals who want nothing more than to see you succeed.
That's the beauty of writing — inclusion doesn't mean exclusion. Just because one person gets an agent or a book deal doesn't mean you won't.
From social media to official organizations, there are plenty of ways to find your community.
Twitter
One of the best places to start is Twitter. Writers, agents and publishing houses alike flock to this medium of communication, and there are a number of hashtags you can follow to start to build up your network. Consider starting with these:
Pro tip: Don't pitch agents on Twitter unless expressly invited to do so. It's OK to retweet and reply and engage — but using that avenue to tell them about your greatest ideas and how they'd be missing out if they didn't represent you is just bad form. There are better ways to get your brewing idea out there. For now, focus on writing and building a community.
Organizations
Romance Writers of America (RWA) is an incredible network of romance writers based in the United States. In their words, they're a "nonprofit trade association whose mission is to advance the professional and common business interests of career-focused romance writers through networking and advocacy and by increasing public awareness of the romance genre."
RWA is a membership-based community, but you get plenty of opportunities for your subscription. From national to regional-based contests, local meetups and chapters, and more than 10,500 members, it's a great place to start.
Of course, there are other non-membership based communities out there, such as All The Kissing (ATK) and Romance Writers Chat (RWChat).
ATK is collective of romance writers, all of whom are at various stages in their writing journeys. Some have agents, others have book deals, some are just getting started, but their goal is the same: to create an environment where romance writers can come together to share in their fears and successes, ask questions (without judgement) and foster friendships. They have a dedicated Facebook and Twitter page, as well as a website, but a lot of interaction takes place in their Facebook group.
Eager to help writers navigate the unique challenges associated with writing a romance novel, RWChat "was created to let the members of our amazing community get together and hash out those difficult areas with the help of some industry experts." You can tune in every Friday for weekly discussions, which is a surefire way to connect with other writers while getting some much-needed answers.
Pro tip: There are more organizations out there, so don't be afraid to reach out. Ask the founders about their goals, connect with other members, and find the one that best suits you.
4. Sign up for or follow resource sites
Hand-in-hand with some of the above listed organizations comes romance resource sites. Both RWA and ATK provide a wealth of information about a variety of things, from the different genres of romance all the way down to blog posts and contest information.
When learning how to write a romance novel, having the
right resources
 at your fingertips is key.
Need a way to make sure your arcs are lined up? Use a romance beat sheet. Need writing tools to keep you on top of your game? Try out Scrivener. Not sure if you're word count is on track? Check out Writer's Digest to see where your novel falls.
Pro tip: No matter what subgenre you fancy, consider using The Emotion Thesaurus: A Writer's Guide To Character Expression. It's a great way to show instead of tell when writing a romance novel!
5. Start writing
Now that you've determined your genre, read widely in said genre, connected with other writers, and compiled some resources, it's time to start writing a romance novel! This is the fun — and sometimes scary — part of the process. Whether you're a pantser (someone who sits down and writes without an end in mind) or a plotter (someone who outlines ahead of time), you've now got the resources to get started.
If you're having trouble getting started, consider trying out some writing sprints with friends, or use an app like Pomello to help you stay focused.
Parting words of advice
There's a lot to consider when it comes to learning how to write a romance novel — one of which is establishing your name as a brand. There's no need to rush out and build a website yet, but it might be a good idea to secure your author name if you haven't already. Since your entire business (because let's be real, you're going to get published, right?) will be predicated on your name, you'll want to secure it for your domain ahead of time.
Now, get writing! And when you've got a grip on your words, check back in for part two of this writing series for more in-depth drafting tips and editing advice.
Full disclosure: The author of this article is a co-founder of All The Kissing and a member of Romance Writers of America.
Image by: Josh Felise on Unsplash