Imaginary Authors put a sweet narrative spin on unisex perfumes
"Just as sunsets are more beautiful on hazy days so, too, are the memories of yesterday," says author Lenora Blumberg on the display for a bottle of a creamy fig-scented perfume called Yesterday Haze. Each of Imaginary Authors' 12 unisex perfumes all have intense backstories from pretend authors talking about scents — this one with an entire tale of a farmer's wife who, after maintaining a decades-long affair with a crop duster pilot, decides to confess to her husband. It's not the typical way to sell perfume, but the 5-year-old brand's fans from Portland to Dubai can't get enough.
Based in Portland, Ore., Imaginary Authors is the fragrant brainchild of perfumer Josh Meyer and his business partner and creative director, Ashod Simonian.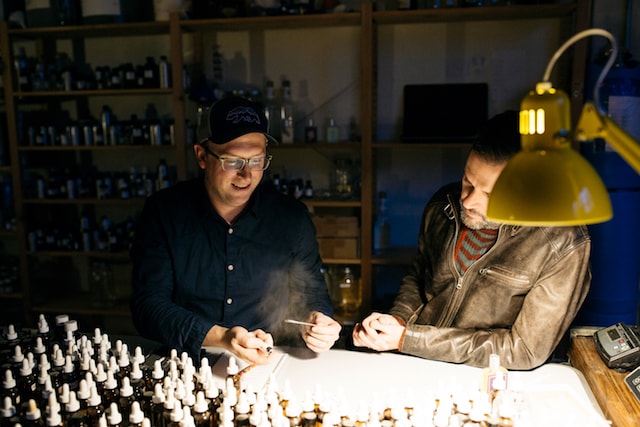 Josh says the brand's quirky take on fragrance marketing smells sweet to its growing fan base:
"It takes people a long time to figure it out, but then they love it. They want to talk about it and know more, or if [the perfumes] were inspired by real authors. I mean it is a deep well."
And that's what makes Ashod happiest. He adds, "We get a lot of requests from people who want to be a part of it, who want to write stories for it. And I feel like that's a huge compliment. We built the brand to inspire people, so that means we're doing our job. And that's just a very gratifying experience for us."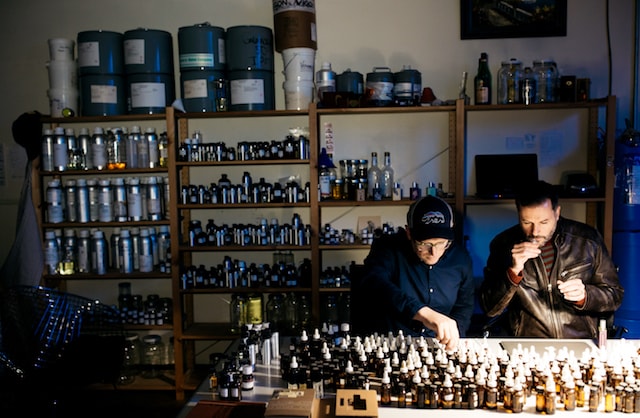 Scents tell a story
The business partners know the storytelling element — from perfume sold inside faux book covers to the bookmarks that double as scent testers — helps create a whole world for the fans; but the original scents are what make them stay.
Inside the Imaginary Authors studio, Josh tinkers like a mad scientist with hundreds of bottles laid out in groupings he labels wood, citrus, musks, spices, Vetivers, and so on. He makes innumerable passes until he gets what he wants. And no feeling compares to the moment when he knows a scent is complete:
"It takes a lot to get there, physical time and energy with two steps forward and two steps back. And I know the second it's done, which is like a fall on your knees and give praise moment."
Each of the unisex scents has more than your standard floral fragrance. Josh's ingredient lists spell out unexpected items like Baltic Sea mist, burnt match, mountain fog and fresh tennis balls mixed amongst the more traditional notes of strawberry or vanilla. Once that's perfected, it's off to Ashod to spin a faux author tale to coincide. It's a challenge he likes. "It's different every time. And super fun every time. It's what makes the job jobbable."
Like Josh, Ashod says he finds great satisfaction in coming up with a compelling storyline and related materials to complete the perfume:
"I love sharing the designs with Josh. I'm often in my head and putting it on the screen, developing ideas, and if I'm sharing it it's because it's in a good place. And it is very fun and gratifying to release it and get feedback. One-hundred percent of our experience has always gotten better by having that relationship."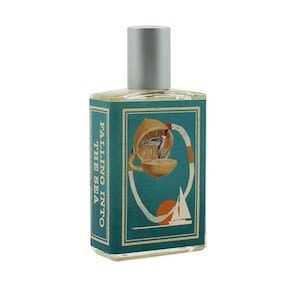 Each Imaginary Authors scent tells its own story. For example, Falling Into The Sea (left) features a line by faux author Nica Gala: "Caught in the undertow of his salty lemon lips I caught myself drifting helplessly into a soundless summer unconsciousness."
You can read each fragrance's story on the Imaginary Authors website — the domain name for which the owners secured from GoDaddy. "We use GoDaddy for our site hosting, domain name and email address — and love the service!" Josh says.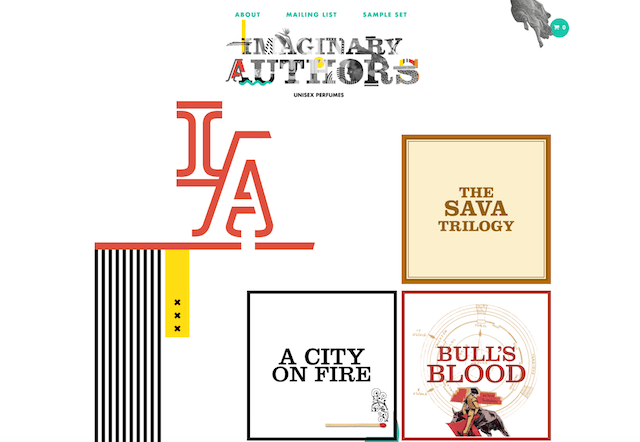 Partnership built on mutual respect and admiration
Josh and Ashod say their partnership chemistry was instant.
"We'd only met like one time, but I just liked Ashod's vibe in his design element," Josh says. "I'd sat next to him at a dinner party and saw his photography book, and I knew he had been in bands. I instinctively trust anyone in bands because you have to communicate well in a band to get stuff done."
Ashod notes that shared goals and complementary talents cemented the business relationship. "It could've been a short relationship but we quickly complemented each other and got each others' goals and knew what the other wanted out of the project," he says. "I truly think Josh couldn't have pushed it as far without me, and I obviously couldn't have done it without him. We needed each other."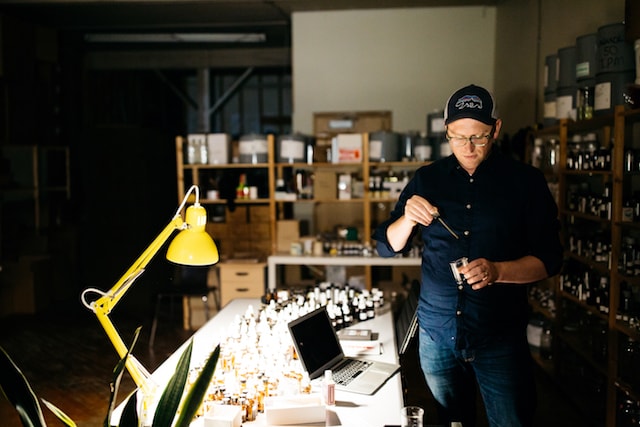 Advice for aspiring entrepreneurs
What advice do the founders of Imaginary Authors have for others who are considering starting a business?
"Identify the thing you are passionate about, and if it's being famous or being loved, that's probably the wrong way to start," says Ashod. "So much of the work, is just doing the work. For me the process is what keeps me going. Whatever your passion is, you're going to spend all your hours doing it. And then, go spend all of your hours doing it."
Josh sums up his advice to would-be entrepreneurs in two words:
"Work harder."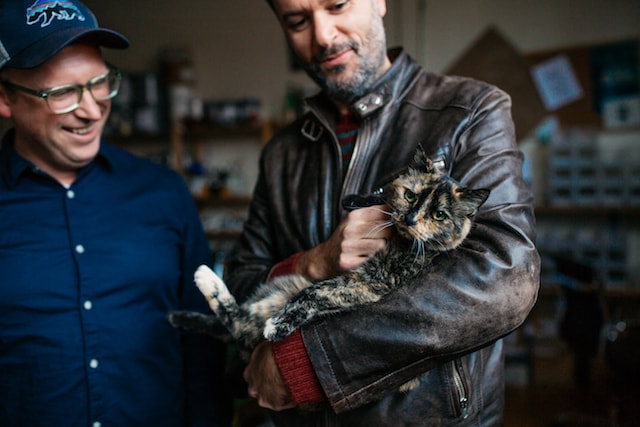 Success is what you make it
For Josh and Ashod, Imaginary Authors offers the opportunity to define success on their own terms. "When I quit my real estate job I was utterly stressed and just wanted to have fun every day," Josh says. "Trying to figure out to have fun every day is the definition of success to me."
Ashod's sense of success is anchored in the creative process. "Nothing makes me happier than the process and making things. And we keep finding new things to make, and the stuff we make keeps getting better and better — packaging, innovation and ideas. Watching that growth and participating in that makes me feel successful."
Thanks for sharing your story, Josh and Ashod! Please be sure to check out the Imaginary Authors website and follow this fragrant business on Instagram.