This entrepreneur spent $900,000 on great.com — Is a premium domain worth the investment?
How much would you spend on a premium domain? Well, entrepreneur Erik Bergman recently dropped almost $1 million on his perfect domain — great.com. To be exact, Erik spent $900,000 in a domain auction to win his dream domain name.
"I'm trying to build something truly great — I needed a name that reflected that." ~ Erik Bergman
For most entrepreneurs, investing that sort of money in a premium domain name may sound absurd. But for someone trying to create a groundbreaking online venture, it was worth every penny. So, what is Erik planning to do with great.com and what can you learn from his journey so far?
Related: How to find valuable names in the domain aftermarket
Find what you are passionate about
Motivation is a powerful tool for entrepreneurs. If you're not passionate or excited about your work, you're going to struggle to stay motivated or committed. Lacking passion in the workplace is one of the main factors explaining why the worldwide employee satisfaction rate is only 15 percent. That's right — 85 percent of the workforce is unhappy with their job.
Finding what you're passionate about might be easy, but finding ways to earn a living following your passion is much harder. No matter how much you love playing football, for example, there are only a handful of people who make a living playing it professionally.
Try thinking of passion outside the scope of a specific activity.
For instance, think about why you love playing football — maybe it's the camaraderie of the team environment, maybe it's the competitive nature of the sport, it could be the physicality and athleticism needed, or even just your love for the rules or strategy of the game. Finding the root of your passion will help you derive a purpose in your career.
Passion is the driving force behind great.com. Erik achieved financial success when he took his first company public. But a few months after, he began losing motivation and felt burnt out. As Erik notes:
"Money is something truly amazing, but only pursuing a monetary reward is a short-term desire and not a sustainable motivator."
Erik ultimately found passion in philanthropy. He's launching great.com as a Next Generation Charity that will combine his skills in affiliate marketing with his passion for altruism. His goal for the project is to donate 100 percent of Great's revenue to charity.
Lesson: If you want to feel motivated with your profession, find what you are passionate about and look for career opportunities that align with that passion.
Be willing to take risks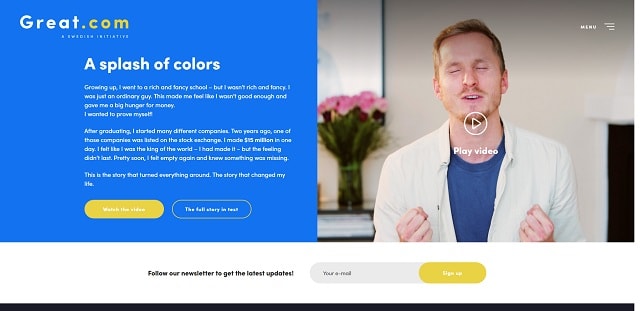 The terms "entrepreneur" and "risk-taking" go hand in hand. Entrepreneurs often stake their reputation, personal finances and career when launching a new venture. Making substantial sacrifices without any guarantees can seem scary — but the rewards often outweigh the risks.
Risk-taking is not something Erik shies away from. Not only did he spend $900,000 on a premium domain, but he's also pledged to donate more than $1 million per year of his own money to charity until Great generates at least that much revenue to donate itself.
While taking risks is a critical part of business, it should not be done lightly. Practice effective risk assessment by asking yourself a few questions like:
What is the worst result if this fails?
People tend to overestimate negative events when calculating risk. If you imagine the worst possible scenario for failure, you might find the decision less scary than you originally thought. However, you may also discover that you cannot afford to take the risk because of the repercussions of it failing.
What is the incremental value of success?
One of the best ways to assess risk is to look at the incremental value of success versus status quo. For instance, is the potential to run your own business more valuable than your current job? If yes, the reward outweighs the risk.
Related: Quiz — Do you have what it takes to be your own boss?
What will happen if you don't take the risk?
Try to assess the outcomes if you choose not to take the risk. Is this something you might end up regretting? Could one of your competitors take this same risk and reap the reward? Sometimes not taking a chance can be more detrimental than failing.
Lesson: If you want to be successful, don't be afraid to take calculated risks.
Secure a premium domain name
In an increasingly connected world, your domain name is more than just a web address. It's a powerful tool for reinforcing your brand identity and driving more visitors to your website.
Securing a great domain name is a
critical step
in building a successful business.
Go ahead, give it a try:
Erik believes so much in the value of a business's domain name that he invested heavily in securing the one he wanted most. If you're considering purchasing a premium domain name for your business, here are a few tips for landing a great one.
Don't make it too long — A long domain name can be difficult to remember or type when people are trying to visit your website.
Make it relate to your brand — Branded domain names are great, but if you can't find one with your brand name, at least make sure the domain relates to your industry, products or services.
Don't get too clever — Using hyphens, numbers instead of words, or misspellings in an attempt to be clever or creative can confuse visitors.
Always go .com when available — In the world of domain extensions, the .com still rules. While some brands can get by with creative extensions, the most common and familiar one is .com.
Related: 10 tips for choosing the perfect domain name and Claim your domain and make a statement online
Lesson: If you want to improve your branding efforts, then secure a great domain name.
Build an engaged digital community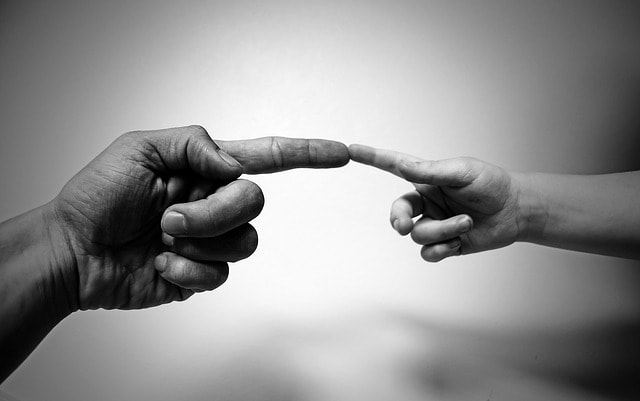 As social media and mobile technology continue to evolve, so too do marketing communications strategies. One marketing strategy that has become increasingly popular as a result of these changes is digital community engagement. Your brand's digital community includes people who follow your social media accounts, frequent your website, and advocate for your products or services online.
With marketing channels becoming more cluttered and industries more saturated, cultivating an engaged digital community can help you attract and retain more customers.
Erik envisions Great as more than just an innovative charity — he wants to use his premium domain to build a brand that empowers people to improve their lives and do the most good. He plans to accomplish this through carefully crafted content strategies onsite and across various mediums such as YouTube, Facebook and Instagram.
Lesson: If you want to scale your marketing communications, then cultivate an engaged community.
Related: How to use omni-channel marketing to grow your small business
Takeaways from great.com
While securing great.com was an important step for Erik, he also followed his passion, took a chance, and is looking to grow an engaged community online. As an entrepreneur, implement some of these same practices to help you live a better life and become more successful and fulfilled with your career.
Image by: Fancycrave on Unsplash