What are premium domain names?
Think of it this way: In the 1920s, if you started a new business, you would want a premium address. For example, a New York business would be much more likely to thrive on 5th Avenue than a far-off corner of the Lower East Side. In a small town in rural America, an address on Main Street could be the difference between a constant flow of customers and an occasional walk in.
Premium domain names are the high-value digital addresses of today.
In the current decade, a brick-and-mortar address isn't quite as important as it once was for many businesses. Instead, it's your website address (or domain) that can act as a major driver for business traffic.
In many cases, it's worth spending more to get a premium domain name. Continue on to learn what premium domain names are, why they can be worth the cost, and how to pick a perfect premium domain for your business.
What are premium domain names?
A domain name forms the heart of a website address.
For example, in www.mydomainname.com, mydomainname — the part of the domain just before the dot — is the actual domain name. The part of the domain to the right of the dot, .com in this example, is the domain extension.
A great domain name is a big part of any modern business.
Whether you run a local restaurant, a solo online business, or a large enterprise, having an easy-to-remember and easy-to-spell domain name can be vital to success.
A premium domain name is a name that is particularly short, catchy and easy to remember.
Many premium domains end with .com, but they can use many of the newer domain extensions like .business, .guru, .app, .store and others.
In most cases, premium domain names are already owned by someone and can be found at auction or through a secondary listing. Searching for available domains related to what your business does will likely yield a list of related premium domains.
If you own a trampoline store, for instance, it would be useful to have a short domain that includes the word "trampoline." When you enter trampoline.com into GoDaddy's domain search tool, you learn that the domain is taken and you see alternative domain name suggestions — including the short and catchy premium domain name, trampoline.online.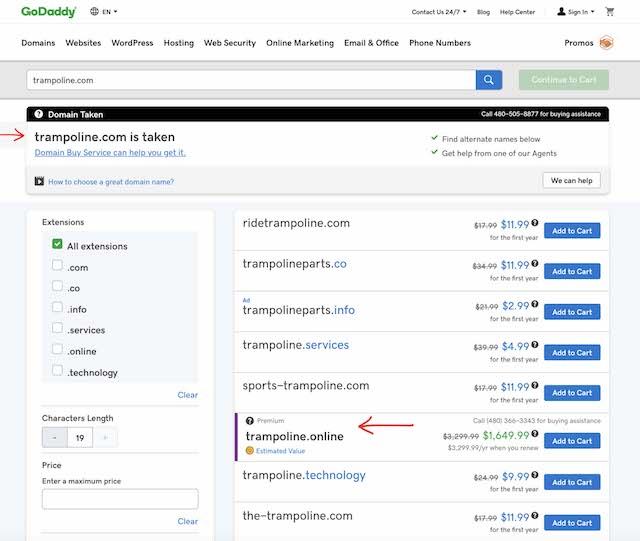 Adding dashes and creative spelling can give you more options, but those strategies also confuse potential customers. That's why companies usually try to buy the domain name that matches their business name — exactly. It may also make sense to purchase a domain that is an exact match with the product or service you offer.
Like waterfront real estate, premium domain names are limited but in high demand.
Thanks to a combination of factors including search engine optimization (SEO) and ease of use, a premium domain may cost quite a bit more than other domain names. However, they are often worth the cost.
Why premium domains can be worth the investment
Countless businesses have invested in premium domain names and few would call that a poor decision. For example, the owner of AppSumo, formerly housed at appsumo.com, recently invested about $1.5 million to acquire Sumo.com.
Owner Noah Kagan wrote about why it was such a great decision and why many other businesses would be wise to get a domain related to their business. In his words:
"A good domain equals a legit company."
A premium domain can add trust, credibility and better branding to your business's online presence. By making it easy to find you and your business, you hold the power of what people see when they type that memorable domain name in their browser bar.
Owning that domain can lead to more traffic, more sales and bigger profits.
Just think about the times you've tried to find a business online and just gave up if it didn't work after the first try or two. You don't want to lose customers due to being difficult to find online.
A Google study found that for every half second of additional load time, traffic to a website fell by 20 percent. But if a potential customer can't find you at all, you will lose 100 percent of that traffic and 100 percent of those sales. Is a poor domain name choice worth that cost? Probably not.
Much of the value in premium domains comes from controlling what others see when they try to find you or your business online.
As a solo online entrepreneur, it is very important to me for my name to come up near the top of the Google rankings when someone searches my name. I invested $1,000 to ensure that if someone just typed "ericrosenberg.com" into their browser, my website would pop up.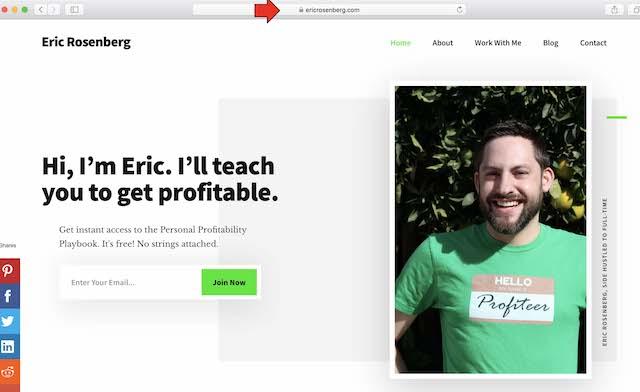 Examples of premium domain names
If you think the most expensive domain name ever was in the seven-figure range, think again. Cars.com sold for a whopping $872 million, according to an SEC filing. The rest of the top 20 most expensive domain names fall between $5 million and $50 million each.
Premium domains can vary widely in cost.
While I spent $1,000 for my favorite premium domain name, entrepreneur Erik Bergman spent $900,000 to buy great.com. He believes that domain aligns well with his vision and branding and thinks that buying it was a great decision.
Premium domains for various industries
Every industry has different related domain names. Being creative while searching can help you zero in on the best domain for your brand and business needs. If you have not started your business yet, it may be wise to search for available domains before locking in that name.
Go ahead, give it a go:
If you are involved in audio broadcasting, radio.tech shows as available as a premium domain name. Podcasty.com and podcast.tech are related names that could be a great choice.
If you work in career coaching or job placement, career.club, career.store and career.tech are premium domains that could act as memorable and easy-to-find choices. Careercoachnow.com enables you to stay in the .com space with a direct search engine match to the term "career coach."
If your business is focused on one city or geographic area, consider adding that to your domain name.
A delivery service in Chicago could buy the premium chicagovan.com. A real estate company in Texas might want to scoop up texashouse.net. If your business is located in either of the Portlands (Oregon or Maine) portlands.com is a top premium domain.
Choosing a domain that explains exactly what you do is also smart.
For example, a whitewater rafting company might want whitewaterraftingtour.com. While this name is a little longer than a word or two, it is an exact match to what people are probably looking for. If your business is focused on the environment, something short like the premium ecoit.org is a perfect fit.
For my small personal finance blog, I invested to buy the name personalprofitability.com at a premium domain name price. When I made the switch, my referral traffic and brand affinity skyrocketed compared to the old name. My original domain meant a lot to me, but didn't mean anything to most readers or online browsers.
The new domain aligned perfectly with what I'm trying to do, so it was worth every penny.
As you can see, the options are nearly unlimited!
But you can't get a domain if someone else owns it without going through a brokering process, if they are willing to sell at all. Once you own that perfect domain, however, it is yours as long as you keep up with the basic registration fees and requirements.
How to get a premium domain name
Now that we've explored what are premium domain names, here's how to get one.
Premium domain names are easiest to buy from a listing when you search at a reputable domain registrar like GoDaddy.
For the most part, buying a premium domain name at GoDaddy is just as easy as buying a standard domain name. Find the domain you want, add it to your cart, and then follow the checkout process. Just make sure to keep your account secure and never forget your renewal deadlines.
Let's take a look at how buying a premium domain works at GoDaddy.
If you own a business that has anything to do with astronomy or celebrities, you might want a domain that includes the term "star." Doing a search at GoDaddy, I quickly found that starfacts.com is available for sale. That is a perfect premium domain. It shows authority, tells what the site is all about, and is very easy to remember.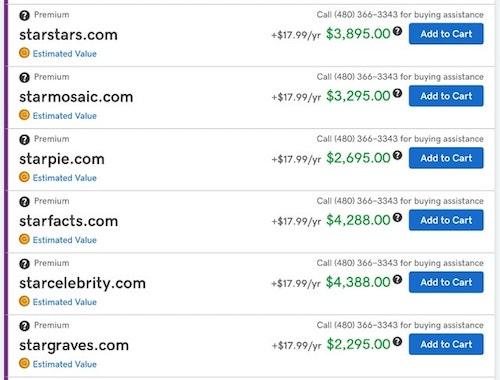 This premium domain is listed at $4,288, a typical price for a short, easy-to-remember website address. While you can call GoDaddy customer support for additional help, it is easy to buy right away.
On the next page, you will have options for add-on services like private registration, a website builder with included hosting, and custom email addresses hosted by GoDaddy. Choose the options you'd like and continue on to your cart.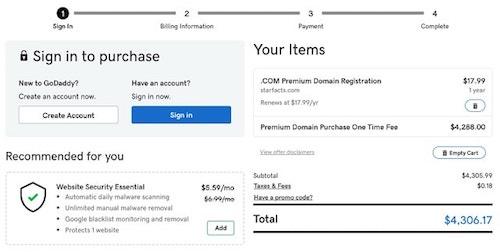 When you buy the name, you are best off to add up to a decade of registration to your order. If you are investing this much, you don't want to forget about it and make a mistake.
Buying the longest period possible locks in your ownership at today's annual cost.
Once you enter your information (or log in if you already have an account), you just have to pay and the domain will be yours.
In some cases, the domains are held in a way that you get access to them in your GoDaddy account immediately. In others, where the domain is listed by a third-party owner, it may take a little longer to transfer the domain into your account. GoDaddy can help if you get stuck with any part of the process.
Premium domains + auctions
In some situations, a domain is listed at auction rather than a fixed price.
GoDaddy Auctions can help you get a premium domain name at an even lower price than a fixed listing. In the case of an auction, it is all up to you and other bidders to decide what the domain is truly worth.
At the time of writing, it costs $4.99 per year to join as a buyer or seller. Public auctions list the domain for seven days. There are some easy-to-use features to buy it now, make an offer to the owner, or go through the traditional auction process.
Both auctions and premium domains listed on the GoDaddy platform are good options to buy (or sell) a premium domain that is interesting to you. If it aligns well with your brand, it is an investment that can pay dividends for years to come.
The perfect domain may be just a few clicks away
Buying a domain name is part art and part science. It is important to research the domain, consider popular search terms that could lead to your business, and then decide how you want people to think of you, your business, and your brand.
Just like a restaurant awning, a beautiful hotel entrance, or a retail store sign visible from the street, your website's address is a big part of any prospective customer's first impression.
It is vital to make it a good one, and make your business easy to find and understand in a blink.
A poor choice in domain might save you on registration costs, but it can cost you big time over the years. A premium domain is a major asset that can help you break through the crowd and reach bigger success on a faster timeline.
There is a reason successful entrepreneurs and large businesses are willing to invest in premium domain names. Don't set yourself up for an uphill battle building your business presence online.
And, if you ever decide to change the direction of your business, you can likely sell a premium domain for a similar price to what you paid for it. Your big opportunity is waiting for you. Go ahead and claim it with a premium domain name.