Location scouting for film — 5 creative ways to set your scenes
As a writer, I was used to the fact that my words simply stayed flat on a page or screen. As a screenwriter, I was able to breathe life into those words and pull in people, locations, props and lighting to produce a short film and bring my words into the physical world. I recently wrote the screenplay for a short film titled "Bloom" that won Best Picture at a local film festival. To help other aspiring screenwriters with location scouting for film, I'm sharing everything I went through to find the perfect location for my film.
Want to share your creativity with the world? Build a portfolio website with GoDaddy's GoCentral in under an hour!
Related: 7 ways screenwriters can get inspired to write
Location scouting for film in 5 easy steps
While location scouting for film can seem like a daunting task, it doesn't have to be. Follow these tips to find your locations.
Visualize your setting.
Make personal connections.
Seek out local hot spots.
Look to Yelp.
Search Airbnb.
Let's get scouting!
1. Visualize your setting
To turn your screenplay into a reality, you have to nail down the location for your film. Unless you had a certain place in mind while you were writing, the imaginary location you wrote on paper needs to be physically manifested into a place that currently exists.
As you go through your script, visualize your character's world.
Have a solid idea of what you're looking for, but at the same time, know that you may not find exactly what you're hoping for, so be open to new ideas.
The setting for "Bloom" was a garden. I was looking for an expansive, lush garden with beautiful flowers and greenery, and if the location had touches of whimsy (interesting water fountains, statues, unique garden pots, etc.), a thousand extra points. Once I had an image of what I wanted for a location, I set out to social media to enlist help.
2. Make personal connections
I was surprised to learn that planning a film is basically the Olympics of how resourceful you can be. While you don't necessarily want to cheap out on the necessities for your film, any place in the budget where you can potentially save some money should be taken advantage of.
This is why my first attempt at scouting film locations was through my personal network.
I posted on social media that I was working on a short film and looking for a lush backyard. Social media can often be helpful, but this was not one of those times. I received a big fat pile of nothing except for the metaphorical tumbleweed tottering around in my inbox. And so, my creative journey to scout locations pressed on.
3. Seek out local hot spots
Remember how I said I was looking for a lush, immaculate green garden? Well, when you live in the desert, the whole "lush" garden look is a bit harder to come by. I sat down and racked my brain for local parks or gardens my area was known for. I jotted down every potential location and went to my next location scouting tip. Starting with local hot spots or tourist destinations in your area is a great way to begin your search.
4. Look to Yelp
I took the list of parks and gardens in my area and opened up Yelp on my phone. I looked up every location on my list and scanned the photos on their profiles or websites.
One of the most helpful features for scouting locations on Yelp is the "People Also Viewed" feature at the bottom of every profile.
When you view a profile on Yelp, if you scroll to the very bottom of the page, it will list similar places to the profile you're looking at. Through it, my list of parks and gardens expanded to arboretums, plant nurseries, outdoor restaurants and community college gardens.
To keep your location scouting organized within Yelp, create Collections. When you go to a profile on Yelp, on the right-hand side of the profile's name there is a bookmark icon. Click the icon and you can create a collection where you can bookmark and save profiles. I created a "Bloom Location" collection and saved all my potential candidates.
But after hours of scouting film locations online, I still didn't find anything I really liked. This brought me to my next (and most successful) tip.
5. Search Airbnb
Airbnb, ladies and gentlemen, was my saving grace. With it, I was able to turn my screenplay into a reality.
Unfortunately, you can't search for specific features on Airbnb, so searching for "lush garden" was out of the question. Pictures and descriptions were my best friends.
Here was the breakdown of my filters:
Dates: Nothing was set in stone, but I put in the potential dates of my shoot.
City: I entered in the city most convenient for shooting.
Home Type: I narrowed down the "Home Type" to "Entire Place." Because I would be bringing a film crew, I wanted to be sure we filmed at a guest house or at a house we would have to ourselves so we didn't disturb anyone.
Searching commenced. I scrolled through pages and pages of houses over the next day or two. Similar to Yelp, I created a list where I saved potential locations.
Hint: If you're looking at different cities, instead of adding houses from every city into one list, create different lists for every city. For example: Ditch "Bloom locations" and create "Bloom Phoenix" and "Bloom Gilbert."
After saving a few houses, I started to notice a pattern. Several of the locations I saved had the words "casita," "charming" and "cottage" in the description. I started paying special attention to the styles of the houses and those keywords and eventually, that led me to a few finalists.
I didn't book anything right off the bat. I made sure to message the owner and let them know I was planning to shoot a short film at their location and asked for their permission. After a few houses, I landed on a place that was absolutely unreal.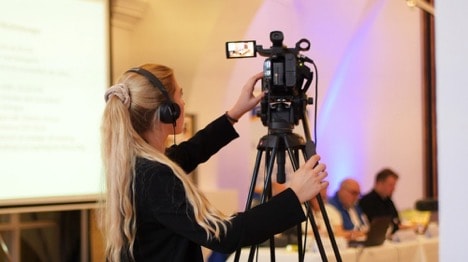 The funny thing is, the profile I chose didn't have any photos of their backyard. However, the photos of the guest house perfectly matched the main character. I messaged the owner telling her my plan and if they happened to have any photos of the backyard. To my surprise, she messaged me saying the guest house only has a patio, but her actual house's backyard has a koi pond the size of a swimming pool and a huge, overflowing garden. We communicated back and forth and got their blessing to film at their house.
Fun fact: Not only were the owners OK with us filming, they have become like family during this whole process. The owners went to the debut of "Bloom" at a local film festival and have been in touch with me and with other members of the crew for various projects since then. Even more of a fun fact? The husband was a screenwriter and worked with people in Hollywood. Can you say destiny?
Turn your screenplay into a reality
Turning your screenplay into reality is truly astounding. Being able to take your words and have them exist in this three-dimensional world is nothing short of magic.
Even though it may be tedious and a tad stressful, take your time scouting a location to find one that you're happy with.
We had originally tried to book a location with a different owner that fell through. I was crushed and thought I wouldn't be able to find anything as good, but I ended up with a location that was better than I visualized in my head and made great connections because of it. I sincerely hope these creative ways to scout locations can help you find and book your dream location.
Image by: Jakob Owens on Unsplash