How do you make money on YouTube? Try these tactics.
Can people really be making money on YouTube? This is a question many of us have thought to ourselves — after all, we've heard the success stories of how much money some of the top influencers make through advertising and sponsorships.
The reality is, yes, you can make money on YouTube — and if you are creative and strategic enough, you can earn good money doing it.
If you're an entrepreneur looking for ways to monetize YouTube, consider the guide below as a starting point.
How do you make money on YouTube? Four revenue tracks to consider.
The tactics in this guide will show you:
How to earn money on YouTube through the YouTube Partner Program (YPP).
How to get started with sponsored videos.
Why you should consider selling your own goods or services.
How to use branding, SEO and marketing to earn more money on YouTube.
Let's dive in.
1. Join the YouTube Partner Program (YPP)
Starting in January 2018, YouTube changed its monetization policy to gain more control over their users' ability to earn revenue through the platform. Now, users must apply and be accepted into the YouTube Partner Program (YPP) before they are able to monetize their content and channel directly.
Not only is there an application process, but there are minimum eligibility requirements. The threshold to being admitted into the YouTube Partner Program:
To apply for the YouTube Partner Program, follow these steps:
Log in to your YouTube account.
Navigate to the Creator Studio.
Using the left menu, select "Status and features" under the channel section.
Select "Enable" under the monetization section.
Complete the steps and apply.
Note: As of March 8, 2019, YouTube notified users that the application process to be accepted into the YouTube Partner Program is taking longer than one month.
Once accepted into the YPP, you will have access to creator resources, tools and support. But, most importantly, you'll be able to start earning money on your content directly.
Below are some of the monetization options for YouTube users within the YPP.
Earn money with AdSense
YouTube is a subsidiary of Google. As such, they allow users to monetize their videos using one of Google's other products — AdSense. Google AdSense is a free service that connects publishers with relevant advertisers. If you're an approved publisher, when a viewer lands on your video, they might see an advertisement related to your audience or content.
If that viewer clicks the ad, you get paid.
Advertisers are looking for channels to reach their target audience, and YouTubers want to monetize their video content.
AdSense provides a bridge for those two objectives. As it relates to the earning potential of AdSense on YouTube, it's estimated that creators earn between $3 and $10 per 1,000 viewer engagements, which for someone who can generate 10,000 views a day can be $300 or more.
To start earning money from your YouTube channel with AdSense, you'll need to have an active AdSense account. If you don't already have an AdSense account, you can apply for one here.
There is more to AdSense than just signing up. You will need to make some decisions about the type of advertisements you want to display and the format of those ads on your channel.
If you want to block specific brands or sensitive categories, such as religion, gambling, sexuality, etc., you can do so within the AdSense dashboard. You can also dictate the ad experience to a certain extent by choosing the ad format on your videos or channels.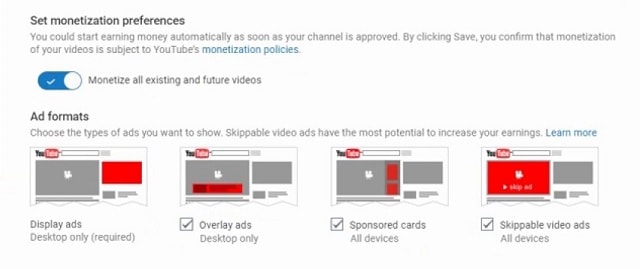 Related: How to use YouTube for successful digital marketing
Benefit from YouTube Premium revenue
While ads are the most common revenue stream for YouTubers, a second monetization option for YPP members is shared revenue from YouTube Premium views.
YouTube Premium is a service from YouTube that allows viewers to pay a monthly subscription to view original and ad-free content in addition to downloading videos for offline viewing.
The users benefit from a friendlier experience and YouTube benefits by receiving a direct revenue stream irrespective of ad interactions.
If viewers are not being shown ads, how are your earnings determined? YouTube distributes a percentage of its revenue to creators based on the number of viewers and length of time spent viewing your content.
YouTube Premium and its revenue-sharing model incentivize creators to continue to produce high-quality videos, which in turn provides value to its viewers through premium, original content.
Add the Channel Memberships feature
Do you have a highly engaged following? If so, you might want to see if your YouTube channel is eligible for channel memberships.
YouTube's channel membership feature allows select channels to offer special rewards and perks to viewers who subscribe and pay a monthly fee. In exchange for being a paying member to a channel, the viewer might gain access to exclusive content, live chats or other bonuses like custom badges or emojis. These small perks provide additional value to the end user in exchange for a small, recurring payment.
Creators earn 70% of the monthly membership fee after sales tax.
In other words, channel memberships can be an excellent revenue source for YouTubers who can find creative ways to incentivize paying members.
Sell products with merchandise shelf
YouTube has also designed a feature for creators who offer merchandise to their fans — known as the merchandise shelf. If you live in one of the approved countries and have more than 10,000 subscribers, you might be eligible to start earning money with YouTube's merchandise shelf.
This feature is pretty straightforward in that it allows YouTube channels to display up to 12 items from the creator's Teespring merch page (this feature is only eligible for products created on Teespring).
YouTube is also incentivizing creators to push this revenue stream by offering an additional $1 per item sold through the merchandise shelf on top of the revenue earned through the sale of the merch.
If you've built a loyal fanbase and have a marketable brand, the merchandise shelf could be an additional way to earn money on YouTube outside of the more traditional advertising models.
Enable the Super Chat function
Lastly, within the YPP, creators can monetize their channels through another feature called Super Chat.
Super Chat allows viewers to pay to have their comments pinned to a live video or chat messages.
The more a viewer pays, the more prominent their message. This enables your followers to feel more connected to your content and gives them the opportunity to interact with you directly. As a result, you receive a percentage of the fee they paid to feature their comment.
2. Sponsored video: Become an affiliate or sponsor other brands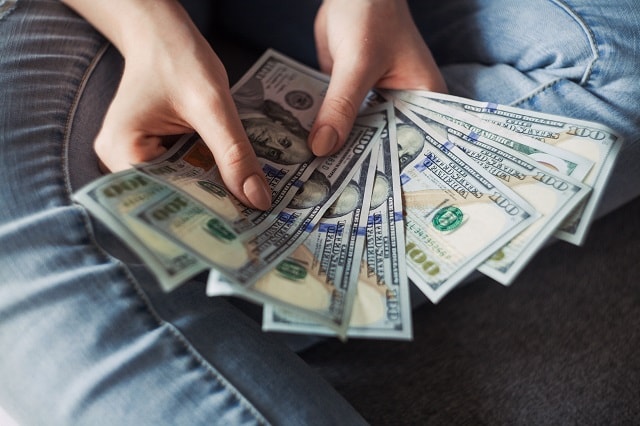 The traditional way of making money on YouTube has always been the YouTube Partner Program. But how do you make money on YouTube if you're not part of the YPP? In fact, there are many other ways to use YouTube to drive revenue beyond AdSense and other YPP monetization features.
One of the best ways to generate revenue through your YouTube channel without relying on YPP is through the marketing of other brands: aka influencer marketing.
Most followers of YouTube channels have distinctly similar demographic and psychographic characteristics — for brands targeting those markets, partnering with a channel that already has a following allows the brand to circumvent the time and resources necessary to build their own, engaged audience on YouTube.
Instead, they can simply pay the creator to market their products or services to their viewers in an organic and engaging manner.
The direct line to a targeted audience isn't the only benefit to using a YouTube influencer; brands can also mitigate the expense of creating content while also acquiring some of the trust that viewers have for the YouTuber.
In other words, sponsored videos on a YouTube channel are like micro-celebrity endorsements.
We know brands value YouTube sponsorships, but just how much? It's estimated that YouTube creators can earn about $2,000 per 100,000 followers when working with sponsored videos.
If you do decide to go the sponsored videos route, remember that you need to follow FTC guidelines for sponsored content and mark your video as an advertisement.
Also, keep your audience in mind as you create the sponsored content. They are following you for a reason, and if you start posting too much promotional content or videos that are outside the scope of your typical content, you might lose your viewers.
Related: How to work with brand influencers when you don't have a budget
3. Sell your own goods or services
Another way to use your channel to generate revenue is to create and sell your own products or services.
YouTubers can go beyond the merchandise store's Teespring page and create their own online store through an eCommerce platform. Then, using the reach of their YouTube channel, they can attract and convert viewers into paying customers.
While most YouTubers will go the merchandise or branded swag route such as T-shirts, coffee mugs, hats or bags, the more innovative you are the better.
For example, if you publish motivational or inspiring videos on your YouTube channel, consider writing and publishing a physical book or eBook. Or, maybe you can sell individual consulting or mentoring calls to interested viewers.
When it comes to using YouTube to generate revenue through your own products or services, it's all about finding creative ways to market your talents or goods. Think outside the box and look for ways to offer value to your viewers beyond the normal merchandise.
4. Leverage branding, SEO and marketing to make more money on YouTube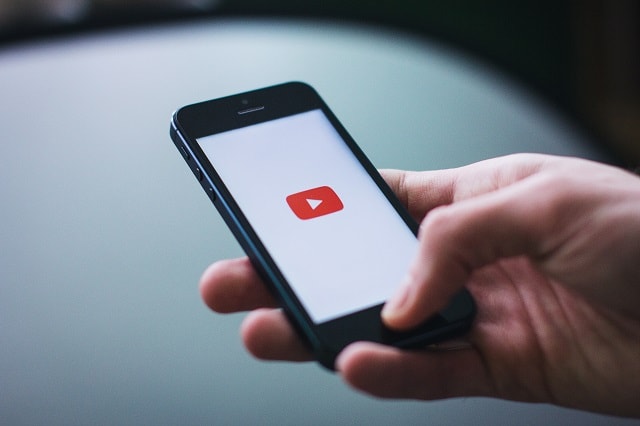 Now that you know how to earn money on YouTube, it's time to look at how to actually succeed at generating revenue with your YouTube channel. While getting accepted into the YPP or finding sponsorship opportunities are nice, you should aim to create steady and sustainable revenue streams.
Here are three ways to do that.
Build an engaged audience and following
First and foremost, the only way you are going to earn substantial revenue on YouTube is to have an engaged and active fanbase. If you are not able to generate views on your videos consistently, you'll struggle to earn much money on YouTube.
The best way to build a successful YouTube channel is to create high-quality content.
This might sound easy, but it's incredibly difficult. Producing a great video takes time, strategy, creativity, execution and skill. Moreover, you must frequently post great videos on your channel. If you fail to meet viewers' quality expectations, they could unsubscribe — if you go on a hiatus from posting videos, you risk losing the attention of your viewers.
Take time to develop your channel identity before you start publishing a lot of videos.
Emphasize understanding your target audience and be methodical about developing your brand voice.
By taking a measured approach, you can create content that is specifically targeting the views, interests and problems of your target market — thus, setting your channel up for success.
Optimize your channel and videos
Another way to increase your chances of success on YouTube is to make sure you understand and implement optimization techniques for your channel and videos.
Most YouTube creators are not SEO experts and might not even realize that YouTube is a search engine. But, much like its parent company Google, YouTube uses an algorithm to display content that it deems most relevant to various searches.
When you type "best domain registrar" into YouTube's search bar, it's using hundreds of internal signals to determine which video is best to display.
Much like with traditional search engines, subtle nuances can have drastic effects on your rankings for various searches. Understanding the basics of YouTube SEO can help you improve the organic visibility of your videos, which can help you drive more views and subscribers.
From video keyword research and exact match titles to tagging and strategic descriptions, invest a few hours learning the ropes of SEO for YouTube and continue to test techniques to help you improve your view count.
Market your brand and videos off YouTube
While the goal is to use YouTube as a revenue-generating channel, you aren't limited to using the video content on YouTube alone. In fact, the best YouTube channels have active websites and social media channels where they distribute content.
YouTube is just one of the many communication mediums for your brand — not the only one.
Find creative ways to market your brand and videos on your own website and other social platforms.
You can up your digital marketing game with GoDaddy's Online Marketing tools — from easy DIY solutions like email marketing to managed services such as SEO. Using these skills, you can grow a channel-agnostic brand online.
Entrepreneurs who can build a brand that is not dependent on one specific channel for revenue stand the best chance of sustaining success in the long run.
If you invest all your eggs into one basket (YouTube) and the platform makes a change that hurts your ability to drive revenue, you will be left out to dry — just look at Vine or Myspace.
Get started
By following these four revenue tracks — and some patience and hard work — you can start making money on YouTube.
Once you decide on how you're going to make money on YouTube, you need to get a plan in place to market your YouTube channel.
Beyond monetizing your YouTube account, you'll need to claim your social media handles, create a website that your YouTube channel can point to, and have a plan for engaging video content in place.