Mike Bradford cooks up a new business with Wonderffle
We recently chatted with Mike Bradford of the Austin, Texas, area recently about his experience taking his product, Wonderffle (aka Stuffed Waffles ), from idea to market. Read on for the Q&A below, check out the website, and follow the startup on Facebook and Twitter to keep tabs on the growth of Wonderffle.
Q&A with Mike Bradford, founder, Wonderffle
Tell us about your business and what makes it stand apart from the competition.
It's the only device on the market that exclusively makes stuffed waffles. You can make stuffed waffles on a regular waffle iron, and there is an electric waffle maker with interchangeable plates — one of which is for making stuffed waffles. However, my waffle iron is the only one created for the sole purpose of making stuffed waffles.
Other waffle irons don't give you the creativity that this one does.
Unlike typical stuffed waffles consisting of two waffles with a filling between them, my Wonderffle is a Belgian-style waffle having sufficient thickness to completely enclose its filling. It has the characteristic waffle pattern along all three dimensions, giving it its whimsical look.
My design doesn't require you to use your hands. You don't have to touch the waffle. It allows the waffle to stay together, and from a food contamination standpoint, it's more sanitary.
It's versatile. If you like chicken and waffles, you can use my stuffed waffle iron to stuff your waffle with fried chicken. You use fruit, meat and eggs, cheese, Indian food, hazelnut and chocolate. You can do a low-carb egg frittata stuffed waffle. You can do vegetarian, vegan, carnivore — whatever you like. I like to do a spinach and cheese stuffed waffle.
I'm looking at selling it in two different markets — individuals or families that like to cook at home and restaurants that currently serve waffles.
What inspired you to start your own business?
I started the business in January 2016. A year prior to that, I was at a restaurant eating lunch with coworkers and someone ordered chicken and waffles. I had never eaten it before or even seen it, but the plate was big and unwieldy. And what if I wanted to eat such deluxe waffles on the road? I thought, "surely there's a device that allows me to make deluxe waffles and take them on the road with me." But there wasn't, so I created one.
Everyone likes waffles.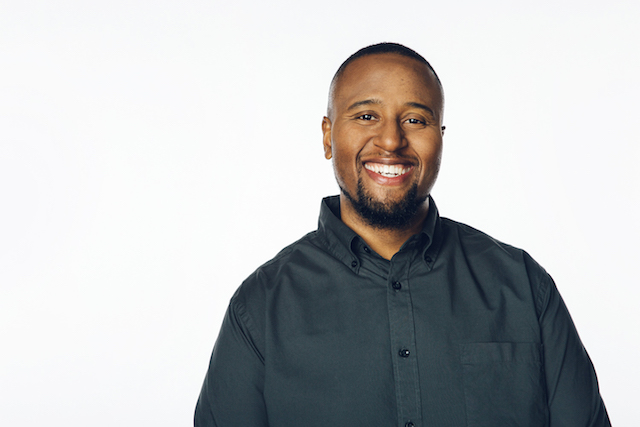 What obstacles did you face as a startup, and how did you overcome them?
One of the bigger obstacles was relating the concept when I was trying to get it off the ground — just explaining what it was and why it would be useful. I had to design my own prototype using CAD software. I bought a 3D printer, then I found a machinist and someone else to finish the waffle iron, which is aluminum with a Teflon coating. Then I started cooking for people to show its use. It took about a year.
Financing. I've already invested roughly $25,000, and I still need about another $75,000 to get parts produced and available to sell.
Learning how to wear different hats. You can spend money to get everyone to do it for you, but no one's going to do it like you do. No one's going to understand the idea behind it like you do. I wrote most of the provisional patent with the review of a patent attorney. I had to learn how to write legalese. I designed a website for it.
Marketing. How do you describe your product? What terminology do you use that resonates with people? Social media — how do you attract a following? Those are all different types of obstacles.
It's hard to really engage people on social media without feeling like, "oh you're just trying to sell me something." I'm not doing well at collecting email addresses of people interested in my product. I need to improve on that.
GoDaddy GoCentral's Email Marketing feature helps turn visitors into customers with tools to easily create, send and track professional email campaigns. It can be used to inform interested visitors whenever your product is ready to go!
There were some naysayers. I read a really helpful book by Lori Greiner from Shark Tank, Invent It, Sell It, Bank It: Make Your Million-Dollar Idea into a Reality. It reinforced some of the things I was doing. I felt a lot more confident. You have to do a lot more yourself than you think — more than you think you're capable of.
It's still scary, though, because I haven't validated anything with market research. I don't know what kind of demand there is.
What strengths do you bring to the table as an entrepreneur?
The ability to do whatever job needs to be done. I'm creative and I have a technical and a design background as well.
What's the most important lesson you've learned since starting the business?
I think it's important to face discouragement and setbacks and continue to press forward.
It's important to have people who support you. My wife is super-smart and loves reading and libraries. She's not involved in the business day-to-day, but she will provide resources and share them with me. It's been invaluable.
Also, my father has been helpful, and my childhood friend is a chef who I go to for advice. He was one of the first people to see the initial prototype. I expected him to tell me to stop, but he encouraged me to keep going. I rented a food truck and he brought some of his culinary students, and they helped man the food truck and make these waffles.
Just having people around who will help you, support you, and even fight with you, is really important.
Thanks for taking the time to tell us about your startup, Mike, and best of luck as you bring Wonderffle to the masses!