Minister to your flock: Put your church online
This past week we went live with our new website at my church, St. Andrew. The church had a site before I arrived, but it wasn't good. In this article, I'll explain why I thought it could improve, what we've done to make it better, and how you can creatively bring your church online with a solid web presence.
3 strategies for putting your church online
Although ministering is about personal relationships, for the majority of the people in your church and in your community, it begins online. In our digital age, you need to meet people where they are: online — specifically on their mobile devices.
Make your website a communications hub.

Treat it as a work in progress.

Divide and conquer.
Read on for my best practices when creating an effective online presence for your church. You'll find my list of what you need to build a website at the end.
1. Make your website a communications hub
Our old website was a glorified brochure. It did one thing fairly well, which was to introduce newcomers to our church. But it was insufficient for helping people solve problems.
Decide your site strategy first so you don't have to move your house three feet over after it's built.
Communications "channels" (ie. opportunities for interaction) are highly diffused today. No one channel — whether website, email, worship bulletin, social media, or app — can reach a majority, let alone a dominant part of your community.
The way to get the word out is to make your website the hub and promote it using a variety of channels.
For example, a weekly email announces an upcoming musical program. Without a hub strategy, you have to include everything related to that event in the email. With a hub strategy, the email doesn't need to drown in details, but can lead with an engaging intro or story and then offer a link to the website for more information and to register.
Think of a good website as the city, with each additional channel (email, social media, etc.) a highway flowing in and out from different directions.
2. Treat it as a work in progress
Our new church site isn't perfect by any means. In fact, I already have a long list of 2018 improvements, which will spend our entire budget for the year.
I'm OK with launching and linking, though. That's because good websites are iterative. They aren't one-time launch endeavors, never to be touched again, but ongoing projects that improve with time and attention to detail. The primary aim of your first web launch shouldn't be "perfect and done" but "good and improving."
Communicate this approach with your congregation to help contextualize your work.
3. Divide and conquer
"Improving" is an important word because an effective website is an essential part of an effective witness in our digital age. This isn't a single project to finish and forget but an ongoing ministry to develop.
Using the list below, start your own site goals, for phase one and onward. Decide your "must have" features, and things you can wait to add later.
As I said, our old site was basically a big brochure. It existed for one purpose — to take a prospective new attendee from curious to fully involved. Not everyone fits this box. The site needed more agility. With this in mind, here's my list of must-haves.
Responsive
Responsive means the website "responds" to the particular device on which it's being viewed, whether that's a desktop computer or a mobile phone. Choose a website builder that can automatically senses and adjust to any platform, including mobile, tablet and desktop.
Because mobile web use has now overtaken desktop use, when making design decisions, give more weight to how it looks on mobile — designing "mobile-first" — than how it looks on traditional desktops.
Content-oriented
When prospective members search the web, they're looking for answers. Keep design elements such as extra shapes and colors to a minimum, to drive attention to the content itself (e.g. photos and words).
Wherever possible, use effective storytelling, both still and video (which gets three times the response of other kinds of content). Adapt the ideas outlined here to promote your church online with video.
Easy to use
Choose website menus and navigation that match the core strategies of the church. Clear navigation helps people quickly get to what they need. Make buttons and links easy to find to make taking action easy.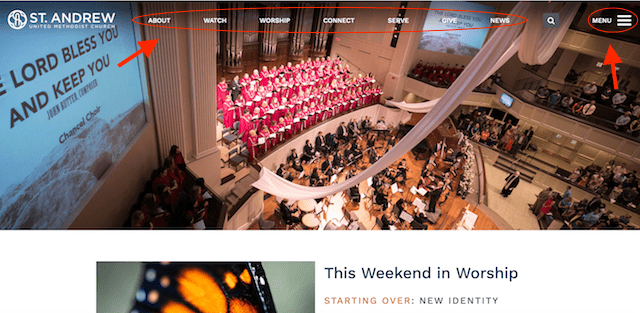 Make your navigation match what happens when a person visits church on a typical Sunday. Our church uses a simple four-part structure that matches our overall strategy: Worship, Connect, Serve, Give.
Pro tip: Build out site pages based on your site's structure, with a maximum of three levels deep on all pages (for example Connect > Children > Preschool). Lay it out in a Word document before you bring your church online.
Search engine-friendly
Search engines bring prospective members to your website, so it's smart to make sure the website builder you choose works well with search engines. Get tips on how to make sure your site gets noticed here.
Branded
Branding is a word often used for business websites, but it applies here, too. Your site needs to communicate a sense of:
Purpose, why the church exists.
Values, who the church is.
Vision, where the church is growing.
Every choice you make as you build your website should reflect who you are.
Steps to get started
OK, so you've got some basic strategies in mind to help you launch a website and continue long-term. But how do you get started?
Register a domain name
If you don't have a domain yet, go to GoDaddy and search for possibilities. The new .church extension has opened up opportunities for many who can't get their church name with the .com extension.
Choose a website builder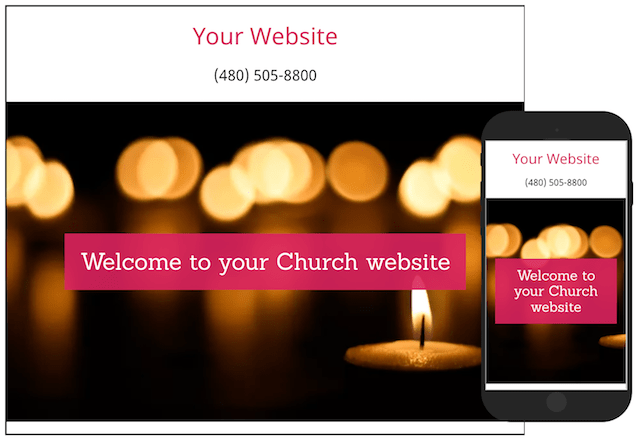 Sticking with the housing metaphor, think of the platform as the architecture of the home, such as how the rooms are placed and where the plumbing goes. The design is what colors to paint and what furniture to buy. Consider three options:
If you're a beginner, the GoCentral Website Builder offers plug-and-play ease.
For a more robust option with nearly limitless ways to customize, consider WordPress but keep in mind you'll need to buy hosting. While there are many options, GoDaddy offers affordable managed WordPress hosting.
The most powerful option for those who want something with special features or functionality is a custom-built website.
Read this post for more information about comparing your three basic website building options.
One last tip: Install Google Analytics for tracking and analyzing website usage. When you go live, you'll want to see where people are going (and not going) on your website.
Put your church online
People use the web to find everything — including their places of worship. Make sure that when they look, they can quickly find your church online. As you build, treat your website as your communications hub, using email, social media and other channels to direct searchers to it. And remember, a website is a living work in progress. Expect to be adding to and refining it for years to come.
Image by: Jasper Boer on Unsplash