New small business survey ranks state friendliness and shows more positive outlook
If you're thinking of starting a small business, you might want to head to Idaho. Besides the clean water, killer fry sauce, and skiing with celebrities, it's one of the most friendly places to start a business in the U.S. According to results of a new survey released today by Thumbtack.com and Bloomberg, Idaho — along with Texas, Utah and Virgnia — might be the easiest places to start a small business.
The 2015 Thumbtack.com Small Business Economic Sentiment Survey slices and dices feedback from more than 10,000 small businesses nationwide into an enlightening snapshot of the country's small biz landscape — including entrepreneurs' current outlook on the economy and individual states' friendliness toward small businesses.
That's data based on what current small business owners on the ground think about their city and state when it comes to helping them be successful. And it's data that we don't often see.
More than 90 percent of survey respondents were sole proprietors or business owners with five or fewer employees. "Many of these business owners have few or no employees, and are often overlooked in other widely-tracked business surveys," says Jon Lieber, chief economist of Thumbtack. "We hope to offer new insights and a better understanding into what's happening in this critical segment of the nation's workforce and the American economy."
Sentiment: Slow and steady improvement
"I don't think we will ever see the profits we did in 2007 and prior. I do think things are starting to pick up … slow and easy." ~ Computer Repair Specialist in Catasauqua, PA
While small business owners' feelings about the state of the economy aren't rosy across the board, the survey shows a slow and steady recovery. Highlights include:
Overall sentiment has risen 5 points (out of a scale of 100) over the last year.
In general, employers are feel better about the economy than business owners who operate alone.
Business owners in the South and Midwest are more optimistic about the economy than those in the West and Northeast.
Expectations for inflation remain in check, but business owners have increased their expectations of what they will pay their employees.
Top 5 states for positive biz sentiment
The survey breaks sentiment findings down by state, major cities, industry and demographics such as age and gender. Where are female respondents feeling the most satisfied? Tennessee. Men? Georgia. Combined, here's where small business owners expressed the most positive sentiment:
Top small biz-friendly states
Interestingly, the states with the highest sentiment ratings didn't necessarily rank at the top for small biz friendliness — a rating based on factors including ease of starting a business, ease of hiring, and regulations.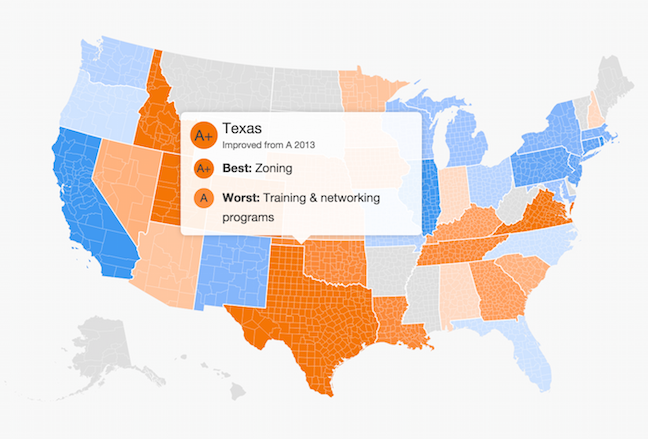 Here are the 11 states that earned an "A-" or higher rating for most small business-friendly overall:
"Doing business in California is expensive and getting worse every year." ~ Caterer, Irvine, CA
On the other end of the spectrum, it seems the Golden State isn't so glorious for small businesses. California ranked in the bottom three for overall friendliness, scoring an "F" for both ease of starting a business and regulations. But it's still got Disneyland.
Want to see how your state stacks up and learn about the methodology behind the survey? You can check out the full survey here. And we'd love to hear what you think about the survey's findings in the comments below.