November 2021 Hub updates: changelog & releases
We built The Hub by GoDaddy Pro to streamline workflows and shave time off tasks that typically eat up a workday.
But we aren't done yet.
November 2021 Hub updates
You can keep track of our progress here, as we regularly publish our updates to this platform custom made for web designers and developers. 
Recurring invoices 
With the August release of invoicing in The Hub, we've had strong growth and are now excited to announce our first major update: recurring Invoicing. We understand many of your services are ongoing, so we created the option to set up regularly scheduled invoicing and payments.  
We've discovered that between 20% and 40% of invoices are recurring — and are more likely to be paid promptly. You'll now see an option to set a recurrence of weekly, biweekly, monthly or a custom value. Go to your invoice list to see this option for both a recurring series or individual invoices tagged to belong to a series.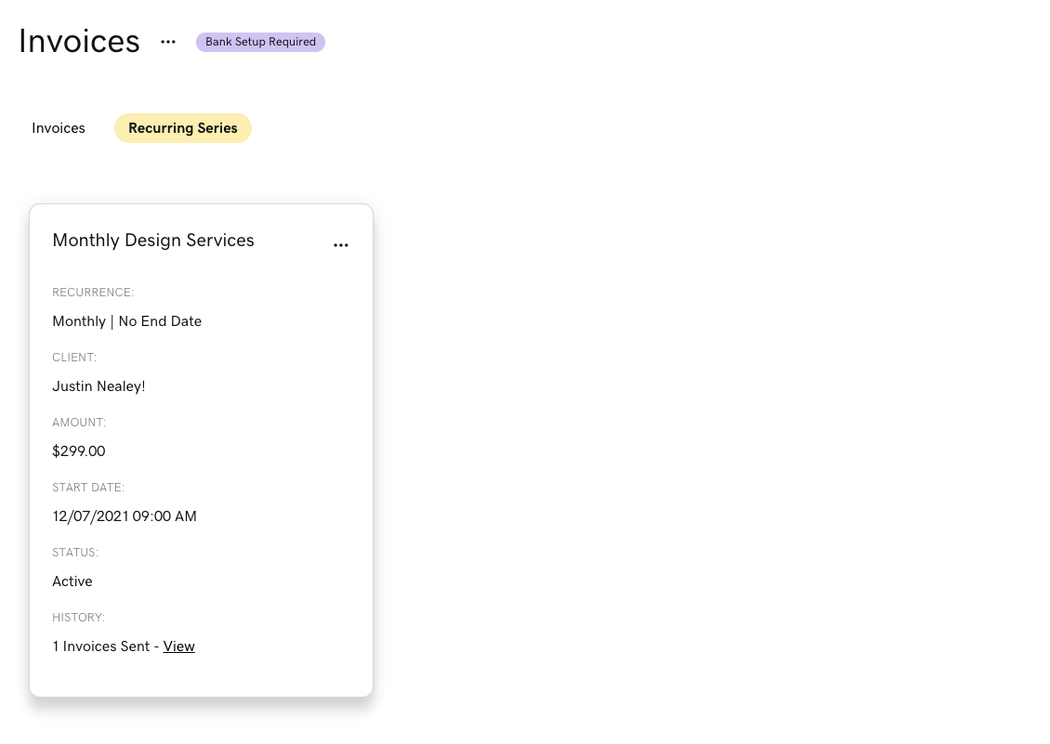 New incentive campaigns in the U.S.
We've added two new campaigns you can leverage for additional revenue when you set up clients with GoDaddy products. First, earn $50 for any new cPanel Web Hosting plan purchased in your clients' delegated accounts. You can also get back 10% on all Managed WordPress purchases you make using these accounts. 

Client report editor
Create a report using the Gutenberg editor — the same tool found in WordPress — for an overview of sites you manage. You can then generate a link to send to clients, which is especially useful when you offer recurring maintenance services.
In the near future, look for templates, recurring scheduling, reports sent from The Hub, and the integration of more Gutenberg blocks into the experience.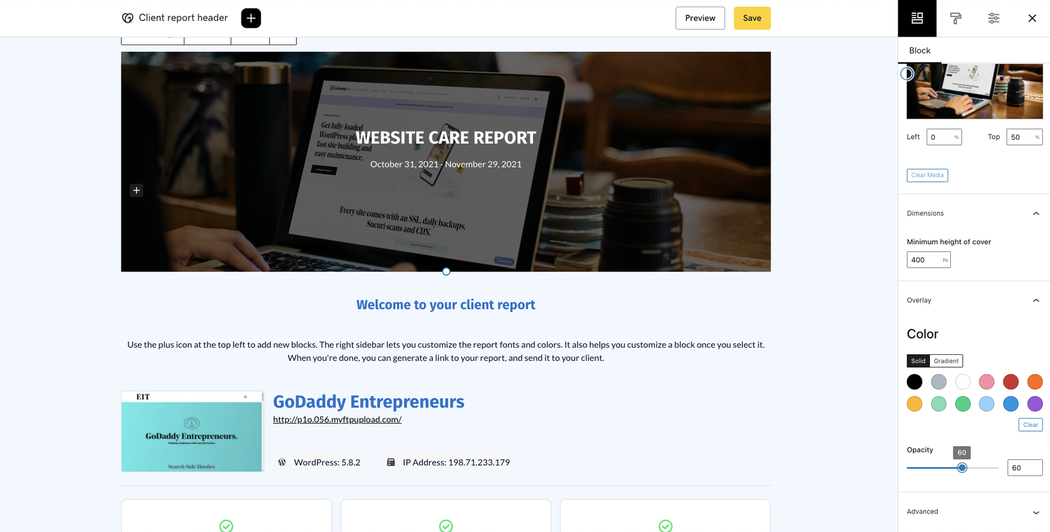 Percent-based pricing for new Resellers
This update is one of the most significant to the Reseller platform in more than two decades. Percent-based pricing lets new Resellers to set a percentage markup rule above wholesale for different groupings of products. It can streamline the pricing experience, from millions of individual price points to a few hundred pricing rules.

More apparent delegation in client list
We've updated the layout of the Clients page to include access-level icons. It lets you quickly tell which clients have delegation permissions. These icons also give quick access to shared shopping and the logged-in experience as a client. 

Updated status widget designs
We refreshed the look of your status widget located on the Overview page in the Sites section. This offers a quick overview and status of your sites, including backups, performance, security, and uptime. In the event there is an issue, just click on the site to be transferred to a detailed view of the issue. 
Filters on Overview page
Users can now use the filters tool on the Overview page, saving you a lot of clicks as you no longer need to go back and forth between the Overview and Site list page.