How online businesses can use pop-up stores to reach local customers
'Tis the season…the season for summer festivals, farmer's markets, craft fairs, and other in-person opportunities for retail sales. Pop-up stores, or stores on the go, are in-person opportunities for the enterprising online entrepreneur to sell locally. They're a great way to expand your market and increase revenues with minimal cost.
Pop-up stores enable online sellers to sell locally.
Specialty Retailer predicts that pop-up stores will be an $8 billion business. If summer is typically your online business's downtime, or you'd simply like to test the waters, pop-up stores might be a great addition to your retail business.
The basics of pop-up stores
Pop-up stores can be as elaborate as a mall kiosk or as simple as a table set up at a flea market to sell your exquisite hand-made jewelry. No matter what type of pop-up store you plan to launch, you'll need a few basics to get started.
1. Set your goals.
Decide what you want to achieve with your pop-up store. Yes, you want to make money, but you can also add customers to your email marketing list, build your brand, test new items and concepts, use your store for in-person product demonstrations and more.
Before heading into the pop-up market, decide on a few specific, measurable goals so you can evaluate your success later.
2. Pick a great location.
Review your current customer base, and research local pop-up opportunities that directly connect you with a similar demographic.
Choose a location that will attract your target customers.
Some ideas to explore include fairs and festivals, craft sales, outdoor malls at beaches and parks, indoor shopping mall kiosks, and special events like hobby gatherings, cosplay groups and more.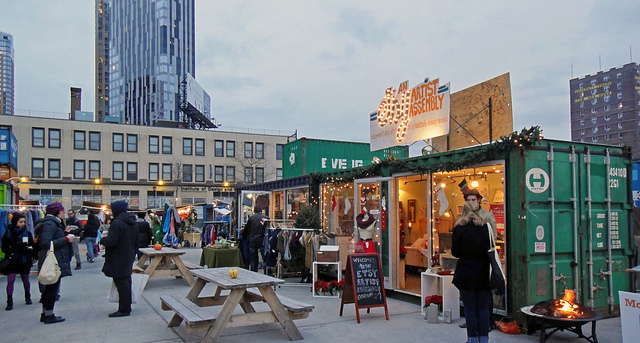 3. Create a memorable shopping experience.
Retailers talk about an "immersive" shopping experience. Capitalize on all the things you can't portray in an online store, such as scent, texture, motion, etc. Allow customers to try on your jewelry, or demonstrate makeup and hair products with a model. Put out samples of your homemade candy or food products that you sell. Place electronics out so that people can touch them and try them. Make it memorable!
4. Appeal to impulse shoppers.
Most shoppers who drop by pop-up stores are impulse buyers. Provide plenty of items with a low-barrier to purchase, such as low-cost or small, portable items.
5. Use a portable POS system.
Advances in payment technology have made it easy to accept credit cards at pop-up stores. POS systems such as Lightning, Square and others enable even the smallest vendor to accept credit cards, while larger eCommerce stores can use them as an extension of their inventory management and register systems. Many eCommerce platforms also offer POS systems, perfect for online businesses trying to sell their products in person.
6. Brand it!
Don't forget your eCommerce site branding, which can be extended to your pop-up store.
Use consistent branding to align pop-up stores and eCommerce sites.
Packaging, signage, tabletop displays and in-store promotions should be extensions of your virtual space.
7. Encourage online shopping.
Purchases from pop-up stores today can lead to eCommerce purchases tomorrow. Think of ways in which you can maximize in-person store traffic for your eCommerce store. Offer pop-up customers a 20-percent discount on their eCommerce purchases or include a postcard with a discount code in their bags as a thank-you. This enables you to track the results of your pop up store discount on your eCommerce sales.
Promoting pop-up stores
Maximize your pop-up store presence by promoting it well in advance of the event. You can use all of your online channels as well as some offline channels to gain valuable publicity.
Include a notice on your eCommerce site sharing the location and times of your pop-up store. Invite online shoppers to drop by and shop in person if they'll be in the area.
Share news of your new pop-up store on your social media sites like Twitter, Facebook, G+ and more.
Take photos and upload them to Instagram and other sites to generate buzz.
Network with the event organizers, and ask about publicity opportunities. Many events also set up Facebook pages or send press releases to local newspapers, radio and television stations. They might include your store info at no extra cost.
Above are just a few ideas on how to market pop-up stores locally and reach potential consumers. With some planning and hard work, you can make the most of your pop-up store experiences this summer. Summer fun begins with summer shopping — and can grow your revenues during sometimes slow months for online shopping. Here's to the perks of pop-ups!
Image by: JeepersMedia via Compfight cc