As a business owner, you may be wondering how customers are engaging with your ecommerce website. Are they enjoying the products you have to offer or is there more you could be doing to help boost online sales? With Enhanced Ecommerce Reports in Google Analytics (GA), you have the ability to analyze sales reports and monitor consumer behavior for different products you sell online. Utilizing these reports strategically will allow you to build and improve your business over time.
The best way to utilize Enhanced Ecommerce Reports will depend on:
What questions you want answered
The reports you want to use to research data
What you want to do with the info you collect
The goals you want to set and how to optimize and reach them
Additionally, Enhanced Ecommerce Reports help you drill down into purchase and transaction data for your business.
Examples of things you can research include:
Product and transaction data
Average order value
Ecommerce conversion rate
Time to purchase and more
Below, we'll discuss how your business can benefit from this information. Plus, run through a breakdown of the different features you can use to forecast goals and gain more customers.
Related: Using Google Analytics and Google Search Console to find out what's bringing people to your website
What businesses benefit from Enhanced Ecommerce features?
There are two types of Ecommerce Reports that GA supports: Standard and Enhanced. The Standard version is the original tracking report and is helpful if you only need data that occurs after purchases are made (aka the end of the sales funnel). Many startups and smaller businesses begin with this option first, then move up to Enhanced Ecommerce later on.
Businesses that want to track the entire customer journey, from beginning to end, should look no further than Enhanced Ecommerce Reports.
These reports do everything that Standard Ecommerce Reports do, but with a much wider scope of information.
You can drill down into specific questions like:
How many people are viewing your product details page?
What stage of the journey are people abandoning their carts?
Are your coupons and promotions generating a healthy amount of revenue?
Typically, larger and more advanced ecommerce businesses benefit more from these reports since they have a wider range of products.
It allows them to see where they can optimize their product listings, marketing investments, checkout process and more.
It's important to note that enabling Enhanced Ecommerce features requires resources and planning to get started. It's the main reason why businesses with a limited budget often opt for the Standard version first.
You can learn more about Standard Ecommerce Reports here to see if it's right for you.
How to enable Enhanced Ecommerce reporting
While having this amount of information at your fingertips is great for business, it does require a more advanced understanding of technical know-how (like coding and javascript). This is because you'll need to implement tracking codes for every page of your site that you want to track.
Additionally, only select third-party ecommerce platforms (WooCommerce included) can integrate with the Enhanced Ecommerce Plugin.
So, hiring an experienced web developer to help run things more smoothly (and efficiently) is a major recommendation here.
But if you have the technical chops to DIY it yourself, you can reference this handy guide from Neil Patel to get started.
Once all the coding and page tracking is in place, you can then turn on the Enhanced Ecommerce view within GA by going to Admin > Ecommerce Settings (in the "View" column). Google also has a detailed step-by-step guide you can reference to easily accomplish this.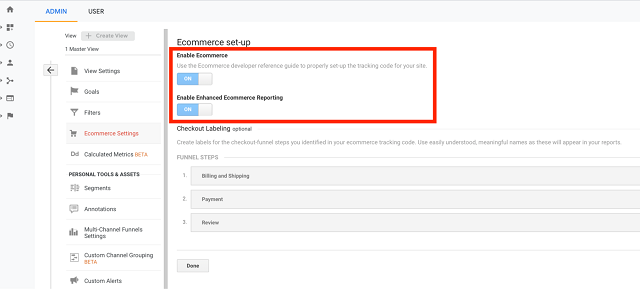 If you're just beginning, you can also experiment with a demo GA account to get a feel for how it works. Note that you'll need to be using the Universal Analytics version of GA to follow along. But it's good practice to browse through the different features to see if it's the right move for your business.
A quick breakdown of the Enhanced Ecommerce Reports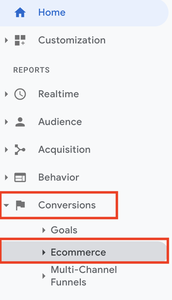 Now that we know the pros and cons of this plugin, let's dive into the specific reports it has to offer. You can navigate to the Enhanced Ecommerce Reports by clicking the "Conversions" tab in the GA menu on the left and then scrolling down to "Ecommerce."
Overview Report
In the "Overview" section, you'll start out with a dashboard that shows the following information:
Revenue & conversion rates
Transactions
Marketing (campaigns, promotions, coupons, affiliation)
Product performance (top sellers/low sellers)
You can think of this page as a type of business health report, along with additional data on how your users are interacting with your page.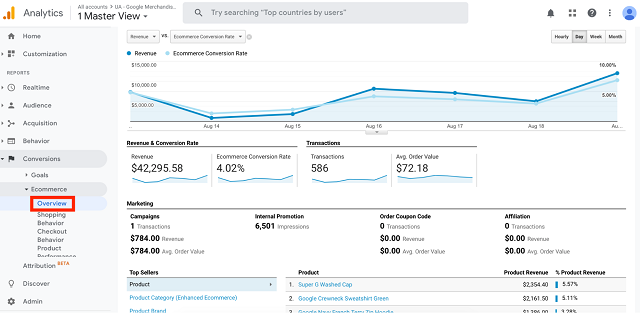 Shopping Behavior Report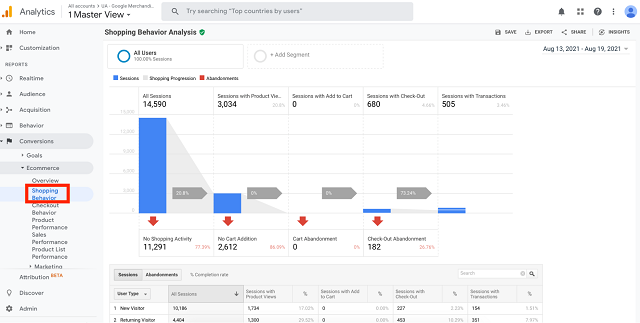 The Shopping Behavior Report is where you'll go when you want to see how your customers are moving along the sales funnel. It'll provide details on how your new and returning visitors are interacting with your site, based on sessions coming from:
Product views: High product views with low checkout rates could indicate you need to better optimize your product listings. Work with your content team to see how you can make your listings better with added tutorials, videos or reviews.
Add to cart: A high add-to-cart rate with a low checkout rate could signify an issue with your pricing. Work with your marketing department to draft up better promos and check out competitor pricing to see if you need to make some adjustments.
Checkout: If your checkout rate is low, you may need to optimize the checkout process better. Work with your web developer to make the process easier and more convenient for customers to use.
These three indicators will help you get a better sense of where your users are getting stuck in the customer journey. Use the data you collect here to set goals for your team and overall business.
Related: 10 tactics to turn impulse shopping into stone-cold sales
Checkout Behavior Report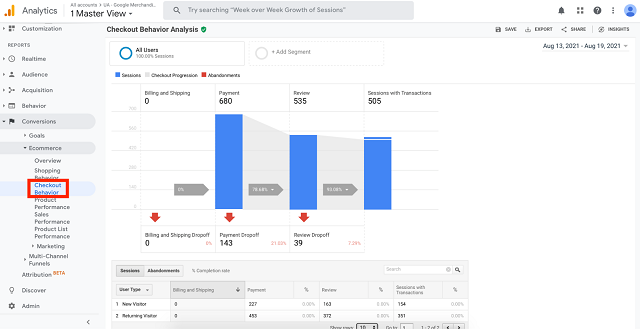 The Checkout Behavior Report is similar to the Shopping Behavior Report, except that it concentrates more on the different stages of your checkout process. You can use this data to see what stage of the checkout process your users are abandoning their carts.
Most ecommerce businesses have multiple steps for customers to fill out before their transaction is complete. But it's possible your audience may prefer a single-page method, too. You can work with your developer to configure customized labeling for each of your checkout steps under Admin > View > Ecommerce Settings.
Possible points of interest to keep an eye on include:
URL issues: Unwarranted redirects or page links that look untrustworthy can dissuade a customer from following through on a transaction. Ensure that all your links are working properly and optimize your checkout pages so that customers know your site is safe to use. GoDaddy Payments offers streamlined verification and advanced encryption to protect you and your customer's personal data.
Payment pages: If you're noticing a high abandon rate within your payments page, it could mean it's time to analyze how efficient it is. Opt for features that make the process more convenient with things like one-click pay or seek out mobile-friendly solutions that make the process run smoother on different devices.
Specific customer preferences: The way your audience interacts with your checkout process could be different from how they interact with other ecommerce sites. The best way to tell what works best for your audience is to conduct A/B testing. This could help determine whether your customers prefer things like single or multi-page checkouts.
When in doubt, consult with your web developer and UI/UX team to see how you can better optimize your checkout process using the data collected from this report.
Product Performance Report
The Product Performance report is a great way to see how well your products are doing when it comes to sales and customer interaction. You'll notice the report is separated by Sales Performance and Shopping Behavior metrics.
Sales Performance
Metrics under this category will give you a sales breakdown by product, SKU, category or brand. You can find and toggle these different views in the Primary Dimension bar under the graph at the top.
Each view will give you information using the metrics below:
Product revenue
Unique purchases
Quantity
Average price
Average quantity
Product refund amount
If you want to dive a little further, you can add a Secondary Dimension using the dropdown menu under the Primary Dimension bar.
This will serve as a type of filter that shows you other insights like:
What landing pages are bringing in the most product sales?
Which devices (mobile vs. desktop) are customers using most to buy certain products?
How effective are your campaigns with promoting products?
Use this information to help you prioritize the areas that can increase your conversion rate most.
Shopping Behavior
This category of metrics will show you the number of customers that are adding products to their carts compared to the number of people finishing their purchase.
These two metrics are categorized by:
Cart-to-detail rate
Buy-to-detail rate
The average percentage at the top of each column is a good indicator to use as a reference when looking at the numbers for each product. GA will automatically show you a list with the best performers at the top. But if you want to view products with lower than average numbers, you can add a filter by clicking the Advanced button near the top of the metric columns.
For more information on filters, check out this GA tutorial that breaks it down even further.
Sales Performance Report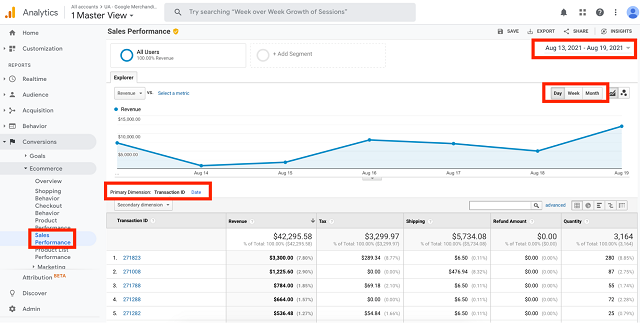 The Sales Performance Report is what you'll use when you want to track your sales over a specific time period. You can customize the date range you want to look into by clicking the dropdown menu in the upper right corner. Below the dropdown menu, you'll have options to view the visual graph based on day, week or month.
This information will help you get a sense of sales based on two dimensions:
Transaction ID: This represents the purchase information from a specific transaction. It's typically linked to your ecommerce shopping platform and works in tandem with your CMS.
Date: Sorting this report by date will automatically show you the dates with the highest sales.
Clicking either the Purchase ID or Date number will show you the revenue and quantity metrics of products sold within that transaction or date.
When you're in the main summary page, you'll view other metrics like:
Revenue
Tax
Shipping
Refund Amount
Quantity
You can use this report to pinpoint high transaction dates or dates with high peaks of sales in certain products (like seasonal items). This will allow you to concentrate your marketing efforts (think coupons and promotions) towards those specific areas.
However, you can also use this report to help you target the lower trending sales by switching up your product offerings or branching out to new markets (going global can help).
Product List Performance Report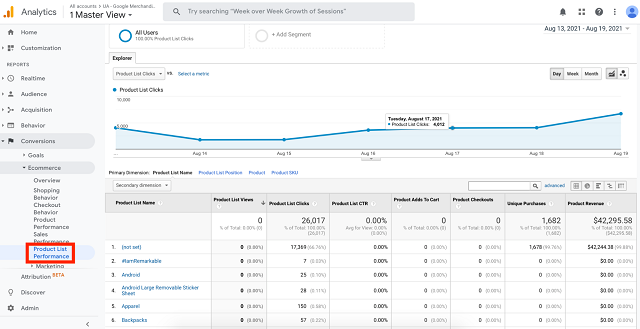 The Product List Performance report helps you view data for specific groups or categories you have listed for products on your ecommerce website. This snapshot allows you to view which products are performing well and which ones could benefit from additional optimization.
Like the Checkout Behaviour report, you can work with your web developer to customize your groupings the way you see fit.
Here are three different ways most ecommerce businesses tend to group their products:
Categories: Brands can separate a wide range of products into categories that are typically found within a navigation menu. For example, a fashion brand might categorize its products by handbags, dresses, and shoes.
Search results: You can create a list that categorizes all the products that show up whenever someone types specific keywords into a query.
Related products: This list can be made to represent add-ons or suggested items under a product details page.
Once you have your lists configured the way you want them, you can then compare your top performers against your low performers using specific filters in the advanced settings.
Why it all matters
Setting up the Enhanced Ecommerce plugin takes a bit of time and money, but it's well worth the investment in the long run.
The reports found within Enhanced Ecommerce will give you a wide scope of information that tracks the entire customer journey.
It's filled with insight on areas of opportunity for your business, along with key areas of success.
Remember, anything that makes the customer experience more convenient and user-friendly will help boost your overall sales and conversion rates.
Do your research, analyze the results, and work with your team to tackle goals that can help grow your ecommerce business successfully.