Pinterest design tips for eCommerce shops
You can't sell online these days and ignore Pinterest as a sales driver. Read on to learn why that's true and how your eCommerce site can capitalize on this trend by using data-driven secrets of Pinterest design.
According to Hootsuite, there's a long list of Pinterest stats that marketers need to know:
"Ninety-three percent of Pinners use Pinterest to plan purchases. The same study found that 96 percent use it to research and gather information, while 87 percent report that Pinterest has helped them decide what to purchase."
That means there are active customers out there with money in hand, surfing around on Pinterest. They're filling up boards with ideas of what to buy and when it's time to hand over the cash they'll head straight to their favorite pins first. If you don't have a presence on Pinterest, you could lose those sales to competitors who are active on the platform.
Related: A beginner's guide to social media for small business
Pinterest is a leading shopping platform
Hootsuite also shares data around how Pinterest compares to other social media and advertising platforms. Do you have a millennial audience? You're in luck!
Pinterest is the No. 1 shopping platform among millennials.
Forty-seven percent of millennials on Pinterest have purchased something they've pinned (9 percent more than millennials on Facebook and 14 percent more than millennials on Twitter).
Fifty-five percent of Pinterest users shop on the site, more than 4 times the rate of other digital platforms.
Seventh-three percent of active pinners have bought something because they saw it on Pinterest.
Sixty-one percent of pinners have made a purchase after seeing branded content on Pinterest.
These statistics make a pretty strong argument for taking time to create Pinterest designs for your eCommerce products. It's really worth the effort.
Pin design facts
Now that you know it's worth the effort, it's time to learn about how to design your pins. Thankfully, some research has gone into this as well. Viralwoot's article, "Interesting Pinterest stats you should know about" tells us that in a study of 50,000 images, those without human faces got pinned more often. Color and texture were also important in getting some great repins.
So keep these stats on a sticky note while designing:
Don't use faces (Images without faces get 23 percent more repins than those with faces).

Use dominant colors (They get 3.25 percent more repins than monochromatic designs).

Use medium/light colors (These get 20 times more repins than dark images).

Focus on smooth textures (They get 11 times more repins than rough textures).
But if faces, dark colors and texture are a hallmark of your design, don't cut them out entirely! Just do some experimenting with your pin designs. See what results in sales, while still staying on brand, and what doesn't lead to sales. Test, then adjust accordingly.
Related: Everything you need to know about creating a brand style guide
Use less whitespace
Whitespace is a term for the "empty" areas in your design. Or the open areas that are often white/light, but could even be black or dark colored. It's just about the idea of keeping your designs from being crowded.
I never thought I'd say "use less whitespace." As a designer who has to sort out heaps of information and pictures into something easy to read and enjoyable to look at, whitespace is my bread and butter. However, Pinterest is its own beast. According to this article, "New Pinterest Research Shows Which Images Get the Most Engagement," white space is bad.
"Images with less than 30 percent whitespace are repinned the most. The repins drop off by up to four times for images containing 40 percent or more whitespace."
Pinterest users love to click images that give them a lot of content and information all in one spot and apparently those pins are skinny on the white space. You still want to avoid "crowded" but don't be shy about including lots of great details in your pins (like those smooth textures we learned about above!)
Add graphical extras to spice up your pins
Use a couple of extra design goodies to add some spice to your pins. Those are icons and freebie mockups / fun arrows.
You can use icons to break up the space on your pin or to highlight certain sections and make the message clear without even having to read the text. You can also use repeated icons as a nice background pattern. These two techniques are combined nicely in this pin from HeyBrandi.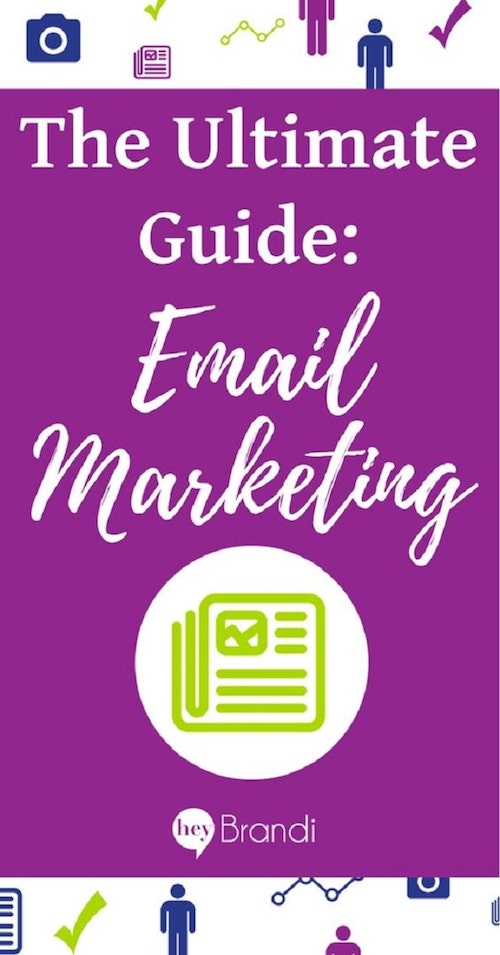 If you have a freebie — like a sample of your products or an eBook — create a small mockup to show what that looks like. Then display it somewhere on your pin with text saying it's free. You can even draw a cute arrow pointing at it to help draw the eye right to it. Melyssa Griffin does a beautiful job of highlighting her free downloads with mockups and pretty curvy arrows in many of her pins.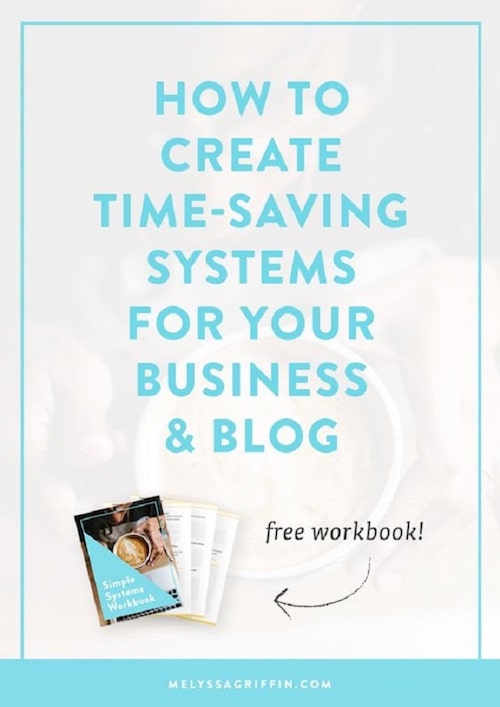 Next, let's dig into a few of the overarching design rules for your pins. This is Design 101 stuff and great to keep in mind for all your designs, but especially helpful when you start to dip your toes into Pinterest waters.
Fundamental Pinterest design rules
Stand out from the crowd. Don't blend in with the other search results. When scanning the page, the readers eye should STOP on your design.
Create a design that attracts your niche audience. If your customers love the outdoors, add some beaches and mountains. If they love the city, throw in some skyscrapers. They'll know it's for them at a glance!
Make it easy to read/understand. Tiny, unreadable text is not your friend here.
Make it click-worthy. It should be irresistible! Text and images that people just HAVE to click.
I've collected a variety of pins from eCommerce shops and entrepreneurs that show these design techniques in action. Let's take a look at some example tactics and how you can replicate those for yourself.
Text overlay on photo
Simple as can be! Just grab a photo and make sure the colors aren't very high contrast. Then put your text in white on top of that. If there's too much contrast with dramatic lights and darks, there's a risk some of your white text will disappear into the white areas of the photo.
The Travel Tool has this lovely sepia tone image of a globe that makes an excellent backdrop for the white wording and gets the message across that this pin is about traveling.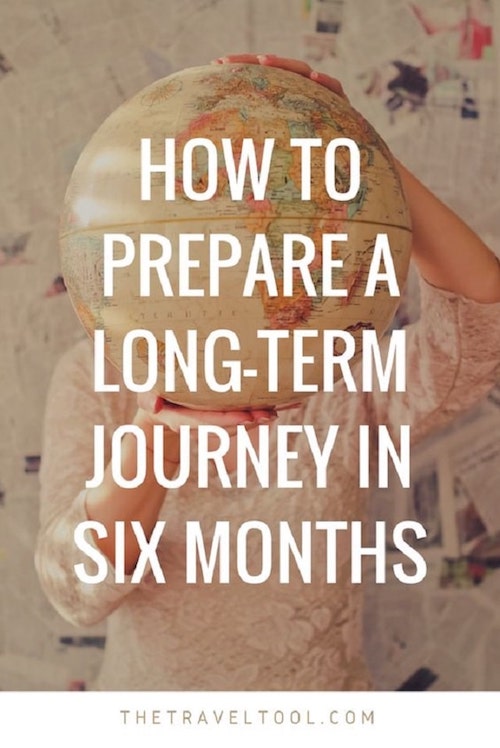 Text overlay on color screened photo
If your image is busy or has high contrast, you can get the effect of the less-contrast look that I mentioned above by adding a screen of color on top. In this pin from my site at SarahDesign.com, I've used a purple color covering the image, and the opacity is turned down so you can see hints of the photo in the background. Then the text stands out beautifully on top. This text also has a bit of a drop shadow to help it stand out even more.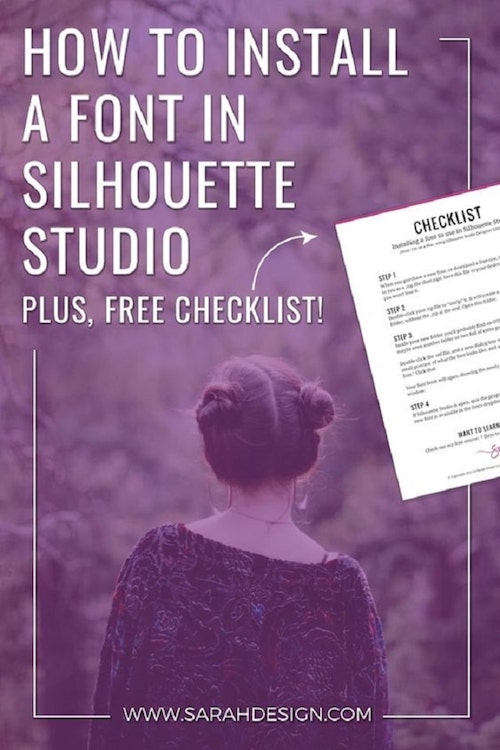 Text overlay on color (solid/gradient) no image
If you don't have a particular photo you want to show, you can still make a pin! I created this pin for a guest post on the Cutting for Business blog. I wanted to emphasize the typography in support of the pin topic — logo design. So I chose to use a gradient background with white text on top.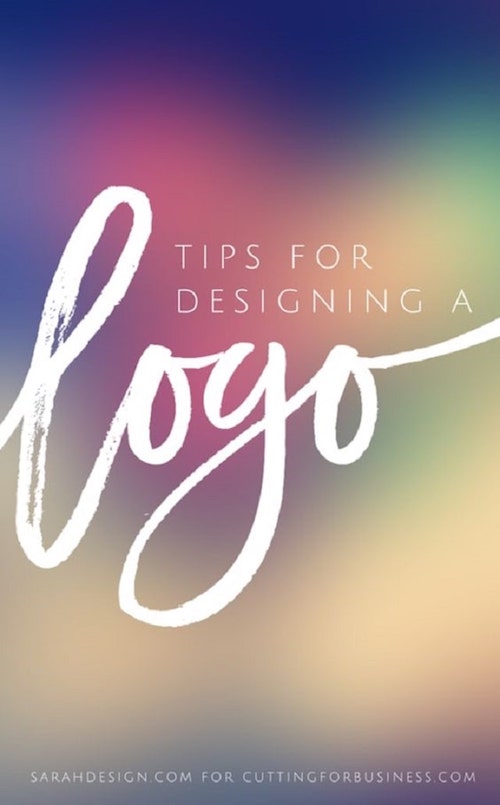 Boxes behind words
This is a really fun and modern take on making text stand out on top of a photo or busy background. Just draw some square shapes behind each line of text. It's also a convenient way to weave in your brand colors. Your text boxes don't have to be black or white, they can be any color. Go wild with pink or yellow. Or go teal like we see in this example.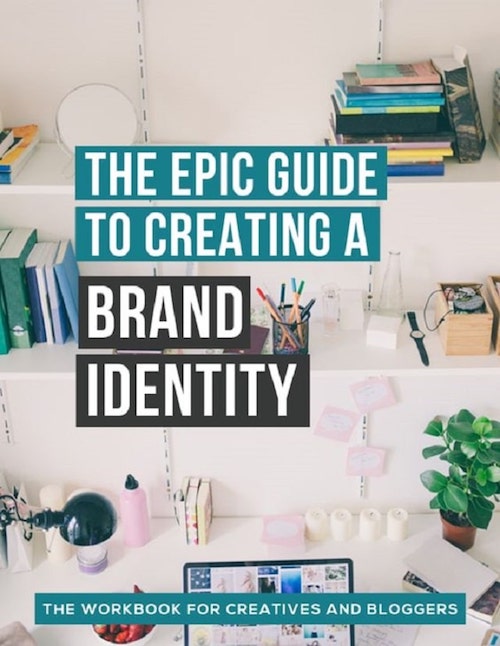 Extend background to white for text
This pin image from my blog post on Copyright for Creatives had a wood floor texture and a light wall color. So I extended the height of the image and just made the background match the wall color. This made a large, open area for text. Plenty of room to get the headline onto the pin in a stand-out way.

Stack photos with text in between
When you don't have a nice tall image to use, you can still get a tall pin effect. Just stack two photos on top of one another with some space in between. Put a solid colored box in that space and add the text on the box. It's a light grayish white in this stuffed peppers example, but could easily be another color to represent your brand or complement the overall scene.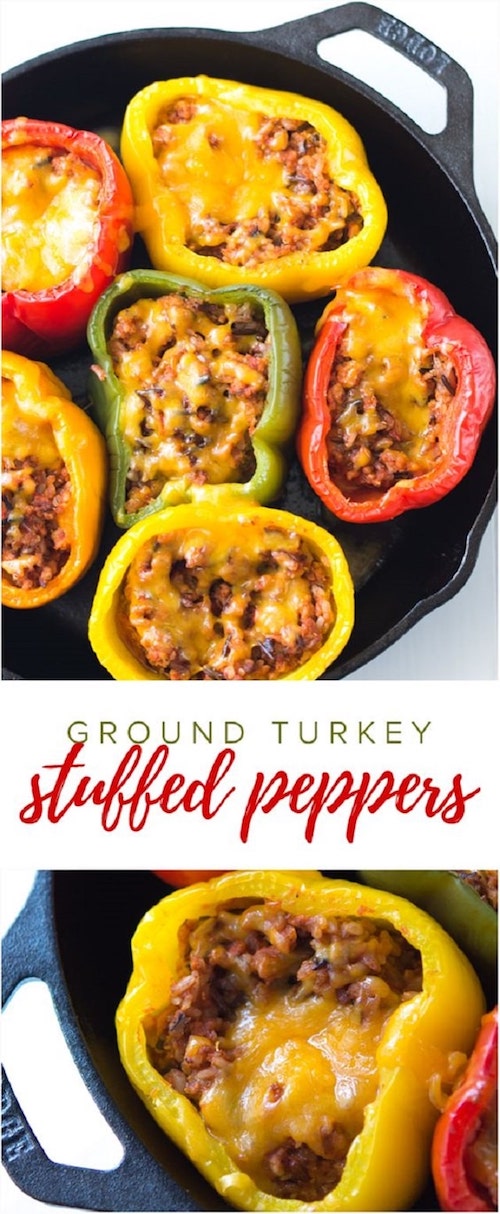 Stack more than two images (text optional)
You can add even more images to your pin, stacked if you want. In this example, Sylvan Sport has stacked a variety of images of their outdoor/camping equipment. This lets customers see a wide range of their products and how they work together. The images are so interesting and rich that they don't even need text at all and the message still comes across loud and clear.
This is a really wonderful technique for eCommerce shop owners because it takes off the pressure of coming up with the perfect headline.
Just grab a bunch of images of your products that complement one another and let the pictures tell the story.

Grid with headline
In this pin about "How to wear a hair scarf in a messy bun," the purpose is clear. It's a tutorial pin that gives readers all the info they need, in pictures, to perform the task on their own. The headline on top makes it clear what's being taught, and the images illustrate that.
This would be excellent for an eCommerce shop that sells hair accessories.
It attracts customers who like to accessorize their hair, and gives them instructions on how to use their wares. This pin could link directly to the hair scarf shown in the photos. The reader is already excited about the prospect of using a hair scarf and they've seen it in action so they're primed to buy.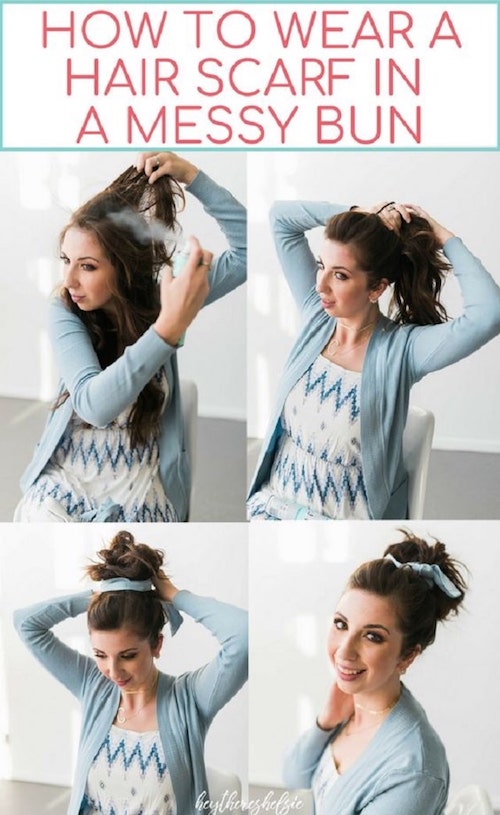 Beautiful product without text
Some products are intriguing and beautifully designed. And the aesthetic alone will draw in the perfect audience. These little radios from Mezzo do just that. Words are completely unnecessary on this image. And the lack of words supports their brand, which is all about simplicity and minimalism.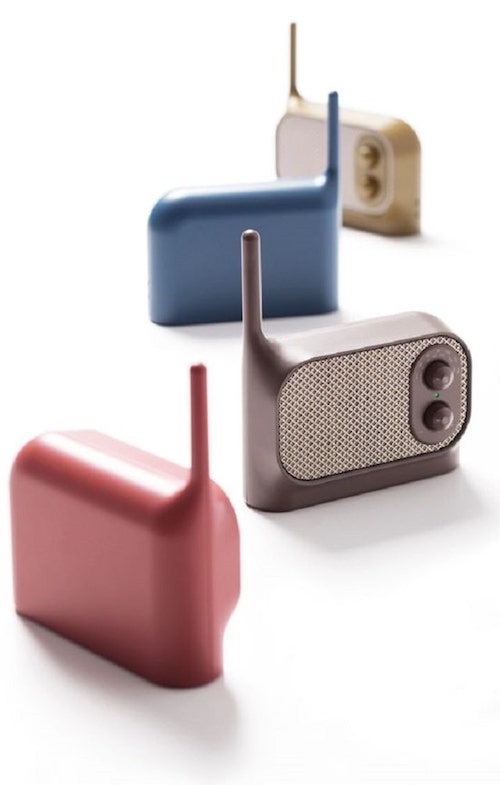 Infographic
The infographic image is an oldie, but a goodie — a classic pin that never goes out of style.
Infographics are wonderful for conveying complex information in an engaging and informative way.
A combination of imagery, iconography and text, they tell the entire story that you want to get across. This pin from SEO.com illustrates the skills and persona of a marketer in a fun and colorful way. You can't help but read through it!
Which Pinterest design tips work best for you?
I hope you found some inspiration from these examples. Next steps for you are to jot down which formats would resonate best with your customers, and make note of which ones would be easiest for you to make within your brand.
If you love infographics but don't have a designer to make one for you, maybe photo posts are better for you. Or if you don't have a stockpile of photography on hand, maybe you want to use a background color. Or perhaps you're all about icons and want to use those on your images.
Figure out what will be most accessible for you to create, then start whipping up some of these! Happy pinning!