Pique Tea: Bringing healthy, tasty and hassle-free tea to the masses
When Simon Cheng, Founder and CEO of Pique Tea in San Francisco, started suffering from serious health ailments, he turned to natural remedies in a quest for inner health. He stumbled upon Cha Gao, a 1,300-year-old practice for turning tea into medicine. Drinking tea has always held many health benefits, but he knew that Cha Gao, coveted by natives as a wellspring of vitality and energy to withstand the rigors of life in the mountain region of Yunnan, China, had a place in our markets, too.
Finding the right leaf for Pique Tea
"This primitive innovation so encapsulated the wisdom of the ancient health practices I developed — plant-based medicine, qigong meditation, inner and outer harmony — in a convenient, accessible format I wanted to share with the world," explains Simon.
And so, he partnered with leading experts in tea cultivation and plant extraction. He invented a patented Cold Crystallization process to extract the amazing flavors and active ingredients found in tea at their maximum potential.
But he didn't stop there. Developing the product was only the beginning, and he knew that working with industry professionals could only further his business's potential:
"After developing the product, I found experienced CPG entrepreneurs and created an advisory board with them. Keith Belling, Founder & Chairman of popchips®, and Leslie Blodgett, former CEO of Bare Escentuals, Inc., are among them."
And who better to explain the benefits of Pique Tea than Simon himself?
In Simon's words, here's a quick look into his product and what he says makes it stand out from the rest:
"Everyone knows tea is good for you, but did you know that drinking it in sufficient quantity and quality can help you access your optimal performance potential or flow state? That's what Buddhist monks have been doing for thousands of years. Pique Tea helps you hack tea drinking with it's instantly cold, water-dissolving Tea Crystals that contain 3x the active ingredients of teabags and 10x the active ingredients of bottled tea.
Best of all, Pique is organic and sugar- and preservative-free.
All of the powerful ingredients — L-theanine, polyphenols, time-release caffeine — are 100-percent naturally occurring, not added. They're extracted via our cutting-edge Cold Crystallization process.
With 18 patents, Pique Tea is one of the hottest consumer product companies in the Bay Area and one of the only food companies backed by First Round Capital and Khosla Ventures. Say goodbye to the troublesome tea brewing, plastic bottles, preservatives, sugar and nasty teabags of the tea you're drinking now, and say hello to the energy, clarity and focus of flow state performance with zero hassle."
Thanks for sharing that, Simon. Now, let's take a look at how he markets his unique product.
Understanding his market
Simon has a unique understanding of his product, and he was able to bring that to the table when creating his business. Since Pique Tea started because of his search for inner health, he realized the same scenario could be for his customers — and his niche. He says:
"I discovered my niche through empathy and trying to understand the customer pain point and doing lots of research on the customer."
Beyond that, his tea is tasty, and he needed to make it available to consumers across the board. So, he started selling tea crystals online, in retail and in food-service channels. The purpose is to help everyone enjoy and experience the benefits of tea — making it tastier, packing it full of more active ingredients, and taking away the hassle of making it altogether.
Simon believes that making money and doing good don't have to be separate ideals.
With Pique Tea, he aims to impact his customer base in a positive way by bringing them healthy, organic sugar- and preservative-free tea. As he scales, not only will his business benefit, but so will his consumers.
The right tools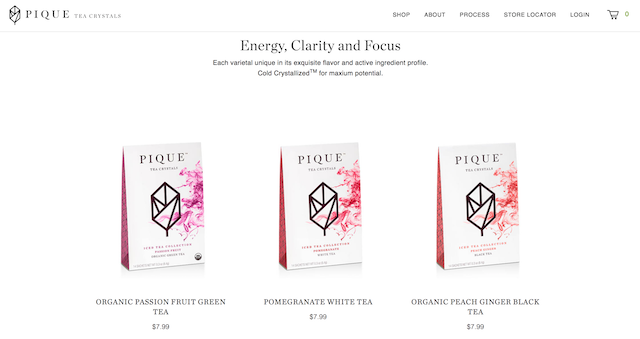 Simon knew the importance of securing a domain name for his online identity, so he went to GoDaddy to register PiqueTea.com. He says:
"GoDaddy has been instrumental in helping me obtain and manage the URLs for building my brand. They also provide the services I need for managing my portal, which is the window into the soul of Pique."
He now has a strong website that ties in well with his social media accounts, and he can showcase his products and his story with ease.
Parting advice
Starting a business isn't easy. There are a lot of factors to consider, so when it comes to establishing the foundation, Simon says:
"Bootstrap for as long as possible. Don't hire senior people early on. Do every function yourself first so you can figure out who you need to hire."
Sound advice. There are plenty of bootstrapping tricks for aspiring small business owners, so it's important to weigh your options carefully. Hiring people early might be putting the cart before the horse. There might be a lot to handle in the beginning, but find methods to relax. For Simon, that includes yoga, drinking tea and going on nature hikes.
In fact, it was the sickness he experienced early in his life that led him to qigong meditation, which in turn lead him to Pique Tea.
In addition, Simon tries to partition his work and personal life, giving dedicated time to his job and his wife. Taking care of himself, a key factor for any aspiring entrepreneur, means that he'll be able to stay strong for his business.
Want to learn more about Pique Tea? Check out their website at PiqueTea.com or follow them on Facebook, Instagram and Twitter.