Simmons Creperie caters its way to sweet 'n savoury success in London
Editor's note: Not many business owners can say that Sir Anthony Hopkins has tasted their crepes. Raphaelle Simmons can. As the founder and owner of Simmons Creperie — a caterer of homemade, traditional sweet and savoury French crêpes and galettes serving customers in London and the surrounding area — Raphaelle has served prestigious private clients such as Hopkins, Helen Mirren and Bruce Willis, as well as corporations including Microsoft, Volkswagen and American Express. The business has earned numerous awards, including "Wimbledon Most Popular Business 2015" and Time & Leisure Magazine's 2013 "Best Service" award. Want to know how Raphaelle and crew do it? Read on.
Q: Tell us about your business.
A: The concept is simple: a vintage "crêpe bar" set up anywhere in minutes, where trained chefs cook each guest their crepe live, with their choice of toppings. The emphasis is put on the quality of the ingredients and the respect of traditional recipes and techniques. We cater all around London for all types and sizes of events, from birthday parties and weddings to corporate events and some of the major public fairs.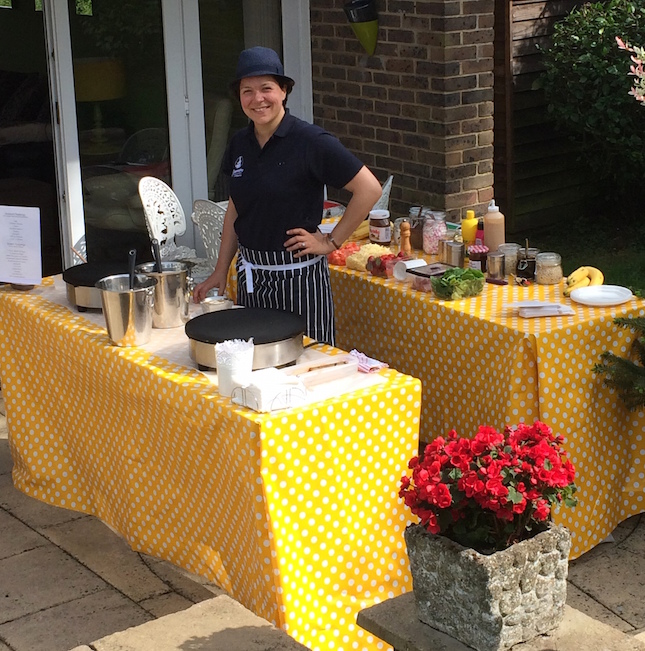 Q: What makes it a winning concept?
A: We cater to all tastes, diets and allergies (vegetarian, meaty, gluten, dairy or lactose-free) and you can get main and dessert in one package. It's entertaining to watch our friendly chefs in action, and people love to have tailored food made live just for them! Plus, our business is very flexible because we can set up anywhere, with as many chefs as you require, for the time you want. We can even personalise our presentation to meet your theme.
Q: What inspired you to start Simmons Creperie?
A: I founded the business with my husband in 2010. At the time we had "normal lives" with "normal jobs" in logistics and advertising. We both enjoyed the expat life from our respective countries — France and America — but were longing for a big adventure. Inspired by my French heritage, we created Simmons Crêperie to respond to a lack of traditional crêpe catering in London, and business is now in full swing!
Q: How did you identify your niche in the market?
A: Being French, I eat crepes all the time and I am familiar with the galettes, which are the traditional savoury crepes from Brittany made with buckwheat flour. They are as popular as pizza in France but nobody was really doing these in London, which is crazy because there are 350,000 French people, but also because they are delicious and also gluten free, a big trend that really helped the product take off. A few people were doing crepes at markets but nobody had the idea to offer a catering service for house or office parties, so we decided to focus on that first.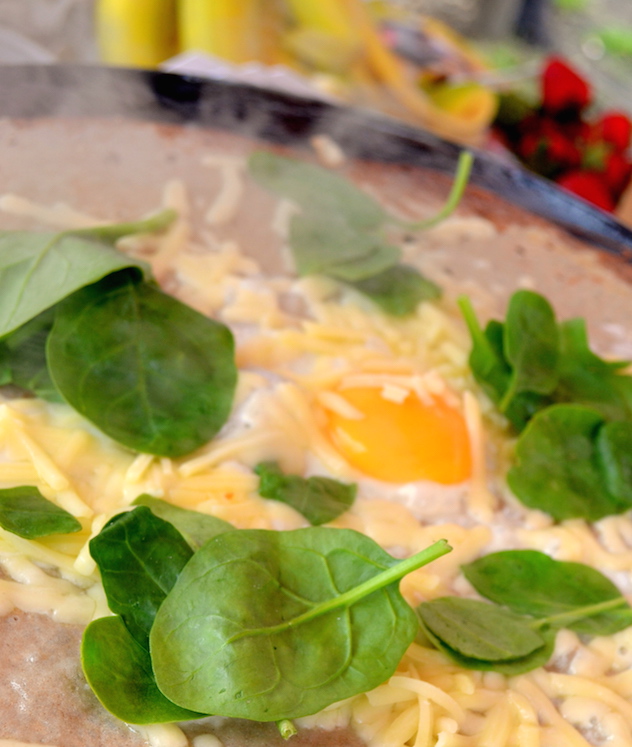 Q: What first steps did you take to launch the business?
A: Past the "dreaming about it" phase we got a proper training in crepe making  in France to make sure we learned from the best. Then we tried the concept at weekends at fairs and markets whilst still in our jobs during the week. On the first day of trading we made £350 profit despite selling our crepes for under £2! We were knackered but super excited.
Q: What obstacles did you face as a startup?
A: It is daunting to have to learn about everything, from food safety to accounting. There are a million things to do, and you don't know what, when and how. This can be very overwhelming and discourages a lot of people.
Q: How did you overcome those obstacles?
A: Keep the end goal in mind as a motivation, and go through each task step by step. Make lists, talk to people, find free advice online or from your council or your bank. Engage with your friends and family, share your ideas and thoughts with them. There is a lot of support out there, you just need to show motivation.
Q: What strengths did you bring to the table as an entrepreneur?
A: My marketing background definitely helped, as well as the fact that I travelled a lot and worked in different countries. I have learned to adapt quickly in unsettling situation and I am also not scared to be "hands on" — which are invaluable skills in my field. I am told I am also a "people person," which is very useful in a service industry!
Most of all, I believe our success is due to the fact that we have a good balance of passion for food, along with a good business acumen.
Q: What do you hope to accomplish?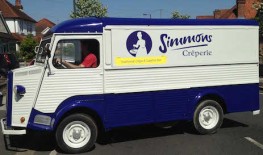 A: We would like to become the reference in crepes and galettes in London. People don't realise how good these can be so we are on a mission to show them! So far word of mouth has been tremendous, so we think we are on the right pass. We have also decided to expand into street food with a stall at a daily market in Central London so that we can use it as a "front window: and get people to try our product more easily.
Q: What's your guiding business philosophy?
A: Be proud of what you do and pay attention to detail. It will make a difference.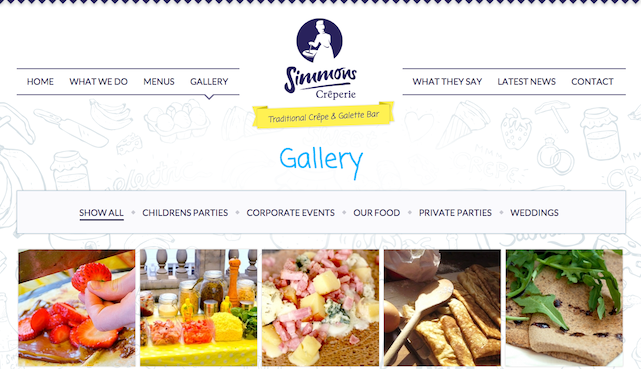 Q: What online tools do you use for your business?
A: Our website is the first window to our catering business, so it is crucial that it works and looks great. We got it revamped in 2013 with the help of a small agency who did a fantastic job. They put in place our digital marketing campaigns, too, and really helped us step up our game. The results have been very positive. Now that we are developing into street food, we are growing our social media presence as well. Foodies share a lot of what they do and like online, so it is vital that we are active on Instagram, Facebook and Twitter.
We actually chose our name based on domain names availability! We would have liked to be a bit more creative with our name but so many URL are already taken. The most important to us was to have a simple, logical, memorable URL, so we opted for our family name followed by our specialty. We also made sure straight away that both .com and co.uk URL were available as it makes it easier for people to find us — and if we ever expand beyond the UK, we know we are covered!
Q: What's the most valuable lesson you've learned since starting Simmons Creperie?
A: I can't do everything! Now that the business is expanding, I realise I need to get help to run events, to do accounting but also to advise me on strategy, marketing or even business growth itself. It's great to start things yourself, but it is important to know when you would gain/save more (money or time) by hiring a pro.
Q: What's your best advice for other entrepreneurs?
A: Be passionate about what you do but never forget that first and foremost you are running a business — so know your numbers.
Hungry yet? Visit Simmons Creperie from 11:30 a.m. to 2:30 p.m. daily at Strutton Ground Market in Central London, or contact Raphaelle to discuss private catering.