Simple email layouts have maximum impact
Simple email layouts are the best way to go. You'll have a strong response to your GoDaddy emails if the content and call to action is clear.
We've mentioned this in a post about email layout and copy, but it's also something Dean covers in his e-book, "Unleash the Power of Email Marketing: Email Marketing 101 for Small Businesses." Consider these three points in favor of simple email layouts for maximum marketing impact.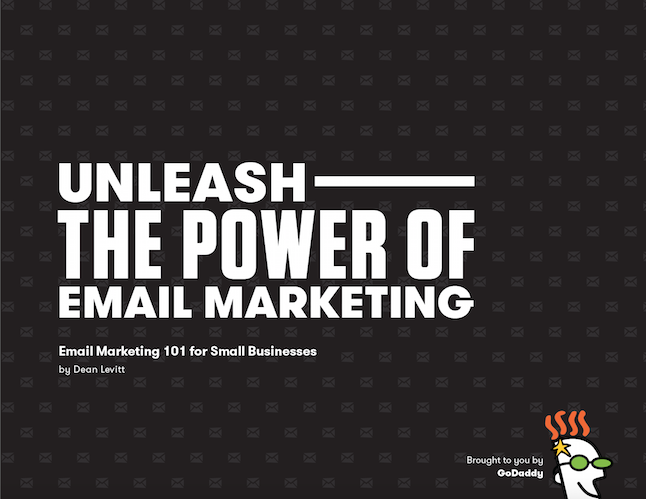 Single column email layouts
Dean says, "While dual columns may seem attractive because well, you've seen emails with that format, I tend to steer clear of that layout. It's a 'noisy' format that's distracting and we like things that are easy to read. So keep it simple!"
We know there are two-column formats out there (and that you can build your own with custom HTML,) but with more people reading emails on cell phones, this two-column layout doesn't make for easy reading. Stick to one column to keep your message clear and keep you on message as you compose.
Email layouts with navigation buttons up top
If you're including buttons or a navigation bar in your email newsletter, place it at the top. Running the buttons down the side of your email is just like having a second column in your email :)
Dean encourages you to resist the buttons or links down-the-side urge : "…don't put them along the side – place them up top. We're trained to look there. Visit every website you like and you'll find the vast majority have their navigation links up top and not down the side. Placing those "quick links" up top utilizes your email real estate to the best advantage."
Keep content simple
Your email layout is a function of your content, which we also encourage you to keep simple. Simple content begets simple email layouts (and vice versa.) Often, this means choosing to tackle just one relevant topic in your email. That's ok! This way, your readers will read everything you write.
"Start simple – you can always ramp it up. Single topic emails are easy to digest and easy to keep up with whether your goal is monthly, weekly or daily. Besides, it's much less disheartening to ramp up than down."
Simple email layouts are just the beginning
There are tons of gems like this in our free email marketing guide. Check it out! Also, start using our email marketing solution today!
Image by: Vincent Albanese via Compfight cc