Take a cue from two Insty superstars to make Instagram work better for your business
We all love likes. That's just one reason why many modern marketers are embracing Instagram with caffeine-fueled fervor. And while hopping on the Instagram bandwagon may seem like a must-do, doing it right is more important than just doing it. So before you set up your Instagram profile and start flooding the feed with photos, check out what every savvy marketer can learn from these two Instagram superstars.
Starting humbly as a home-based business specializing in custom photo books, the team at Artifact Uprising has rapidly built a strong brand, a beautiful product line and a significant social media following. Their Instagram following now tops 200k!
In addition to showcasing its lovely photo products, Artifact Uprising uses Instagram to build a highly engaged community.
Fostering community is key to Artifact Uprising's successful strategy.
Instead of using its Instagram feed as a static storefront to show off its books and printed goods, the company has created a real sense of community.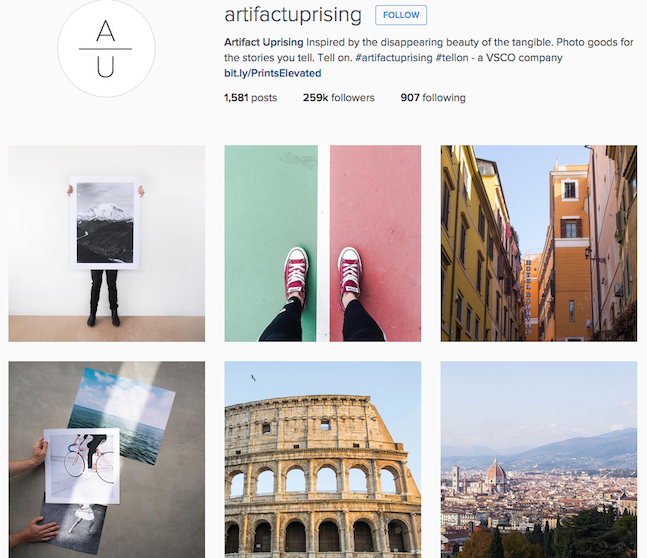 Here's how Artifact Uprising did it:
A masterfully crafted profile. You'll immediately notice the company uses its Instagram profile link to share relevant content. Rather than just post its URL, Artifact Uprising customizes its profile to reflect current promos and community contests. This means the business can efficiently share news with its followers and then use Google Analytics to monitor what people do when they visit the company's landing pages.
Proactive hashtags. Artifact Uprising's profile description tells followers what the brand's current #hashtags are, and asks people to use them. That's just one way Artifact Uprising involves its audience and invites them to contribute photos. By developing their own custom hashtags (#tellon and #artifactuprising), the team at Artifact Uprising effectively solicits and organizes user-generated content. Plus, they create a palpable sense of community.
Loyalty through credit. You'll also notice that Artifact Uprising credits community contributors every single time they feature one of the company's photos. That goes a long way in building brand loyalty! So when you want to feature one of your follower's photos, be sure to tag them and mention them prominently.
Beautiful simplicity: Theron Humphrey (@thiswildidea)
Get real. Be sincere. Be fun. These three principles sum up the wild success of photographer Theron Humphrey's Instagram feed, @thiswildidea. Boasting more than 900k followers, Humphrey's feed is filled with contagiously joyful imagery. You can't help but smile when you scroll through thousands of photos featuring his adorable dog, Maddie. She's the primary subject of his photos and a driving force behind his Instagram fame.
You see, Maddie is the constant visual reminder of his original mission: to travel across the United States and meet one new person a day, every day, for 365 days. His goal is to create a huge portrait of America. She accompanied him on his trek, and he photographed her standing (often gracefully balancing!) on top of objects along the way.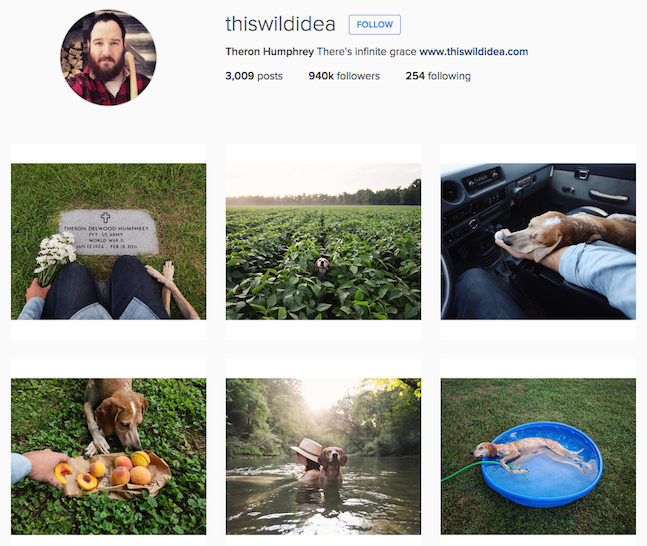 It seems so simple — a man and his dog crisscross the country on a roadtrip. But there's magic in simplicity.
Humphrey's success stems from his commitment to keeping his feed personal while posting photos of his journey with a beloved (and cute) companion.
His simplicity is infectious. And it's what has opened doors for him — he is a recognized "Instagram Influencer" and has been commissioned by brands like Mercedes.
Brian DiFeo, co-founder of Instagram marketing agency the Mobile Media Lab (which represents a bevy of Instagram influencers, including @thiswildidea) and a pioneer of the platform, shared this key insight in a recent interview:
"The most successful influencers are the ones that balance what the audience wants to see and what you want to show as a singular voice."
There are two takeaway phrases here: "what the audience wants" and "singular voice."
First, you've got to understand what your audience cares about, what inspires them and what keeps them coming back to your feed for more.
Second, you've got to speak in a singular voice that stands out in a sea of other messages.
Don't be afraid to be personal. Audiences crave authenticity — real words and images from real people. In a noisy marketplace flooded with mixed messages, keeping it real can pay off in the form of followers. To attract and keep followers, focus on crafting images and accompanying messages that are accessible to average folks. It's not enough to share stunning, crisp and inspiring photos. You must also complement your photos with words that effectively tell your story. After all, that's how Theron Humphrey and Maddie became Instagram superstars!
Craft your Instagram strategy
Ready to get started? Ask yourself these questions before crafting your own successful Instagram strategy.
Are you a filter fanatic? OK, this is a tough one. Instagram gives you so many fun filters to use. And it's tempting to use all of them. But before you get crazy creative, remember this: Your audience is bombarded by imagery every day. To make your photos stand out from the visual noise, choose one or two filters and stick with them. Have a hallmark style; your followers will thank you with more LIKES!
Are you true to your brand? Are you a new bistro? Then focus on food and beverage photos that celebrate foodie culture. Are you a fashion brand or unique boutique? Then focus on lifestyle images that include your clothing, without making it look like a typical online storefront. Are you a business coach? Then focus on images that evoke confidence and include short tips or tricks for being more successful in business.
Are you treating Instagram like a two-way street? It's not enough to post photos regularly; you've also got to show your followers some love. The team at @artifactuprising sets aside time daily to like their followers' photos and like photos that have been hashtagged #artifactuprising and #tellon.
Are you tracking folks who hop from your Instagram profile to your landing pages? Be sure to set up a dedicated landing page on your website and use it in your Instagram profile. Here's a sample: www.yourbiz.com/ig. This means you can track visitors to your site from Instagram via Google Analytics (go look under Behavior > Site Content > Landing Pages).
Who are your favorite Instagram stars and what have you learned from them? Please share in the comments!