Top 12 WordPress portfolio plugins for creatives
Editor's note: This post was originally published on November 18, 2015 and updated on November 7, 2017.
Whether you're an artist, photographer, designer or writer, this post is written with you in mind.
We want to help you find the perfect WordPress portfolio plugin for your website.
As a creative professional, your website is often a potential client's initial point of contact with you and your best chance to create that all-important first impression.
If you're just starting out, you might not have an extensive portfolio of sample pieces. Eventually, though, you'll need a way to showcase existing work on your website.
In this article, we'll look at the best free, freemium and premium WordPress portfolio and gallery plugins currently available that enable you to easily add a portfolio section to your existing website.
Why you need a WordPress portfolio plugin
There are WordPress themes available with built-in portfolio capabilities, but if you're happy with your current theme, it makes sense to install a portfolio plugin rather than changing themes.
Plus, plugins make it easy to manage and display your portfolio in a professional manner from a central location within WordPress.
The terms gallery and portfolio plugin are often used interchangeably. However, a gallery plugin is more suitable for image-centric pieces like photographs, and a strict portfolio plugin works best for projects with additional details.
In this post, we're looking at:
Nimble Portfolio

Essential Grid

Wonder Portfolio Plugin

NextGEN Gallery

Envira Gallery Lite

Media Grid

WordPress Portfolio Plugin (WP Portfolio)

Easy Portfolio

Gallery by GhozyLab

Go Portfolio

WP Auto Grid

Custom Content Portfolio
That said, let's check out our picks!
1. Nimble Portfolio

Nimble Portfolio features a responsive layout ensuring a professional look on both desktop and mobile devices. The built-in PrettyPhoto lightbox attractively displays a variety of media types like photos, videos and even PDFs.
Thumbnails are easily styled and customizable, and built-in categorization and sorting features enable visitors to quickly browse through specific areas of your portfolio.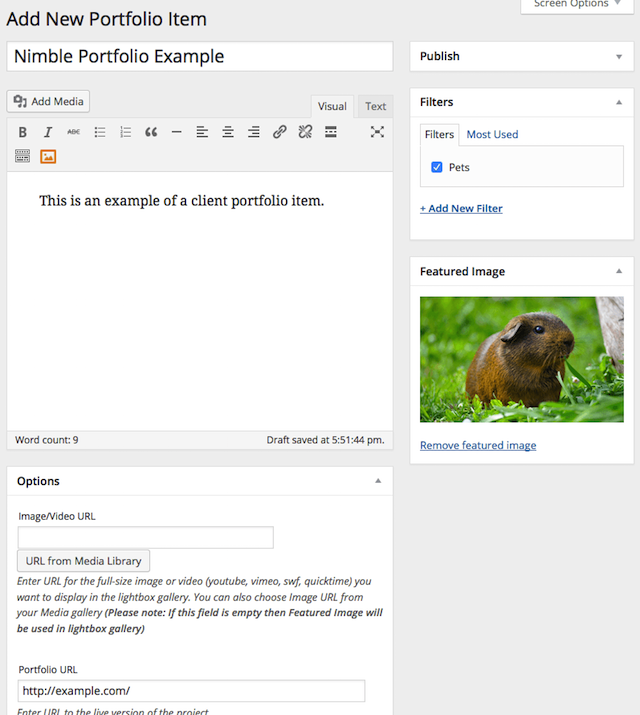 The free version of Nimble Portfolio is impressive, but the developer also offers premium add-ons that include different skins, lightboxes and alternate sorting capabilities.
2. Essential Grid ($26)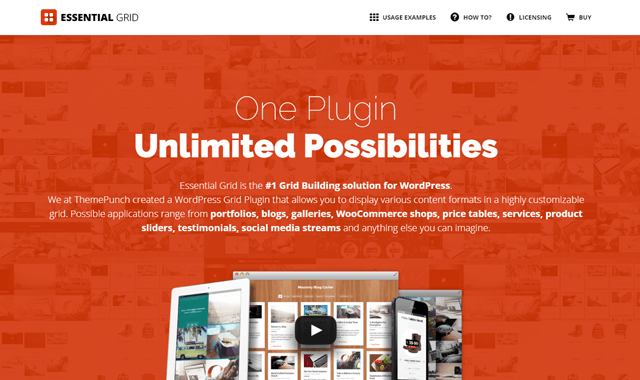 Essential Grid is a powerful plugin from ThemePunch, the development team responsible for Slider Revolution.
ThemePunch claims that Essential Grid is "the most popular grid plugin for WordPress". (We can't confirm that, but there you go.)
First impressions are great. The plugin's site shows off a variety of examples, ranging from artistic portfolios to WooCommerce products to social media streams.
Using the plugin is easy – you're just embedding a shortcode into a post or page. The powerful configuration options are handled in the WordPress admin. You create each grid and walk through each tab — Source, Grid Settings, Skins, Animations, et al. — to customize the grid.
One of the most powerful features is the ability to edit the "skin" (appearance) of tiles, or items, in a grid. The Item Skin editor provides a drag-and-drop UX to customize everything. You don't need to know any CSS.
3. Wonder Portfolio Grid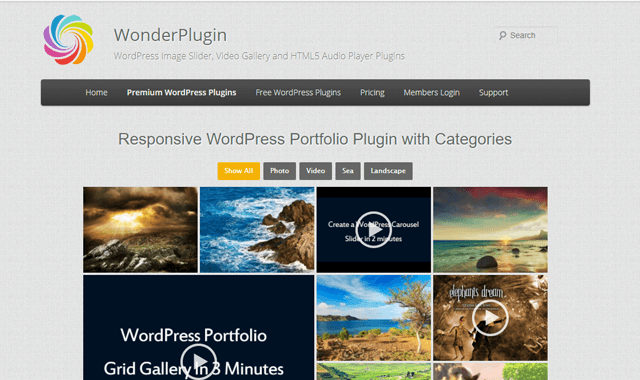 The Wonder Portfolio Grid plugin is a freemium plugin packed with features.
You can create multiple galleries; an overlay to portfolio items; filter items by category; click into a variety of media (audio, video, images); open media in a lightbox; handle captions; integrate with social media; and use multiple layouts.
The free version doesn't limit features, but images are watermarked. The paid upgrade costs $80. (Considering the time you're saving on custom development, though, that's a great price!)
4. NextGEN Gallery

With more than a million active installs, NextGEN Gallery is the most popular WordPress gallery plugin – a perfect fit for photographers.
You can create, manage and organize photo galleries, and group them into albums. Photos can be tagged, cropped, watermarked and have metadata added to them – either individually or in batch mode.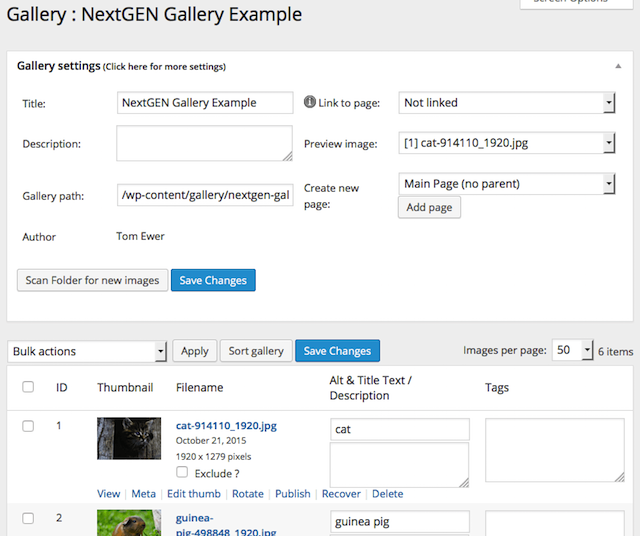 NextGEN gallery is fully responsive and images can be displayed in either a slideshow, thumbnail or single-photo style with multiple types of lightbox effects available to choose from.
The free version is powerful and will be enough for most users. If you require support or additional features and options like a masonry layout or filmstrip galleries, NextGEN sells a premium Plus version and a Pro version with integrated e-commerce capabilities.
5. Envira Gallery Lite

The full Envira Gallery is a premium plugin ranging in price from $19 to $249 depending on features and support. In this case we're looking at the free, trimmed-down Envira Gallery Lite. The Lite version lacks certain features such as add-ons and advanced customizability, but it's more than suitable for photographers and artists who need a simple, easy-to-configure gallery plugin.
This plugin's support for additional details is limited, so designers would be better off with a more project-focused portfolio plugin.
Envira Gallery Lite is mobile-responsive and uses images from your WordPress website's media library. Various cropping, layout, and multi-column display options are also available.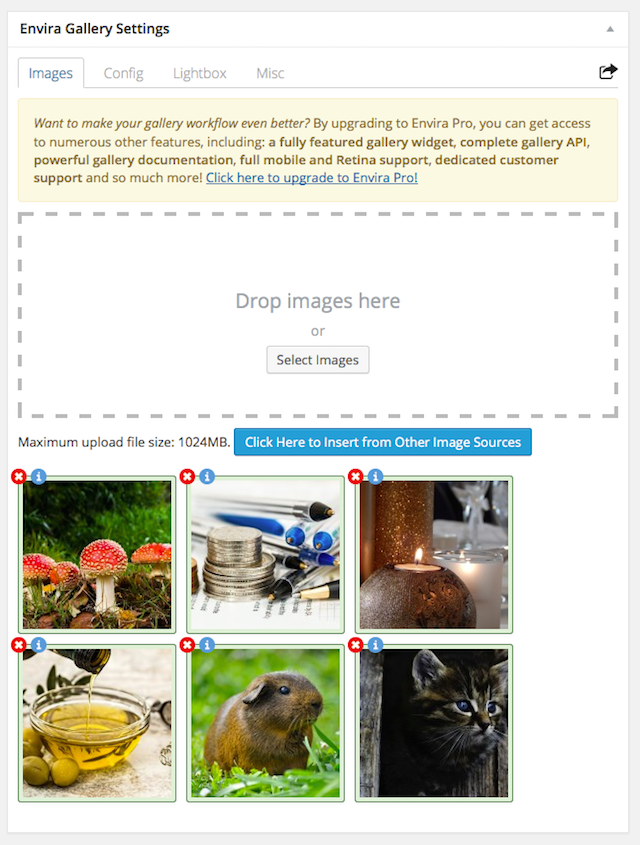 Galleries are added to pages through a WordPress shortcode and, on the front end, clicking a thumbnail opens the image in a basic lightbox. Additional styles and options are available in the full Envira Gallery plugin.
6. Media Grid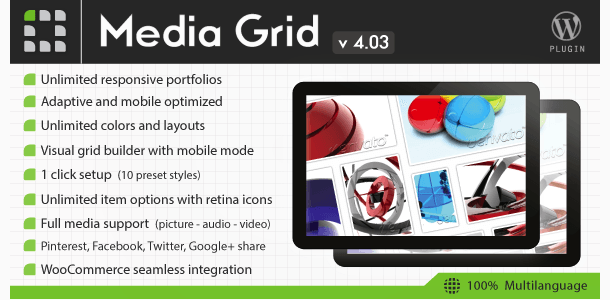 Media Grid is a premium gallery plugin. With approximately 9,000 sales and a 4.5-star rating based on over 700 reviews (at the time of this writing) it's evident that Media Grid is tremendously popular.

Like many plugins sold at CodeCanyon, it bundles a visual grid builder, enabling easy drag-and-drop gallery building, sorting and resizing.
You'll also find various lightbox and display styles, a built-in media player, grid pagination (multiple pages), WooCommerce product integration, integrated item search, nearly unlimited customization options, and much more besides.
A handy feature worth mentioning, Media Grid enables the user to define unique item characteristics – attributes – that can be used to create an entirely custom portfolio.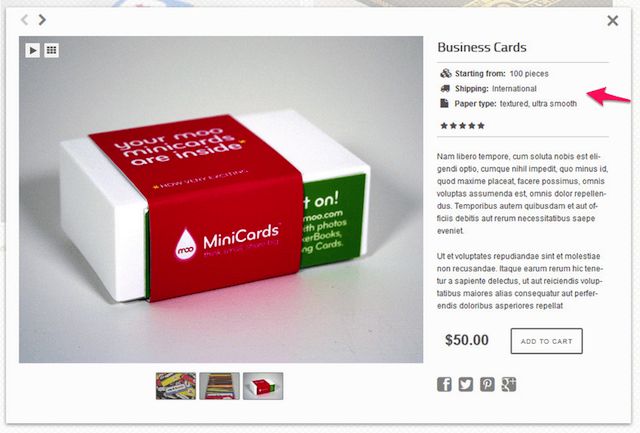 7. WordPress Portfolio Plugin (WP Portfolio)

WP Portfolio is a free WordPress plugin suitable for web designers and writers. It uses the free Shrink The Web service to automatically generate screenshots of your published online work, or alternatively, you can use self-created images.
This plugin doesn't include fancy lightbox effects or gallery features; it presents your items in a simple, directory-style layout. The default look is basic yet functional and the appearance can be customized with CSS and HTML.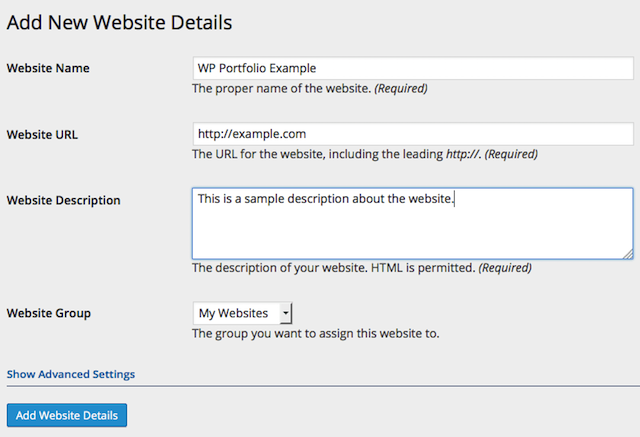 Configuration is performed in the WordPress backend. To display your portfolio on your website, just add a shortcode to any new or existing WordPress page.
8. Easy Portfolio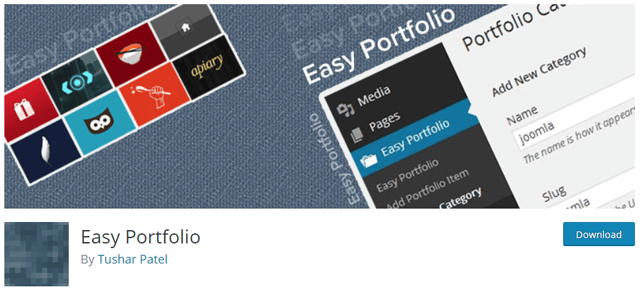 Easy Portfolio is a lightweight plugin for adding portfolios to your website.
Portfolio entries are saved as a custom post type and organized with a custom taxonomy. Using a shortcode, you can embed portfolio galleries on any post or page.
Customize the embedded portfolios by specifying the number of portfolio items and the categories you want to pull from.
Easy Portfolio is a good solution if you're looking for basic functionality without much fuss.
9. Gallery by GhozyLab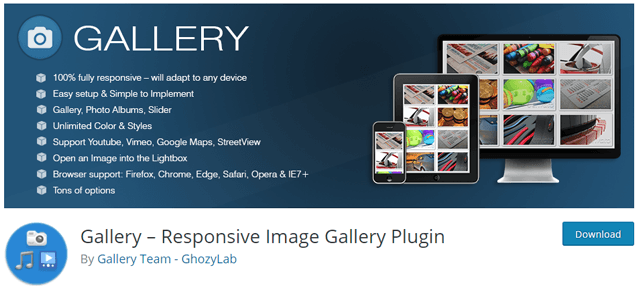 The Gallery plugin by GhozyLab is another free, lightweight portfolio plugin for WordPress.
Unlike the Easy Portfolio plugin, this plugin includes a bunch of features: support for image galleries; photo albums; image carousels & sliders; audio; video; even Google Maps.
You can even upgrade to a Pro version, which unlocks more customization and styling features, plus additional documentation and 24/7 support.
10. Go Portfolio ($29)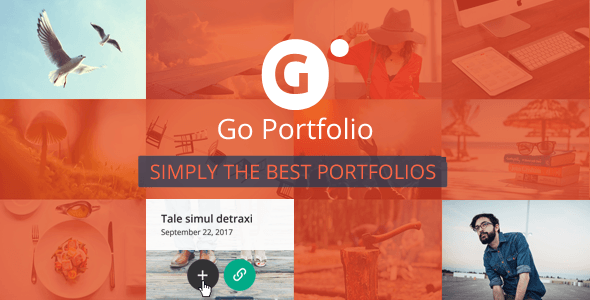 Go Portfolio is a premium WordPress portfolio plugin.
While Go Portfolio is compatible with any WordPress theme (just embed it on a post or page), it's compatibility with Visual Composer is called out in particular.
The layout is responsive and customizable. It supports unlimited portfolios and unlimited custom post types, including querying post types to populate the portfolio.
As with many premium portfolio plugins, Go Portfolio also includes support for WooCommerce, so you can load your portfolio with purchasable products.
And finally, the plugin is well reviewed, with an average rating of 4.59 out of 5 stars.
11. WP Auto Grid ($18)
WP Auto Grid is another premium WordPress plugin, but unlike Go Portfolio, it takes a different approach to how items are managed.
Instead of creating a custom post type and having you add items through the WordPress admin, you point WP Auto Grid to a folder within your WordPress installation that contains images. WP Auto Grid scans the folder and ingests the images as gallery entries. Any sub-folders are treated as categories within the gallery.
Why would you want this sort of functionality? Imagine you've got hundreds of photos sitting on a hard drive. Manually importing all of those photos as separate gallery entries would be exhausting. If you wanted to automate the process, you'd need to write some custom code to do it for you.
WP Auto Grid is perfect for that scenario. And when you're building (or re-building) an image-heavy website, like a portfolio, it's a boon to your productivity.
12. Custom Content Portfolio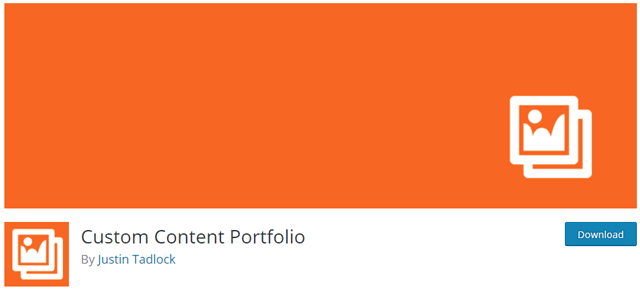 The final entry on our list is Custom Content Portfolio, another free and lightweight plugin for managing a portfolio within WordPress.
Created by Justin Tadlock, a longtime contributor to WordPress and the creator of Theme Hybrid, the Custom Content Portfolio plugin does away with the bells and whistles of other WordPress portfolio plugins.
The premise is simple: The plugin creates a new custom post type for your portfolio entries. The "base" archive of the portfolio entries serves as your portfolio page, and each portfolio entry gets its own dedicated URL.
If you're looking for a simple plugin and prefer to handle the customization through some dev work of your own, then Custom Content Portfolio is likely a good fit for you.
Wrapping up
WordPress portfolio plugins serve a critical need: enabling you to professionally showcase creative work on your existing website without changing themes.
If you're mainly looking to display photographs or artwork, try a gallery plugin like NextGEN or Envira Gallery. If your items require additional explanation, WP Portfolio or Custom Content Portfolio works well. Essential Grid – with its extensive feature set – can provide a solution for nearly any creative professional, albeit at a small cost.
If you think we've missed any good WordPress portfolio plugins, we'd love to hear about them! Share your recommendations in the GoDaddy community.
Artists! View our step-by-step guide to selling your work online.
Image by: Justin Ornellas via Compfight cc