Trans-Siberian Orchestra guitarist Angus Clark talks business and team-building [video]
Singer, songwriter, performer, guitarist, Broadway star, keynote speaker, corporate GM, husband, dad — these are just a few of the titles you will find in front of the name Angus Clark.
I caught up with this long-haired, long-time rock guitarist over the holidays while he was on tour once again as the featured guitarist/rock god in Trans-Siberian Orchestra. He took a break from the flames, lasers and explosions to talk business, team building and success.
Note: We were both on hotel wi-fi so little glitchy at times …. that is life on the road!
Q&A recap with Angus Clark
I've had a chance to join you behind the scenes of Trans-Siberian Orchestra (TSO) a couple of times. It's a pretty well-oiled machine. Where are you now and how's the tour this year?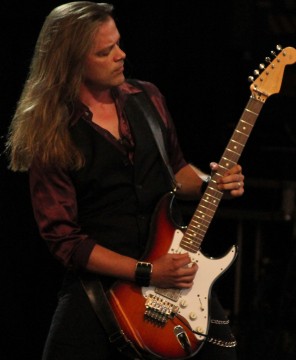 We are in San Antonio, Texas — always a favorite town to perform in. The promoter is a long-time friend and really takes care of us over Christmas. And the tour is going great — we are having one of our best years ever. This is my 16th year with TSO, and we've added more elements to the show and are also now doing a Hallmark Special television show, which adds a whole new element to the show for us. There are more lifts, more fire and more songs.
We also caught up a couple of times for lunch when you were working on Broadway in the hit musical, Rock of Ages. What did you do in the show, how did that role come about, and how is that different from traveling and performing with TSO?
First, the short answer is how is it different. There is this dynamic with a traveling show and all the moving pieces — packing up every night, traveling, and then rebuilding the stage in the next city. With Broadway, you get to take away the travel element, the tour buses. I get to play the same thing on the same stage each time, and best of all, I take the train home to Brooklyn after the show and sleep in my own bed!
And there aren't that many, if any, unscripted moments in a Broadway show, whereas in a live rock show, anything can happen. And I mean anything.
As for how it came together, it's a classic networking tale. You meet someone at one thing, mention what you are looking to do, they know someone who knows someone, and the next thing you know, you are the understudy on a hit Broadway show.
It's so important to constantly do things to grow your network, to help your network be successful, and to let your network know what you need.
It has just been such a great opportunity to see how Broadway professionals work on stage and behind the scenes.
OK, now during all this rock star show business stuff, you also run a successful team-building company, SongDivision. Explain what your company does.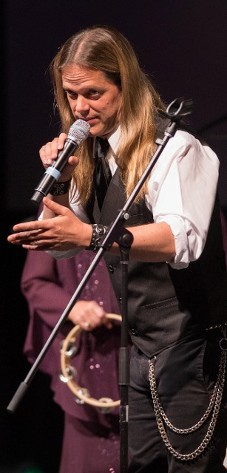 SongDivision is a specialty vendor for the meeting industry, and our hallmark product is an interactive song writing session for groups of any size. It can be used for team building, conference energizing, getting groups to work together, introducing groups who have never met in person, and more.
We are a global company, and I head up the North American operation. We work with seasoned music veterans who have played with the greatest rock stars. The great thing is, you and your team or company don't have to have any musical talent or inclination to play or perform. Any group can do this and make it work.
Let's switch gears. You also are a well-known heavy metal guitarist — I mean really heavy metal — with DareDevil Squadron and as an instructor. Is this your happy place?
The great thing about SongDivision is there is much less pressure on me and the students. With SongDivision, it's just fun to bring our love of music to audiences and bring them all together in the songwriting process. I don't have to worry about whether someone is practicing before I come back again like I do as a private instructor. YouTube and DVDs have also added a whole new dynamic to teaching and instructing. I can share the process with more guitarists.
Before I let you go, I see you are now successfully encroaching on my job as a keynote speaker. Seriously, you have a great speech: The Three C's. Tell us what those are and a little bit about each.
The keynote you are talking about is Building a Culture of Innovation: Communication, Collaboration, and Creativity. Innovation is where all the good ideas come from. We use simple exercises for the audience to make our point with each using musical elements. We're having good success with the presentation — and it's fun to do. Of course, you are still the best with The Rock Star Principles of Success!
See you on the road, Angus
Angus Clark — singer, songwriter, performer, guitarist, Broadway star, keynote speaker, corporate GM, husband, dad, and a dear friend for doing this interview on his day off on the road with Trans-Siberian Orchestra.
Image by: Carolyn Handy