Walk This Way for Rockin' & Roastin' Coffee, courtesy of Aerosmith drummer Joey Kramer [video]
Joey Kramer has been the drummer for rock powerhouse Aerosmith for more than 40 years. In his "spare" time, the rock Hall of Famer and his wife, Linda, created Rockin' & Roastin' Coffee.
"The Rockin' & Roastin' mission is to provide high quality organic coffee at a fair price that will delight and satisfy our customers. Our goal is to insure the coffee quality, presentation, packaging and uniqueness will speak for itself and create a unique customer value and experience." ~ RockinAndRoastin.com
Skyping from his new home in the Texas hill country, Joey and I talked about coffee, starting and running a small business, best practices, success and failures, what makes a great coffee, distribution and Aerosmith.
Before we start talking business, let's start with the most important thing — you're a Texan now. How did that happen to a long-time Boston boy?
My wife is from Houston. She came to live with me in Boston where I have lived for 40 some years, and she was ready to move back closer to family. I was ready for a change, and I was willing to go to Texas. We lived in Austin for about six years, and last year we moved to Boerne, Texas, a spectacular place to live, a really small town. We are definitely in the hill country — it's a great place.
You're a rockstar who could be living the rockstar life; retired, enjoying the fame and fortune of all this success. You could be playing golf, you could be relaxing, you could be doing nothing when Aerosmith isn't on the road or recording a new album, yet you instead started a company, a coffee company, Rockin' & Roastin' Coffee. How did that happen?
It's a lot of work to build a company, to build a brand, but first I need to clear up the fact I'm not old enough to play golf yet. Golf doesn't interest me at all. And retiring doesn't interest me at all because that's a one-way street to you-know-where.
I was actually walking down the street one day in Italy voicing my discontent with how hard it was to find a decent cup of coffee. And my wife said, "So start a company and roast your own." Yeah, like I have time for that. So here I am five years later with Rockin' & Roastin' Coffee in some select HEB grocery stores, the official coffee of the House of Blues and our online business. We're now looking at possibilities of branching out (all over the world — watch the video for locations.)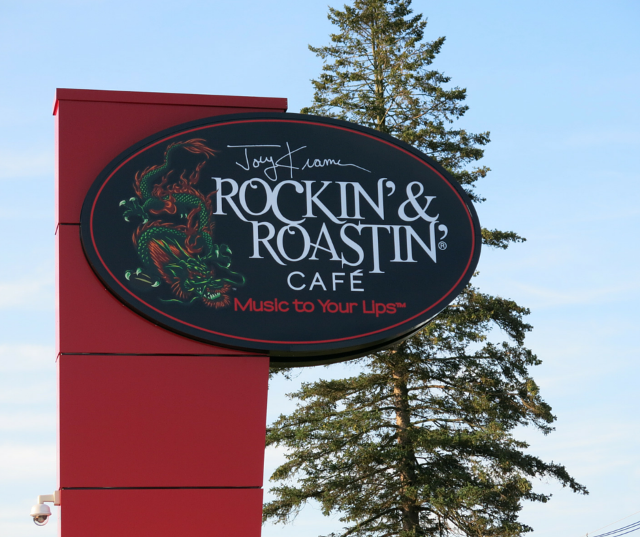 The coffee is way better than the norm out there. Our biggest problem is our pricing structure is too reasonable. It's a high-end gourmet coffee at a decent price. I also have my first brick-and-mortar cafe in Massachusetts, and we're looking to put kiosks and cafes all over.
There are a lot of opportunities for us, but it's a matter of getting involved with the right people at the right time with the right opportunity.
I'm not in a big hurry. I don't need to do this, and I have to maintain the quality of the coffee — that's the most important thing to me because my name is on it and the Aerosmith name is on it. It's gotta be good. We have had absolutely zero complaints, only compliments, about the product, and we want to keep it that way. Everybody loves the coffee.
Why coffee? Where does that passion come from?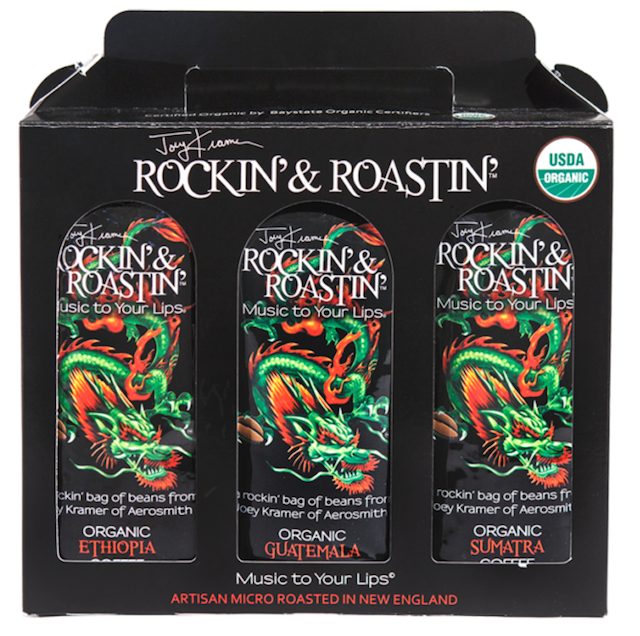 I've always loved coffee. … You can't get a really good coffee anywhere. People don't realize they can drink a coffee like mine for exactly as much as others you are drinking already.
My coffee is all single-sourced coffee, which means there are no blends.
For example, the coffee from Sumatra is 100-percent Sumatra and so forth. And, it's organic. There's not a whole lot of organic coffee out there. … We're looking to go nationwide with this, which unbelievably no one has done with an organic coffee.
How did you start up, educate yourself, and learn the roasting process?
We found a company called Comfort Foods, a small roaster in Massachusetts, that we have been with for almost four years. I designed the bag and my wife Linda and I designed the dragon on the bag. We went from there and were only online at first. We made lots of mistakes, like every small business does, but we learned from those mistakes and kept moving forward. It's a lot — a lot — of work.
What lessons do you take from the business of Aerosmith into the Rockin' & Roastin' Coffee business?
I only know how to do things one way, and that's 100-percent all the time, 100 miles per hour. Always the best quality. I like to think my playing is that way, the band is that way, and my coffee is that way.
I go after the coffee just as I go after the music — full force, straight ahead.
I'd rather be a smaller company and have a much higher quality coffee than to be something like we know is already out there. Big coffee companies get to a point where they confuse quantity with quality, and I don't want to do that.
Every successful entrepreneur has a big failure story. What's yours and what lesson did you learn?
The biggest lesson that I have learned is something you can't follow a formula for — finding and trusting the right people. That's a very difficult thing to do in itself. What I've learned is, if I'm going to do this, I'm going to do it myself.
I have to be involved in everything. I have to be hands-on, and I have to look at every aspect of the business, every aspect of the company, be in touch with it.
I cup the coffee with the guy who roasts it for me, I inspect the bags, I'm as hands-on as I can possibly be. That's what you gotta do. If something fails, if something goes wrong, I am responsible for that.
I'm a big believer in put what you want or need out there in the universe — you never know who is watching and listening. Where do you want to take it from here? What is on your wish list?

Kroger. We are trying to get the coffee in Krogers across the country. That's where I want to be. That would break us into the west coast, into Ralphs grocery stores. Our strength lies now in the New England states, online, and as I said, some HEB and House of Blues.
Note from Dayna: Know someone with Kroger? Pass this interview on to them. Let's network this baby for Joey!
Does the band buy your coffee, and do you ask for it in your contract rider for dressing rooms?
It actually is. I supply it to the guys, and when it's not in their dressing rooms, there's a line at mine. I'm gonna start charging them pretty soon!
Where else can fans of the band and coffee fans find you?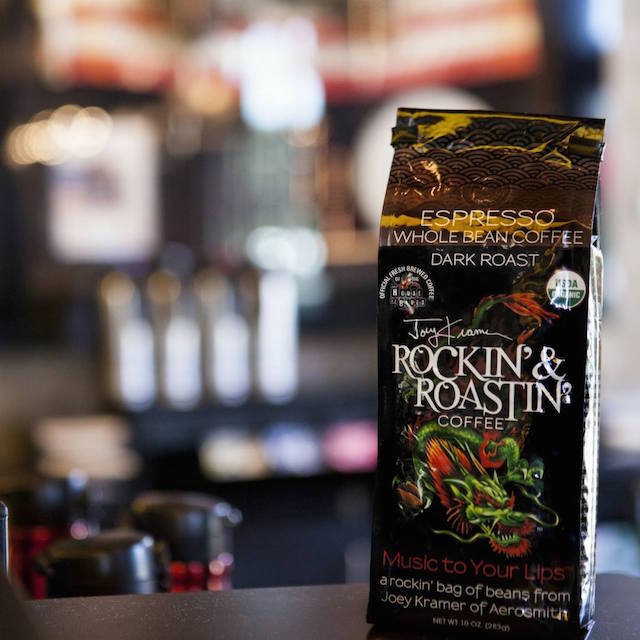 Go to RockinAndRoastinCoffee.com or Amazon.com. We also have a new subscription service that makes it really easy to get the coffee.
One more question I like to ask all successful rock stars turned entrepreneurs — what's the one thing you do every day for success? What's one daily habit you have?
Gratitude!
A special thanks to Linda Kramer, Joey's wife, and Ron Mann, Joey's business partner, for helping set up this interview. You guys rock! Want Rockin' & Roastin' in your hotel, restaurant, store, etc.? Contact Rockin' & Roastin' here for wholesale information. Best of luck in your ventures, Joey! Check in with Rockin' and Roastin' Coffee on Facebook, and see the upcoming Aerosmith World Tour schedule here.