Why your animal shelter should have its own .pet domain name
You might have heard about the new domain names that have been popping up as of late. While .com is still the most popular, it's almost becoming the older sibling of the household as more and more businesses pick up their new babies. You probably know the ones I'm talking about — extensions like .me, .guru, .photography and so on. If you run an animal shelter, you might want to consider registering a .pet domain for your website.
4 reasons your animal shelter needs a .pet domain
It tells people at-a-glance what you do.

The .com you want might be taken.

Getting it means no one else can use it.

It looks pretty nifty.
Here's how your animal shelter could benefit from a .pet domain name.
1. It tells people at-a-glance what you do
Imagine you're standing in a crowded shopping center. There are dozens of different stores. Which ones stand out to you? Sure, you know the brands that have been around for ages, but what about the new names? What about those new stores compel you to walk in? I'm betting it's the one that looks like it might offer what you're looking for. The same is true for web addresses, often the first thing a person sees about your organization.
A .pet domain will make your website stand out, telling all who see it exactly what you're all about.
Seeing a .pet web address is both meaningful and intriguing. People searching the web for your services are more likely to click your listing, advertisement or social media post because it has to do with what they're looking for. It'll also help people remember you when they need your services again.
2. The .com you want might be taken
Let's face it, .com has been around for 30 years so many of the hip and exciting .com domains have already been nabbed. Because it's new, .pet may enable you to have the domain name you were drooling over (dog pun totally intended here).
Already have a domain you're using for your website? Register a .pet domain and forward it to your website. Then share your new domain on social media.
Just add your business name, neighborhood or the name of your shelter mascot on the other side of the dot for a truly one-of-a-kind web address.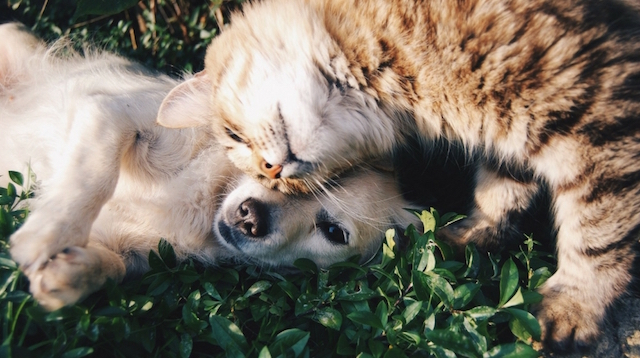 3. Getting it means no one else can use it
As with any new trend, once it takes flight, everyone will be doing it, which will make it harder for you to get the name you want. Once you or anyone else registers a particular .pet domain name, no one else may use it online. By getting yours now, you'll avoid having to either pay dearly for it later or settle for a second-choice web address.
4. It looks pretty nifty
The new domains are like the clothes that the cool kids wear. Show how forward-thinking and tech-savvy you are with a web address that actually says what you do. Don't be afraid to be creative either — putting an inventive word or phrase on the other side of the dot will make your web address easy to for patrons, volunteers and donors to remember. After all, celebrities and influencers are already using them.
Will getting a .pet domain improve your search ranking?
The answer to this question is still unknown, as there are many conflicting reports online. Based on consumer patterns, there could be a chance that the new domains get more search engine love at some point. However, for right now, I've found no evidence indicating that using a .pet domain will place your website higher in the search rankings.
Should you grab additional domains?
Registering more than one domain has a number of benefits:
It protects you — especially if you don't want people encroaching on your name or service.
It keeps others from registering relevant domain names and holding them hostage in the hopes that you'll buy them at an inflated cost.
It allows you to send people directly to your Facebook page or promote your annual fundraiser with a fun, descriptive web address.
Help adoptive families find you online
A .pet domain name is great for branding, allows you the chance to get a web address that might not be available as a .com, and is easy for friends, neighbors and donors to remember. Make it clear that you're in the pet business with a .pet web address.
Image by: blumenbiene Flickr via Compfight cc