Wicker Goddess founder Sarah Small brings dream to life with help from Websites + Marketing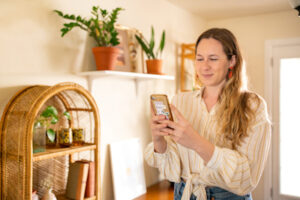 It used to be that when someone didn't like their job, they had one option — find a new one. But increasingly, they're realizing that their next boss could be right in the mirror. They're taking a deep breath, embracing their passions and striking out on their own.
Such was the case for Tempe, Arizona resident Sarah Small.
"I recently left the corporate world because I wasn't putting myself first," she recalls. "I always knew I wanted to be an entrepreneur — I just needed to tap into my power and step boldly into it without hesitation."
Taking the first step
As a collector of wicker furniture, Sarah and her husband, Joey, had purchased a variety of pieces for their wedding and restored them. After the wedding Sarah started selling the pieces on her Instagram.
This was her tentative first step to starting a business, but she wasn't sure how to move forward.
Making Wicker Goddess a reality
Sarah imbues an effervescent, positive, can-do vibe in everything she does.
When GoDaddy Guide Jillian visited Sarah's Instagram account, she was immediately taken with her energy and wicker treasures. Seeing Sarah's potential, Jillian invited her to a San Francisco event for entrepreneurs, who spent time talking with Sarah and sharing their diverse experiences.
"We were just in such good company with folks that were working towards something bigger and greater for themselves."
Jazzed, she took the plunge to make her dream a reality and officially named her nascent business Wicker Goddess, a nickname that her husband started calling her when they would go thrifting for furniture.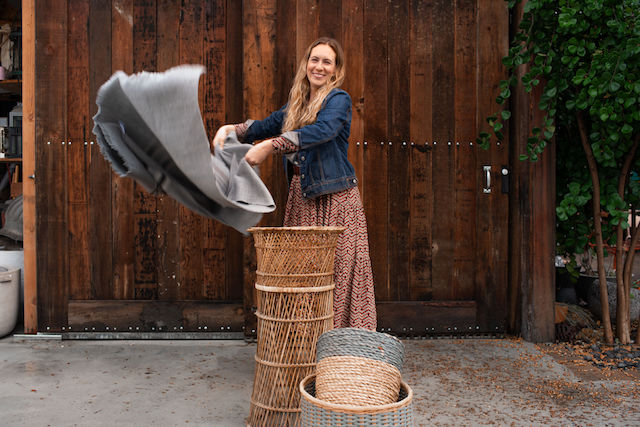 Creating a mobile-first website
Creating a website was the first step to bringing Wicker Goddess into the world.
Sarah fashioned a mobile-first site that beautifully showcases her restored wicker items.
She almost threw in the towel waiting for her first online sale — and she never forgets it. "Every time I get an order I screenshot it and tell Joey and do a dance," she laughs. "I don't know if that excitement will ever go away."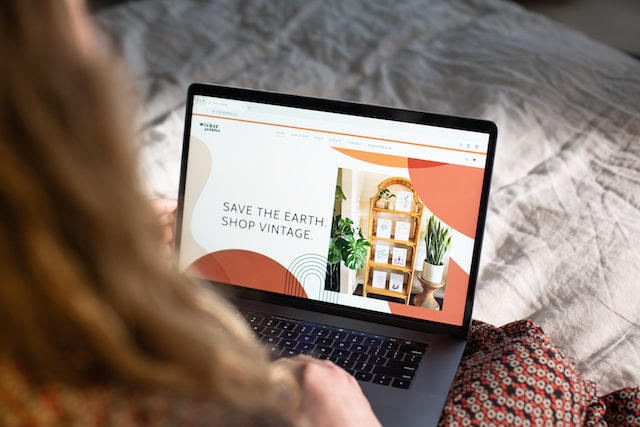 Along with her curated collection of wicker furniture, customers can also shop for hand-lettered greeting cards.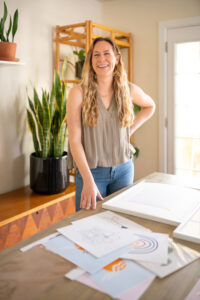 "We wanted to sell something that's accessible to everyone and brings warmth into their day," Sarah says. "I've always made greetings cards for friends and family, so I thought, 'I should just try and sell them!'"
Sarah partnered with Tempe-area merchants to place her cards where potential customers shop.
One day we accompanied her to a Phoenix boutique called Local Nomad. Surrounded by hand-made soaps, plants and other craft items, Sarah's cards light up the shelves with fun, uplifting sentiments that reflect her optimistic nature.
Sharing Wicker Goddess with the world
To keep up the momentum, Sarah used Websites + Marketing's tools to reach new customers and engage in meaningful ways with existing ones.
First, she optimized her site for SEO so she'd rank higher in Google search results.
Then, she deepened her social media presence, using Instagram Stories to share the day-to-day triumphs and challenges of entrepreneurial life.
Finally, she launched an email campaign to communicate with customers in a personal, engaging way.
Staying positive, focused and sane
While this growth thrilled Sarah, she was sometimes overwhelmed.
After all, less than a year back she was clocking in and out for someone else. Everything she needed to do her job was provided for her, including measurements for success.
Now, Sarah had to learn how to stay efficient and productive while also staying sane.
"I am my own team, so I need to stay positive for myself," she says, on a day taking some much-needed time to herself. "I've started time-blocking my day. Two hours are for thrifting, then two hours are for packing up orders, on and on with breaks built in. It helps me be at my most present and stay focused."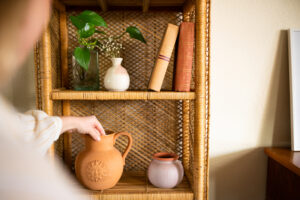 The dashboard on Websites + Marketing helps her keep all her ecommerce ducks in a row so Sarah can quickly manage all the aspects of her site — including maintenance, orders and analytics.
This gives her time back for thrifting, designing new cards, and interacting with customers and stores.
Plus, her Insight score lays out important metrics for site performance, social engagement and SEO, along with suggestions for improvement.
Toasting the growth of Wicker Goddess
When Wicker Goddess' one-year anniversary hit, Sarah and Joey celebrated with family and friends, sharing a toast with glasses they thrifted for their wedding.
Reflecting on the choice she made in early 2019, Sarah's learned that the ups-and-downs of entrepreneurial life are standard — and manageable.
"When you're building a business, you're also building up yourself, and as your business changes and defines itself, so does your understanding of who you are within it."
With 2020 well underway, Sarah's expanding Wicker Goddess and appreciating what she's accomplished. "Whether you're 20 or 40 or 60, it's never too late to live your dream. I've landed in a way that I want my everyday life to feel."
Image by: GoDaddy — Sarah Small, Wicker Goddess