Women in the workplace still face tough issues
You only have to spend half an hour reading accomplished journalist Ashley Milne-Tyte's blog posts on The Broad Experience website before you realize she's a person you want on your team. She has an in-depth understanding of the conflicts women face in the workplace AND the challenges of entrepreneurship when they've finally decided they've just had enough. Ashley is that best friend, sister, daughter, aunt and mother who, in an ideal world, stands staunchly by your side, asks you the hard questions, encourages you to reach for the stars, cheers your accomplishments, and refuses to let you wallow in your setbacks.
We were lucky to have her as our speaker for this year's first GoDaddy Women in Technology event. "Once again, GoDaddy hit the ball out of the park! Ashley Milne-Tyte was outstanding," said Cynthia S. Wenström, a Development & Events associate at Scottsdale Leadership, Inc. "Her words rang true on so many levels."
Double whammy
Along with producing a podcast that's been recognized by The Guardian and Financial Times, Ashley writes, teaches and is frequently heard on public radio. Which, incidentally, would have been hugely uncool if you'd told her that as she was growing up in England. Having a father working for the BBC World Service had none of the panache of television … and no father-daughter trips into the office to see "Doctor Who" in production! It was only later in life, as she found herself listening to public radio late at night, that she was seduced by the intimacy of telling a story with only words.
Although born in England, Ashley is half American and lives in New York City. She talked about the "double whammy" of being female and English — the daughter of a real-life "Betty Draper" who was raised never to toot her own horn and to trust that hard work would naturally be rewarded. In the real working word, that's not usually the case. A few hard lessons in her early days of journalism taught her the necessity of being her own advocate.
No risk, no progress
"If you don't take any risks, you don't progress." ~ Ashley Milne-Tyte
As women in the workplace, we often have to leave our comfort zones to achieve our potential. That's what Ashley did when, in her early 40s, she enrolled in an entrepreneurial journalism course at CUNY. The "entrepreneurial" part of the course required her to develop a media project. And then actually create it. Oh, and then she had to pitch it. The Broad Experience was born.
Inspired by Woman's Hour on the BBC, Ashley honed in on women in the workplace. Advised not to use "woman" in the title, she settled on "broad" – having cut her teeth on 1950s musicals. The next step was actually creating the podcast. She had a couple of hang-ups about it: first, she was a reporter, not a host; second, she wasn't a techy. Instead of relying on other pros to do the mixing, etc., she had to handle all the technical aspects of producing a high-quality podcast. And she did.
Initially full of fear and lacking confidence, Ashley believed in what she was doing. For the first time in her professional career (although she loved working in public radio), she felt truly passionate about what she was giving back to the world. She knew she was onto something when she received an email from a stranger after her first podcast. The female CEO from the Midwest praised the podcast and urged Ashley to keep up the important work.
Bringing tough issues to light
Ashley's podcasts are a delightful mix of interviews — each focusing in on a topic relevant to women in the workplace today. They run the gamut from relinquishing control, emotional behavior, female stereotypes and race. She discusses career mistakes that no one ever told us were mistakes — like settling for a "you're fine" when we need honest feedback to move forward.
Ashley covered some of those tough topics with our group. "How many of you feel comfortable negotiating your salary?" she asked. We cleared our collective throats. It isn't ladylike of us to quantify our contributions. "When women negotiate as aggressively as men do, they're seen as not nice, not acting as women should," Ashley said.
Such unconscious biases cast a lingering shadow over the workplace, making it more difficult for women to move up the ranks.
I see her as my champion, as every woman's champion, when she explains that the workplace was originally created for men by men, and that it needs to evolve to make room for our values — rather than demanding that we change to fit in. And men will embrace these values. Why? They want the same flexibility that women have been striving for – they just haven't asked for it.
Ashley brings up the point that both sexes need to change their attitudes about the roles of the other, and it needs to start at home. When men take care of the kids or the house, they're lauded for being great husbands and partners; women are simply expected to assume that role, no matter what their responsibilities outside the home. Gender equality must span all aspects of our lives — and we have to model those values for our children. I think about the little boys and girls I know, and I'm glad that we're on the right track to making their futures brighter.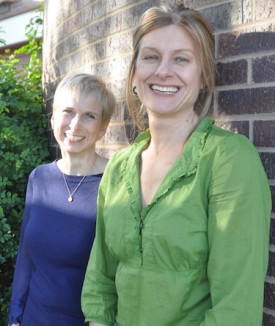 After spending time with Ashley today, I knew she was the voice I needed inside my head, instead of the old tape I have telling me that I'm not good enough, or smart enough, or tall enough. I am. We are.