WordCamp Europe 2019 recap & slides
This year's WordCamp Europe took place on June 20-22 in Berlin, Germany. The schedule followed a typical WordCamp structure with multiple tracks, 40-minute sessions, 20 minute break times, hands-on workshops, and a lively afterparty.
Oh, and someone even walked 700km to the event to fundraise for charity.
If you weren't able to make it out to Berlin for this year's event, don't worry — we pulled together this recap to cover all the important takeaways, including links to all the slides and recaps we could find from each presenter.
If we missed anything important, please give us a shout on Twitter (@GoDaddy).
Had the best time at #WCEU in Berlin this year. Love this team and this #WordPress community. Until next time! pic.twitter.com/l1yVOSWQQO

— Tara Wellington (@TaraMacMiller) June 23, 2019
Also: Shoutout to our colleagues at GoDaddy Deutschland for putting together a fantastic highlight reel from the event.
A brief history of WordCamp Europe
If you aren't familiar with #WCEU, here's the gist: WordCamp Europe is the largest WordCamp in the world. It's an annual event bringing together thousands of WordPress users and developers from around the globe to learn, share, and connect with each other.
The first #WCEU, WordCamp Europe 2013, was held in The Netherlands. It's moved to a different country each year since then: Bulgaria (2014); Spain (2015); Austria (2016); France (2017); and Serbia (2018).
The consistent change of location celebrates Europe and its diverse mix of language, people, and culture. Quoting from the inaugural WordCamp Europe 2013 site:
"WordCamp Europe is the first large-scale WordCamp to be held in Europe. By large-scale, we mean big. And by big, we mean awesome. This is a chance for the European WordPress community to gather together in the idyllic town of Leiden to geek-out, share experiences, do business, and most of all, talk WordPress. It's an opportunity to welcome WordPress community members from all over the globe to our continent to experience the diversity and culture that makes us so unique."
Open, inclusive, diverse, and community-driven. The event is a lot like WordPress itself.
WordCamp Europe 2019 sessions & workshops
This year's WordCamp Europe packed the schedule with 46 regular sessions, 12 hands-on workshops, 12 WP Cafe breakout conversations (a first for WCEU), and 5 facilitated wellness sessions. There was also a WordPress Workshop for Kids and a Contributor Day on the Thursday before the main conference.
We've compiled a list of all the sessions and workshops, linking to the decks or posts from their respective presenters. If we've missed any links, please let us know.
Session recordings are posted to WordPress.tv as they become available. You can also view the livestream recordings in their entirety on YouTube. Shoutout to Mathieu Sarrasin of Iceable Media for creating a great list of links to the livestream timestamps of each session.
Business sessions
Content sessions
Design sessions
Development sessions
Community sessions
Workshops
WP Cafe discussions
"We are not campaigning for new freedoms, we are campaigning against the removal of existing freedoms that make our work possible."
Paraphrasing a participant in the #WordPress in the Political Arena #WPCafe session at #WCEU pic.twitter.com/JFIL2B19gM

— Morten @ home (@mor10) June 22, 2019
Matt Mullenweg's WordPress summer update
Officially titled "Matt on WordPress" in the WordCamp Europe 2019 schedule, Matt Mullenweg's WCEU keynote served as a mid-year summer update on the status of WordPress and, most importantly, the progress of the Gutenberg block editor's next phase.
There were demos of Gutenberg in the wild; upcoming Gutenberg features; new block types currently in development; mobile app support; plus Q&A about licensing, governance, and the future of themes in the age of Gutenberg.
See more: Matt Mullenweg's Summer Update (WP Tavern)
Spotted on social
Some highlights from the social media backchannels of #WCEU:
Dear #WordPress-Family! @mm_mikemeister re-translated my #Sketchnotes on @motherofcode's talk about https://t.co/a4knYZbEPW on @WCEurope /#WCEU in english. Please #retweet and donate!! pic.twitter.com/kfEYC2qwJy

— Ania Groß (@SketchnotesAG) July 6, 2019
It's extra hard to get everything you have to say about @WCEurope in one blog post. But I tried! Here's my #WCEU recap: https://t.co/T8veBRVR4V pic.twitter.com/IRiQdZ0JQ5

— Vassilena Valchanova (@vasvalch) July 2, 2019
It was really nice meeting to @topher1kenobe in a person at @WCEurope the man behind @heropress.??
Really you are doing a great work and thanks for creating a such an amazing platform for all @WordPress geeks who want to share their stories. ❤️#WordPress #WCEU #WordCamp pic.twitter.com/IMeC7WIADh

— Nidhi Jain (@jainnidhi03) July 1, 2019
Some #morningmotivation and wise words from Woodrow Wilson, 28th president of the United States, recently applied to web development and design at @wceurope 2019 in Berlin ????✨ #WCEU#wordpressscotland #wordpressmeetup #wordcamp #webdev #webdesign pic.twitter.com/aUpv1s1pY9

— Design33 (@design_33) July 2, 2019
And the winner is ….. @carolasperi ???
Was proud of you for winning @GoDaddy giveaway MacBook PRO at #WCEU in Berlin. #Congratulations ? pic.twitter.com/mOCAkFqDCp

— Manny (@manny) June 25, 2019
Looking ahead to WordCamp Europe 2020
The next WordCamp Europe takes place in Porto, Portugal on 4-6 June 2020. The venue is the Super Bock Arena / Pavilhão Rosa Mota at Jardins do Palácio de Cristal.
If you're interested in helping put on the event, the call for organizers is open until July 15, 2019. You can find all the details on the WordCamp Europe 2020 website.
Come help us make #WCEU 2020 a reality! Submit your application to be a WCEU 2020 Organiser now! ? https://t.co/hhzrf3uBD0 pic.twitter.com/3DQR8aUCx1

— WordCamp Europe (@WCEurope) June 22, 2019
Want to stay connected? Join GoDaddy Pro.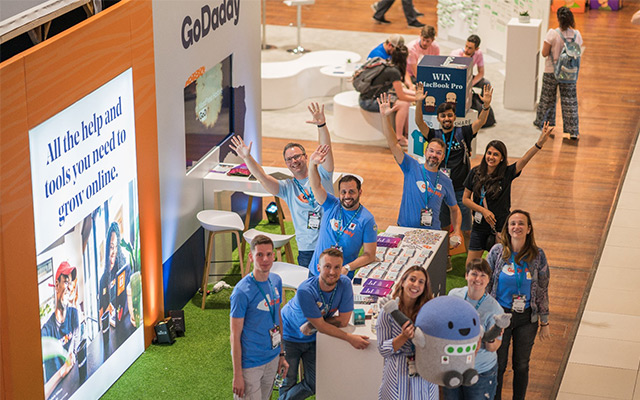 WordCamps are great events for bringing together WordPress users, designers, and developers. Ditto for local WordPress meetups. But what if you can't make it out to these events?
Sure, you can dig into the material after the fact, but you miss out on connecting with other people.
And even if you do make it out, how do you stay in the loop with the people you meet?
That's one of the reasons we created GoDaddy Pro. It's not just an all-in-one collection of tools and resources for web designers & developers. It's also a community of people who make a living building websites.
If that sounds like you, come and join us: Become a GoDaddy Pro member for free.
Image by: Tara Wellington at GoDaddy