What you missed at WordCamp US 2016
WordCamps are local, volunteer-run conferences all about WordPress. Hundreds of WordCamps are held all over the world each year, and their sizes range from small one-day gatherings to large events that can run for several days — like WordCamp US 2016.
The experience will vary from location to location and from year to year, but all WordCamps have one thing in common: bringing WordPress users together to share knowledge, tell stories, and celebrate their open-source community in person.
Looking back on WordCamp US 2016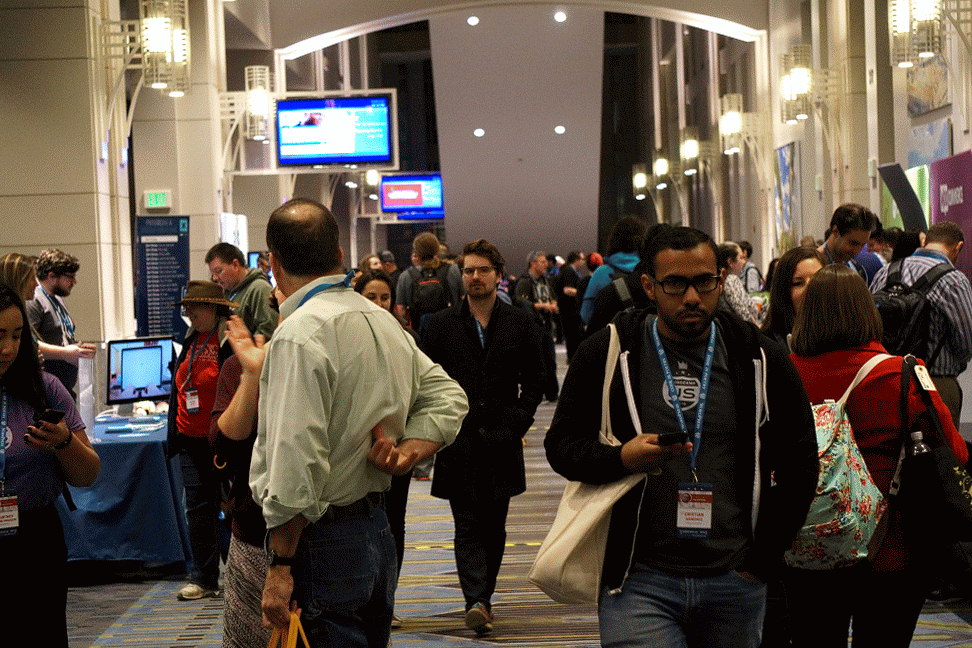 Like last year, WordCamp US 2016 was held at the Pennsylvania Convention Center in downtown Philadelphia. Considering Philly's role in American history, it feels like an appropriate place for the WCUS journey to begin. (WordCamp US will move to Nashville in 2017.)
While most WordCamps see a turnout of a couple hundred people, WordCamp US had nearly 2,000 attendees, and a large team of more than 200 volunteers who kept everything running smoothly.
What did we share at WCUS?
In the days leading up to WCUS, we teamed up with WP Elevation to host a webinar about earning recurring revenue with website care plans and ManageWP. Following that, we published a 50+ page eBook about starting a WordPress maintenance business. Check out the free eBook here:
As WordCamp US 2016 kicked off, we launched a major set of updates to GoDaddy Pro. The biggest update was the introduction of Pro ManageWP, a modified version of ManageWP that's built into GoDaddy Pro.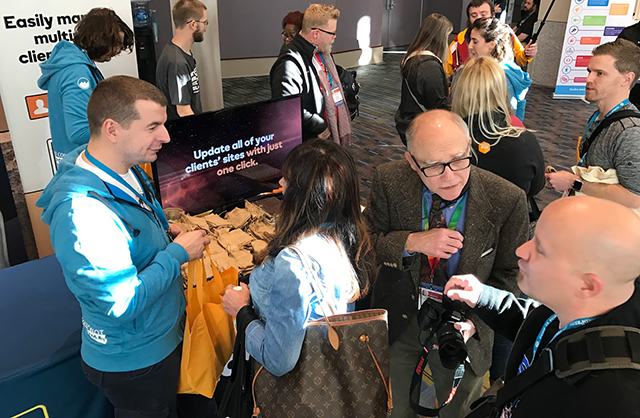 We also unveiled a set of eight original Wapuu pins that we handed out during WordCamp. Designed by Michelle Schulp, each pin represents a different aspect of contributing to WordPress.
I absolutely love this set of Wapuu pins @GoDaddy (via @aaroncampbell) gave me. So many ways to contribute to WordPress! pic.twitter.com/OY4RYvkzCi

— Brian Krogsgard (@Krogsgard) December 6, 2016
What were others sharing?
This year's sessions were a change of pace from the technical content that dominated the schedule in 2015. Last year's schedule dedicated a lot of time to the REST API and the future of WordPress. The schedule for WordCamp US 2016 placed a greater focus on culture, society, and stories from people in the WordPress community.
Cory Miller, founder of iThemes, had an incredibly personal talk about the Iceberg of Life. Cory explained that we all put effort into showing off the best of who we are: our successes, our positivity, our awesome experiences. But in doing so, we often hide the darkness below the surface: our struggles, our anxiety, our insecurities. Honesty and relationships can help us through that darkness and make us stronger.
"The more I am vulnerable and human, the more "human" I get back." @corymiller303 truly impressed me today. #wcus

— Joost de Valk (@jdevalk) December 2, 2016
Sara Cannon, Partner and Creative Director at Range Inc., talked about the connection between creativity and open source. Sara believes that everyone has the ability to be creative. To help rediscover our innate creativity, we can borrow from the world of improv and embrace a "yes, and…" philosophy. (I highly recommend reading her article about it on Medium.)
my slides from #WCUS are up https://t.co/CWikWQHwAs don't forget to check out the notes section :)

— sara cannon (@saracannon) December 5, 2016
Chris Lema brought us back to the beginning of WordPress, encouraging everyone to start a blog and find their voice. Where should you start? "Create content that's useful to you." Having trouble with style? "Copy others." People causing a ruckus in the comments? "Delete the negative comments. It's your site."
"Write the way you speak." – Chris Lema
Yoast SEO's Joost de Valk laid down some actionable advice for search optimization. In a nutshell? Most content on the web is bad, and we can do better. Use Google Search Console. Use canonical URLs everywhere. Creating good content every week is better than creating bad content every day. Don't just focus on new stuff; update and improve your existing content. Don't try to rank for the biggest keywords. Go deep, go local, focus on specific niche problems.
What this is? Oh just a couple hundred people listening intently to @maileohye talking at #WCUS talking about Google, SEO & more. pic.twitter.com/loDzqRkiz9

— Joost de Valk (@jdevalk) December 3, 2016
Sticking with the SEO theme: Google's Maile Ohye spoke to a packed room about the evolution and future of search. Fun facts: Mobile search exceeds desktop search; voice search makes up 20 percent of all search queries; and one-third of mobile searches are location-based. Not-so-fun facts: almost 60 percent of mobile traffic is 2G, and WordPress websites are generally slow-loading. (Now's the time to work on speeding up your site!)
Matt Mullenweg's State of the Word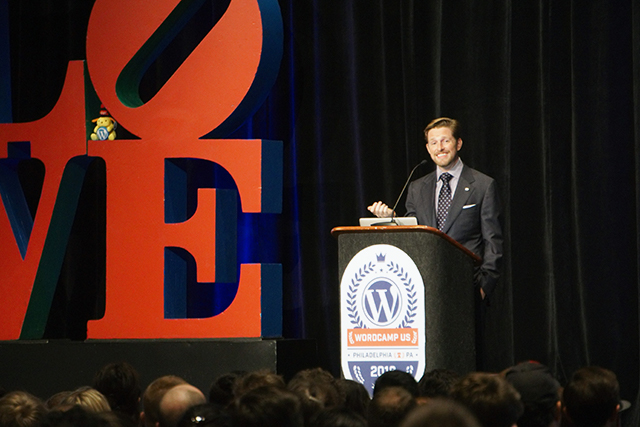 Matt Mullenweg is the co-founder of WordPress. His annual keynote address, State of the Word, looks back on the previous year of WordPress milestones and sets a vision for the upcoming year.
This year's State of the Word was packed full of insights and announcements. (Brian Krogsgard from Post Status and Sarah Gooding from WP Tavern both covered it in detail.)
Notable highlights:
In five years, WordPress went from 13 percent to 27 percent market share.
A Growth Council is being formed to increase that market share even more.
Core will embrace design-first thinking, with greater focus on UX and user research.
There's no schedule for major releases in 2017.
Three development priorities: REST API, the Editor, and Customizer.
No major releases until these features are ready to ship.
WordPress 4.7 'Vaughan'
The video for WordPress 4.7 "Vaughan" was unveiled during the State of the Word, and the release itself is now available on WordPress.org.
What's new in WordPress 4.7:
A new default theme called Twenty Seventeen
Ability for themes to include "starter content" for easier site building
Visible Edit shortcuts in the Customizer, making it easier to navigate
Added support for Video Headers
Ability to create new pages from the Customizer menu editor
Ability to add custom CSS in the Customizer
PDF thumbnail previews in content
Ability to set languages at a user level (previously limited to site level)
REST API content endpoints
Custom post templates
Additions to the Theme API and Settings Registration API
Wrapping up with a night at the museum
The afterparty was held at the Academy of Natural Sciences of Drexel University. WordPressers piled into the first two floors to eat, drink and chat alongside displays of dinosaurs, wild animals and butterflies.
(There was also karaoke, but what happens at karaoke stays at karaoke.)
WordCamp US 2016 was a blast
Thanks to all of the organizers, volunteers, speakers and sponsors for making WordCamp US 2016 such an amazing experience. Don't forget to check out recaps from other attendees:
See you in Nashville for WordCamp US 2017!