Why are productivity tools so important to a web professional? The daily grind of working as a web pro comes with many responsibilities that can cause burnout if not managed properly. Sure, while we get to escape from an office desk and work from home or a coffee shop any time we want, we must also operate a fully functional, professional business to keep us competitive.
Every aspect of a Web Pro business should be considered: contracts and invoicing, productivity, project, client and time management, time tracking, collaboration, and the list goes on.
Over the last few years I've captured some of my favorite productivity tools that helped me conquer the day as a freelancing Web Pro.
Related: 5 essential steps to make space in your life for a digital detox
8 productivity tools to boost your efficiency as a web developer or designer
These tools will help keep you organized and as productive as possible:
Focus Booster.

Trello.

GoDaddy Online Bookkeeping.

Evernote.

Moleskine Classic Notebook.

Harvest.

F.lux.

Jing.
Let's dive in to what makes these productivity tools so useful and how much each of them costs.
A new productivity technique that I have been experimenting with lately is the Pomodoro technique. As a web pro who has a hard time sitting still and working on the same task for many hours, this technique allows me to take small breaks in between sprints and work to the best of my availability. The technique is simple:
Pick a task.
Set a timer and work on task for 25 minutes.
Take a short break (three to five minutes).
Start working on the task again for 25 minutes and repeat until it's completed.
There are many tools out there, both paid and free, that feature Pomodoro timers. Focus Booster is by far the best tool that I've found with a Pomodoro timer as it keeps track of your time for each project or task and even lets you export it for quick and easy hourly invoicing.
Category: Productivity
Cost: Free, pro version available
Trello gives web pros a different way to organize their projects and priorities. It's more than just a to-do list that you check off when you complete the task.
Trello lets you group projects out into boards, and tasks are created using cards. Each card can have its own due date, notes and comments, attachments, and checklists.
Trello is great for ongoing projects where each task goes into a different stage that may need monitoring.
For example, I create columns for each project labeled as 'Not yet started,' 'In Progress,' 'To Follow-up on,' 'Completed,' and 'On Hold.' As each task moves into each stage, I can simply drag each card to its appropriate column and add a comment each step of the way.
Trello is also useful for small- to medium-sized teams as it lets you add other users to your boards so they can collaborate on projects with you.
Category: Productivity
Cost: Free, paid version available
Related: Get ready to be your own boss — Top business tips for freelancers
GoDaddy's Online Bookkeeping software is feature-packed and affordable. For one price, you get access to a number of features like invoicing and payments, profit/loss reporting, and expenses, just to name a few.
When I was first starting to work freelance, this tool helped me create invoices and make sure that they were paid by reducing friction between my clients and the payment method.

Online Bookkeeping lets you send a digital invoice to your client's email directly and let them pay with the click of a button. They can use any credit/debit card they wish and you get notified every step of the way. You'll know if your client has opened the invoice after it's been sent to them, and you'll know when they've paid.
Additionally, this tool takes care of an important part of business often overlooked by beginner freelancers: taxes.
As you earn income, Online Bookkeeping will let you know how much of your income you should set aside every quarter to make sure you're not surprised by your tax bill at the end of the year.
Category: Invoicing and Business Management
Cost: Starts at less than $5 per month
Related: How to use GoDaddy Online Bookkeeping to invoice customers
Out of the many note-taking tools and services I have used, Evernote is the one that I've kept around through the years. For web pros, note taking is crucial to make sure you're not missing any details during a call with a client, or just making note of things to bring up during your next status call.
Another reason I prefer Evernote above all other note-taking tools is the ease of adding photos, voice recordings, and handwritten notes and sketches. You can also create multiple notebooks to keep everything organized.
I personally keep one notebook per client and one for my personal life.
Evernote syncs across all devices so you'll always have your notes available. It's very easy to use through a web application, a desktop download, or iOS/Android apps.
Category: Productivity
Cost: Free, premium option available
Related: 15 powerful productivity apps for business
My Moleskine notebook goes with me absolutely everywhere. Every client meeting, call, presentation, conference, you name it. There is just something about keeping a durable, high-quality notebook with me at all times that keeps me organized and decluttered.
Yes, digital note-taking tools have their uses and have many features that a regular notebook doesn't, but a physical notebook has many benefits.
For one, it is much more respectful to take notes during a client meeting instead of typing away on a laptop or phone. Notebooks are also much easier to use "in the moment" and let you keep track of every single detail that your client wants.
My notebook consists of quotes or phrases from my meetings with clients, bullet points of tasks, and just a number of ideas that get thrown around during the many face-to-face meetings I have.
Moleskine notebooks are very well-made, durable, and have great quality paper that is a joy to write on. It's always a satisfying feeling when I completely fill one of my notebooks. You can also file them away and come back to them at any time if needed.
Category: Organization
Cost: Starts at less than $20
Related: How to use a discovery phase to save your clients from themselves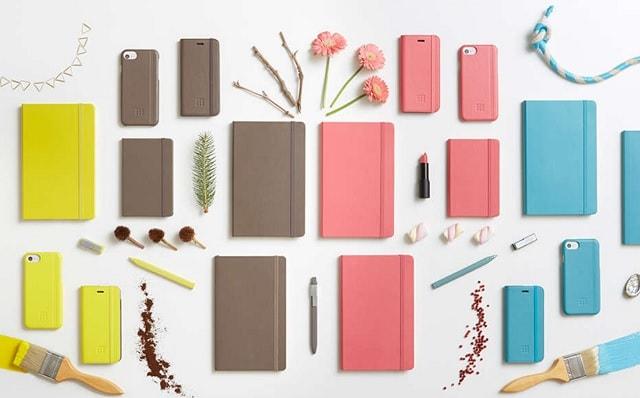 Harvest makes it easy for web pros with a small list of clients to track their time using a built-in timer so you know you know down to the minute how much time is being spent on each client and project. As your projects grow, Harvest lets you scale up by adding unlimited projects and even adding additional team members into the system.
Harvest will let you pull a report of your time distribution at the end of each week (or month, however often you need) so you can visually see your time, or your team's. Another great feature of Harvest is that it lets you predict your team's time so you'll know what tasks you can assign to each person without overloading them.
As you near a project's budget, Harvest will notify you so you'll be on top of it. Timesheet approval is also built in for larger teams. You can also create invoices and project estimates right from Harvest!
Category: Time Tracking
Cost: Free, paid options available
Related: How to scale your freelance work
Bonus tools
These tools don't necessarily improve productivity or other business needs directly, but they do make your day-to-day life as a freelance web pro much easier. Trust me, these are lifesavers!
Web pros are in front of a computer screen for a living, and as a result, their eyes absorb a lot of the harmful blue colors that cause eye strain and even headaches. F.lux solves this problem by automatically adjusting the colors on your screen to a more comfortable hue that isn't so hard on your eyes. If you get chronic headaches, this could be why! Try F.lux and you'll notice a difference within just a few days of using it.
Cost: Free
Jing is the king of screenshots! I constantly find myself sending my team screenshots of things that need revisions or edits and instead of typing out all of my edits, I can simply use Jing to take a screenshot and instantly mark it up. Sharing is easy as you can upload it to Jing's servers and get a short-link that you can just paste into an email or chat.
Cost: Free
The right productivity tools can make all the difference
Having the right tools in your arsenal can make all the difference when it comes to the quality of work you deliver as a web pro. A good tool is one that helps you become more efficient, productive, and overall makes your life as a freelancer just that much easier. Remember that your clients will notice if you're able to do just that much better than others, and will be willing to pay for it, too! While not all tools work for everyone, the ones I mentioned in this post have stuck with me for years because of their reliability and functionality.