In the past few months, we've seen the world change drastically. Stay-at-home orders have been issued and people are isolating themselves in self-quarantine. However, this doesn't mean your auto repair shop can't survive, and even thrive, during these turbulent times.
People are still driving — whether to pick up essential goods or get in a much-needed escape from the feeling of being stuck at home. With these added miles comes necessary maintenance, car repairs — and new customers — for your auto shop.
But to reach these new customers you'll need to meet them where they're at, which is primarily online. And one of the best ways to do that is through an auto repair blog.
Below you'll learn how you can get started with an auto repair blog, along with 20-plus unique blog post ideas that'll help you start generating leads while addressing the pandemic and current economic climate.
Related: 8 ways to generate revenue if your business doors are shut
Getting started with your auto repair blog
Whether you're starting a brand new blog for your auto shop or reinvigorating an old blog to start generating online leads, you'll want to make sure you're backed by a solid host and platform.
Check out GoDaddy's WordPress Hosting, as it handles both your web hosting and provides access to all of WordPress's popular features, including customizable templates, built-in SEO tools, and the ability to upload your images and videos.
There's a reason WordPress is the most popular blogging tool, and having your auto repair blog on this content management system offers you a huge variety of add-on options via plugins that can do everything from enabling online sales to capturing newsletter subscriber info.
More people are online than ever, and you'll want a host and blogging platform that can keep up.
Here's how to start a blog in 7 steps (in 2020).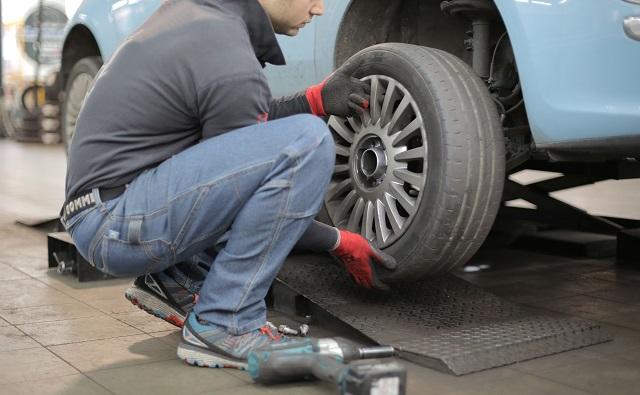 20+ auto repair blog post ideas
Once you have your auto repair blog all set up, it's time to start creating content. Remember, even though people still need auto repair work, there's a lot of other things on their mind, like:
How is your business practicing social distancing?
Is it safe to drop their cars off?
Do you offer alternatives to dropping off a car?
How will their cars be cleaned and disinfected?
Do you offer online payment or payment by phone?
Your blog should work to address these questions, along with the more standard, timeless questions and concerns they'll have.
Here are some key messages to share with customers during a crisis.
And here are some unique blog post suggestions that can help you stand out online:
Maintenance blog posts
Don't assume car owners know what kind of maintenance their vehicles need. Not only does sharing these types of blog posts provide your followers with useful information, but it will also help to bring them into your shop by reminding them they missed their last oil change, or that they need to have snow tires put on before the winter weather arrives.
Posts to consider:
Car maintenance tips for summer
How to know it's time for an oil change
Car maintenance and service checklist
How regular vehicle maintenance saves you money
Repair blog posts
Beyond regular maintenance, repair is the second most common reason your customers will be visiting your auto shop.
By posting information about how to know when a car needs a tune-up or repair, you'll be teaching your customers signs to watch for and encouraging them to bring their car in to be looked at by a professional.
Here are some repair blog post topics to consider:
5 engine noises that require immediate attention
How to determine what's leaking based on the fluid color
Why you shouldn't drive around with a chipped windshield
Decoding your dashboard light indicators
DIY auto blog posts
Having a few DIY auto blog posts is a great way to attract local automotive enthusiasts to your website. While they might enjoy tinkering under the hood and taking on some of the more basic vehicle repairs themselves, they still need a go-to automotive shop to handle the more complicated work.
If they become a fan of your blog, it might only be a matter of time before they're walking through your door as a customer. Here are a few examples of DIY automotive blog posts:
How do I replace my headlights?
How to fix a flat in under 15 minutes
Tips on getting rid of a bumper dent
Troubleshooting a faulty automotive air conditioner
Related: 6 marketing ideas for custom car shops
Q&A blog posts
Having blog posts that answer common questions your customers might have provides them with valuable information while also keeping your company in the back of their minds for when they need work done on their car.
These can be written by answering a single question or by responding to several questions surrounding the same overall topic. For example:
What are the benefits of a tire rotation?
How do I check to see if my car's oil needs to be changed?
7 windshield replacement Q&As
10 Q&As that will explain all you need to know about engine belts
FAQ blog posts
FAQ auto repair blog posts give readers information at a faster pace, making them ideal for those who like to browse through articles rather than read them in depth. It also gives you the chance to highlight your services and promote your business.
Here are some examples:
Car winterization FAQ
Extended warranty FAQ
Electric car FAQ
Local auto repair shop FAQ
Related: How to create a coronavirus FAQ page for your website
COVID-19 related blog posts
It's important that you also speak to the current situation we all are facing. Doing so shows empathy and can help to build a bond with potential customers, now and into the future.
Here are a few ideas:
Fix your car without leaving the house with our concierge pickup service
How we keep your car clean with our 7-step disinfecting checklist
How our digital payment methods keep you safe from COVID-19
Learn how our "contactless" car repair can keep you, your family and your car in tip-top shape
To ensure all of your blog posts are doing their best to bring in customers, you'll want each post to relate it back to one of your shop's services, products or warranties.
Each post should end with a call-to-action where you invite readers to head to your website for more information or call you to schedule an appointment.
Turn your auto repair blog into a lead generation machine, no matter the economic climate
As you start to write auto repair blog posts on the topics above, keep in mind how you can translate these into other forms of media as well. You've got YouTube videos, Instagram and Facebook posts, emails you can send to your customers and more.
Hopefully, the ideas above are helpful in addressing the current situation we're all facing while helping your auto shop thrive and your customers stay safe on the road.
Whether it's time for routine maintenance or the check engine light kicks on during an "isolation" drive, you want your customers to think of you first — and your blog can help with that.
This article includes content originally published on the GoDaddy blog by Rose Burke.