Small business owners are inspiring. They follow their dreams, take huge risks and bring amazing ideas into the world. One of the hardest parts of starting an enterprise is first making the decision to actually launch your idea and make it a real business, and the second is scaling your small business once you've had some initial success.
GoDaddy and Alignable recently surveyed more than 100,000 small business owners in North America to learn about some of the barriers that stand between SMBs and growth. After analyzing the data from our survey, five themes surfaced as potential obstacles:
Building your website
Optimizing your website for success
Website branding
Customer communication
Selling products online
The good news for small business owners is that it's relatively easy to overcome each of these potential obstacles. With a little knowledge and by investing in a few key online tools, you can build an online presence that will grow your business.
While we're going to highlight the themes from our study below, don't forget to download the entire white paper at the end of this post!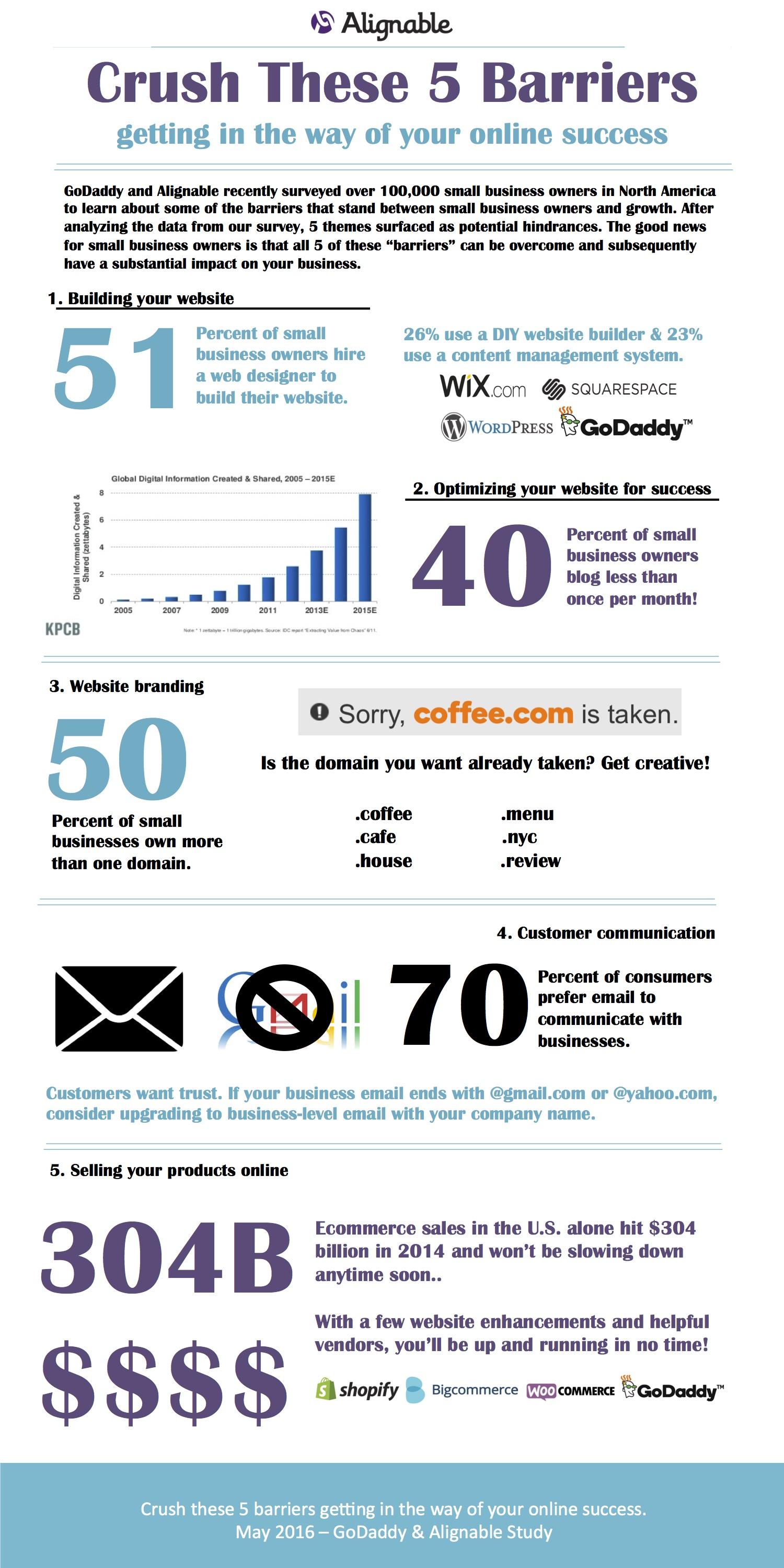 Building your website
You don't have to build a website from scratch if you don't have the time or talent for a DIY approach. Our study found that more than 51 percent of small business owners hire a professional web designer to build their website. For those who want to roll up their sleeves, there are plenty of options as well.
There are many great DIY and DIFM solutions for launching a small business website.
Our study found that 26 percent of small business owners user DIY website builders like GoDaddy Website Builder, Wix and Squarespace, while 23 percent learn how to use a content management system like WordPress (which takes a bit more technical know-how).
Branding your website
The most common way people remember your brand online is by recalling your domain name. For new business owners, finding a domain name that hasn't already been claimed can be difficult. The good news is that the domain industry has evolved to allow you more flexibility and customization.
The availability of hundreds of new industry- and geo-specific domains makes it easier than ever before to get a short and memorable domain name that truly represents your business online.
For instance, if you own Jane's Café and www.janescafe.com is already taken, you can consider quality naming alternatives like janescafe.nyc, janes.coffee, janesespresso.cafe, and janescoffee.house. It's also easy to power up and protect your online brand and buy more than one domain name and forwarding these secondary domains to your primary website address, Facebook page and other web properties.
Optimizing your website for success
A whopping 91 percent of the small business owners in our study are looking for more opportunities to generate revenue from their website. And with 40 percent creating and sharing content via blogs less than once a month, there's plenty of room for growth.
Adding a blog to your website can help you increase traffic to your site, boost search engine rankings, and establish yourself as a thought leader in your industry.
B2B companies that blog generate 67-percent more leads per month than those that don't. It's important to post consistently to keep the momentum going. You can put your website to work for your small business by dedicating time to blogging and other content marketing strategies, committing to a plan, and learning with your industry peers.
Customer communication
Your customers prefer email. It's true. More than 70 percent of U.S. internet consumers prefer email as the main form of communication with businesses. When it comes to email communications, customers also want trust.
A professional email address gives your small business credibility.
If your business email ends with a generic email address (like @gmail.com or @yahoo.com), customers might wonder if you're a legitimate business. You can build trust AND your brand by getting a business-class email address that includes your domain name — such as ceo@yourbusinessname.com.
Selling products online
Enabling users to make purchases from your website is a critical step to growing your business. Web sales in the U.S. alone totaled more than $304 billion in 2014 and won't be slowing down anytime soon. Not quite half (48 percent) of the small business owners we surveyed sell their products or services on the web. Branching into ecommerce is another effective way to build your business online.
Affordable, easy-to-use ecommerce site builders, not to mention online marketplaces like Etsy, put selling products online within the reach of just about every small business owner. If you're new to online sales, ask other small business owners about their experiences and lessons learned before you get started.
View the free white paper
It's encouraging how these potential obstacles start to look more like opportunities once they're broken down and presented with actionable strategies. Ready to start crushing those common barriers to online success? To get all of the information and tips from our study, view the white paper:
Can't view the document in your browser? Click here to download a PDF copy.