When I started working for GoDaddy – a company that gives people the tools to start and run their businesses online – I got an itch to start my own website design and online marketing business. I read and personally witnessed hundreds of customer success stories, and I knew I would be good at operating my own enterprise. I was born with the hustle -- I just needed the experience!
Slow and steady wins the race
I figured moonlighting was the best way to test the waters before I dove in too deep, so I put in a few hours here and there after getting home from a full day's work. It was great; I was making good side cash while teaching myself how to code websites and navigate the website design process.
I kept things simple by only designing websites for close family and friends. They gave me the critical feedback I needed and I was able to wring out the kinks in my process before moving on to small business owners I knew and (gasp!) strangers. What started as a slow trickle of business grew into a steady stream of new clients. I found myself spending more and more nights and weekends writing website content, designing sites, and helping out with social media.
Always come up with a game plan
After about 2 1/2 years of moonlighting and looking at the computer for 12+ hours a day, I decided to give my dream a go. I didn't think twice about not having a business plan or marketing strategy -- I was going to wing it to see if this thing was at all plausible. Um, bad idea!
If you want to start your own business, create an organized plan before you leave your job. Seriously.
I quickly came to two really uncomfortable realizations: I no longer had consistent paychecks coming in, and I didn't know a SINGLE THING about the "business side" of starting a business. I went into this thing blind as a bat. Luckily, I had a cushion fund to give me some breathing room to get things going!
Pro tip: Set aside three to four months worth of paychecks in a personal emergency savings account to give yourself the security you need to start your business.
Sure, I knew the basics of running a business, but I didn't know the first thing about getting started. This was about when I started panicking and questioning EVERYTHING. Was I good enough at what I did? Would I make a solid income? Will people hire me? Do I really have what it takes to get this thing rocking and rolling?
I lost some sleep, but this is what I took away from those first weeks as an entrepreneur: You just need to push through it. Don't pay too much attention to the critics or your crazy, conflicted brain. Stay focused on what you need to accomplish one day at a time to accomplish your goals. Remember that if your business venture doesn't work out, you can go back to job hunting or you can start over. You won't be a loser; the world won't think you're a failure; and you certainly won't die.
Soak in all the advice you can get
My dad started a successful business nearly 20 years ago. During those early days, I watched him learn all the lessons and make the mistakes many small business owners make. I was lucky because I had a first-hand opportunity to soak in a ton of helpful information. Some might say I had an advantage because I was surrounded by entrepreneurs, but that didn't stop me from pursuing advice from the small business owners I looked up to. They found their success in different ways – maybe they took a unique approach or different risks – and ultimately they made different mistakes. That's what I wanted to learn from.
Be a sponge: My best advice is to seek advice. You aren't going to do everything right, but you can learn how not do a lot of things.
Get your business going online first
The easiest and most cost-effective way to start a business is by putting it online. Before doing a million and one really cool things that you're sure your business needs, do yourself a favor and get the basics going on the web.
My first steps included coming up with a name for my business and registering a domain, creating a WordPress website, securing an Office 365 email account, and setting up my Get Paid account. I was in business!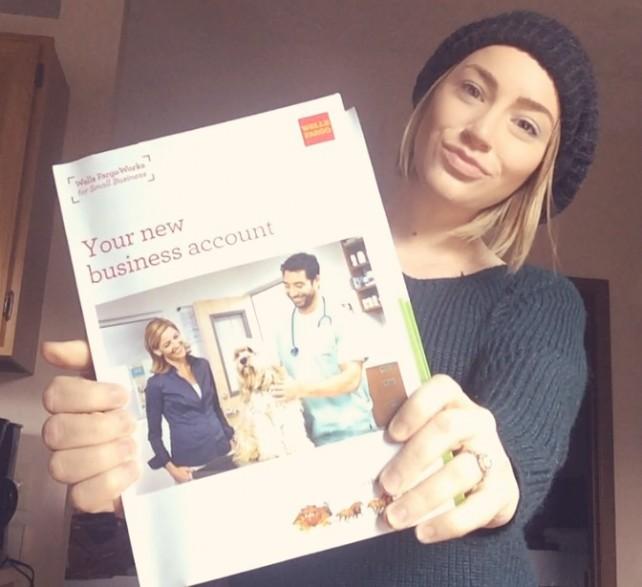 Then I realized I needed to straighten out all that financial/legal stuff I knew nothing about, so I did what every small business owner should do: I called my accountant. He filled my brain to the brim with helpful info and told me to register my business online, set up a business checking/savings account, and get an EIN (Employer Identification Number). OK, now I was officially in business.
A moonlighter-turned-business-owner's two cents
I'm not a startup expert by any stretch of the imagination. In fact, I've probably made thousands of mistakes in the past 60 days. And I've learned more in a few months from those mistakes, from the people I've turned to for advice, and from the simple of act of "just doing it" than I learned from doing anything else over the past few years. To me, that's the beauty of trying something new and risky.
I think it helps to remember that every business started at (or very near) the same place we are. They had their financial concerns, critics who told them they couldn't make it, and a tsunami wave of doubts. It's easy to lose confidence when we get distracted by all the why-nots and what-ifs. When all of our friends are working 9-5 jobs with steady paychecks. When we have to eat noodles four nights a week and cancel (at least temporarily) our Netflix account. With some planning, skill, hard work and luck, I truly believe it will pay off in the end.
In the meantime, like a lot of other small business owners out there, I've never been happier.
If you've taken the leap, maybe you've learned some of the same lessons or others you'd like to share. Please do it in the comments!