Your process for inbound and outbound lead generation can often be less organized than other aspects of your work. However, by taking some time to develop a better workflow and collate your leads, you can reduce the time and effort required to win new business. This post will look at why it's crucial to organize client leads, and introduce some simple ways of staying on top of your leads, such as by using spreadsheets and reminders. Finally, we'll look at Customer Relationship Management (CRM) systems, for those needing a more powerful solution. Let's get started!
Why it's important to organize client leads
Imagine the scenario: You're working on a project, and are thinking of lining up another. At that moment the phone rings. You hear: "Hello, it's Sarah! Just wanted to let you know that the price you quoted was great, so we can start straight away. Thanks!"
At this point, there will no doubt be a number of questions running through your mind:
Who is Sarah, and what company does she work for?
What project did I agree on?
More importantly, what did I quote her?
Without proper organization, these situations can occur regularly.
Getting your ducks (i.e. leads) in a row means you'll be able to instantly recall anyone with whom you've discussed a working arrangement.
When you organize client leads, there are other benefits to consider too, apart from saving time (and worrying less). For example, you could look back at your past conversations with Sarah, any previous projects you've worked on, her invoice history and much more. You could even automate tasks such as email reminders and sending final invoices.
While you don't need to channel your inner Felix Ungar to succeed at becoming more organized, a structured and focused approach will help.
Let's discuss how to do that.
A quickstart guide on how to organize client leads
We'll look at some of the more advanced options for collating your leads in a moment. If you currently have no system at all, however, a simple spreadsheet should suffice initially. You'll need a spreadsheet application, of course, so let's look at some options.
Google Sheets is a solid cloud-based application, although Mac users may opt for Numbers instead. Open-source software lovers will likely want to choose LibreOffice or OpenOffice. Related: Microsoft Office 365 from GoDaddy includes Excel, which works on Mac, PC, iOS, Android, and even in your browser.
Next, you'll need to set reminders that prod you to check back in with clients at a later date. If your Operating System (OS) includes a generic calendar app, you can use that. However, dedicated software does exist for setting reminders. We're particularly fond of Boomerang, which is a premium option that integrates with Gmail.
Once you have your tools in place, here's how to use them:
Open a fresh spreadsheet and add columns for information such as the client's name, contact email, and whether they're currently active. Which additional metrics you include is up to you, based on your personal preference and requirements.
Next, dump all of your current clients into the spreadsheet, filling in the columns accordingly. Don't worry if some data isn't available. You can go through the process of filling in the gaps once you've completed these steps.
When you next get a new lead, add them to the spreadsheet and use your reminder app to set a suitable date to follow up with them. If you haven't mentioned a particular date in your correspondence, situations such as the completion of a billable task are perfect times to touch base.
If you're feeling really adventurous at this stage, you could also automate replies to inbound leads who contact you, or even set canned responses for quickly engaging with new leads. The work you put in now to organize client leads may seem like a lot of effort, but it will pay off in the long run.
The best customer relationships start with highly organized database applications
As we mentioned, a spreadsheet will do nicely to start organizing your client leads. However, you might eventually have so many leads that an array of columns and rows becomes unwieldy. When you're at that stage, it's a sign to start thinking about using a Customer Relationship Manager (CRM).
A CRM is a database that collates your customer base and leads, giving you the platform to develop better working relationships. It's a powerful solution that is great when you have many contacts to keep on top of, or when you have unique requirements.
Compared to simple spreadsheets, CRMs usually look nicer without much effort. Depending on your solution, you may also be able to customize it under the hood to meet your exact needs.
However, keep in mind that a CRM can also take more time to set up than your typical spreadsheet/reminder combo – not to mention, it will definitely have a steeper price.
We've actually covered some of the best CRMs available in a previous post, so we won't repeat ourselves unnecessarily here. However, in our opinion, Zoho CRM is a great initial option to organize client leads: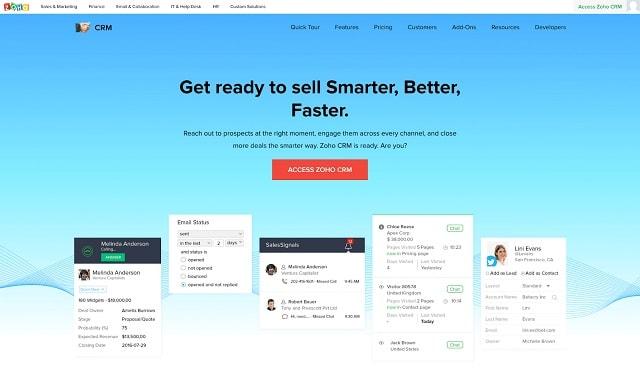 For starters, it contains a wealth of features out of the box, and the price is cheap enough per month for one user. What's more, you can extend and customize the platform heavily, meaning that it's possible to implement practically any unique requirements.
Conclusion
Yes, making sure you can access your leads correctly and quickly is boring work. However, it's absolutely necessary for chalking up a big win when it comes to earning new business. When you organize client leads it also prevents you from forgetting about some of your older, less active clients.
Using a combination of a spreadsheet and reminder tool can be just the ticket, and is a simple solution to grasp. However, if you need for more flexibility and power, a dedicated CRM (such as Zoho CRM) might be the perfect option!