Sara Sandoval, a spray paint stencil artist, is a born creator. She always wanted to be an artist, constantly drawing in class and not turning in her homework in favor of artwork — even failing a class or two because of it. In middle school, she embraced the then-new medium, YouTube, creating videos with her friends and marveling at the community it created.
Her artwork blossomed as she continued to draw and in high school, others began to notice her talent. She had dreams of pursuing art and going to California Institute of the Arts (CalArts) whose alumni include Pixar animators, Oscar-winning directors, and notable comedians.
But, before she had the opportunity to pursue college, she discovered that, unbeknownst to them, she and her parents were undocumented, derailing the plans she had.
Read on to learn how Sara persevered and created a flourishing art career and online presence.
This interview has been gently edited for length and clarity.
GoDaddy: How did your art career begin?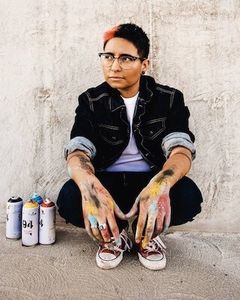 Sara Sandoval: I always knew I wanted to do something with art. I didn't know exactly what I wanted to do. So, in high school, the only thing I could think about was how I wanted to get into animation and go to school. I wanted to go to CalArts and learn animation there.
And then I learned that I was actually undocumented.
So, after high school, I wasn't able to go to college. I couldn't go take classes that I wanted to. I started thinking, "How am I gonna become an artist? How am I gonna make art as a career?"
From there I started painting on canvases, flipping my work, and selling my stuff online.
GD: Can you tell us what it means to be undocumented?
SS: I'm a Dreamer and that means I'm a DACA
(Deferred Action for Childhood Arrivals) recipient.
I came to the country when I was one and I have lived here my whole life. I was born in Mexico.
My parents came over on a work visa. My dad worked here, and then, they moved back to Mexico, where they had me. My dad got another job offer out here. We came back and we actually had our paperwork going through the process to become citizens.
Paperwork takes so long to do. So, it wasn't until I was in high school that we were almost towards the end of it. There was one small thing that was wrong with our paperwork, and it was all completely canceled. So, that ended up making me and my mom and my dad undocumented again.
My older brother and sister were born here. When she turned 21, she was able to make my parents citizens.
When you turn 18, it's technically your fault that you stayed in the country. So, you're no longer able to be sponsored by somebody if you want to become a citizen. I would have to go back to Mexico for 10 years as a penalty and then start my paperwork again, then, be able to come back.
And, at that time, I thought, "I can't. I can't do that. My whole life's here. I don't really know my family in Mexico. My Spanish is kinda broken." So, I was scared and didn't know what to do. DACA wasn't in place until 2012 and I graduated high school in 2010.
GD: What was that like then, in that period for a couple of years, when you were realizing that everything that you thought you were about to pursue in college, might not be possible for you?
SS: When I found out that it was impossible to pursue what I wanted to do after high school, I became depressed. I got scared. I didn't know what to do anymore. I couldn't get a driver's license, couldn't get a bank account. I was stuck. And, it was really hard to see all my friends being able to go to college, and go to school, move on with their lives. I didn't know what to do.
The way I finally got out of that depression was, I started creating. I literally stole my brother's X-Acto blade and started cutting out my first stencils on cereal boxes.
I bought a canvas and I painted on it.
And, I actually sold that on Etsy.
At first, since I didn't have a bank account. I was doing money orders or trying to send a check to my dad, so he could cash it in for me. It was a struggle for the next two years after high school. But, after DACA was put in place, it made it so much easier.
GD: How did you find out about stenciling?
SS: The way I got into street art, was I watched a documentary called "Popaganda." It's an amazing artist named Ronald English, and as I watched this documentary, I was Googling more about street art, watched a couple of videos on YouTube, and how to create more clear stencils. And, from there, that's when I started creating my style.
GD: How would you describe your artistic style?
SS: My style is very diverse. It's really hard for me to stick to one style. There are moments when I'll do just one-layer stencils, and then I'll do multi-layer stencils. Sometimes, I'll do these doodles, and sometimes I would just want to create a piece with an anime character on it. So, it's really all over the place.
GD: Other than stenciling and spray paint, what other mediums do you use as well?
SS: I try to dabble in different types of mediums. I've used markers, brushes, stencils — I've even tattooed myself. When I see a medium that I think is really exciting to do, I'm going to want to try to jump on that and try it out.
GD: Do you have a favorite medium to work with?
SS: My favorite medium is definitely spray paint and stencils.
Just the act of cutting out stencils is very meditative to me.
I could cut out all day with a big sheet of paper, and just sit there and listen to music. And, I just feel like I zone out completely. And spray painting it and seeing it come to life is one of my favorite parts about it too.
GD: What does your process look like from start to finish?
SS: To make a multilayer stencil, I usually edit something in Photoshop first. I create all the different layers, try all the different colors I want to use. And, after that's done, I project it onto a wall and trace off the image that I just edited on Photoshop. Or, I go out and get a huge poster, go into my studio, and cut each individual layer. And, from there, move it onto the canvas, and spray each one.
GD: What kind of people are coming to you to get a custom piece?
SS: Since my artwork is so diverse, I feel like my audience is very diverse as well. If you look at my statistics, the age range is all over the place. I'll get people from India or Portugal, and Mexico, Canada, and all over the U.S. It's so great to not just cater to one certain group of people. And, I like it that way.
GD: Where do you find inspiration?
SS: I get most of my inspiration through social media — watching other creators on YouTube and Instagram.
Just seeing them create something makes me want to try something new every time.
GD: Speaking of social media, you have a great YouTube channel. What made you want to start putting your work and your process on YouTube?
SS: I always loved YouTube. When it first came out, I think in 2005, I was in middle school and I jumped on it right away. I loved seeing the community on their vlogging, and just being so authentic, even before people were able to monetize from it.
When I was in high school, I got a group of friends to create a YouTube channel with me. And, we started making skits and just going off into the desert filming really dumb stuff.
GD: You have a pretty big digital footprint between all of your different social media pages. And, your website obviously. Why do you think it's important for artists today to have a digital presence?
SS: It's very crucial that we show our work. It's hard to get noticed anymore without having an Instagram account or a YouTube channel or a Facebook account. We're constantly needing to show our work online.
GD: Tell us about some of the pieces you're working on.
SS: I've been working on a series dedicated to essential workers — essential migrant workers.
We realized how essential the essential workers are.
But, a lot of times people forget about the immigrants, the migrant workers here. Like, the people who pick the fruit, and people who are undocumented. They don't have the resources to get a stimulus check or get any help because they're undocumented. So, they're fighting this pandemic and they're struggling, as well, just to feed their families, and make sure that they're safe, as well.
So this series is dedicated to essential migrant workers.
GD: How and why do you incorporate things that you believe in and ideals that you feel strongly about into your art?
SS: I never really wanted to do activist work.
I never wanted to show my feelings on pieces, because my art was usually a place to escape all that stuff, like being undocumented or being gay or being a woman, all that baggage that came with it. I just didn't want to paint my feelings on canvas.
It wasn't until the last four or five years that I started feeling like I needed to speak up, say something because you constantly see Dreamers on the news. Same with kids at the border. It started really getting to me. I got scared for their lives and my life. So, in a weird way, it's like I was closeted being undocumented because I was so scared.
And, after a while, it started really eating up at me because I have this platform. I should really utilize it, and speak out. And, at the time, when I came out as undocumented, I didn't really see anybody talk about it or talk about their experience. Most of them were also hiding.
We're being portrayed in such a bad light. We're humans too.
I decided to come out on my YouTube channel.
GD: What was the response that you got to that video from your followers?
SS: All my followers [on YouTube] were so supportive. I got a ton of private messages from people who are undocumented.
They shared their stories with me and that they were really happy that someone spoke out. A lot of them said to me that they're afraid to even tell their friends about this.
That made me happy, being able to connect with those people.
I did get quite a bit of hate on Facebook. A big website ended up picking up my story and they posted it.
Of course, I got a ton of negative comments, like the typical, "You should go back, go back to where you came from. Do it the right way," or "Oh, it's your parents' fault," and "You're taking, somebody else's job." Even though I created my own job. Just the typical hate, but the messages I got privately were definitely worth it.
GD: What's next for you? Is there anything on the horizon that you would love to try and accomplish in the next five years that you're working towards?
SS: I recently moved into a new place. I was able to build my own studio at this new place. I have so many ideas, I already feel like I'm growing out of it. Even though I've just sort of finished it.
One of my biggest goals is to have a huge studio and bring in people who want to learn how to paint murals and how to do stencil work. Or artists who just need a place to paint, that they could come to the studio and paint, and give them the key.
When I first moved to Los Angeles, so many artists opened up their studios to me.
When I met these artists, they were just like, "Hop in any time." They gave me the key.
Seeing that made me want to give back and do the exact same thing.
GD: What advice do you have to artists who are also just starting on their journey and want to be where you're at in a year or two?
SS: I think my advice is to not compare yourself too much, especially starting out.
Just to keep going. Just keep producing. Keep making connections, and just have fun with it.
Don't feel like you need to create something to please other people.
Just create what you want to create.
GD: You're at the point where you're successful and getting commissions from all over the world and getting paid for your art. Did you think you would get to this point?
SS: This is going to sound so conceited. But, I feel like I knew I was going to be here because when I was at my lowest point, I never had a safety net since I left high school. So, in my mind, it was either this or nothing.
There was no plan B — there was only plan A.
So, when I got here, I felt like it had to happen. If it didn't happen, did I really want to move back to Victorville? No — I didn't want to go back. So, I was gonna do anything to make it.
GD: How did you remain motivated during some of the toughest times?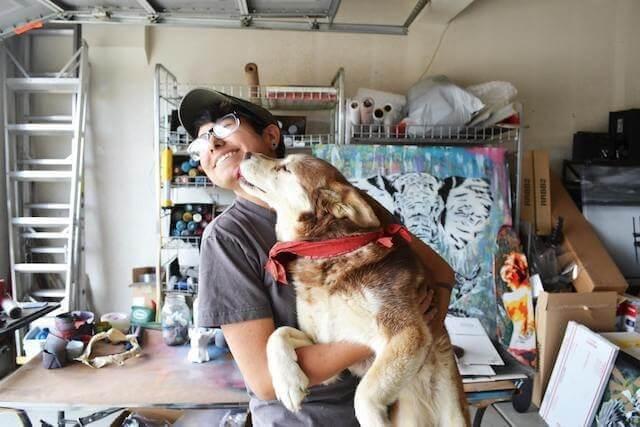 SS: Two things motivated me. Basically, paying rent and being able to feed my dog. I thought, "OK, how am I going to do this? How am I going to be able to feed myself, feed my dog, and be able to pay rent?" And, that was the motivation.
Thank you to Sara Sandoval for speaking with us so candidly. Follow her on YouTube and Instagram and check out her website.