As a business owner, you make tradeoffs to lower costs, increase sales, and become more efficient. Work long hours or lose potential clients. Launch a website or print new brochures. You look for ways to do more with less — sometimes making unfortunate sacrifices due to limited resources. With GoDaddy Conversations, you can add a business number to your existing mobile phone, no tradeoff required.
Conversations was built with your business in mind.
Because no matter how small, your business deserves its own phone number.
Introducing GoDaddy Conversations
GoDaddy Conversations is an app for iOS and Android that gives you a second, dedicated number and voicemail on your mobile phone that you can use for your business.
Separate your business and personal information
With Conversations, you instantly know when a call is personal or for business, so you can answer accordingly. Your customers see your business phone number on their Caller ID so your personal number stays private. And there is no more wasting time listening to long, rambling voicemails. Conversations automatically transcribes your messages and immediately notifies you so you can scan through them and prioritize return calls.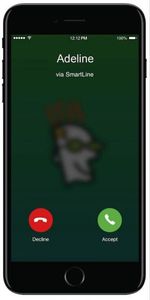 Build your professional image
Conversations makes it easy to look more professional and established.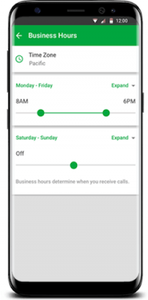 Conversations is more than just a number — it includes its own customizable voicemail box, so even missed calls go to the right place. You can set business hours when you want to accept calls, and create a separate business voicemail greeting. This means you'll sound like a pro even when you can't get to the phone.
You can count on call quality and reliability that's just as good as your personal calls because Conversations uses your mobile phone service to make and receive calls.
Get big business benefits, fast
With online registration and easy app install, in less than five minutes your business will have a dedicated number that rings on your mobile phone. You'll get many features of a big company phone system without having to purchase new equipment, and the added benefits of being mobile:
Two-way caller visibility. You know instantly when a call is for personal or business, and customers see your business phone number on their Caller ID.
Custom settings. You can create a business voicemail greeting, set business hours when you'll accept calls, and put your phone on do not disturb.
Text messaging. Use text and MMS messaging just as you would for your personal number.
Contact names. View calls, messages and voicemail by contact names saved on your phone.
Voicemail transcription. Read automatic voicemail transcriptions that are sent to your email.
Unified Inbox. Manage all your calls, texts, and social media messages from one place.
How do you get GoDaddy Conversations?
It's easy to establish a Conversations account with GoDaddy. The Conversations app walks you step-by-step through the setup process and customization of your new business phone line.
2. Choose a local number with a US area code.
3. Link your mobile phone.
4. Pick up the automated text sent to your mobile to install the app.
5. Make your test call.
It's really that simple!
Smart businesses use Conversations
No matter what type of business you own, GoDaddy Conversations will help you separate personal and business calls without carrying two phones, look and feel like a professional, and keep overhead low.