Looking for a WordCamp Asia recap for 2023? We've got you covered!
This year, WordCamp initiated its first flagship event in Asia as interest in the WordPress community continues to expand globally. And with WordPress turning 20 this year, it was the perfect time to celebrate with a new location — especially after it was originally postponed due the pandemic in 2020.
WordCamp Asia took place from February 17-19, 2023 in Bangkok, Thailand.
Check out this post for a recap of what happened at the event. You can also replay the livestream!
Jump to a section
The first flagship WordCamp Asia is here!
As a recap, past flagship events have typically been held in regions like the United States, Europe and Centroamérica. But this year's event centered on the city of Bangkok, Thailand as a unique opportunity for creators and innovators to explore new ideas related to the WordPress open source project.
Why Bangkok, Thailand?
Bangkok, Thailand sits in the center of Asia — making it the ideal choice for accessibility. It has a bustling city life that's filled with food markets, beaches and historical landmarks that help attract global travelers far and wide. Many entrepreneurs and startups also find the business culture here desirable, which helps fuel curiosity when it comes to building better technology for the future.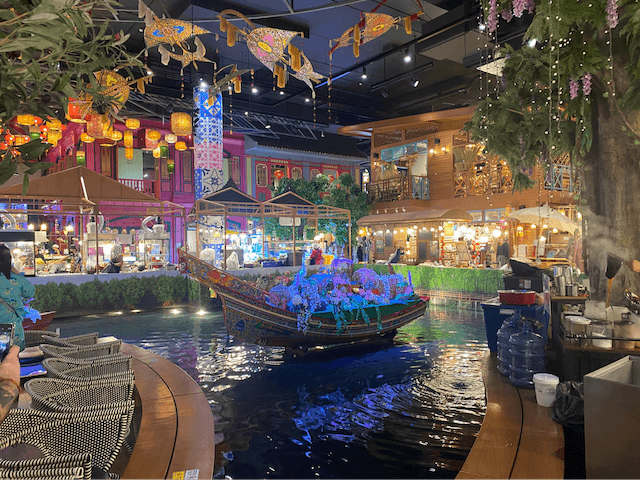 The event was held at the True Icon Hall at the ICONSIAM, which is a mixed-use development space situated near the Chao Phraya River. Here, guests experienced a mixture of shopping, dining and entertainment happenings that celebrated the local culture.
And of course, WordCamp Asia came with its own mascot, Chao Phraya Boat Wapuu!
So, what is a WordCamp anyway?
WordCamp events allow creatives and innovators to join forces and share ideas on how to improve the WordPress platform.
The cool part about WordCamp is that you don't need to be an expert in your field to attend. Most beginners use this event as a launching point to ask questions from industry experts and seek feedback from hands-on learning exercises.
Ultimately, the overall vibe is focused on building relationships and supporting the WordPress community in all its facets.
Quick stats at a glance
Location: Bangkok, Thailand at the ICONSIAM venue
Duration: 17 to 19 Feb 2023
Participants: 1,500+
Sessions: 55
Speakers: 60
Organizers: 53
Volunteers: 84
Sponsors: 44
Media Partners: 7
Say hello to the GoDaddy ground team
As a proud supporter of the WordPress community, the GoDaddy team was eager to join in on the action with over 40 representatives from various brands within the company.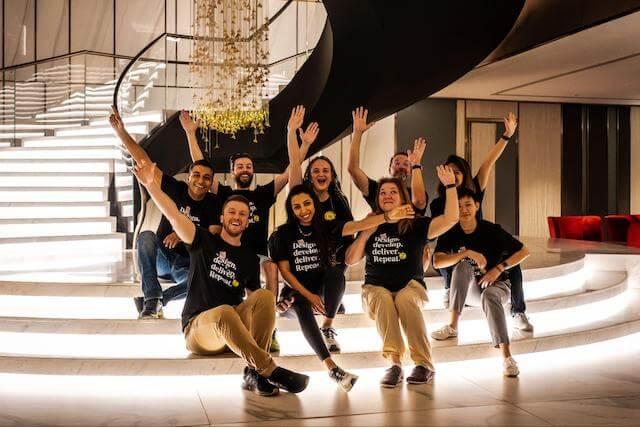 Adam Warner – Director of Field Marketing
Courtney Robertson -Web Designer & Developer Advocate
Mike Schroder - Performance team contributor
George Mamadashvili - Gutenberg contributor
Gina Innocent - Field Marketing Specialist
Ken Crockett - Community contributor
Maja Loncar - Field Marketing, EMEA
Guarav Nakul - Sr. Marketing Manager, India
Drew Wilde - Managed WordPress Hosting
Brian Bautista - Media
Nikki Wiliams - Director of Marketing, ROW+
Nada ElSharkawy - Marketing Manager, ROW+
Auch Lim - Marketing Manager, ROW+
WordCamp Asia recap: Contributor Day highlights
One of the most important ways WordCamp attendees are empowered is through Contributor Day. This is where WordPress users from all over the platform and the globe are divided into teams to discuss how they can help the overall project. It's also a great chance for people to ask questions and meet new people from different industries.
Anyone can and should sign up to be a contributor, regardless of skill level or background.
We asked our team on the ground to describe their experience at WordCamp Asia's Contributor Day.
Why should people attend Contributor Day? What was your experience as a contributor?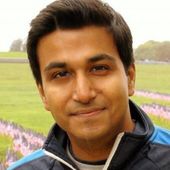 Gaurav Nakul
It's a great way to meet people, learn and contribute in many ways that help the larger community. Attendees and organisers are Extremely approachable and knowledgeable people which makes it a wonderful experience.
Drew Wilde
Excellent opportunity to learn new corners in the WordPress community. Additionally, it provides a very easy networking opportunity as you solve problems together.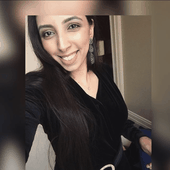 Nada ElSharkawy
Contributor day isn't only a chance to contribute and give back to the WordPress community but also it's a chance to meet new people, build connections and network with WordPress-ers from all around the world!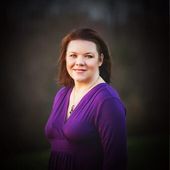 Courtney Robertson
Each person has a unique voice and talent they bring to shaping the future of WordPress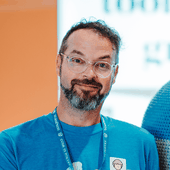 Adam Warner
Seeing so many people turn out for Contributor Day to keep the project moving forward and growing was inspiring. We had great discussions about what we could do to better support those wanting to organize their local communities around WordPress. As sponsors of Meetups and WordCamps globally, we worked on enhancing the existing organizer handbook to provide deeper clarity on many topics to help make organizing easier.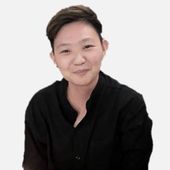 Auch Lim
It's interesting to see how people from different backgrounds can contribute to the various teams despite having little to no experience! There's always someone to get us started.
Mike Schroder
I enjoyed helping folks get connected with the Hosting Team!
I did a lot of onboarding -- around 10 folks were new to the team and got connected to WordPress Slack, the hosting-community channel, and the projects that the team works on.
Several folks submitted feedback and suggestions for changes for the Advanced Administration Handbook that is in progress.
Others worked on setting up automated testing at their hosting company, or submitting PRs to improve the automated hosting tests!
WordCamp Asia recap: Session notes
Our team on the ground learned a lot and took notes on the sessions. Two of our team members even had an opportunity to emcee the event. Peek the highlights and photos below to get a glimpse of some key moments.
Shilpa Shah: Starting Your WordPress Blog — The First 6 Months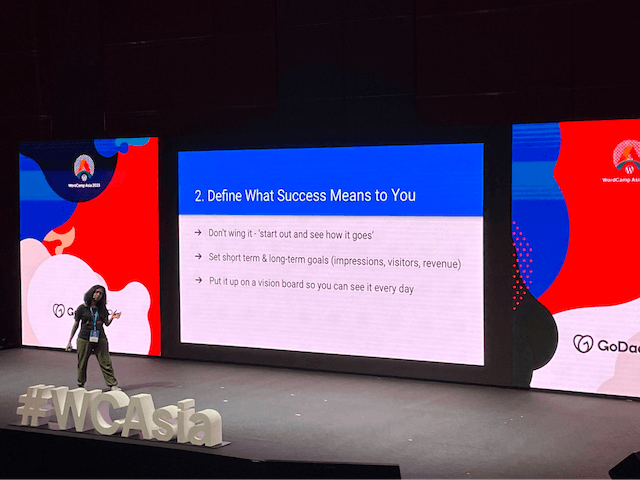 Shah discussed key steps when beginning a blog during the first six months and reviewed a checklist of essential items to include (including an About Me page and a Contact Us page). She also reviewed ways to create a content plan and how to follow-through with strategies and goals you set for yourself.
Best takeaway note: Treat Google algorithm updates as an opportunity to learn and improve - it'll help to improve the user experience.
Topher DeRosia: Success Stories of HeroPress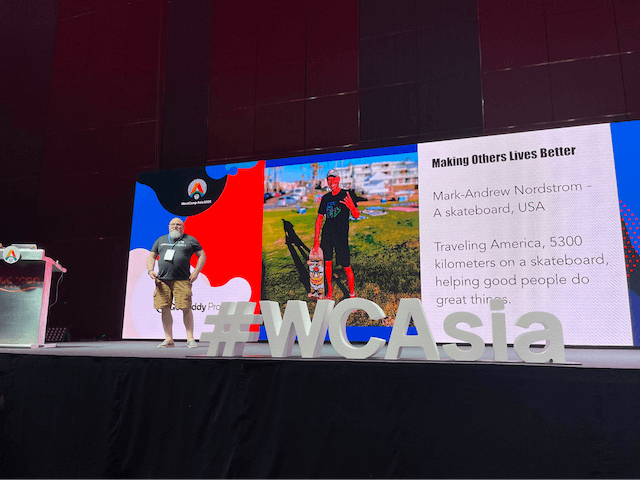 DeRosia dives into the importance of the HeroPress project, sharing inspiring stories from WordPress contributors. The talk focused on how the project has positively impacted the lives of contributors by connecting folks from different backgrounds, cultures and mindsets.
Best takeaway note: HeroPress.com demonstrates how our community cares for each other. It is a collection of deeply personal essays about our community and helps set individuals on a path to finding a sense of belonging and jobs.
Carole Olinger: Stepping Back to Move Forward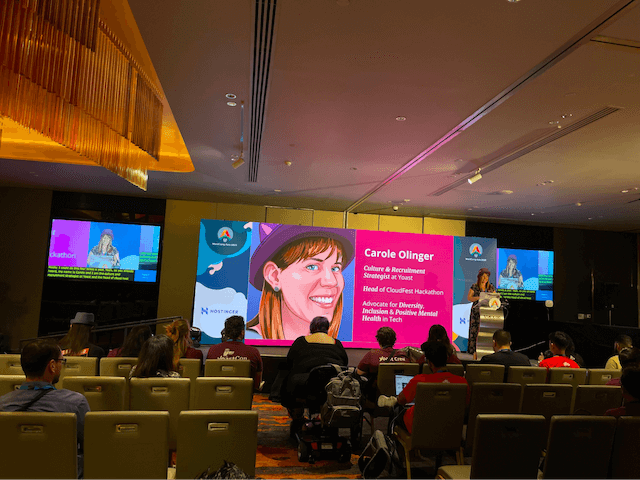 Carole spoke well about the importance of self care and being open about mental health, especially when out at a WordCamp!
Best takeaway note: Focus on your priorities and prioritize self-care. It's important to put your wellbeing first because mental health matters. No one should be afraid or ashamed to ask for help.
Ajit Bohra: The Power of Empathy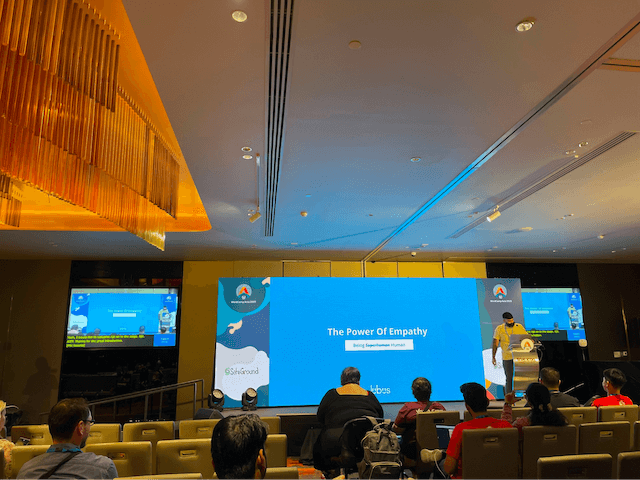 Ajit spoke about empathy and provided personal anecdotes about the power of being there for people and finding the good in people. Some key points were "Selfishness is a path to anxiety" and "working with humans and not resources.
Best takeaway note: We need to learn how to be human and avoid taking a robotic approach to emotions. "Be good, do good and everything good will follow."
Michelle Frechette: Look for the Good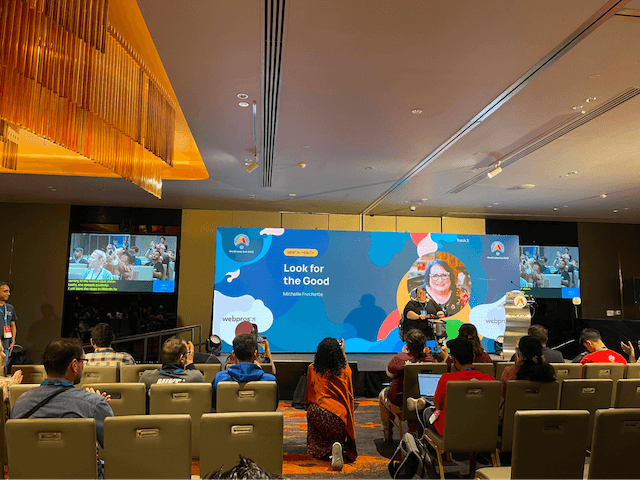 We've dealt with so much since 2020 as a global community. Michelle spoke passionately about her story in WordPress and the importance of the community in her life. Touching on the kindness of those that make people's lives better and more enjoyable. How do we move forward? Hope in the community to incorporate people and to make "good" in the community.
Best takeaway note: Continue building a CMS that incorporates everybody. There's still a lot of opportunity to address ongoing acessibility issues and multilingual drawbacks.

Karim Marucchi: Successfully Marrying Open Source and Large MarTech Stacks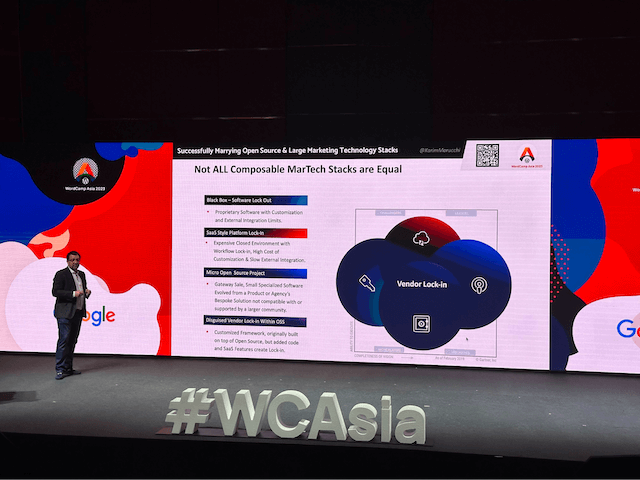 Maruchhi emphasized how closed source systems can connect to WordPress by using open source MarTech stacks. He highlighted the major perks and discussed how companies don't need to be locked into a vendor — allowing them access to move whenever they would like. He also reviewed how enterprise-scale agencies are asking how to take separate SaaS sources and bring it into a data lake to use outside that system.
Best takeaway note: Owning your own data is important. WordPress is positioned to be the center of all the data lakes. We can be the answer for big brands and create an omni channel experience.
Le-an Lai Lacaba: How To Create A Content Machine
Lacaba talked about how content helps build trust and authority. She discussed how content overlaps across platforms and suggested how to start with one, then evolve with others.Key things to think about include: what are you an expert in, what is a pain point for your audience, what is something that's fun for you to create.
Best takeaway note: Be consistent, keep experimenting, keep learning something new and ask for feedback.
Alberto Medina: Why WordPress Should Care About the Creator Economy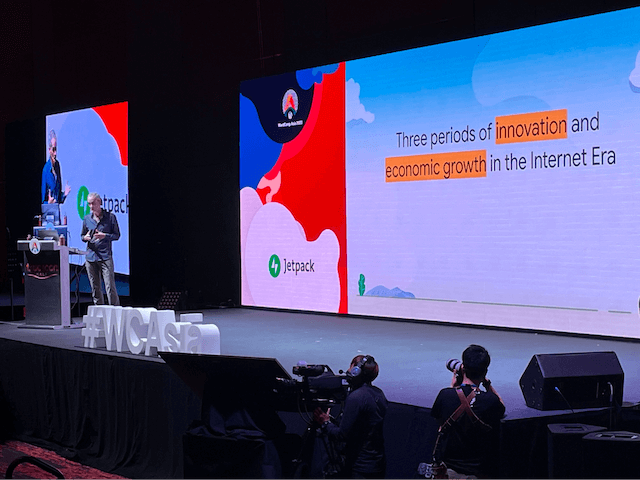 In order to attract the creator economy, WordPress should make it easy for content creators to onboard and easily start. We should innovate on composable content formats, creation tools, and close the gap between content consumption and creation experiences.
Best takeaway notes: Think about the platform that reaches your audience easily and ensure it integrates into your ecosystem/channels for maximum coverage.
Francesca Marano: The Ultimate Newsroom QA: how to manage your editorial workflow like a boss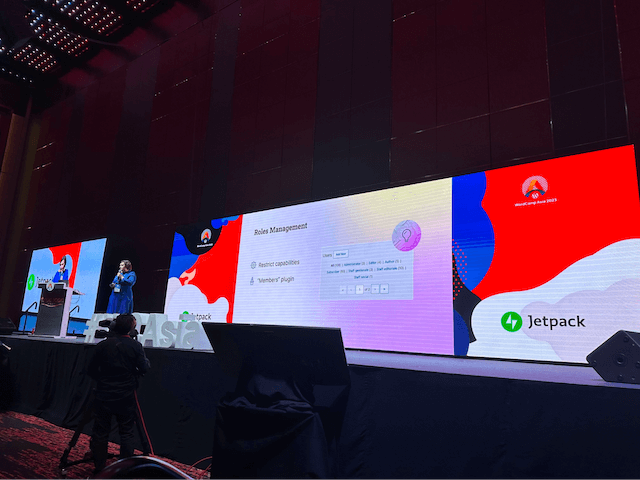 Francesca took us through the phases/process of starting her blog back in 2013. She told the story of managing her own editorial flow and discussed how to create a seamless process for folks interested in starting a blog.
Best takeaway note: Three important values for a blog should include: making the articles readable, ensuring they are indexable and positioning them to be shareable.
Benjamin Evans: How you can contribute Localized content to the Learn WordPress site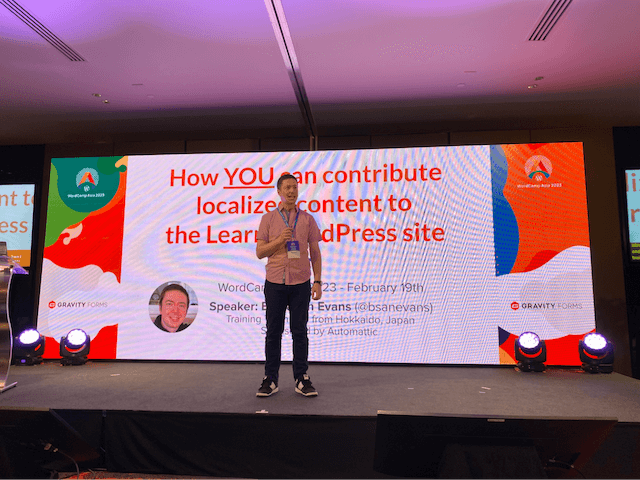 Evans discussed the localization of content and how it's critical in extending reach and widening the community. He also emphasized efforts to bring in more local ambassadors, so that they can help translate learning content in local languages.
Best takeaway note: Localisation of content can really help amplify the impact and reach of WordPress by making it accessible for people around the world.
Thijs de Valk: You're Optimizing the Wrong Thing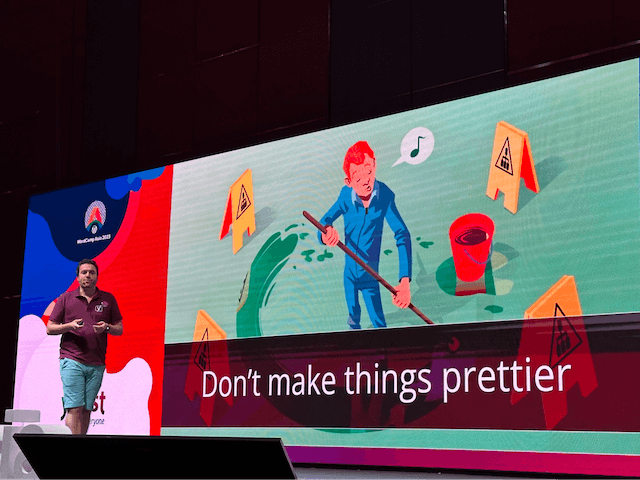 As the CEO of Yoast, de Valk discussed how entrepreneurs often end up optimizing the wrong things on their websites due to distractions. The goal should be to improve the product and focus less on A/B testing and paid advertising. He also emphasized how SEO is a more stable form of marketing and should be used to better understand customer behaviors about your product.
Best takeaway note: Advertising is not an evergreen thing for business to keep doing. Once the business stops advertising, the traffic stops too.
Panel: Building WordPress Communities in Your Country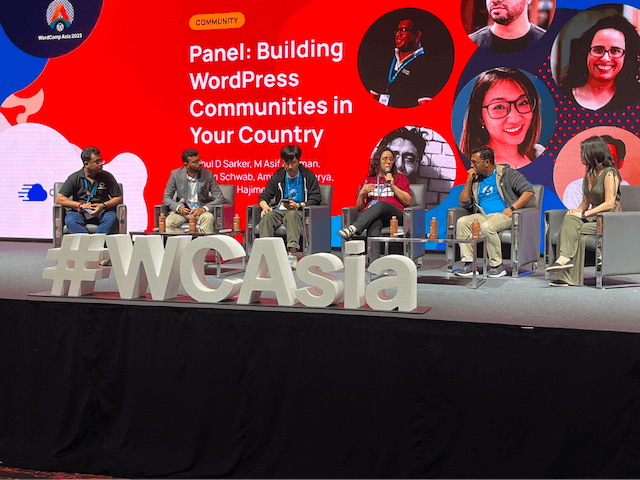 This discussion focused on how to create a welcoming community in many different locales. An important element of this process involves thinking about unique ways of reaching out to your community. For example, some WordCamps offer their websites in different languages or provide non-English sessions that are vital to their community. Starting with smaller meetup groups and growing that community into a WordCamp really matters.
Best takeaway note: Learning from others and understanding how they've found success gives you the ability to customize ideas for your own area of focus.
Hari Shanker: Ten Minutes on Five for the Future: A commitment to WordPress and the Open Web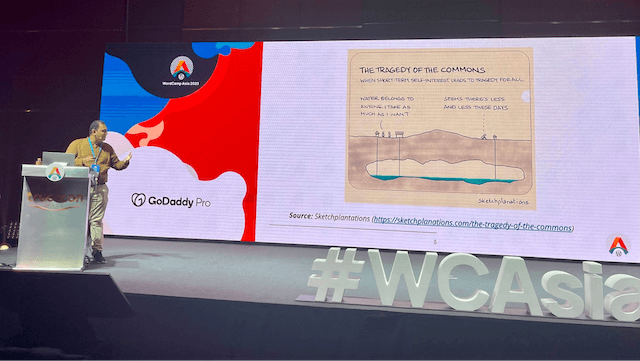 Shanker highlighted the importance of looking for opportunities to give back to the WordPress community. He discussed how small and large agencies have an opportunity to advocate for their clients, simply by contributing.
Best takeaway: Align your skills to the needs of the project where you are best equipped to contribute. Slowly scale up, share learnings internally and create a contribution habit.
Jonathan Wold: Business Models in the WordPress Ecosystem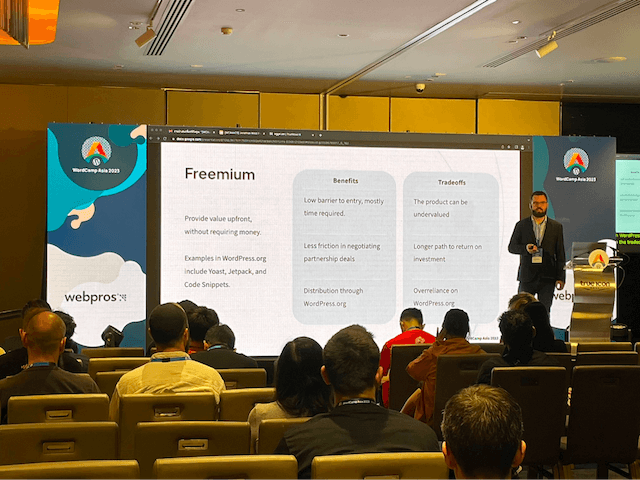 Wold explained the different types of business models within WordPress, along with their characteristics. He also discussed the pros and cons and how the ecosystem business model works for WooCommerce (Freemium, Premium and Ecosystem).
He also suggested you objectively evaluate your products to see if you're ready to grow and support that growth. If you are, consider working with other businesses in the ecosystem that share similar audiences and aligned interests.
Best takeaway note: It's important to connect to like-minded founders to connect, collaborate and increase the odds of each other's success. You can do this by attending more WordCamps, appearing at community spaces, meeting accelerators and building personal relationships.
Birgit Pauli-Haack: Case Study: A #nocode Contributor Journey on the WordPress Gutenberg GitHub Repo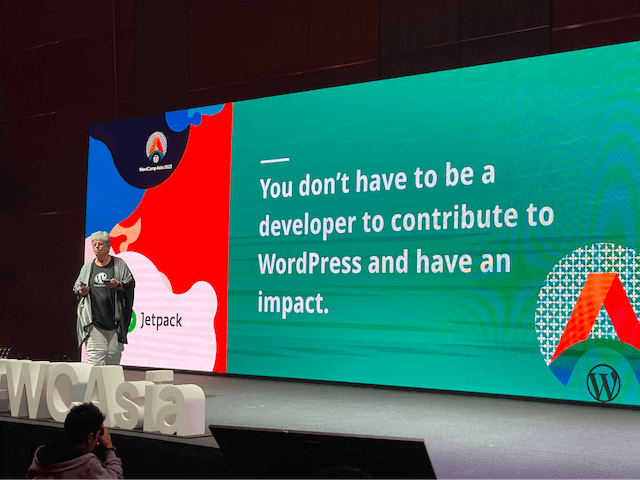 Pauli-Haack championed the message that WordPress contribution is for everyone, whether people spend time coding or not. She explained the necessary steps to become a Gutenberg contributor, then discussed how folks could help suggest new features and changes to the platform. This valuable insight could highlight customer concerns or unblock things directly for products that use the Block Editor.
Best takeaway note: You don't have to be a developer to contribute to WordPress and have an impact. Providing detailed feedback to WordPress experts is important for improvements, so that they can target areas that aren't working.
Matt Mullengweg: Q&A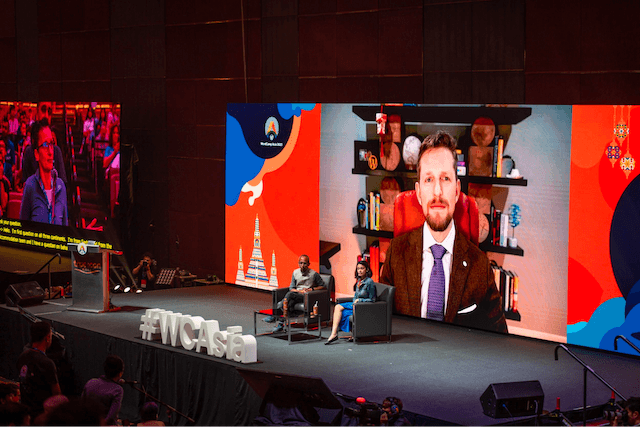 As is custom for many flagship WordCamps, WordPress founder Matt Mullenweg joined for a live Q&A.
WordCamp Asia x GoDaddy boat party
You might've noticed that we have a thing for boats during WordCamps. In Porto, we set sail on a pirate ship for WordCamp Europe 2022, and again in San Diego for WordCamp US 2022.
This year, we had a wild time with our friends on the water in Bangkok!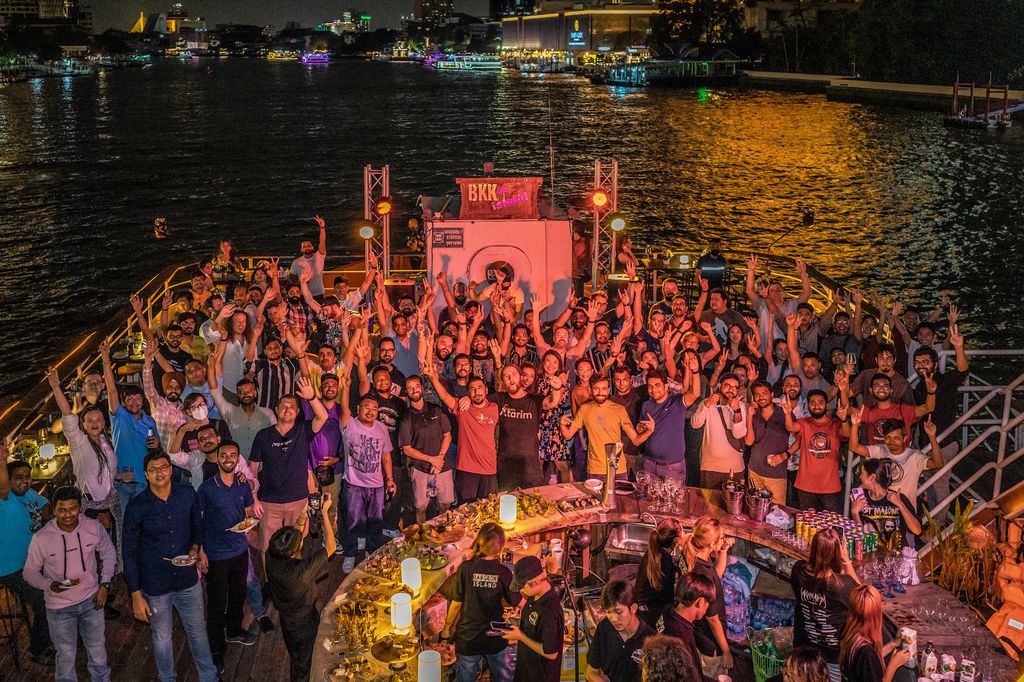 From the sponsors
Many companies gathered on the sponsor floor to interact with attendees and connect over plugins, themes and many other services in the WordPress industry.
As a fun perk for attendees, GoDaddy Pro held a contest and gave away an iPad Pro with a Magic Keyboard to one lucky winner.
Closing remarks and acknowledgments
GoDaddy Pro was a proud sponsor at WordCamp Asia this year, but we know it wouldn't be possible without all the organizers, speakers, emcees, table leads and volunteers who made this event possible.
Organizer, Naoko Tanko, took the stage during closing remarks to relay a simple message: "We did it."
After cancelling just days before the inaugural event was planned in 2020, and waiting two additional years after that, the community successfully came together for the first WordCamp Asia.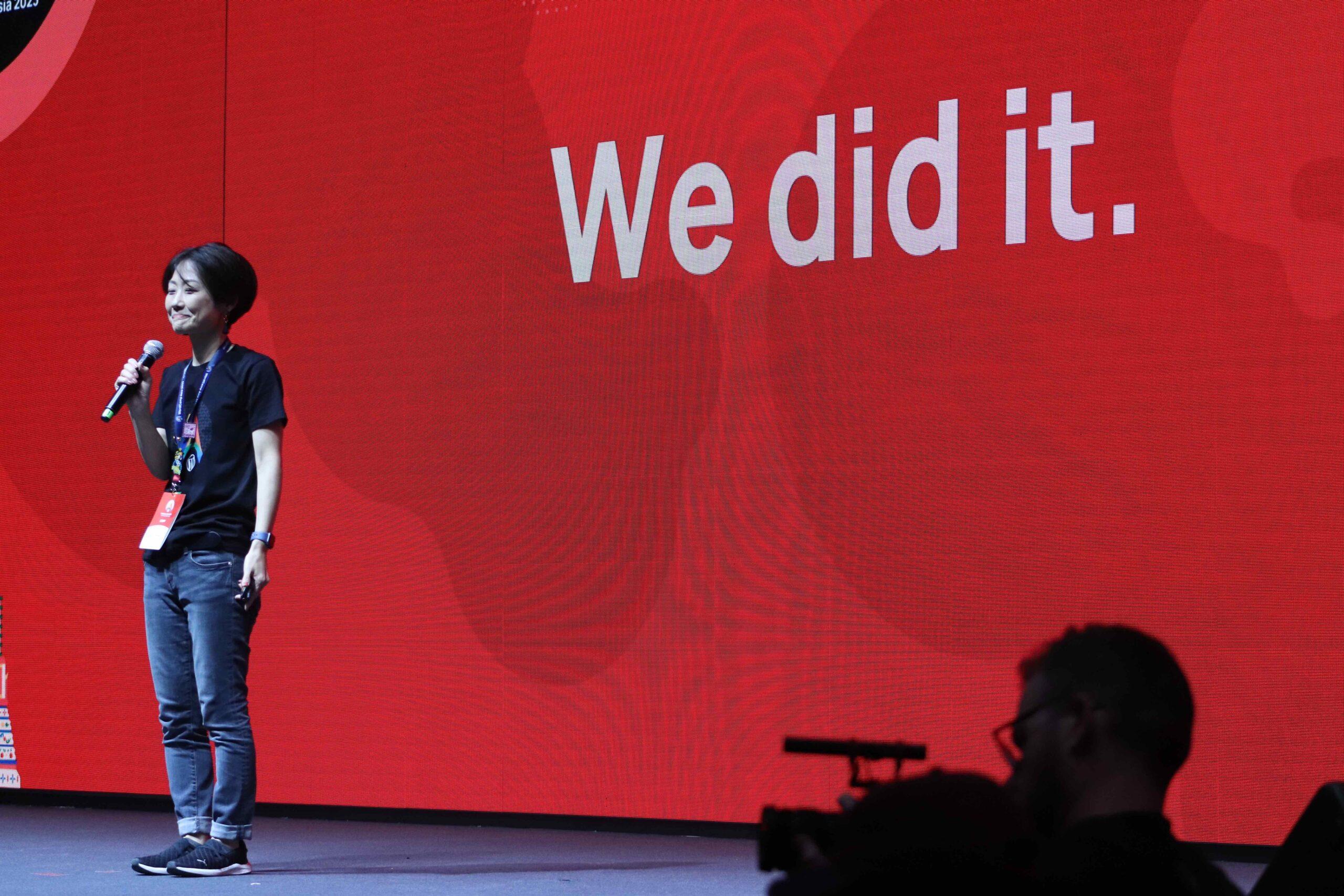 In total, we saw:
1,724 registrations
1,299 attendees
653 contributors
3,185 livestreams
Check out some of the WordCamp attendees below. Can you find some familiar faces?
WordCamp Asia 2024
We've only just finished this event, and we're already looking ahead to next year. WordCamp Asia 2024 will take place in March at Taipei, Taiwan. Get an early look at the city now: