Building a killer small business website is about way more than creating pretty page after pretty page. Yes, design will always matter, because people do tend to judge a book by its cover. But, it's just as important that the website features meaningful content and incorporates a smart SEO strategy. And, of course, all great sites start with an impactful website homepage.
If your homepage doesn't hit the right notes in terms of SEO, content, user experience, functionality and design, you just might lose prospects before you even get the chance to show them what you're about.
Editor's note: Ready to get a jump on creating your website? GoDaddy Websites + Marketing is a robust tool for creating a beautiful and functional website.
10 elements of an effective small business website homepage
Here's what we're going to cover in this article:
But first…
To design a great website homepage, focus on purpose
Creating a website can be exciting, so you might be tempted to dive right into picking fonts and eye-catching visuals. But first, you need to take a step back and consider the overall purpose of your website.
Your website plays a number of roles in marketing your business.
Optimize for online search
With 46% of all Google searches focused on finding local information, optimizing for search is key to making sure you get found.
Build trust with content that solves customer problems
Once someone lands on your site, it needs to help you quickly build trust.
How your website functions and the information you provide there are both factors that influence how trustworthy someone finds your brand to be.
Your website must educate and inform. This starts by teaching your audience how to recognize what their problems and challenges really are. And once you've educated them on their problems, you must provide them with valuable information about how to solve them.
Editor's Note: Watch the full GoDaddy Virtual Meetup featuring John's must-have elements of every small business website and check out our community post here.
Nurture leads
Ninety-two percent of consumers will not make a purchase on their first visit to a website. So your website isn't just about selling, it's about nurturing leads, too.
By focusing on other conversions, like capturing an email in exchange for a whitepaper or eBook, you can continue to lead prospects through the customer journey until they're ready to buy.
Your website serves many purposes. It's there to help people no matter where they are on their customer journey, and it needs to have something specific for everyone. It should provide introductory information for those who are just meeting you for the first time, and have shareable content for someone who's referring you to a friend.
Focus on storytelling
The best way to make sure you're addressing the needs of all your visitors is to focus on storytelling. But, the key here is that the story you're telling isn't about you. Instead, it's a reflection of what your audience is telling themselves.
You need to reflect their challenges and problems back at them to show you understand how to solve them. When they see themselves in your story, they trust that you're capable of solving the issues they face.
From there, you can guide them down the journey to the appropriate solutions.
Put yourself in your customers' shoes to understand the actions and steps they'd next want to take, and then, provide a clear path for them to do that on your website.
1. Start with a promise.
Your promise should be featured at the top of your small business website homepage. It's how you show any visitor — first-timer or return customer — that you understand the problem they're looking to solve and you have a way to do it.
Check out this example from CallJoy, a phone technology service that helps small businesses manage incoming calls.

Its promise shows that the company understands missing a call is potentially missing out on revenue, and provides you with a smart, simple solution.
2. Add a sub promise.
The sub promise expands on your promise and provides a trust factor and social proof to back up the claim you made in your promise.
It shows that you're not just saying nice things about yourself — other people love you, too!
This example from Trello shows off some of the household-name brands that trust Trello.

3. Create one call-to-action.
Your call-to-action (CTA) provides visitors with a clear next step to take on your website homepage.
For most small businesses, it's best practice to limit it to one CTA per page.
Providing your audience with too many options will leave them confused about which step they should take, and they may opt for doing nothing at all.
This CTA from Imperfect Foods is short, sweet and to the point.
4. Don't hide your contact information.
Have you ever visited a website homepage and struggled to find a phone number or an address? It's not only frustrating for customers, but it also defeats one of the most important purposes of your website: to get people to reach out to you!
It can be a nice touch to inject a little personality into your contact information so prospects get a warm, friendly vibe from your team before they speak to you one-on-one.
GoDaddy does this nicely.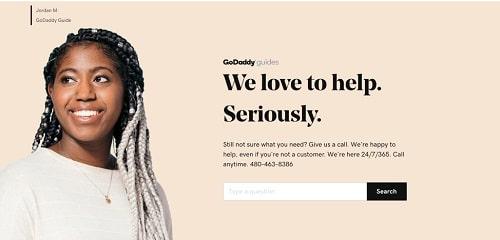 Related: Why it's time to revisit and revamp your website contact page
5. Include still images and video.
No one wants to encounter a wall of text on a website homepage.
Visual elements can help break things up and play an important role in storytelling.
What's that old saying about a picture being worth a thousand words?
Visual elements include both still images and video. Two-thirds of people say video is how they'd prefer to learn about a new product or service, so incorporating a variety of visuals on your small business website homepage is a smart way to get your messaging across that goes beyond the words on the page.
AppToPay incorporates a quick, 45-second video on its homepage to distill its payment app down to its essential elements so that its easy to understand.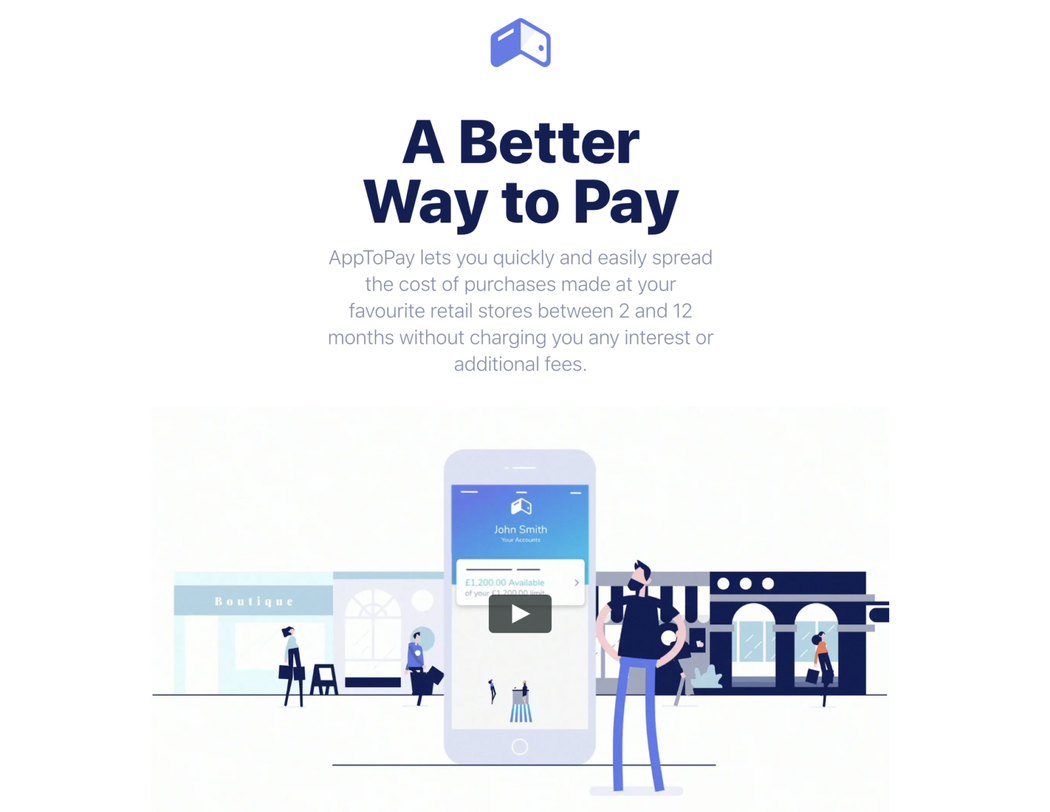 Related: How to optimize images for the web
6. List problems you solve and core services you offer.
Once you've drawn visitors in with your promise, you'll want to go deeper into the types of problems you solve.
Clearly outlining the specific problems you address and the core services you offer to tackle those problems will allow visitors to quickly identify whether or not your business has a solution that will work for them.
Additionally, by highlighting your services on your website homepage, you give that page a better shot at ranking on search for terms related to your services.
This list of services from Roto-Rooter clearly outlines what they do, from emergency services to water heaters, and the problems they solve.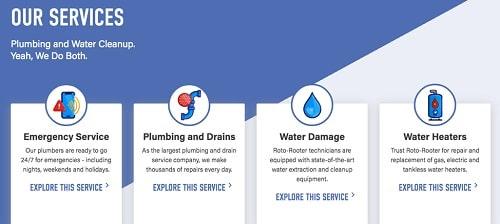 7. Provide trust elements and social proof.
Have you ever walked into an empty restaurant and suddenly felt uneasy about eating there? If it's so great, where is everyone? The same principles apply online.
Reviews and testimonials on your website homepage help build trust and prove that there are lots of people out there who have turned to your business and gotten great results.
Give reviews and testimonials a place of honor on your homepage.
Monday.com features several testimonials alongside the various product features highlighted on its website homepage.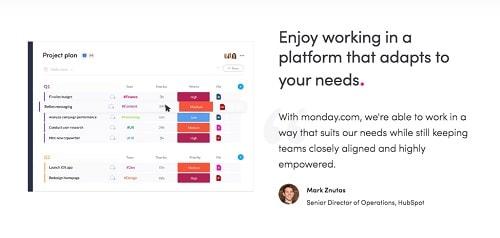 Related: How to ask for testimonials and reviews from your clients
8. Make sure it's mobile-friendly.
Sixty-three percent of all Google searches in 2019 began on a mobile device.
If your site isn't optimized for mobile, you're selling yourself short.
A great mobile site loads quickly and looks great when it does.
Most consumers will give up on a site if it takes more than three seconds to load. Plus, speed and mobile-friendliness have become major ranking factors on Google.
So, if your site isn't built with responsive design elements and a quick load time, you could be frustrating customers and losing standing in Google results.
9. Build clear pathways.
It's rare for a business to have just one type of customer. Most serve different audiences and clients.
Make it easy for every audience to know where they should go to find the information that's right for them on your website.
GoDaddy has some customers who come to them solely for domain names, while others want to build their entire website using the GoDaddy platform. The company makes it easy for these two audiences to select the right path for themselves right at the top of its homepage.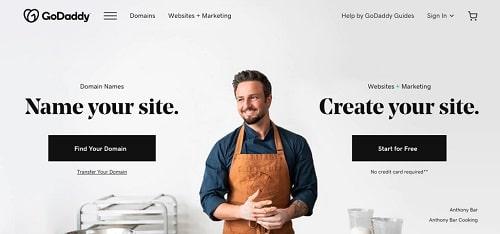 Related: GoDaddy guide to creating a website
10. Offer a menu of resources.
Once you've won someone over with a fully-optimized, beautifully-designed homepage, they'll want to learn more about your business.
Make it easy to do so by including a menu at the bottom of your page that features all of your key resources.
This should be everything from content on your site — like blog posts, podcast episodes and explainer videos — to links out to your social media and your contact information.
It's become standard practice for businesses to put that information at the bottom of the homepage, so your audience will make a beeline for it there. If it's hidden elsewhere, it can confuse and frustrate the audience you just worked so hard to win over with the other great elements of your website homepage.
Salesforce demonstrates this well.

Use these small business website homepage tips to win new customers
These 10 elements for an effective small business website homepage help visitors immediately understand who you are, what you do, and how you can solve their problems. By incorporating all 10 of these ingredients, you can whip up a small business homepage that stands out and wins you new customers.
Watch the full video of our Virtual Meetup featuring tips for building an effective small business website and more here.
Visit godaddy.com/community to tune in to future Virtual Meetups, attend live events and join our community.