You've been thinking about it for years. It's an idea that floats around your head at least once a day. It's a plan you want to begin, but you just aren't sure how to start. Well, now it's time. Here is your beginner's guide. Let's launch your freelance business.
With these simple 11 steps, you can get started and build a solid foundation with plenty of room for growth. These steps will get you going in the right direction and help you finally turn your hobby into a bonafide business — even if you run it in your spare time until it's strong enough to support you.
1. Start thinking about your freelance business like a business.
The process of starting a freelance business always begins with mindset. You simply cannot start and grow a profitable business if you are still thinking about it like a hobby. You need to start thinking about your work like the business that it is. This confidence will drive the following steps.
2. Set up a financial reporting system.
Start tracking both your business expenses and income. At the beginning, you might not have a separate banking account for your personal and businesses finances. That's OK, as long as you track the transactions.
Set up something as simple as a spreadsheet or get an affordable accounting software like GoDaddy Online Bookkeeping to start recording your transactions. Getting into the habit of doing this will save you lots of time and energy down the road.
3. Start saving your receipts.
As you start tracking your business expenses, hold onto your receipts. When you have a freelance business, you can write off your business expenses on your taxes. Holding onto the receipts will organize and legitimize your records and make your taxes easier to complete. For more information, check out CPA Chris Peden's series of GoDaddy Garage posts.
4. Do work for free.
Yes, you read that right. When you are just getting started, you might need to produce some work without compensation. This will help you determine your rates, collect reviews, and build your portfolio. You may be able to skip this step if you already have been producing the work that you intend to sell. But if you are starting from scratch, do some free work for a nonprofit or for a client you want to acquire. You might not get compensation, but you will get the what you need to complete the next three steps.
5. Use a timer for your projects.
Time is money for freelancers. So make sure you get enough money for your time. Use a timer to track the amount of time you put into each project to ensure you are getting an hourly rate that suits your needs. (Time your free projects to get a feel for how much time you need to complete each project or assignment.) Try Toggle, a free online time tracker.
6. Collect testimonials and reviews.
Testimonials from past clients will be one of the best ways to get new clients. So get collect reviews from anyone you've worked with in the past, and always ask for a review when a project reaches completion.
7. Create a professional portfolio.
New clients will want to see past work, so curate all of your past projects into a portfolio. If you haven't done much work for clients, pull from projects created for school or pleasure. (You can do work for free for clients so you can start to fill your portfolio.)
If you're a creative-type using WordPress, check out some great portfolio plugins to showcase your work online.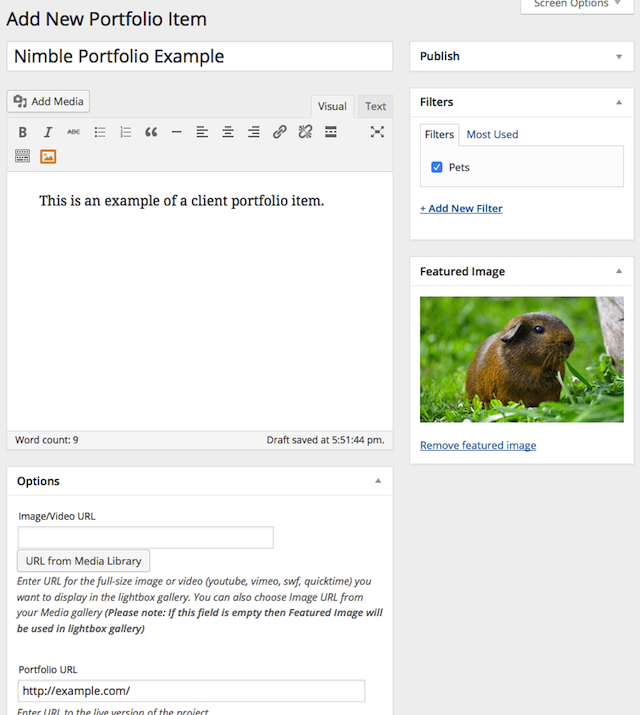 8. Build a simple but professional website.
All freelancers need a website where they can centralize their online presence. This is how you show off both your professionalism and commitment to your business. The website doesn't need to be overly elaborate. To start, it only needs to include your contact information, testimonials and portfolio.
Just make sure the essential items are on a branded domain that promotes your business. (It's also a good idea to set up a domain-based email address to come across as more professional.)
To create a simple website, try using GoDaddy Website Builder or Managed WordPress.
9. Print business cards.
Business cards might not be the most fashionable way to promote your new business, but that doesn't mean they aren't effective. Print simple cards that include your contact information and a link to your business website. Keep them with you at all times as you never know when you may encounter a potential client.
10. Promote your work through your social profiles.
Even if you have previously only used your social media profiles for personal use, share a few posts about your new business. This will alert your network about your new venture and possibly lead a few interested clients your way. Add a link to your business website in all of your profiles so people know where to find your services in the event that they need them.
To learn more, download the Garage's free social media guide for small businesses.
11. Reach out to all of your contacts.
After you have gone through all of these steps, you are ready to go full force and promote your business. Go through your contact list and send an email alerting everyone of your new business. Include a link back to your website so you can show off your professionalism, client testimonials and portfolio.
When you want to start a freelance business, the first few steps are the hardest. But once you go through this list, you will lay the foundation and set up a professional appearance that will legitimize your business and put you on a path to success and growth.
Want even more tips about how to jumpstart your freelance career? Check out this post on how to use your personal brand to promote your business.