Any web designer or developer worth their salt will tell you referrals are key to getting new business. Learn about the proven methods and templates for getting social proof quickly and effortlessly, so you can spend more time doing what you love. To get started, try out these strategies for better testimonials.
We all know the feeling of needing a little help getting our foot in the door.
That's why getting better testimonials for your web design or development business is the best way to show prospects that you're a high-quality business. The more of them you have, the more people get the impression that you're a great business with customers for life.
Building trust with your website visitors matters. Honest reviews are the best way to turn those curious visitors into happy customers.
Start with your Google My Business listing
Before you can begin building better testimonials, it's crucial to make sure the correct information appears on your company's GMB (Google My Business) page for current and potential customers alike.
If your prospects are researching something, they're most likely going to Google it.
If your customers want to find your new opening hours or call you to inquire about your services, they may also Google it instead of going directly to your website.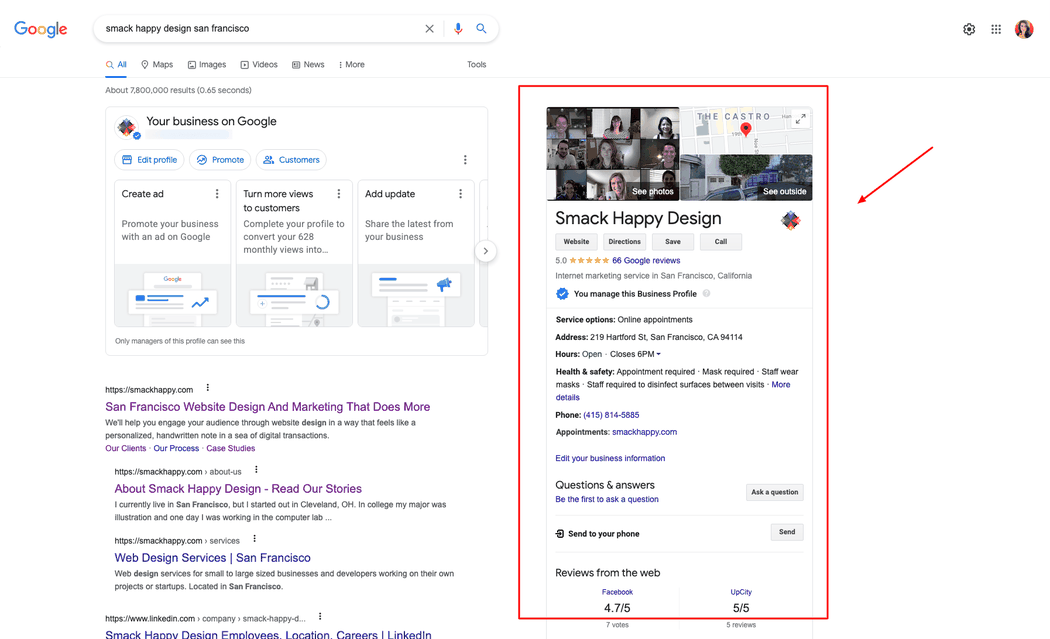 And, if you're not showing up in the right-hand panel of Google, your competitors probably are. If your listing isn't there, they will look elsewhere. Don't wait until after something goes wrong to get started.
Set up your GMB listing
GMB is an essential part of any business's online presence and a key to better testimonials, and all companies should have a relevant and robust listing at the bare minimum.
When someone searches for your business online, they are more likely to click on the company with reviews. The more honest and positive the reviews are, the more exposure your business will receive.
If you don't already have a profile, follow the instructions from Google and begin by signing up and reviewing your business information. Ensure you have the most updated and relevant information included, so it's clear for prospects and customers what to do next (e.g., go to your website, call you, learn more about what you offer, and so on).
Get your short URL to request reviews
Sign in to Google My Business from any web browser.
If you have multiple locations, open the location you want to manage.
In the left menu, click Home.
Scroll to the "Get more reviews" card.
Copy your short URL to share with customers.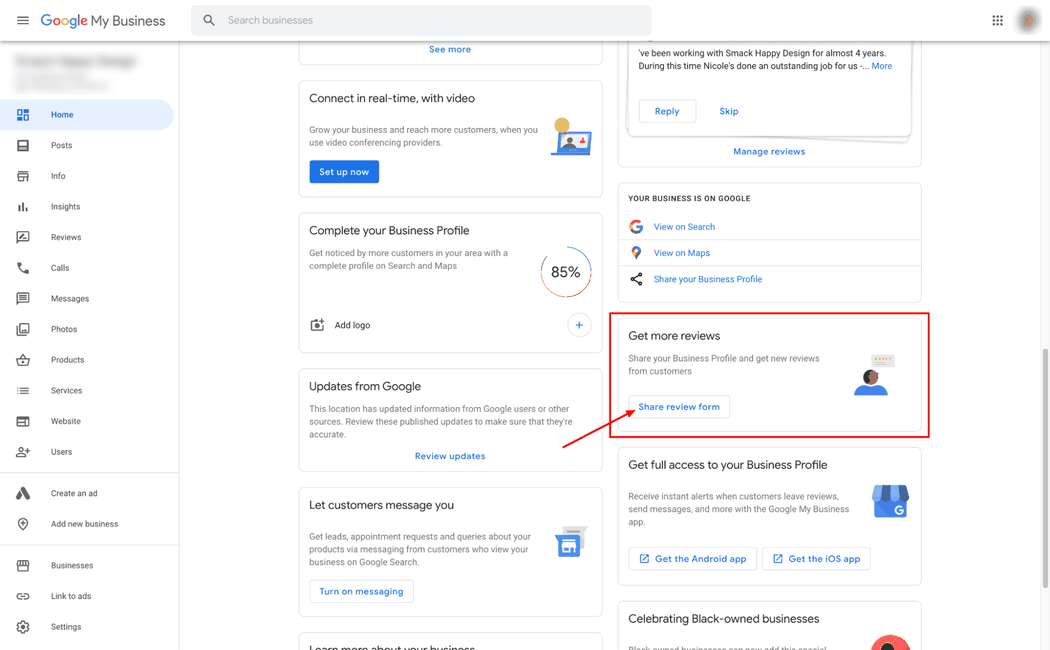 Two additional listings that can be beneficial to your business
If you operate out of a brick-and-mortar shop and Yelp is prevalent in your area, you should have a Yelp listing. First, search to see how popular Yelp is in your area.
If you're an online business, you'll want to get set up on LinkedIn with a great profile or business page. While LinkedIn isn't the most major social media network, a staggering four out of five people on LinkedIn drive business decisions.
Start collecting better testimonials
Now you can use the Short URL you just created to ask customers to review your business! Please remember never to offer incentives to get reviews (like showing a gift card or something similar) — this is against Google's policies. Additionally, if you offer incentives, it's less likely you'll receive an honest review. Instead, send friendly emails to customers asking them to review your business after they've used your services.
Testimonial email templates
While there are many methods to collect reviews, we'll take a look at three series of templates and email subject lines that have been proven time and again to work well for securing better testimonials. Each series is a little different.
Series 1: Why Us?
This first series of testimonial email templates include two emails in total with one optional follow-up. The Why Us series intends to open with an honest question and close with a review request if the review is a positive one.
This series works well for:
Service businesses
Gathering testimonials, you can also use on your website
Customers who are reliable communicators
If there's a chance that the review is lacking the detail or overall feedback you'd anticipated — the first email in Series 1 gives you a chance to mitigate before sending the follow-up request for a review. If the review was not a positive one, you'd have an opportunity to show your customers how invested you are. Following up on a negative review also gives you the chance to dig in a little more and find out what went wrong or how to make your offering better in the future.
If you're satisfied with the reply, move on to the second email.
If they don't reply, try sending the Optional Follow-Up Email about two weeks after Email 2. If they become non-responsive, it's OK to move on. There will be more opportunities to collect better testimonials in the future.
Series 2: Direct Ask
This second series of testimonial email templates include one email in total with one optional follow-up. The Direct Ask series intends to open with direct ask and close out with a review left on your GMB page.
This series works well for:
Products and/or Services
Customers you already know had a great experience and will have no problem leaving a testimonial
Reliable customers that have little time
If they don't reply, try sending the Optional Follow-Up Email about two weeks after Email 2. If they become non-responsive, it's ok to move on. There will be more opportunities to collect reviews in the future. However, If this is a great customer, set a reminder on your calendar to follow up for a third and final time in about 30 days.
Series 3: Additional Reviews
This third testimonial email template includes one email for you to send after they've reviewed you on Google. Wait about a month after they added the initial review. The intention behind the Additional Reviews series is to obtain additional reviews on other platforms outside of GMB.
This series works well for:
Anyone who has already left you a positive review.
Add reviews to your website
Make sure you also add the reviews to your website. Doing this will help fuel the connection of social proof between an external review site and your website.
Once you have the review you'd requested, you may want to ask your customer whether they'd like to submit a headshot or use their company logo along with the review.
If they have a LinkedIn profile, you can also ask if they'd like to use that.
Don't quite have an official spot to add customer testimonials on your website? Consider using other methods to collect, monitor, and display customer reviews, such as reviewsonmywebsite.com.
With this type of review collection tool, you can manage all of your reviews from one place and easily add them to your website with a small piece of code. It's relatively easy and also inexpensive for what you get out of it.
The lowest tiered plan provides a variety of easily embeddable and customizable widgets and badges you can add anywhere on your website. Other plans include additional features, like creating a testimonial page for customers to share reviews.
Respond to your Google reviews
Last but certainly not least, you can increase your conversion rates and value by responding to customers who have left you a review. Google even confirms this on their support page with a note that says, "To improve your business's local ranking, use Google My Business to claim and update your business information."

3 ways to respond to positive reviews
Just say, "Thank you" — Saying thanks is a simple yet impactful way to show gratitude for their business and the time they'd spent leaving your business a good review.
Talk about the future — Give them a reason to come back for more business. Did the reviewer mention anything about future plans?
Be specific, B-E specific - Recall something that stood out to you about your experience in working with them, too. It will give your response a personal touch that won't go unnoticed.
Respond to negative reviews
Not ALL reviews are going to be positive. Someone may leave a negative review that you did not ask for or was unexpected. It's also essential to respond to negative feedback.
Thank them for their feedback, and apologize. After all, any feedback is valuable information that you can use to improve current business practices.
Do not argue! Focus on the "what" of the issue, and never place blame.
Provide them the opportunity to get in touch with you offline to discuss and potentially turn the review into a positive one.
Try not to say more than what's needed. Handle quickly and politely.
However, if the review is entirely false where someone is trying to rustle your feathers for the heck of it, you do have the option to report it.
FAQ about getting better testimomials
Can I automate my review request emails?
While automation can work so well for email marketing, we don't recommend automating email requests for service businesses or businesses directly contacting their customers.
If you want to receive honest feedback, submit a legitimate request. Otherwise, you may encounter challenges such as a third-party email automation service not being verified with your website domain. In other words, this means that your customers could potentially get an email that looks like it comes from MailChimp, for example, and not necessarily you. And these days, those emails go right to spam.
What if my customer asks me to write the review for them?
Composing your customer's review is a great opportunity. An excellent approach to this would be to hop on a call with your customer and ask them why they chose to work with you and your services or products in the first place.
Tip: Use Email 1 in the Why Us Series like talking points for your call. Then, after you've written the testimonial, edit and use Email 1 from the Additional Reviews Series. Edits: Include the copy you've written for the customer, and ask them to copy/paste it at the included link to the review site you want them to post it on.
If I customize the templates, will they still be effective for collecting reviews?
Yes, make them your own! As long as you follow the general idea of each template and the timing of when to send them, have a blast with the content. It's also not uncommon to include something fun, like adding an occasional emoji or GIF!