With the growth in ad block apps, there's been a lot of discussion about the revenue loss to publishers, advertisers not being able to reach coveted audiences, and even the rights of users to implement ad blocking.
Some choose to focus on ways to force users to still view ads.
But let's join the side of the users for a moment, shall we?
Let's recognize the growing resistance to interruptive marketing and embrace the potential it offers.
What potential? The potential to shine in SEO. Ad blockers are effectively directing users to organic search results. Just look at the differences between the two images below. The one on the left shows the normal search results for "wordpress hosting," and the one on the right shows the same search with AdBlock Plus enabled.
Without the distraction of any PPC ads in the ad blocked SERPS, you've got the user's full attention on 100-percent organic search results. In short, this is your chance to fight against ad block with some awesome SEO. That's right — it's time to make sure the SEO on your website is in order. Christopher Carfi mentioned the importance of focusing on SEO in a previous Garage post on AdBlock trends and web design, but now we're going to go a little more into the details of what that means for you.
No. 1: Create quality content
You've heard this before, and that's because it's true. Google not only loves great content, but users do, too. But what to write about? That's the question that often turns into a roadblock (or writer's block) for many website owners. If you need some help getting started, check out the below websites.
Go to this website and you're confronted with a bespectacled man who's ready to answer your questions.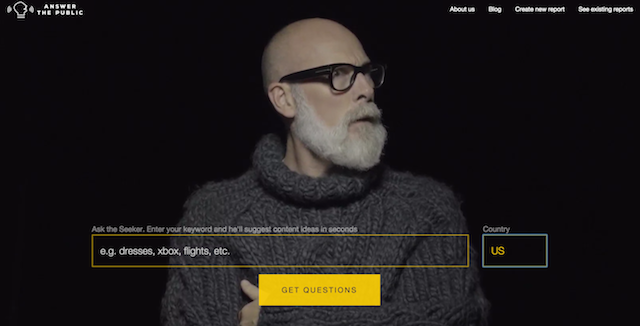 All you have to do is type in your topic of choice, and you'll receive a visual of frequent questions that people ask about that particular topic, as well as prepositions used with the search and an alphabetical list of frequent searches.
Similar to AnswerthePublic.com (but without the visual presentation of results), Keyword.io will provide you with a list of longer-tailed searches that people tend to around that topic. Just type in a keyword or topic, and you get a list of results:
Now, I'm not saying that you should create content based solely on keywords. Instead, see these tools as a way to find out the questions your audience is asking about your area of expertise. Then answer those questions. In the end, these types of websites are just meant to serve as springboard for ideas. They can help get your creative juices flowing, and then you take it from there.
No. 2: Tweak title tags and meta descriptions
Once you've written your content, make sure each page's title tag and meta description match the focus of the page.
Title Tag

Does the title tag give a good indication of what the page is about? If not, then you should rework it so it does. Generally, the main keyword for the page will serve as your guide. It should appear at the front of the title. Just don't get excessive like the title of an 18th century novel.
Keep your title tags to 65 or fewer characters.
Meta description
While the meta description doesn't help improve your ranking in the search results, it helps users determine if they should click on your website's result or on another site. Use the description to expand upon the topic mentioned in the title tag.
Let users know what makes your page's content unique from others.
Meta descriptions often serve as a good place to highlight specific services (free shipping, 24-hour service, etc.). Aim to keep the description to 155 characters or fewer.
No. 3: Enable social sharing
Social sharing serves as a ranking signal to Google. That means you should make it as easy as possible for people to share the content that's on your website. Make sure you have social share buttons on every page of your site, so users can quickly pin, tweet, post — in short — SHARE, the quality content that you took the time to create.
Other factors that impact SEO
If you take care of the above three factors, you'll have done a good deal towards ensuring that your website is SEO-friendly. If you feel like you've already addressed these issues to the best of your ability, then keep in mind the other on-page factors that also impact your search engine rankings or click-through rates:
Page speed: Make sure your website loads quickly.
Alt text: Provide alt text for images.
Transcripts: Provide transcripts for videos and audio content.
Rich snippets: Gain an advantage over competitors who still don't use rich snippets.
Pulling it all together
While there are numerous factors not mentioned in this article that impact your website's SEO, it's important to always shine when it comes to the basic SEO principles . It takes time and effort (and, let's be honest, failed attempts) to produce content that people want to read and share, but it's worth this effort in the long run … especially in an ad-blocked world.