Making your WordPress site multilingual provides one of the most fuss-free and cost-effective ways to scale your business into new markets. It will also strengthen the human element of your store, bringing new potential customers even closer for fulfilling new relationships.
The online global market is constantly shapeshifting, so it's essential to build a flexible WordPress site to avoid growing pains when you're looking to scale.
If you've already decided to make your WordPress site multilingual, but are still undecided as to which plugin is right for you, then you've come to the right place!
In this post we'll scan through some of the main benefits of translating your site with multilingual WordPress plugins, before checking out some of the most popular WordPress multilingual plugins on the market today. Then we'll do a multilingual WordPress plugin installation to get you up and running in no time.
Related: Translating WordPress websites? Don't skip these 5 important steps.
Why make your WordPress site multilingual?
Here are four compelling reasons you'll want a multilingual WordPress site:
Reach new visitors in new languages and markets.
Convert more visitors into customers.
Higher visibility via better search engine optimization (SEO).
Drive more sales by scaling your business.
If you want to build relationships with new potential customers and make headway into exciting markets, you'll first need a site that speaks to their needs. Read on for why you should make the effort.
1. Reach new visitors in new languages and markets
Making your WordPress multilingual is a fantastic way to reach new audiences and rapidly scale your business. The starting point is identifying the best new market for your business, and which language this will require. A site audit (using Google Analytics, or your data tool of choice) can quickly reveal location, language and session duration/bounce-rate statistics for your site — as well as its effectiveness.
You may, for example, quickly discover that a high proportion of site visitors from the U.S. are actually browsing in Spanish, but leave quickly after arriving. Or you have a steady increase in visits and sales from Germany. This valuable site data shines a light on who you should be targeting in another language to help you scale your business.
Related: Can web analytics help you connect with your customers better?
2. Convert more visitors into customers
Translations are rarely talked about as part of conversion rate optimisation (CRO), but they have potential for much greater impact on sales than the vast majority of CRO work.
By speaking to potential customers in their own language and investing in the culture of that language, you invest in real relationships with customers and offer a much closer experience with your brand. We'll discuss this more later.
3. Higher visibility via better search engine optimization (SEO)
Multilingual WordPress SEO can bring in dramatically more search clicks for your site. If you're being found by a wider audience, your site visibility can increase dramatically — and localized SEO is the secret potion to achieve this.
Localized SEO can also increase your audience base and site domain authority, for even higher site rankings. And yes — more site traffic can also lead to higher conversions, a bigger bang for your buck and more money in your pocket!
You'll need the usual SEO best practices, including a fast website, but as with CRO you can get big wins from just adding translations.
Related: An eCommerce beginner's local SEO guide
4. Drive more sales by scaling your business
Creating a multilingual WordPress site is a simple and effective way to break through sales limits for relatively little work, especially if you use an automated plugin (which we'll explore shortly). There are few other ways of increasing market opportunities for your WordPress site with such little effort.
What about the challenges of making a multilingual WordPress site?
Like most new processes, there are some risks and challenges to consider before installing your WordPress multilingual plugin. Here are a few:
Translations can be complex! If you have a lot of content, you'll need a professional and robust translation system. We'll cover this later on, and this is definitely something you can overcome, but bear in mind there's more involved in this than "set it and forget it." It's unlikely that WordPress multilingual setup should be the first optimization you aim to make, but it should definitely be on the list of desired optimizations.
If you have a highly technical blog or lots of fixed assets such as images or PDFs, then translations can both take longer and cost more.
If you're selling products with WooCommerce, you'll need to make sure shipping, customs and customer support — which you can outsource or provide in-house— are all going to be OK.
While these setbacks definitely aren't insurmountable, it's important to make sure that they're suitably addressed and solutions are put in place before translating your site or choosing a WordPress multilingual plugin.
Which language should I choose to make WordPress multilingual?
Choosing your first destination language requires a little creative thinking! You might already have a first language in mind, but if not here are some points to consider:
Location and language data on Google Analytics: Let's say you already have international marketing efforts in place in English, but your Google Analytics language and location data reveals that a large proportion of visitors (who aren't converting) are already browsing in, say, Spanish or French. Those site visitors and customers could be crying out for a translated site.
SEO potential: A keyword finder tool could reveal high search volume for your product-specific keywords in specific countries and geographical areas you might not have considered before. I use kwfinder.com to check this, but any keyword research tool will work.
And if you're selling products, look for where purchases come from! This is an easy way of prioritizing languages to add.
Preparing your content for translation
Localization is the process of taking existing website content and translating it into a foreign language. The first step in this process is to consider the style of your English language content.
How so? Well, the actual language, phrasing and word choices you use will significantly influence the accuracy of any translations you have made. Jargon, idioms and slang (practically anything with an Urban Dictionary entry) can cause translation problems because there won't be an easy way to express what you're trying to say in other languages.
Human translators
Moving onto the translation itself, your best bet for accuracy is to get a custom translation from a native speaker. If you don't belong to the UN and can't easily find 30+ native speakers, try an affordable marketplace option like Upwork or even Fiverr. These marketplaces will show reviews for each person, enabling you to rely on the community to help you vet candidates on the bases of quality and credibility.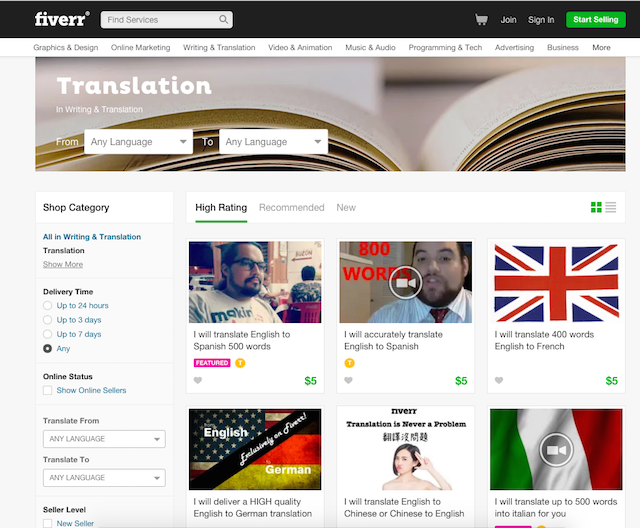 Auto translators
Besides tracking down humans to manually prepare translations for you, there are a few good automatic choices such as Unbabel or Gengo. The great aspect of these options is that they'll give you a quick estimate on both price and turnaround time. If you're short on time, money, or both, these can be a massive help.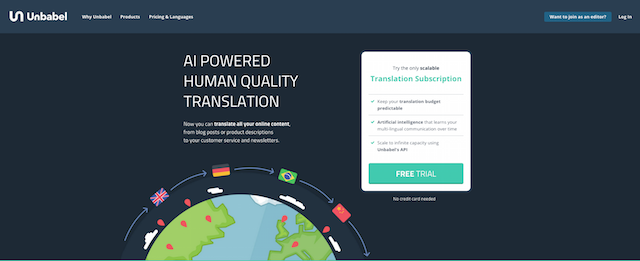 Taking the extra step (or two) of getting your own translations done will help ensure accuracy and will help you avoid any embarrassing translation fails. Ultimately, it's up to you to decide what you can afford.
Plugin options for your WordPress multilingual site
Here's a rundown of plugins to consider for a multilingual site.
Weglot translation plugin for WordPress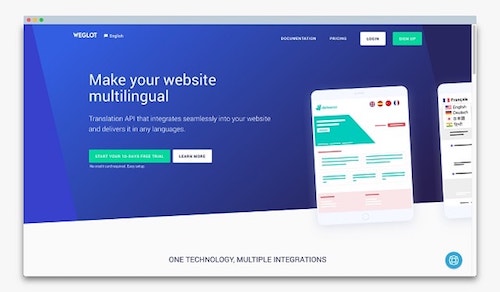 Weglot is one of the highest-rated WordPress multilingual plugins. It supports more than 100 languages, which are often updated and with new ones added frequently.
Weglot stands out because it offers automatic translations with human editing (which you can either do yourself, or pay-per-word for a professional), making for an extremely efficient translation setup.
It also offers automatic compatibility across different platforms, such as WooCommerce.
You get everything translated at page-level, and Weglot works with any WordPress theme. Any extra posts, pages, custom post types, custom taxonomies, custom fields and so on, are translated, too. It even integrates with Yoast's SEO plugin.
International SEO is one of the best reasons to opt for a WordPress multilingual plugin, and Weglot covers this as well. You'll find each language placed into an automatically generated subdirectory — for example /es/ or /fr/ — and a personalized language button (there are several to choose from) sits on the page so users can easily select the language of their choice, with hreflang tags added to the <head> section of your site so Google instantly recognizes these.
Weglot also has various pricing tiers depending on how much traffic reaches your site, and the quantity of words and languages you need. The free tier adds one language with up to 2,000 translated words, and you can go all the way up to unlimited languages and 5 million translated words. There's also a free trial period where you can try out Weglot while you test it out.
Get started with Weglot's free WordPress plugin.
WPML WordPress Multilingual Plugin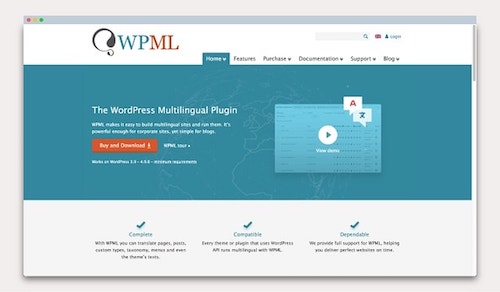 WPML is one of the oldest multilingual WordPress plugins, with in-built support for 40 languages. You'll need to translate these individual text strings manually using integrations with tools such as Poedit, or by paying for a professional translator. This lets you get your translations made, but without the efficiency of automatic translations.
Your translations will be applied at the site level, which requires your theme or plugins to specifically set compatibility with WPML. There are a lot of themes and plugins which do offer integrations, but you'll need to make sure you're using one of these.
WPML is available for a fixed annual price, which depends on your requirements. As you're hosting the translations yourself, tiers only add features, and not word or visit restrictions — although you will be responsible for maintenance and making sure everything works going forwards.
Multilanguage by BestWebSoft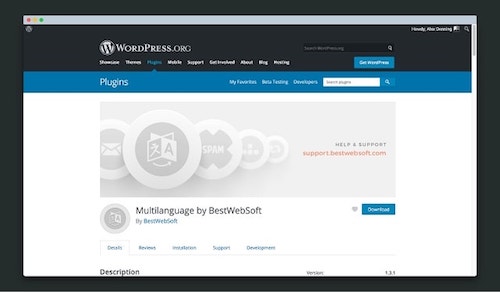 The Multilanguage plugin by BestWebSoft offers manual translations from your admin Dashboard, letting you translate content on existing pages, posts, widgets, menus, custom post types, taxonomies, etc., by "assigning" different languages.
This plugin offers multiple tiers (free, annual, membership and lifetime), but it doesn't come with any automatic or professional translation services. This means you will have to do those yourself, which is a potential time-drain here — especially given the steep price tags on higher tiers. However, the Pro versions promise reliability by delivering support within one business day.
You do get some SEO benefits, with the option to add hreflang tags, but you'll need to upgrade to the Pro version to automatically translate URL slugs.
Similarly to Weglot, site visitors can choose to switch and browse content in their own language. This is a plugin for hands-on users, and the hands-on coding options could offer higher personalization, proving useful for programmers.
Which WordPress multilingual plugin is right for you?
All of these plugins are popular and cater to different needs, so you should check which features you're likely to get the most value out of before going ahead.
Some require you to provide the translations, while others create machine translations; some are solely manual or machine-based; some host translations on localized URLs; some use WordPress Multisite.
No two plugins are completely alike, and there are an array of options for each and every site or business need.
If you have a small business, then a plugin designed for small businesses with lower word-count "packages" or simple machine translations could suffice. On the other hand, if you already own a successful business with a large WordPress site, then you could well benefit from a multilingual WordPress plugin which offers full service — including the support of a native, human translator to make sure every single piece of website copy is crystal clear in the language(s) of choice.
All plugins featured in this post are highly regarded, so whichever one you decide on, you'll be in safe hands.
Your store needs to be professional and a trusted place to buy from, so automatic translations could be a good starting point to translate languages individually. We'd then recommend getting a professional to check these and ensure translations are of the highest, native quality. Starting with just the one language keeps things simple and straightforward.
Let's now move on to setting up your multilingual WordPress plugin!
Set up your multilingual WordPress plugin in these simple steps
In this example we're using Weglot for its efficient mix of automatic translations with human editing, and its support for all WordPress themes and plugins. You'll need to first choose a language to translate to — one is good to start — using the process described above.
Once you have this target language, head to your WordPress Dashboard, and Plugins > Add New. Search Weglot, then Install > Activate. Click Settings, and follow the prompt to create an account, which you'll need to do the automatic translations.
Set your original language, and select the first language you'd like to translate into. Once you've chosen, click to save settings. Weglot will automatically add a language-switcher to the bottom-right of your site. Try this out, and you'll find the whole of your WordPress store is automatically translated!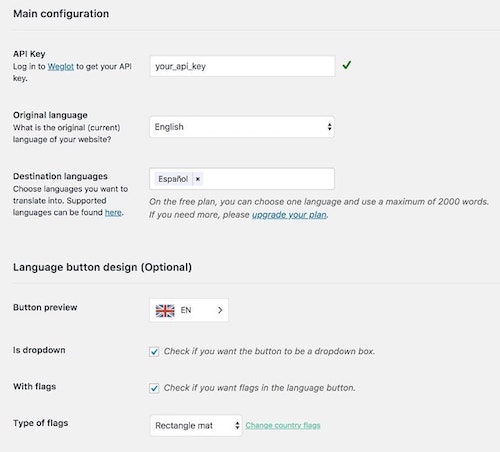 You'll want to make sure your translations are accurate, so if you now head to the Weglot Dashboard, you can manually review the automatic translations. Under the Professional Translations tab, you can also (on a per-text-string basis) get professional agencies to review your translations' accuracy, ensuring your WordPress multilingual setup is professional throughout.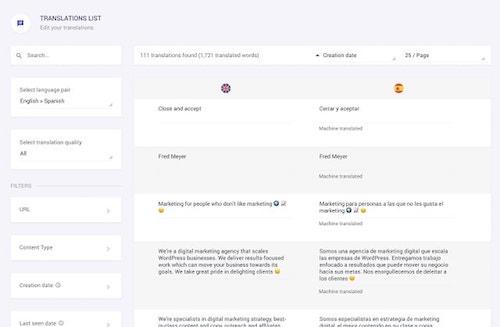 You should also look out for any text in images that you have. This isn't something that should exist — it's bad for accessibility and SEO — but is fairly common practice. Weglot can also replace these for you: in the Weglot Dashboard, sort your Translations List by Content Type > Media, and then you can add translated versions of specific images by adding a new image URL, which will show only on the translated version of your site.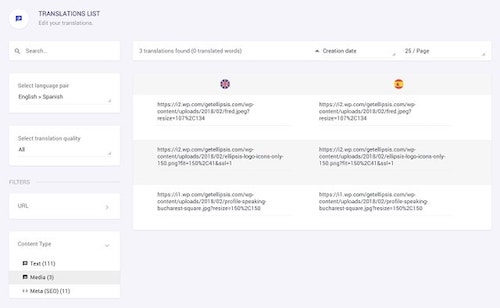 It's now up to you: add more languages, optimize your existing languages further, or even go for full cultural optimization.
Using a translation-ready theme
If you're still in planning mode (or going through a complete redesign), starting with a multilingual theme option from the beginning could be the best option.
All child themes running on the popular Genesis theme framework from StudioPress are translation-ready for 30 different languages. The developers have also made your life a little easier with the Genesis Translations plugin.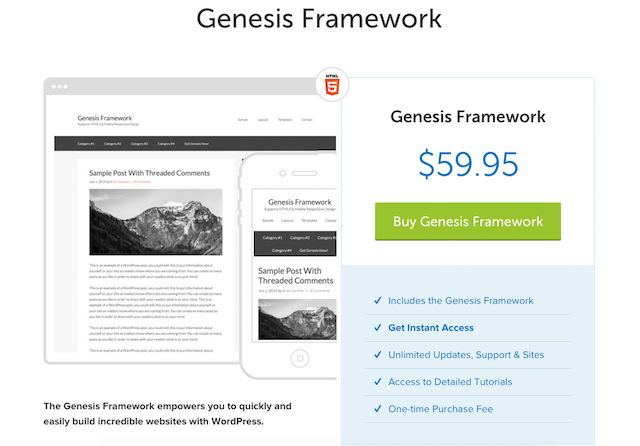 Another option is Divi, a flexible, drag-and-drop theme builder that's also translation ready with 32 built-in language options. Divi's high customization is a good choice for those who want ultimate control over design and layout without needing a designer or developer's services.
The final touches: Go for full cultural optimization
Each of these multilingual WordPress plugins functions differently — perhaps more so than any other plugin category.
To provide your site visitors and customers an outstanding experience in their native language, it's also well worth ensuring that your translations aren't just carbon-copy texts, copied and pasted from English to Portuguese, Japanese or Hungarian, etc.
By harnessing WordPress multilingual plugins and choosing to communicate with potential customers in their own language, you are already investing in real human relationships to offer a much closer experience with your brand.
Multilingual WordPress plugins such as Weglot are designed to automate this process for you, removing the pressure of a heavy workload, and providing simplicity when you need it.
All the hard work you put into your company must reach the right people.
Whether you're targeting audiences who speak minority languages in a huge country where English is the "official" spoken language (the U.S. or Australia, for example), or other markets with huge potential (for example: Argentina, South Africa or Japan), if your message isn't accessible and easily understood, it won't have an impact.
The rest is up to you — you could even go above and beyond by paying attention to cultural nuances in your chosen language. This might span from native customer support, tailoring your working hours to different time-zones, to business etiquette and even celebrating local public holidays.
Going for complete "cultural optimization" would realize the full potential of your multilanguage WordPress plugin. However far you decide to take your site translation(s), speaking to customers in their language is sure to lead to more eyes on your site, higher conversions and even happier customers.