Search engine optimization (SEO) is a key element in gaining website traffic, boosting leads, and generating sales. However, there's one aspect of SEO you might not be using — a strategy that is gaining traction among brick-and-mortar stores with an online presence: local SEO. It's high-converting way to win customers — and this local SEO guide will walk you through the basics of getting started.
The idea behind local SEO is to use highly specific, long-tail keyword research and content tailored to the local area, to draw customers to your storefronts. When correctly implemented, local SEO can help you dominate the local market and take the lion's share of any passing trade.
This post will first discuss what local SEO is, then show you how to get onboard with this strategy through keyword research, tailoring your content to the local market, and understanding the other elements you'll need to optimize to get ahead. Let's get started!
What is local SEO and why does your eCommerce business need it?
Usually, SEO tactics are focused on obtaining traffic from all corners of the world, without necessarily targeting a certain section of it. In contrast, local SEO is designed to win traffic from your physical area of business — usually your local neighbourhood or city.
Local SEO is a successful strategy because you can target a concentrated customer cross section that has so far been 'unmarketed to' locally, which also raises your business's visibility.
While you can use local SEO regardless of your business type, some companies will benefit more than others. For example:
Businesses with brick-and-mortar stores can look to win foot traffic in the local area, especially if you have a presence in the community.
Likewise, businesses with multiple branches can target their direct customers, which will eventually filter into your overall SEO strategy.
In short, local SEO is a burgeoning method for gaining traffic. For eCommerce businesses with physical locations, it could provide a needed boost to your sales.
Local SEO guide: 3 ways to get started
Before we take a look at how to get started with local SEO, you'll want to claim your Google Plus profile as soon as possible (if you haven't already). This is can help with getting placed highly in search results, so it warrants your attention.
Ready? Here's what's next:
Research keywords.
Tailor content to the local market.
Optimize your online presence.
Let's dive in!
1. Research keywords that resonate with the local area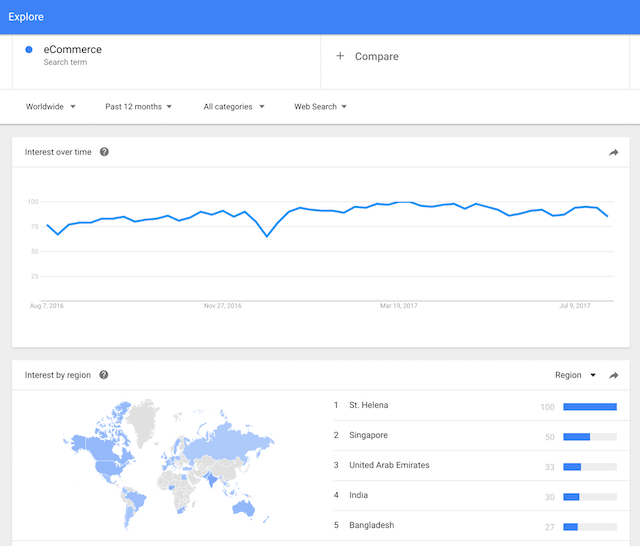 Focus keywords are a cornerstone of SEO, and your local keyword choices will be influenced by how well they reference the immediate area. For example, while "handcrafted retro furniture" might be a solid long-tail keyword for the global market, you may want to also target something like "handcrafted retro furniture in Texas" to reach those in your area.
By doing this, you'll be able to target uncompetitive keywords, which gives you access to a potentially untapped local customer base. You'll likely also have a larger pool of keywords to choose, from given the addition of qualifiers such as "near me" and "local."
To get started with local keyword research, study your competition's local SEO strategy using a tool such as Google Trends or Google Keyword Planner. Search volumes might be underwhelming initially, but customers searching for these terms will all be pre-qualified, which is key to this strategy. Also, be sure to follow standard SEO guidelines when choosing keywords — the only difference is that you'll be refining your focus to your immediate area.
2. Tailor your content to the local market
Connecting your content directly to the local market is just as important as speaking to your target reader. This can help make you synonymous with the local community, and reinforces that you're from the area. Those who search via their mobiles for a relevant business near them will be instantly aware that you're nearby, and will be more likely to seek you out.
Local content marketing is all about focusing on events, holidays, specific dates, or anything else connected to the nearby community.
This can naturally open up new avenues of promotion, such as local tours and interviews with prominent members of the community. Of course, you should also organically offer your own services where appropriate.
If you're not sure where to start, hiring a local SEO expert is a great first step. They will be well-versed in creating content to target local traffic, will likely have a broader knowledge of the nearby area, and should be able to accurately pinpoint the important issues and needs of the local customer base.
3. Optimize your online presence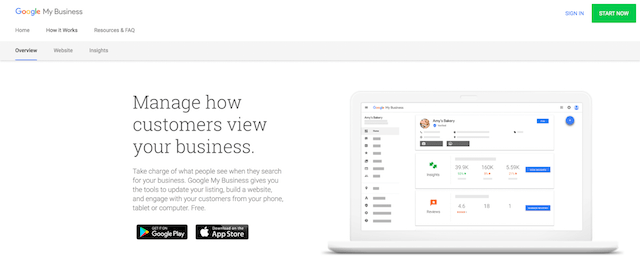 One of the key elements of local SEO is obtaining "citations." These are online references to your business —the virtual equivalent of "word of mouth."
Your search rankings are heavily based on the citations you receive.
The greater the number, the more attractive your site will become to search engines. What's more, you may also get a social proof boost if those citations include positive testimonials.
While this will need to be an ongoing project, a solid first step is to make sure you're present on any suitable online review sites (such as Google My Business, Facebook Ratings and Reviews, Yahoo! Local Listings, and anywhere else you feel you need a presence).
Editor's note: Want an easy way to manage all your online listings? Check out GoDaddy's Local Business Listings tool.
Next, make sure you're offering your name, address, and phone number consistently and regularly on your website and elsewhere. Of course, you must always be careful not to break any search engine guidelines. Plus, following the Schema.org format will mean you're much more likely to be attractive to search engine crawlers.
Conclusion
While traditional SEO rightly gains a lot of attention as a way to improve your search rankings, local SEO is a targeted method for getting customers to both your physical store and your eCommerce website. Fortunately, there are a few simple ways to get onboard.
In this local SEO guide for beginners, we've looked at how to jump onto the local SEO bandwagon. Let's recap the steps quickly:
Research specific long-tail keywords to target local consumers.
Write content that references the local area, while still providing helpful advice for readers.
Make sure your website is optimized for search engines, as they can make or break your efforts.
Free checklist: 5 ways to get more local customers
Want to turbocharge your local marketing strategy? View our checklist below to get you started.