Picture this: You run an eCommerce shop, and you just came up with an idea to create a roundup of your most romantic products for Valentine's Day. Other business owners have told you about the success they've had with their holiday marketing campaigns and suggested you use Pinterest to drive traffic to your holiday content, too. Now, you're finally ready to give it a try. But how?
You've come to the right place. This guide dives into the strategies you can use to drive traffic to your holiday content and convert customers.
Related: Holiday marketing checklist — 5 steps to prep your marketing for the holidays
Why Pinterest?
Pinterest has been growing steadily since its launch in 2010 and has become a trusted resource among consumers for visually driven content.
But what is Pinterest? It's usually lumped in with social media, but in reality, Pinterest is a visual search engine.
Many consumers turn to Pinterest when they're in the discovery or planning phases.
This means it gives you the perfect opportunity to create content that creatively leverages upcoming holidays and provides value to your customers in a visually appealing way.
Recipes, for example, have worked incredibly well for restaurants, food bloggers and hospitality businesses. This pin from Buzzfeed's Tasty, which shows you how to make festive treats for your Memorial Day or Fourth of July barbecue, is a prime example.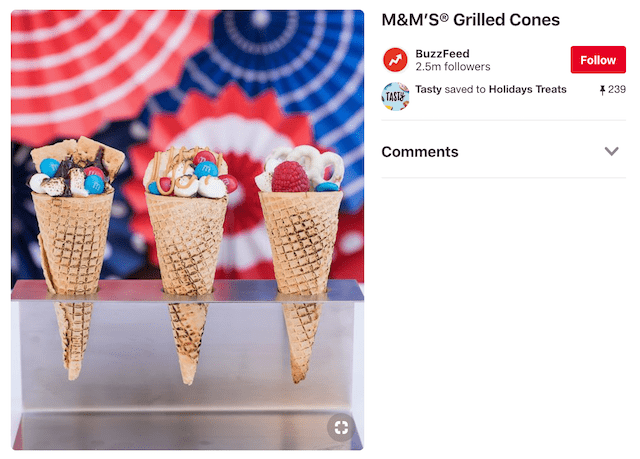 How to create successful holiday marketing campaigns for Pinterest
You, too, can you tap into the power of Pinterest with holiday content. The beauty of these tips is that they work for any holiday, even unofficial holidays like National Pizza Day.
Set a goal.
Create the perfect pins.
Get your content in front of the right users.
Save time by repurposing content.
Test your pins.
Run ads to reach more pinners.
Now, let's take a closer look at how to use Pinterest strategically.
1. Set a goal
To get the most out of Pinterest, you need to start with a clear goal. The four most common goals businesses use to create strong holiday marketing campaigns on Pinterest are:
Building awareness: Tell your brand's story.
Improving engagement: Inspire customers to take action.
Increasing clicks: Drive traffic to your website.
Driving conversions: Turn pinners into buyers.
What's your goal? Think about your main business objectives and how Pinterest can help you achieve them. For this article, we'll focus on increasing clicks and driving traffic to your website.
Related: Simples ways to build a Pinterest following for your business
2. Create the perfect pins
Because Pinterest is such a visual platform, the design of your pins will be one of the most important aspects of all of your holiday marketing campaigns.
Use the right dimensions
You'll need to create your graphics using a 2:3 vertical aspect — or 600 pixels wide by 900 pixels high.
Related: Social media image sizes: The 2019 cheat sheet
Carefully consider the layout and the content
What's the best way to showcase your products or services that will entice users to click? For clothing retailers, this could mean featuring multiple looks in one pin. H&M used this strategy in this pin, which offers ideas on how to turn its pieces into Halloween costumes.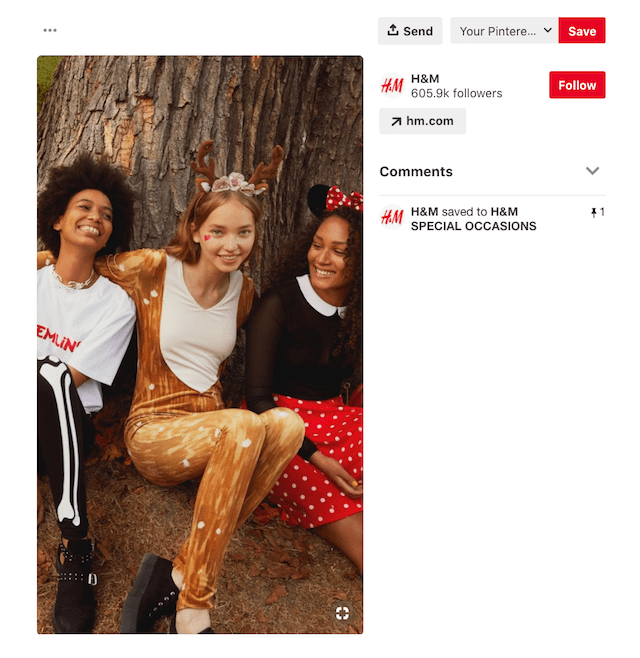 Or instead of focusing on your products, you could offer craft and party inspiration. Children's clothing retailer Carter's has a whole board devoted to holidays called "Happy ____ Day!" where it features everything from coloring pages for Grandparent's Day to craft ideas for Mother's Day.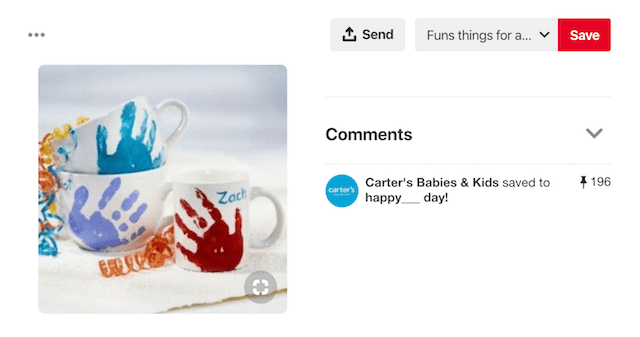 In fact, the best approach might be to do a little of both both and include product-specific pins alongside ones that tease tips or advice so users are motivated to visit your website.
Don't forget about the words
It's easy to get so caught up in the visuals that you forget about the words, but they are important too. For starters, you should include text overlays in your pins that explain the special features of the products shown, especially if they aren't easy to see.
You should also write detailed descriptions and strong calls-to-action. When writing your descriptions, sprinkle in your carefully chosen keywords (for more on that, keep reading) and a quick reason why users should learn more about your products or services. For your calls to action, use action verbs, such as see, shop and find, to let your customers know what you want them to do next.
Related: A beginner's guide to social media for small business
3. Get your content in front of the right users
To make your pins more powerful, you'll want to follow a few smart targeting strategies.
Optimize your pins
The first one is SEO. Optimizing your content for search engines is always one of the most important things to do because it helps bring the customer to you — instead of you having to chase after them.
Optimize your pins with keywords and relevant search terms. Pinterest has a great search tool that shows some of the top searches, as well as relevant keywords.
Avoid keyword stuffing, which will hurt your chances of effectively reaching your audience.
And don't just optimize the description.
The alt text of your image is another area to pay attention to, as is your Pinterest profile. Here you can share your company's tagline or mission, which probably already includes a keyword or two, to attract pinners.
Use interest targeting
To do this, you'll use general keywords to target your ideal audience based off the content they are already searching and engaging with. For instance, photographers might notice that their audience is very interested in pets. They could then run holiday marketing campaigns that tie pets in with photography. For instance, they could share expert tricks for getting pets to wear festive outfits and snapping the perfect picture.
How can you incorporate your customers' personal interests and lifestyle into your content to boost engagement? Doing so will get your content in front of more users.
4. Save time by repurposing content
If you're a small business with limited resources, you might be asking yourself, "Do I have to create new content to effectively run holiday marketing campaigns on Pinterest?" The answer is no! You probably already have plenty of great content from your email newsletters, website and social media posts that you can repackage and share on Pinterest.
Editor's note: If you want extra help running your holiday campaigns on Pinterest, check out GoDaddy Social. Our experts will help get your content up and running.
Maybe you're a wellness coach who recently shared a book you're reading on Instagram. You can use that to create a multi-product pin with a few of your favorites just in time for an offbeat holiday, like Read Across America Day. Share separate stacked images to drive users to a full post on your website or give the pin a more specific spin, such as a gift guide.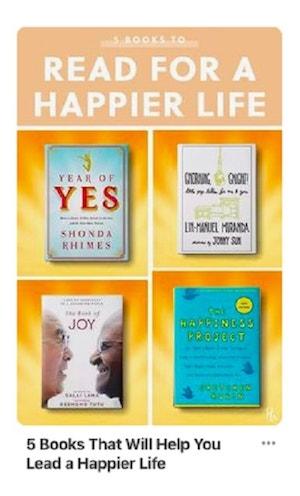 5. Test your pins
It can be easy to set it and forget it with social media, but if you do that, you won't learn what types of content produce the best results for your business.
The smarter route: Create multiple pins, run them for a few weeks and see how they perform. Then optimize the pin that gave you the best results.
Say you're a wedding planner gearing up for St. Patrick's Day. One pin could be a staged shot that beautifully showcases a St. Patrick's Day wedding theme. The second could include several images of various inspirational elements or wedding traditions.
Optimize both pins with relevant keywords to target the right audience. Notice both pins above use the keywords "St. Patrick's Day" and "wedding, " plus additional terms like "ideas" or "inspiration." You've now created two opportunities to reach your audience and a way to see which pins inspire your customers to take action. This is called A/B testing, and it's just another way to make your holiday marketing campaigns more effective.
Related: How testing your marketing messages can impact your small business
6. Run ads to reach more pinners
If your business has a more flexible marketing budget, consider running promoted pins to get in front of an even bigger audience.
Pinterest Ads Manager is a useful tool to use for your holiday marketing campaigns. It can help you customize all aspects of your advertising, including audience, estimated spend and campaign goals, so you get the most bang for your buck.
Note: You'll need a business account before you can get started, and you can only promote pins from your boards.
Before you start running ads, check out this great guide on how to create ads on Pinterest.
And remember that it's all about creating an experience, from start to finish, that pinners will enjoy.
For the most effective ads, use high quality pins that are inspiring and actionable, and include keywords in your board names. And, in order to make sure there is no ill will, always let your audience know when your pin is an ad. Lastly, Pinterest has country-specific advertising guidelines that you'll want to be sure to follow.
Holiday content that converts
Pinterest is a valuable tool if you're looking to run holiday marketing campaigns. The visual nature of the platform allows your imagery to speak volumes and hook customers.
For more advice on how to use Pinterest to meet your business goals, browse these savvy tips from the GoDaddy Blog: