With over 1.6 billion listings on eBay, there's no denying that sellers have a lot of competition to capture the attention of eBay's 182 million active buyers. Selling on eBay is multifaceted: you're tasked with getting listings in front of potential buyers, completing sales, and garnering positive feedback. And some sellers are incredibly successful at it.
These sellers have years of online retail experience and countless eBay sales under their belts, so naturally, they have plenty of advice to share. Here are 10 must-try eBay selling tips from the pros that'll help you increase your eBay sales and your profits.
Compare pricing with completed eBay listings
Comparing pricing with completed listings will help you understand the prices your target audience is willing to pay for items. Price is one of the most important factors buyers consider on eBay. Setting a price not only impacts buyers' willingness to pay but also affects how visible the item is in eBay's search results.
When you're listing a new item or wondering how to price a particular product, first take a look at completed listings for the item you're selling. A completed listing is a listing that has sold or did not sell. There's a lot of valuable information in completed listings, such as how much a buyer will or will not pay or whether to use "buy it now" or employ the auction-style selling method.
"When I can't sell something quickly enough, I often look back at similar items on eBay that have recently sold," said Daniella Flores, creator of iliketodabble.com, an online guide to earning extra income through side hustles. "The average price of the items brought up on this particular search will tell me if I need to rework my prices based on how others are currently doing with those products."
How to find completed listings
To see how much a particular item is sold for, first use the search bar at the top of any eBay page to search for the product you're interested in. Then scroll down the left-hand panel on the search results page until you reach the "Preferences" section. Under "Show only," click the box for "Completed Items." Listings with a green price are for items that were purchased, while listings with a red price are items that went unsold.

Take a look at the prices for completed items, and consider how pricing could've affected whether a sale was successfully made or not. For example, were unsold listings priced much higher, or could another factor, such as expensive shipping costs, have played a role in preventing a sale? Don't just look at one listing and set your price -- compare across multiple listings of the same item to gain the best insight.
Optimize product descriptions for SEO
Making sure your product descriptions are optimized for search is how buyers will find your listing, so you should optimize item descriptions. Make sure you go into detail. For example, if you're selling a pair of Yeezy sneakers, including the model, year, size and color. Front-load your descriptions with the most important keywords, but don't forget to include generic terms like sneakers and designer sneakers. This will help you expand your audience beyond those who came looking for Yeezys. Also, be sure to include information such as dimensions or the condition of the item.
Take quality photos
Photos are what attract the buyers. "Good quality images are crucial in a generation when people are addicted to visuals on everything from Instagram to Facebook," says award-winning eBay seller Max Godin. Remember, quality, not quantity — there's no point in uploading 10 low-quality grainy photos. Instead, choose three high-quality photos.
You don't have to have a high-end camera or a studio to take the kind of photos that'll attract buyers — all you need is a smartphone. Here are some other ways to ensure you take the best possible pictures.
Tips for taking eBay product photos
Don't use stock images. This makes you come across as untrustworthy to potential buyers. Use original photography, and snap pictures of the specific product you have for sale. Using original photography also gives you more creative freedom to dictate your brand image.
Photograph your product in front of a neutral background. Shooting a product against a busy background can be distracting, so opt for something simple in a well-lit area. Hang clothing on a white wall to photograph it, or drape a neutral-colored sheet over a table to create your simple background. This will also make it easier if there's any retouching or editing.
Consider using 'Instagram-style' photos. In addition to featuring your item on a neutral background, you may also want to include Instagram-style photos. These are more like lifestyle photos shot outside of a studio that often feature the product in use. This adds an element of personalization to your listings and will attract buyers.
Take photos from multiple angles. Showing a product from different angles helps the buyer visualize how the item looks.
Show any item flaws. If a product is cracked, torn or damaged in any way, include a photograph showing it, so buyers know exactly what they're purchasing. In addition to being transparent, this will also lessen the likelihood the customer will return the item.
Show scale. A photo of an item by itself can often make it difficult to determine the item's scale. Depending on the item you're selling, it may be helpful to photograph it next to something else that'll give buyers a clear idea of the item's size. For example, if you're selling a smartphone, take a picture of the phone in your hand or beside a ruler.
Upload photos with proper dimensions. Minimum and maximum image dimensions for product photos are 500×500 pixels and 9000×9000 pixels, and eBay recommends using images that are 1600×1600 pixels.
Ensure you're consistent with your photos. Be consistent with the photos you're uploading throughout all your listings, as this adds to your credibility and brand image.
Check out this post for more in-depth tips for taking excellent product photos.
Set a listing schedule
A listing schedule will help you tackle the eBay algorithm. eBay is time-consuming and demanding, and a listing schedule will help keep you organized and save you time. Set a schedule that works for you, whether that's daily or weekly — but don't list all items at once.
Marcia Layton Turner of RochesterClothingBargains is a firm believer in creating new eBay listings as often as possible, and she strives to add new items to her shop daily. "Because of how the eBay algorithm works, listing one item a day for seven days straight is better than listing seven items on a single day," she said.
Listing items frequently will also ensure that visitors to your store will see new listings every time they visit, and it'll help you keep your unlisted inventory to a minimum. The eBay quick listing tool can help you with your listings.
To begin listing your item with the quick listing tool, simply enter words that describe your item in the search bar. eBay will automatically provide listing suggestions based on similar items that have already sold. For example, if you're selling a Patagonia duffel bag, the quick listing tool will start populating information for you, as illustrated below.

If you see the item you're selling, click "select," as illustrated in the screenshot below.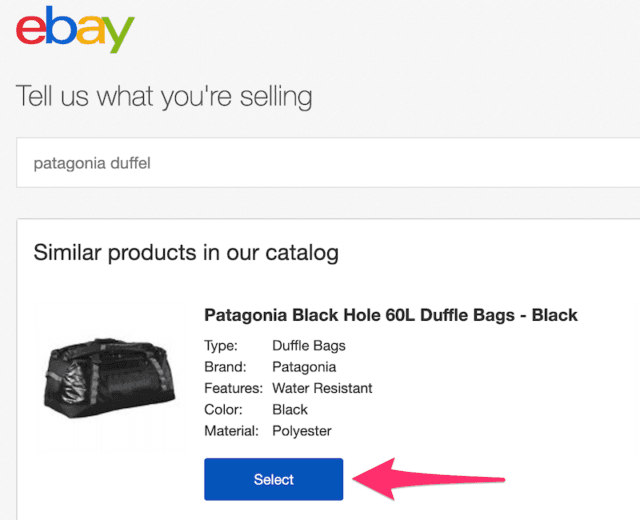 This will populate your eBay listing with information from the selected listing.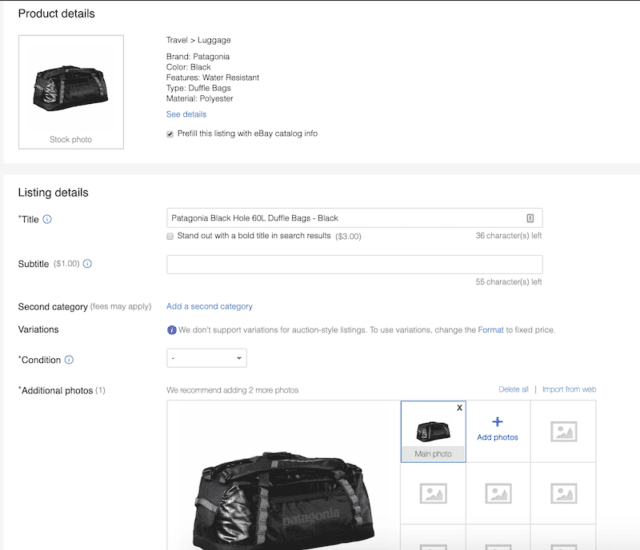 You can then edit fields to customize your particular product. For example, if the Patagonia duffel bag you're selling has all the same measurements and features but is blue, you can update the color in the description and upload new photos of the product.
Establish trust at every point of sale
For beginners with little or no transaction history, and because trust is integral to growing an eBay business, you need to quickly establish that trust. There are a few ways you can do this.
Fill out the information about yourself and your store. Be sure to include a photo of yourself — potential buyers appreciate seeing the face behind your store. Provide background information about your store, as this extra context will make buyers feel comfortable.
Display reviews and customer testimonials. Positive buyer feedback in your listings will showcase how you've satisfied buyers in the past and will show that you are reliable.
Be upfront about any scratches, tears or defects an item may have. Include product photos or videos that completely and accurately show the product you have for sale.
Price items as low as possible when you first launch
Getting your first sale is crucial — this will help you build up your reputation and appear higher up on eBay's search rankings. Prospective buyers pay close attention to price and may even opt to display search results from least to most expensive, so having a lower-priced item can ensure you show up higher in results. Higher prices may appear lower in search results. It's important you price as low as possible but not too low, as this can be seen as suspicious.
While pricing items low will limit your profit margin, there's a strategy at work here. Lower-priced items tend to sell more quickly, and the more sales you generate, the higher your listings will be placed in eBay's search results. Over time, as you establish yourself as an eBay seller, you can gradually increase your prices while maintaining optimal search placement.
Offer 30-day free returns
Your return policy is important. Offering 30-day free returns makes you come across as more trustworthy and will attract buyers, who will feel more confident to purchase. "I've found that if you believe the best in people, make your business decisions out of courage and not fear, and treat your buyers with compassion above all, Free 30-Day Returns is an easy lever to pull," said Audrey Morris of Mommy Enlightened.
If you offer free 30-day returns, you'll also be eligible for eBay's Top Rated Seller program, which gives you access to a Top Rated seal that displays prominently in both search results and your listing. Participation in the program also gives you access to exclusive benefits, such as a 10 percent discount on final value fees.
To qualify as an eBay Top Seller, you must have an active account for more than 90 days, 100 or more transactions, $1,000 in sales during the past year, and a defect rate of less than or equal to 0.5 percent.
Offer free shipping — always!
Free shipping makes customers feel like they're getting a bargain and is likely to increase your sales.
Free shipping can also simplify the selling experience for you because you won't have to calculate shipping costs for every item you list. "There's less headache," says Justin Dube — who offers free shipping on all his items. "I'm never wrong and never surprised by some fees or by a mistake that I might have made otherwise. For me, free shipping makes things so much easier."
Of course, you may not be able to offer free shipping on all of your items. Fragile items, heavy ones or items that need to be shipped internationally may cost much more to ship and will eat into your profits. But as you create your listings, keep in mind that providing free shipping is one of the top eBay selling tips for a reason. If you do charge for shipping, be sure to include rates and give descriptions so your customers know what they're paying for (e.g., "$5.99 overnight USPS shipping").
Request feedback from customers
Feedback establishes you as a credible seller and helps other customers decide whether to purchase from your store. Likewise, feedback will also help you make your business better and improve the customer experience. You can use customer feedback to make changes — for example, if a customer reports that the shipping time was too long, you can look into changing your shipping provider.
After a buyer receives your item, you can send a follow-up message requesting they leave you feedback. Good feedback will help you develop a positive seller reputation. You can give buyers more reason to provide you with positive feedback by doing the following:
Offer competitive pricing and shipping
Answer buyer questions quickly and politely
Keep track of inventory to avoid canceling sales
Track shipped items and provide customers with delivery dates
Promptly report any issues you have with a buyer to eBay
If a customer asks you questions before purchasing, engage and answer
Share your listings on all social media platforms
Sharing your listings generates traffic to your store — you never know who is watching and who may be interested. eBay seller angelgirl327 suggests that eBay sellers increase their reach by sharing their listings on social media, which you can do directly from your listing.
Sharing your eBay listing on Facebook, Twitter or another social site is a great way to get more eyes on the items you have for sale, and you don't need a large following. Your followers may also be more likely to purchase from you if they're friends, family or someone who's gotten to know you through social and has already established a relationship with you.
Sharing your listings on social media can also help search engine results. For example, a customer may be looking for a specific item in Google, and they can be directed to your social media page.
eBay selling tips: Take the first step to increasing your sales
There are numerous steps you can take to ensure you create successful listings, establish an excellent seller reputation and start making profits. If these methods work for these online businesses, they might just work for you!