Have you ever had a client that you were working with suddenly stop communicating, leaving their project in limbo? Or you had to check in on them periodically to make sure you keep them on track to ensure their project gets completed?
While you don't want to have to constantly bug clients and feel like you are annoying them - every now and then it is good to check in.
Use these free email templates for checking in on clients
By checking in on clients, it shows them you haven't forgotten about them, and it can also serve as a reminder to help keep them on track. With these email templates, you can check in on clients to keep building and maintaining the relationship.
Email template for general check-in
Hi,

I hope you are doing well. I just wanted to check-in and see how your new website was doing. I'm always happy to address any questions or concerns you may have.

If you need content updated, would like to make any changes, or even purchase a maintenance plan, don't hesitate to contact me.

Best,
Email template when a project has stalled
Hi,

I hope you are doing well. It's been a while since we last had contact regarding your project. I just wanted to check in and see if there was anything I could do to get things back on track.

I know things can get busy and allocating time can be stressful.

However, I'm here to help in any way I can! If you have any questions or concerns, you can reach out to me, and we can organize a plan to get your project back on track!

Hope to hear from you soon.

Best,
Email template for checking on plan upgrades
Hi,

I wanted to check in to see if there was a good time to schedule a time to further discuss your needs and dive into the plans and packages that we offer.

I know choosing to upgrade services can seem daunting, however, I want to reassure you that by taking that next step, we will be able to help you stand out to clients. Please let me know of a time that works for you. I look forward to hearing from you soon.

Best
Pro tips
For reminding clients to send over content, use these email templates for getting content to help save you time.
When checking in on clients feel free to get personal or add a bit of humor. At the end of the day, adding a bit of friendly or personal elements can go a long way in ensuring that projects are completed in the timelines set and keep everyone happy.
The Hub by GoDaddy Pro helps you track and check in on client projects
The Hub by GoDaddy Pro can help keep clients on track. You can set tasks for yourself or delegate tasks to your clients and track progress. It is handy to check in on clients and make sure projects are kept on track.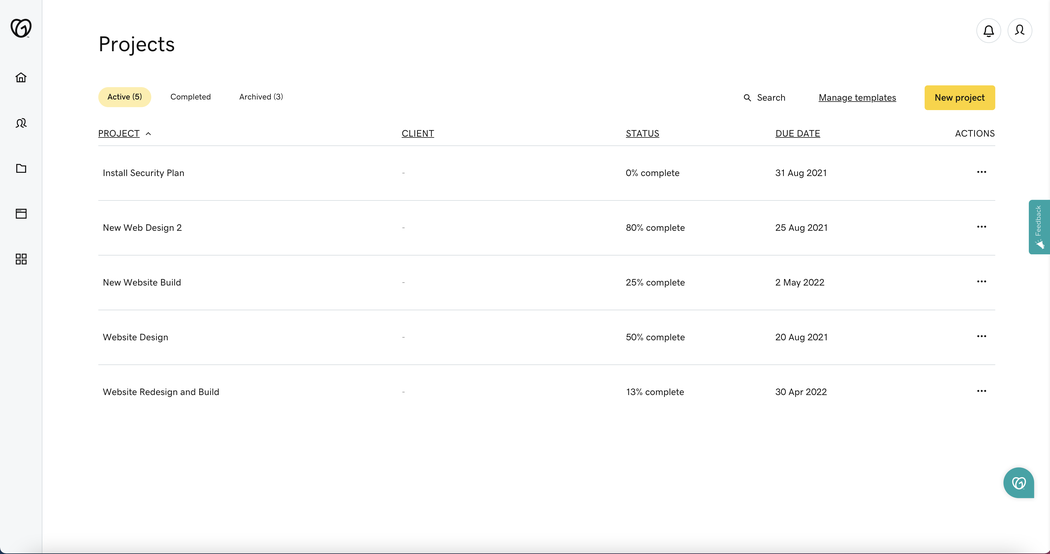 Sign up for free today and suddenly there's more time in your day to focus on what matters most. Forget about juggling admin tasks. Reclaim your time and use it to make clients feel like the center of your universe.