Many aspiring musicians and bands spend endless hours perfecting their craft with the hope of one day making it big. But no matter how amazing your song, if no one hears it, it'll never reach its full potential. This is why it's just as important to promote your music as it is to create it. Read on to find out how to get music on blogs to reach and grow your fan base.
The challenge for most new bands is that they can't afford to hire a professional promoter. Fortunately, there are affordable alternatives that only require time, persistence and some creativity. This guide will help you better understand the value of reaching out to popular music bloggers in order to get your music featured on their blogs. And ultimately, heard by fans around the world.
Why you need to know how to get music on blogs
Before we look at how to get music on blogs, let's talk about the value of this promotion tactic. Up-and-coming musicians and bands need to find outlets that are willing to play their music. This is how you grow your reach and increase your fan base.
Before the internet, bands did this by performing for free at local bars or clubs or convincing radio stations to play their songs. The idea was, the local venue has regular patrons and the radio station has listeners who may never find the song on their own. But by playing your song on a station they already listen to or at a location they frequent, you can expose them to your sound.
Getting your music on a popular music blog can extend your reach tenfold.
While the mediums and tactics have changed, the concept hasn't. Blogs are the modern-day radio station or venue that visitors frequent. By getting your music on a popular music blog, you can amplify your reach tenfold and start growing your fan base. Moreover, most bloggers have a loyal following — by sharing your music, they are recommending you to their loyal fans. This is akin to a celebrity endorsement, at a much smaller and more affordable scale.
As an unknown artist or band, getting your music on high-profile music blogs should be one of your top goals. In addition to extending your audience and acting as an endorsement for your sound, it also gives you credibility and validation. This isn't just great for your personal ego, it's also useful for negotiating paid gigs or an eventual contract.
Start by answering these questions
Blogger outreach is an art — there are PR specialists who've spent years learning how to find and pitch to bloggers. Here are a few questions you'll need to answer to start.
What are you asking for?
First of all, let's figure out exactly what you're pitching. It should go without saying, but the higher-quality your music the easier it'll be to interest bloggers. Assuming you're creating great music, the next question is what exactly you want the blogger to do for you.
Review your band. Do you want the blogger to review your music? Many musicians do but this pitch is the most labor-intensive for the blogger so you'll need to find some exchange to make it worth the time it takes them to listen and review your song.
Share your video. Do you have a music video that you want them to publish? Video content in the music space is a great for outreach because viewers love them. Pitching a music video will open a lot of opportunities.
Promote a new release or upcoming gig. Are you trying to promote the release of a new single or future performance at a local venue? News sells so this is a great way to get your music featured on blogs. Get tips on booking gigs here.
Pro Tip: The blogger wants to provide value to their blog visitors — make sure your music matches the tastes and interest of that blogger's audience.
Who listens to your music?
The answer might not be a cut-and-dried, but you need to try and categorize your fans as much as possible. Try dropping your listeners into buckets based on their demographics, psychographics and peripheral interests.
For instance, let's say you're a grunge band. While researching grunge fans, you find they also like tattoos, sports and skateboarding. Knowing this information gives you the option of reaching out to bloggers outside of the "grunge music" space — say, to skateboarding or tattoo bloggers.
Pro Tip: Ask your fans to complete quick surveys or simply talk to them and collect information about their interests. After a while, you should discover trends when looking at your fans' data.
Which blogs are your listeners most likely to visit?
The next step is to find the bloggers you want to connect with. There are some givens: For example, you should approach music bloggers who are passionate about your genre. So if your genre is heavy metal, you won't want to approach a blogger devoted to Electronic Dance Music.
Pro Tip: Consider creating a spreadsheet or Google document where you list all your potential targets, along with their information. Google docs are free; you can get Excel with the Business Premium plan of Microsoft Office 365.
Some info you might want to gather for each blogger:
Web address (http://www): Copy and paste the link to the blog.
Social media: The blogger's Twitter handle, Facebook, LinkedIn profile, etc.
Email: The contact email for the blog.
First name: Blogger's first name.
Genres: Types of music covered.
Sample post: A link to a post that mimics what you want them to do for you (if possible).
Pro Tip: The more information you collect before you make your pitch, the better. Use it to better understand the blogger you're pitching and personalize your pitch. Keeping all the info in a single place will save you time and help you organize your efforts.
How will you make your pitch?
You're almost ready to start reaching out to bloggers. However, you do need to think about what you're going to say. We already discussed the need to decide what action you want the blogger to take, now you need to create an email or direct message (Twitter, Facebook, LinkedIn, etc.).
Generally speaking, the best outreach pitches are ones that are concise, personal and actionable. Most emails are not read in their entirety, so if you put your call-to-action — "Please review this demo!" — at the end of the article, there's a good chance it'll get lost.
Pro Tip: If you can find an example of a previous post by that blogger that's close to what you want, highlight that in your pitch. Try something like "I loved what you did for XYZ band in this article (article link). I'd love for you to do the same with my latest single (song link)."
Putting it all together | A step-by-step guide
By now, you should have a general idea of how to get music on blogs. Now let's run through the steps, inserting specifics for a real band. For the sake of nostalgia, we'll use one of my favorite high-school bands, Unwritten Law, as the example.
Band: Unwritten Law
Genre: Punk (Alternative) Rock
Official Music Video: She Says
What am I asking for?
Let's assume Unwritten Law just launched the "She Says" music video on YouTube and I want to drive more viewers to the video. Some things I could mention in my pitch include:
It's a new single
This is a professional music video
I'd like a custom introduction to accompany the video on the blog's website
I'll give you an exclusive interview with the band to accompany the video
Who listens to this music?
Unwritten Law falls into the Punk (Alternative) Rock genre. This particular song is about a breakup, which means we can expand outside of just punk blogs and into those that deal with relationships and/or breakups.
Deciding which bloggers to approach
There are several tools and strategies for finding bloggers to reach out to. The way I'm approaching this outreach for Unwritten Law is to search for a list of similar bands.

Then I pick a band and conduct an advanced Google search using that band name + video + YouTube.com within the past year. I ended up with three pages of results for this search string.
Scrolling through, I find some usable options:
"Sum 41 Releases New Fan-Filled Video for 'Goddamn I'm Dead Again'" by Shockwave Magazine
"Here's Sum 41's Fat Lip But Every Time They Say 'Don't' It Gets Faster" by Sick Chirpse
"Sum 41 Release New Fan Track, Music Video For "God Save Us All (Death To POP)" by Highlight Magazine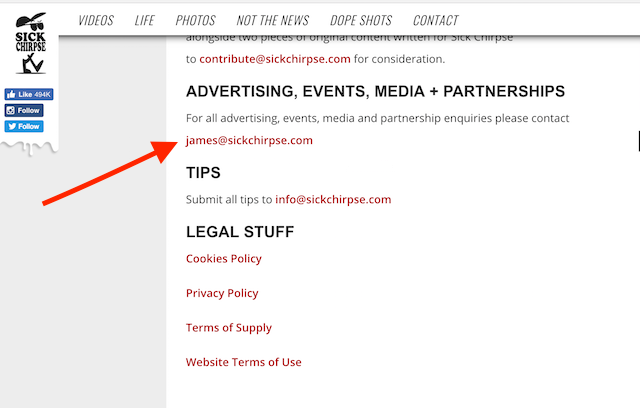 There are several other ways to find blogs to reach out to. You can search Twitter for "Music Bloggers" and Google for "Music Blogs that accept submissions." You could even use a competitive backlink tool like ahrefs or SEMrush to see all the links that point to your competitor's music video. These are the bloggers who are likely to be interested in your music.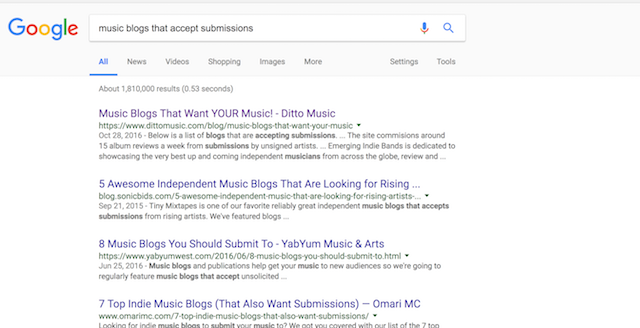 2. Finding a contact for a particular blog
Now that you have a list of blogs, it's time to find the right person to contact. I personally use Rapportive (a Chrome extension) to help with my email searching.
Find an email that has someone's name in it? That's the one to pitch!
Pro Tip: The higher-quality the site, the harder it'll be to find a contact so you may need to spend more time. Typically, your smaller publications and blogs will have contact pages that list staff email addresses. If you're able to find an email with someone's name, that's the one to pitch.
3. Insider tips for finding an email
Let's assume you come across a website that doesn't give you a real person's email right away. What you can do is try to guess that person's email using a tool like Rapportive inside Gmail. Rapportive will show information about the email if it's in its database. Here's how:
1st step: Look on the website for a contact's name.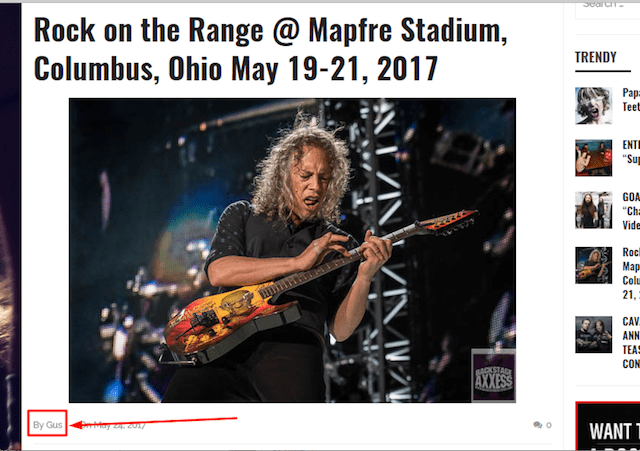 2nd step: Try several typing different combinations in your Gmail to see if any information pops up. You could try:
firstname@domain.com
firstinitiallastname@domain.com
firstname.lastname@domain.com
firstnamelastnameinitial@domain.com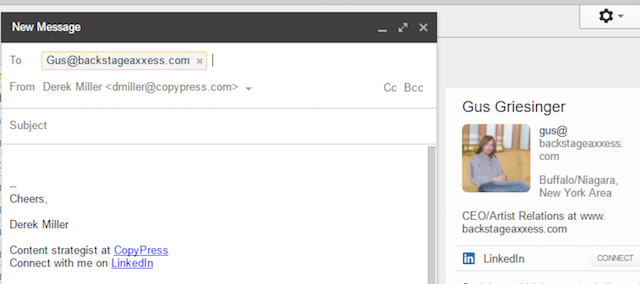 3rd step: If you find a combination that pulls up info, that email is very likely active and linked to the contact. In my case, gus@backstageaxxess.com is the appropriate email address.
Making the pitch
The art of pitching could be an entirely separate article, but basically, you need to remember to keep your pitch concise, friendly, personalized and actionable. Here's an email I might write to pitch the music video for Unwritten Law:
Subject: Exclusive Interview Opportunity for Unwritten Law's Latest Video
Hey Gus,
Loved the piece you published recently about Sum 41's new fan-filled video. Unwritten Law just released a similar music video of "She Says," their latest single, that will be dropped on their next album. I'd love to set you up with an exclusive interview with the band for a piece highlighting the new music video. Do you have a few minutes this week to work out the details?
Thanks,
Derek
My secret to how to get music on blogs? Follow up
Following up on pitches is key. Most people don't do any follow-up — in fact, many give up after the first try. Following up on your initial pitch via email, Twitter or phone, increases your chances of starting a relationship and ultimately getting your music on a blog. Don't be afraid to send multiple follow ups. As long as you don't continue after they've told you not to contact them, you should be fine.
Promote the shared music
Once I get a blogger to promote our video, the gig isn't up. I then spend time sharing that post on social media and using that as leverage when reaching out to other bloggers. "Hi, We were recently featured on xyz.com and would love to do something similar for your blog. Would you be interested?"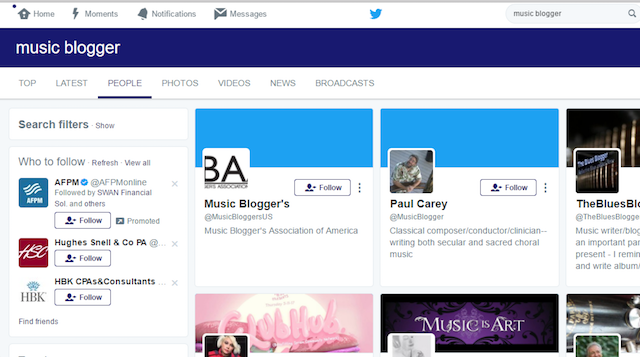 How to get music on blogs — it's easier than you think
Self-promotion is crucial for unknown bands and artists. Blogger outreach is a great way for you to grow your popularity, while also developing genuine relationships with the people who communicate directly with your target audience.
Using the guide above, you can get the ball rolling. Over time, you'll develop a nice inventory of publishers willing to give you a platform to share your voice. Remember, as long as you provide the blogger with value, they'll be willing to work with you. Don't make it a one-way relationship.
Check out our free checklist: 5 ways to get more local gigs
Get our list of things you can do right now to bring your band to the attention of anyone looking for local groups.

Five Ways to Get More Local Customers from GoDaddy