It happens to every freelance web designer eventually. One month you'll be booked solid, and the next you'll be scrounging for projects to keep bills paid and tummies full. You need new clients—stat.
When you're crunched for time, most of the usual advice for getting new clients doesn't apply. Writing blog posts works well for generating leads, but it can take upwards of a few months to start seeing results, and your bills can't wait to be paid. And waiting for referrals to come to you isn't a great option, either—you can't rely on them to come when you need them.
So what can you do to break the slump? How can you pick up one or two (or hopefully many) web design projects right now? Here's a list of battle-tested tactics you should try for getting new web design clients in the next 30 days.
If you're just starting out freelancing, these are also great tactics for getting your first client or two.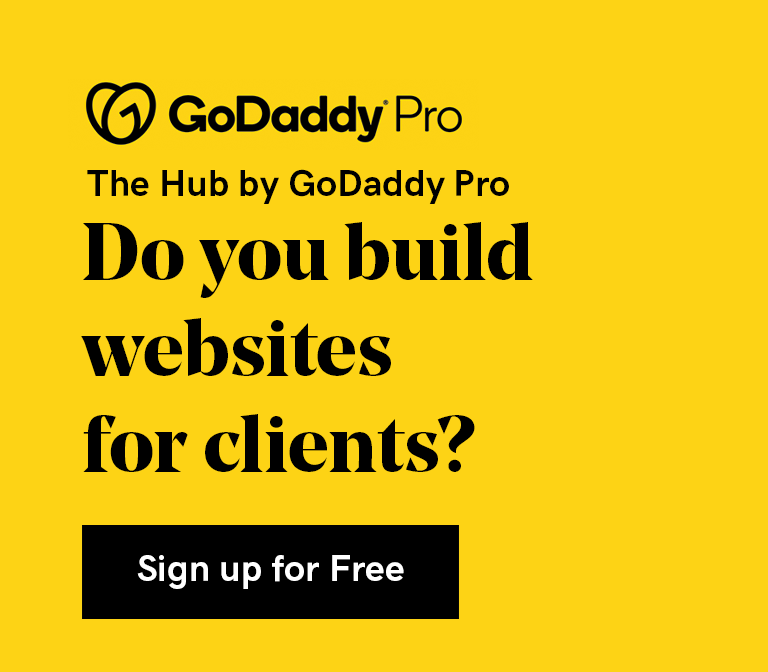 8 tactics for getting web design clients pronto
1. Narrow down your services.
It's easy to feel like the best way to make more money is to offer more services, or a range of different services, especially in the early days of your freelance career.
The problem with this approach? It forces the client to work out which services they need and how those services could benefit their business.
Most clients would prefer to have this decision made for them. They want to know—before they get out their wallets—that your offer will fix their problem.
The trick to getting clients quickly is to make things easy for them. That means offering only one specific service, to one specific ideal client, at one fixed price. Everything becomes easier—you'll get better results from your marketing by excluding everyone who won't find value in your service, and your ideal clients will quickly see why your service is worth the investment.
To get started, pick one service you've offered in the past, that you know is highly valuable to clients. Here are some web design services you could offer:
A short video-based website conversion audit
A case-study creation service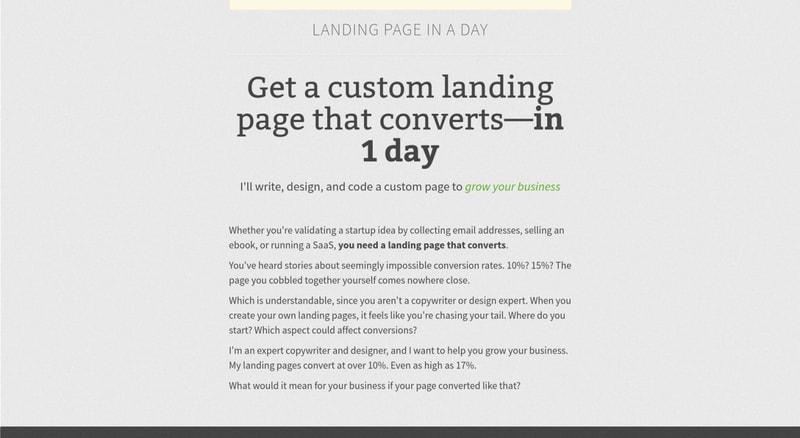 Next, choose one specific type of client business that could benefit from a website audit—even if your service could benefit clients in other verticals, make sure you're starting with just one.
Once you've chosen who to target, you need to set a fixed price for your service. The price should be low enough that your client sees it as an impulse buy—the lower the price and the more niche the service, the faster you'll be able to bring in new clients. Think of it as an opportunity to get your foot in the door—once they've become paying clients, it's much easier to get them to upgrade to higher-ticket services.
There's so much more I could cover here, but here's some more info on how to develop targeted, productized services you can offer as a freelance web designer.
2. Offer value for free.
Shrinking your services even further brings up another great tactic for quickly getting web design clients.
Offering a small piece of your full services as a free lead-generation tool can give clients a taste of the benefit of hiring you, without the financial risk for potential clients, and without requiring you to invest a bunch of time. Offering this service for free where clients already hang out—Facebook groups, email newsletters, and the like—can build your brand and create connections that would otherwise be difficult to find.
Take your core service, and cut out all the fluff—you want something that takes you half an hour or less, and that you're willing to offer for free. Think something like a 5-minute off-the-cuff video audit that lists the three biggest opportunities for increasing conversions.
Once you have your offer, find your potential clients' watering holes—social media is a great place to start. Share your offer with them (you don't even need a landing page at this point), and offer to answer any questions or give advice for free. Your goal here isn't to sell—instead, simply offer to answer questions or provide free advice and you'll quickly be seen as the expert in your service area, at which point clients will be drawn to you like moths to a lamp.
Business coach Luisa Zhou used this exact method to find her first client from Facebook groups:
A woman I'd been helping for free — answering her questions about how to set up a basic advertising campaign — asked me how she could work with me, and when I told her the price — $5,000 for six months (calculated based on my hourly salary) — she said, without missing a beat, "I'm in."

Luisa Zhou
The main downside to this method is that competition can be fierce. There's a good chance you're not the only web designer looking to provide advice. It's not uncommon for business owners looking for feedback and advice to be swamped with offers, but by starting now with free advice before they're looking for help, you'll be the first one they turn to.
One more tip: Go where the clients are, not where your colleagues are. I see so much advice out there telling freelance web designers to join social media groups targeted at other web designers—and while this can be a great way to drum up cross-referrals and partnerships, you want to make sure you're spending time in groups where your ideal clients hang out.
3. Reach out to your network.
As much as we'd like to believe otherwise, friends, family, and colleagues aren't thinking about you and your work nearly as often as you are. Sometimes, personally reaching out to people in your network is all it takes to remind them you're looking for new clients.
Yes, the chances of hitting a bull's-eye and finding a potential client in your direct network can be slim. But the people you already know are often your best source of referrals. You just need to make sure they're thinking of you at the right times.
The people you already know are often your best source of referrals. You just need to make sure they're thinking of you at the right times.
Start by listing out everyone you know that has some presence online—business owners, people you've worked with or met at networking events in the past, and other industry professionals are the people you'll want to target first. You can leave past clients off this list—we'll address how to reach out to them separately below. And you can follow this up with friends, family, and other colleagues later.
Next, draft a short email to each one (don't send a form email!) asking how they're doing and including a few personal details to show you're thinking about them. Your email should also give a short intro about the kind of work you're doing and the type of clients you're seeking to help. And mention that you're open to referrals. You can even include a short script they can copy and paste into an email or a social media post to make it even easier for them to spread the word.
Finally, look for opportunities to give back. Ask if there's any way you can support their work or promote their business—offering to help them out as well increases the likelihood they'll share you with others in their network.
4. Partner with freelancers and other businesses.
Business owners are always on the lookout for ways to improve their online presence—whether that's through web design, SEO, content marketing, copywriting, or other services. One way to quickly collect freelance clients is to reach out to freelancers, agencies, and other established companies who offer related services to the same clients, suggesting you pair up your services with what they're already offering.
This tactic can be a quick win for both you and the company you partner with. You get access to your partner's existing client base for selling your services. Your partner gets to offer your services to their clients to create additional value. You split the profits, and you get exposure to a ready-made audience of clients.
It's best to start out by targeting potential partners in your local market, since meeting face-to-face can quickly build trust. Search Google for local freelancers or agencies serving the same client base, and use a service like Norbert to track down their email addresses.
Once you have their contact details, send these companies an email mentioning you're local to their area and pitching your partnership offer. Focus on what they (and their clients) would get out of the deal: Clients would get better results from a more complete service that includes web design, and the new package would bring in more revenue for both parties.
Most business owners are busy with other work, so if you don't hear back within a few days, send a polite follow-up email asking if there's any interest. Offer to meet up to discuss a potential partnership—and once you come to an agreement, get ready to watch the clients roll in.
5. Upsell existing clients.
Finding clients quickly is all about maximizing the results from your effort. It's exponentially easier to sell to clients who have already seen the value of your work than it is to sell to brand-new clients. If you already have an established client base, your quickest path to more revenue is to create more value for the clients you already have. It may not technically bring in "new" clients, but if you're looking to pick up one or two new projects quickly, this can be a great approach.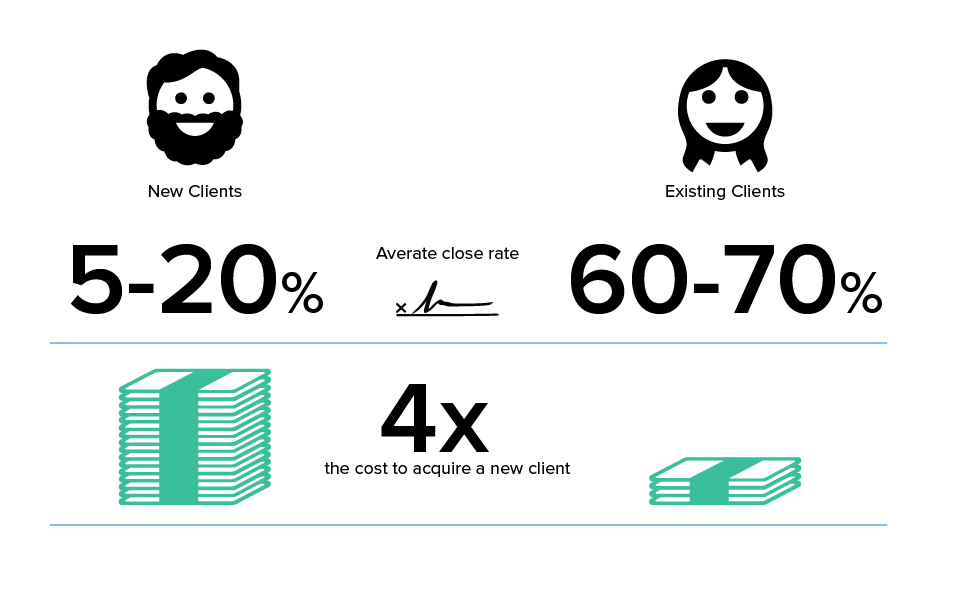 Think of clients you've worked with in the past, and the kind of business problems they're struggling with. Are there ways you can help solve those problems? What services can you pitch that they'd be interested in?
Reach out to those clients via email with specific, targeted advice on how to solve that problem. Don't pitch your services initially; just offer advice and let them know you're available if they want to talk about how to move further. At this point, there's a strong chance they'll simply say "do it," then you'll be off to the races—if not, pitch the value of investing in additional services with you before letting them know the cost.
If you're looking for further reading, check out this great article on upselling existing clients.
6. Ask past clients for referrals.
In addition to current clients, you can also tap your past clients as potential referral sources. Even if your past clients aren't actively looking to hire someone, there's a strong chance they know someone who is. Referrals with a warm introduction will always bring higher-quality projects and clients than those you find on the street (not literally on the street though—that's not a tactic I recommend).
The best time to ask for referrals is right after completing a project. Try using a survey tool like Typeform to create a form asking two simple questions:
Would you refer me to a colleague?
Why or why not?
Just asking whether they would recommend you may spur them to actually do so—happy clients love telling others about the great work you've done for them.
If not, follow up with the people who answer "yes" and make it super easy for them to refer you to others. You can even send a simple script they can copy and paste to send to potential referrals, maximizing the chances of getting a recommendation. This article from HubSpot includes a few email templates you can try.
7. Search industry-specific job boards.
If your web design service is niched down to a specific industry or vertical (which it should be!), there's probably an industry-specific job board dedicated to that industry. Unlike generic service boards like Upwork or Craigslist, industry-specific boards are a great place to find higher-quality clients who understand the value of your services and are willing to invest more for higher-quality work.
Here are a few places to try:
You can also take advantage of job-curation services like SolidGigs or Workshop to deliver freelance jobs right to your inbox, for a monthly fee.
If your niche isn't listed above, try a Google search for "web design jobs [your industry]." You'll no doubt turn up a few good places to start looking. Remember, too, that while many of the listings might be for full-time work, don't be afraid to pitch your services as a freelancer or contractor—many hiring managers will be open to considering the option because it can bring more flexibility for both you and the company.
8. Cold email potential clients.
Last but not least, cold-emailing potential clients can be a great way to quickly drum up some web design business.
Cold-emailing often feels icky at first when you haven't done it, but it doesn't have to. The trick is to focus on the quality of your outreach over the quantity—it's better to approach 10 companies and land one than to approach 100 companies and land none. Your goal with cold emailing isn't to sell—it's simply to start a conversation.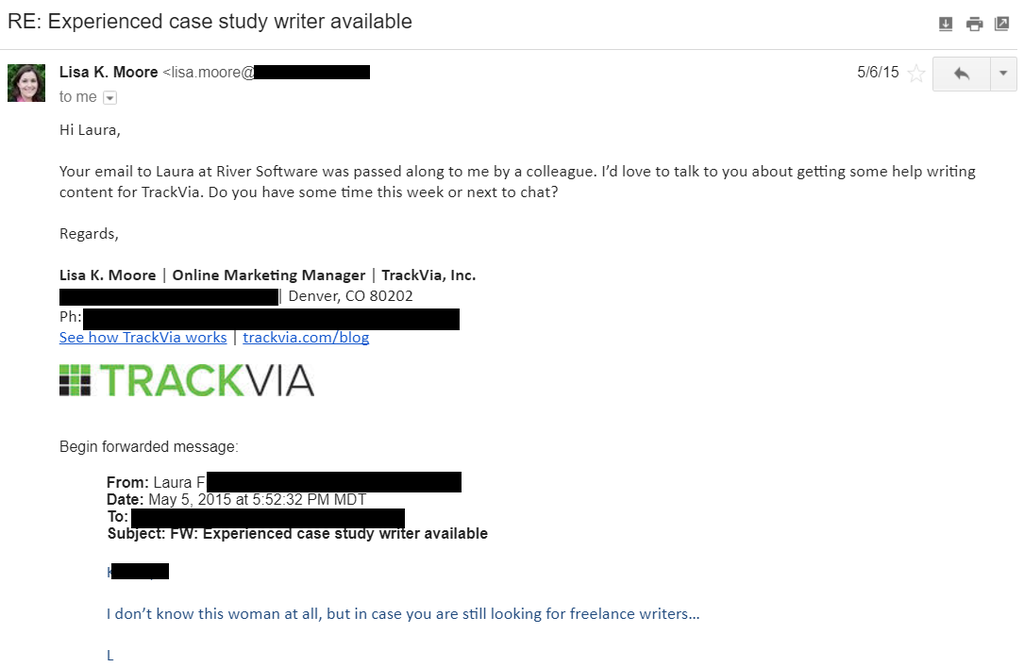 The most successful cold emails always start by providing value before making any requests. Research the company you're targeting—find out what their goals are for their online presence, list any opportunities you see for improvement, and be sure to collect a little background information about the company and the head of marketing (or the relevant point of contact) to show you've done your homework.
Once you have your information, put your cold email together. Include one or two personal details about the company you're targeting to help capture their attention. Explain who you are and how you've helped businesses like theirs in the past (case studies are super helpful here), and share some free advice on how they can improve their online presence. Don't sell your services; instead, offer to jump on a call or send an email with more detailed advice—again, for free.
Finally, make sure you follow up. Most business owners are busy, and if you don't receive a reply straight away, it's much more likely that they've simply forgotten than that they're ignoring you. Wait a few days, then send a succinct and polite follow-up email asking if they're interested in your advice. If they don't reply to your follow-up email, it might be time to move on to other potential leads.
To get a head start, check out this article from Ryan Robinson for some great advice and free templates to use for your cold emails.
Don't rely on these tactics alone
While these strategies for generating new web design leads might work well in the short term, they may not be sustainable for the long term for your business.
A slow period of client work can be a great opportunity to invest in your own marketing and business growth. By balancing your time between short-term and long-term lead-generation tactics, you'll slowly notice your client funnel stays consistently full, and the slumps will come less often.
But for those times when you just need some dollars in the piggy bank, these tactics are a great start.
Header photo by bradley on Unsplash