Whatever your niche or specialty, selling your stuff on Amazon will give you the chance to reach a wider audience of keen shoppers. And Amazon Advertising can help increase that reach.
Setting up an account and creating an inventory is pretty simple, and with the right approach, you'll enjoy a serious return on investment.
As rewarding as Amazon may be for budding business owners (just like you), it is the world's most popular ecommerce platform. Yes, it's a saturated space. But armed with the right Amazon advertising strategy, you can cut through the noise.
Interested? We bet you are. To help you on your quest for ecommerce sales success, here we're going to look at how to develop a sustainable Amazon advertising strategy to push you ahead of the pack.
Let's dive in.
What is Amazon Advertising?
Good question. Essentially, Amazon Advertising (formally known as Amazon Marketing Services) is a paid advertising platform that works in a similar way to Google's pay-per-click offering.
And Amazon is a great place to get your ads seen, with over 53% of US households having an Amazon Prime membership.
There are different types of Amazon Ads you can use to your brand-boosting advantage. We'll go into depth later in this guide, but as a brief overview:
Sponsored ads
Sponsored Amazon ads are listings that appear as, shall we say, standard ranking on a search results page on the site.
These usually appear near the top of a search results page, and you can set these ads up using a pay-per-click model.
Display ads
Display ads are a little more dynamic and are usually displayed as an eye-catching banner that stretches across the top, middle or bottom of an Amazon search results page.
Video ads
Video ads are pretty potent for marketing as you can bring your product's selling points to life with a short, snappy story that hooks the viewer and helps them connect with your brand on an emotional level. Bonus.
Benefits of using Amazon Advertising
Now that you're up to speed with the different types of Amazon ads, let's take a look at the benefit of developing the right strategy for your business.
Running Amazon ads can boost your business in a number of ways—including:
It's easy to use: Yes, with a solid knowledge base, an intuitive interface, and a bunch of interactive features, learning the Amazon Advertising ropes is pretty painless. And, you don't have to be a techie to create effective ad campaigns using the platform.
It's programmatic: That's right. As Amazon ads are programmatic, the platform will serve your content to the right people at the right time in their journey for the best possible results. All you have to do is create compelling content and punch in your parameters. Simple.
It's available in multiple formats: As we mentioned moments ago, there are several different types of Amazon ads. So, you've so many brand-boosting content options to play with here. In turn, you'll reach a wider audience of engaged online shoppers.
It's full of warm leads: As anyone on Amazon is already primed (excuse the pun) to shop, they're likely to be highly responsive to your advertising adverts. All you have to do is twist their arm a little.
It has real-time analytics: Yes, Amazon is equipped with real-time analytics so you can measure your performance and gain the kind of insights you need to keep improving your content for the best possible return on investment (ROI).
Drawbacks of advertising on Amazon
While having a water-tight Amazon advertising strategy comes with a treasure trove of benefits, there are some potential drawbacks you should know about. Let's take a quick look.
Extreme competition: Like any effective marketing platform or marketplace, Amazon is incredibly saturated. Across every imaginable category imaginable, the competition is fierce. So, cutting through the digital noise is essential—and to do that, you have to be consistent, persistent, and ultra-creative.
Time. Time. Time: While it's easy to get started with Amazon Ads, continually running effective campaigns is a time-consuming process. So, to get the most from your Amazon advertising strategy without letting other essential aspects of your business fall by the wayside, managing your time effectively is a must.
ROI not guaranteed: As Amazon is such a well-trodden (and wildly popular) platform, without a cohesive strategy, effective ad copy, well-crafted landing pages, and knowing your audience properly, potential shoppers will run into the virtual arms of your competitors (there are plenty of them, after all).
Types of Amazon Ads
We touched on the different types of Amazon ads earlier—now we're going to dig a little deeper to give you a little more context on how you can use each format to your business-boosting advantage. We'll start our Amazon Ads examples with assets of the 'sponsored' variety.
Sponsored branded ads in shopping results
Sponsored branded Amazon ads are a brilliant way of boosting awareness and grabbing your customers' attention when they're most likely to engage.
Top tips:
For the best results, feature your top three performing products in your ad
Weave your product's main benefit or USP into the headline
Test both your storefront page and a specific landing page when directing customers within in your ads to see which approach performs best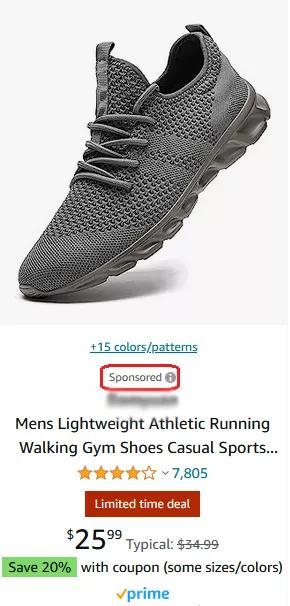 Sponsored product ads
Sponsored product ads allow you to promote a specific product or product listings using a cost-per-click (CPC) model. These ads prove especially effective during wider product campaigns (when you're promoting a new range, for example).
Top tips
Identify your worst converting keywords and add them to your negative keywords list
When you have campaigns with manual targeting, use Bid+ to increase your default bid by 50% and make the whole process less laborious
Sponsored display ads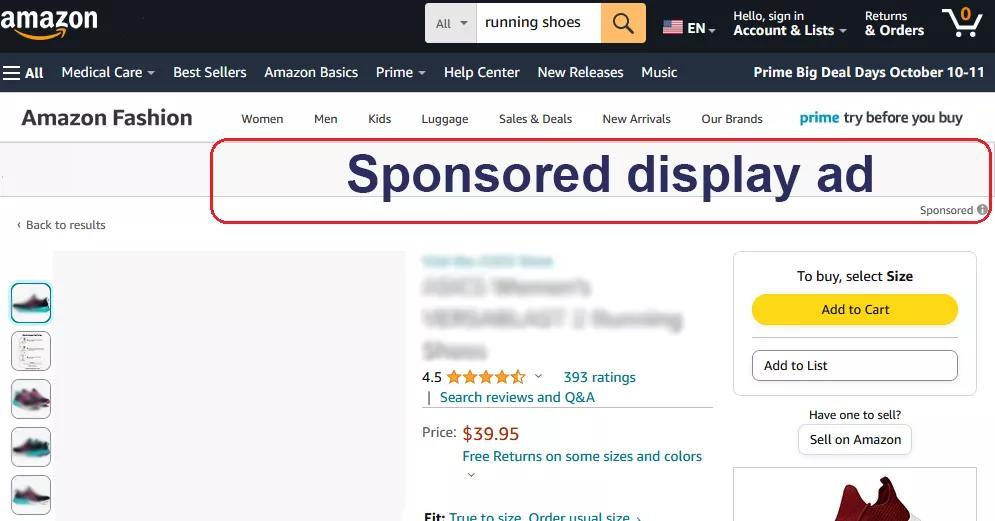 These types of Amazon ads will display your services or products for relevant customer searches both on Amazon and on platforms outside Amazon.
Top tips
Cross-sell and upsell your products by having your ads displayed on competitor pages
Use the platform's product-targeting features for specific categories
Amazon DSP Ads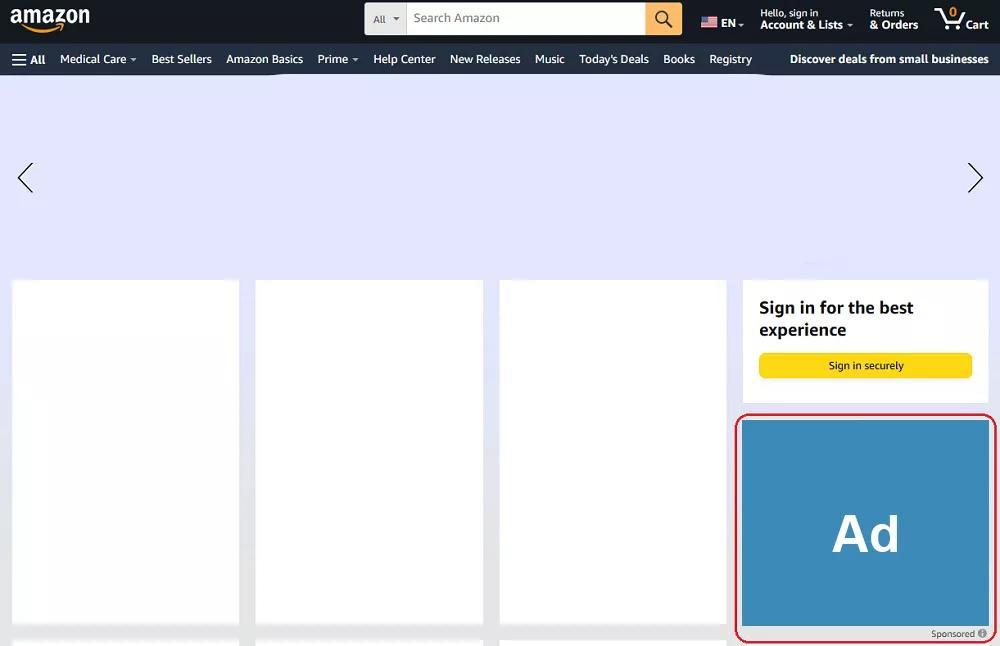 Amazon DSP (Demand Side Platform) ads give you the option to buy and create audio, display, and video-based advertisements on Amazon (or Amazon's partner platforms) to diversify your promotions and reach a wider audience.
Top tips
Add your logo to your DSP ads to increase brand awareness and recall
Optimize and customize your ad's landing pages to align with your ad's content as well as objectives to improve conversions
Amazon Live real-time videos

This exciting and dynamic type of Amazon ad, Amazon Live, allows you to connect with engaged shoppers using an interactive live-streaming format.
Top tips
Live stream for at least 60 minutes for maximum awareness and engagement
Respond to any customer conversations, comments, and queries within your live feed
Include an exclusive live-only product promotion to incentivize your audience to interact
Amazon audio ads
Adding audio ads to your Amazon advertising strategy will grab the attention of your target users during the working week, resulting in better brand awareness, and, ultimately, more sales.
Top tips
Use high-quality audio snippets that are balanced, professional, and well-mixed
Include a relevant ad banner to inspire customers to interact with your audio ads
Amazon post ads
Amazon post ads are an excellent way to build trust and showcase authority in your niche. Sponsored blog-style posts will inspire and educate, resulting in higher conversion rates.
Top tips
Create a content schedule to ensure you post quality content consistently and boost your return on investment (ROI)
Repurpose existing content from existing Amazon ads and your social media pages to streamline the creation process and keep everything consistent
Amazon Stores
Adding Stores to your Amazon strategy will empower you to showcase your best products while giving your audience a full engaging shopping experience.
Top tips
Showcase your top-performing products alongside new additions to your range to increase visibility and improve engagement
Create clear-cut product categories within your Stores' navigation bar to improve the shopping experience and potentially increase conversions
Amazon video ads
Running Amazon video ads can reach shoppers by serving them a visual introduction to your brand and ads when they're most likely to interact.
Top tips
Create an exciting visual introduction that grabs attention in the first few seconds
Optimize your ads for when there is no sound. Focus on captivating visual footage as well as slick text-based captions (this will also make your content more accessible)
Consider Return on Ad Spend (RoAS)
When you're running Amazon Ads, paying close attention to your return on potential ad spend (RoAS) is essential.
The fate of your entire Amazon Advertising strategy hangs on getting the very best returns for all of the promotional content you create using the platform. Here are a couple of hints to help you do just that.
Product categories with the best RoAS
Some markets are more competitive than others. Considering your RoAS will help you discover what is working, what's not, and where you might need to improve your strategic efforts.
Without a doubt, working with product categories proven to offer a consistently healthy RoAS will help you hone in on the right audience and boost your overall RoAS.
Here are the top 10 product categories for RoAS according to Amazon:
Musical Instruments
Appliances
Office Products
Video Games
Arts, Crafts & Sewing
Cell Phones & Accessories
Electronics
Books
Patio, Lawn & Garden
Industrial & Scientific
Competitive categories with the lowest RoAS
On the flip side, knowing which ultra-competitive categories generally offer the lowest RoAS is a good idea.
If you're looking to establish yourself in one of the following niches, focusing on less saturated product categories that offer a higher RoAS first will give you a chance to build your brand reputation.
Here are the 10 categories with the lowest RoAS:
Health & Household
Home & Kitchen
Beauty & Personal Care
Office Products
Clothing, Shoes & Jewelry
Grocery & Gourmet Food
Kitchen & Dining
Pet Supplies
Sports & Outdoors
Books
Map out your Amazon advertising strategy
Now it's time to get strategic. By having a clear Amazon Advertising strategy, you'll know exactly what you're trying to achieve while gaining the ability to set actionable benchmarks.
Setting the right foundations will ensure you can keep on improving, create the perfect assets when running Amazon Ads, and earn the best possible RoAS for your efforts.
Let's dig a little deeper.
Determine your goals
First of all, you need to set out actionable goals for your Amazon Advertising strategy. Without establishing your specific aims, you're merely shooting in the dark. And, when you're shooting in the dark, you'll never get the results you deserve.
Your Amazon Advertising aims should feed into your core business goals. So, consider your key performance indicators (KPIs) and set out your goals accordingly.
Do you want to increase traffic to your store? Are you looking to bring your CPC down? Or, do you want to boost sales for a certain category? The choice is yours. The point here is to give your ad strategy a definitive direction from the start.
If you're a little stuck for inspiration, this little infographic from Amazon will help you on your way: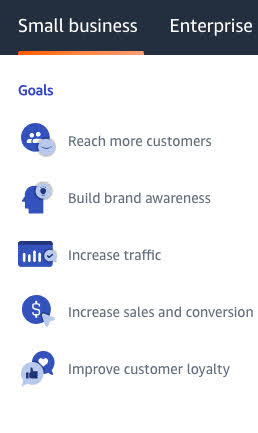 Create compelling landing pages
With your goals firmly in place, you should start thinking about your advertising assets (images, graphics, videos, copy, etc.)—chiefly your landing pages.
When running Amazon Ads, getting your landing pages right is essential as they're where you're going to direct your customers once they click through.
That said, your landing pages should:
Be an extension of your adverts
Be compelling and visually striking
Be detailed and informational
Be visually striking
Expand on your product's USPs
Have a strong call-to-action (CTA)
Whether your landing page is your storefront, a category page or a specific product page, you should make sure it complements your ad for the best possible conversion rates.
Take a look at our essential guide to selling on Amazon for essential tips on creating compelling landing pages that get results.
Analyze results and test everything
Last but certainly not least, to ensure your Amazon Advertising strategy is water-tight, you need to get analytical.
When you're running Amazon Ads of any variety, tracking and measuring your performance will give you the insight you need to understand what's working and what needs improvement. That way, you can evolve your strategy for ongoing success.
Fortunately, Amazon Ads boasts a built-in analytics platform (Amazon Attribution)—and it's pretty good. Using the Amazon Ads' analytical insights, you can gain a panoramic view of these key metrics:
Clicks and click-through rate (CTR)
Engagements
Impressions
Page views
Cart ads
Sales
Overall RoAS
In addition to tracking these essential metrics to dive deeper into your ad performance, you can also play around with elements including:
Ad formats
Visuals
Text, copy, and CTAs
Landing pages and product listings
Negative keywords
The products you advertise
Target audience
Offers and pricing
Here you have everything at your fingertips to create compelling ads that boost brand awareness and increase sales. Weave analytics into your Amazon Ads strategy, and you'll be primed (we did it again!) for success every step of the way.
Amazon Advertising: Final thoughts
We've looked at Amazon advertising examples, weighed up the pros and cons, and explored a mix of strategic tips.
By pinpointing your exact goals and taking the time to learn the Amazon Ads essentials, you'll be able to cut through the noise and earn a steady stream of sales from this most popular of ecommerce platforms.
We hope this guide helps you on your journey, and to get to grips with the platform, take a look at Amazon's dedicated learning console.
Check out our comprehensive beginner's guide to Amazon for insider advice and practical tips fresh from GoDaddy HQ.