Once you get into a steady rhythm of site-building gigs, it's a good idea to look for other sources of recurring revenue. In fact, one sits right under your nose. You might be hosting those sites on your clients' plans or even shopping providers for them, but have you ever considered hosting websites for clients on your own hardware?
Imagine paying around $60 per month for a server plan. If you put eight websites on it and charge those clients $20 every month for hosting, you've now got a revenue stream worth $100 each month.
Doubtless, this venture can be lucrative — one filled with trials, tribulations and nice rewards. We're talking about a rewarding experience filled with the satisfaction of hosting either a niche group of clients or a broad range of clientele. You choose your own adventure here.
But where do you begin? How does one get started on the road to self-employment as a hosting provider? Glad you asked.
Types of hosting
Sure, you can provide hosting via a shared environment. But your best experience will be in a private setup, that of a server. You have both a VPS or dedicated environment to choose from.
Most people, especially those just starting out, go the VPS route.
The reasoning behind this is that you not only get the benefits of lower cost — as dedicated servers are more expensive than VPS — but you also get the benefits of backups and free Installatron.
Installatron is an application manager that aids in setting up and managing a large range of hosting applications.
The other primary reason for going the server route is security. You can partition out each client into their own cPanel account, which adds a layer of security. Yes, you can go with a Windows server, but this article will refer to WHM (WebHost Manager)/cPanel for the duration, as most hosting providers offer Linux.
The advantages of hosting websites for clients
As your own hosting provider, you can diversify your set of offerings, things like different hosting tiers at varying costs, storage options, and more. In providing a hosting service, you can generate monthly residual income for years to come by offering hosting fees.
You can also up-sell and cross-sell products, like website security and SSL certificates. With SSL, you can provide either a paid SSL, go the free route or, if you prefer to know things are running smoothly, opt for a managed SSL service.
You will first find and purchase a VPS plan that can scale to your needs. Then you can set up a fee schedule for your clients that will, based on the number of clients you have, often pay for the initial cost of the server in just a few months or less.
Your best option is to pay for the server for at least one year up front. That is where you'll save money, rather than going month-to-month.
The drawbacks of hosting websites for clients
It's not all peaches and cream. It is a bit of work. But that work can really pay off in the end. Server management is like any other type of management: one-part hard work, one-part organization, and one-part customer service.
Put that all together and you've got a real job ahead of you.
First off, you'll want to have some server experience or how-to guides under your belt. It's not terribly difficult, but it takes time to learn the ropes. Knowing how to create cPanel accounts, understanding how to suspend accounts (for customers who fail to pay on time), how to install an SSL, and a few security tricks (like proper permissions) can go a long way.
GoDaddy offers expert services that are ala carte charges for the above-mentioned tasks. You might also even consider looking into a Fully Managed server (FMS). With those, GoDaddy server admins help you look after your server. FMS sales need to be qualified first to make sure this is the right fit for your needs. But most people end up qualifying just fine.
Second, you will need to be organized. You must be able to manage customers and site content alike. Things like billing, site maintenance, and security are critical to your success.
Third, you are the face of your hosting company. Your customers will be looking to you for assistance, troubleshooting, and more. If there is a billing discrepancy, you are the one to tackle the issue.
If a site gets compromised, you're responsible for resolving the threat.
Ultimately, it is up to you to nurture your client base. But, as it sometimes happens, you will inevitably run into a client that wants to go elsewhere. How do you give back their website?
The first thing you'll want to do is to settle financials, then you can simply zip up their content and database, then send them their files — after you've collected that final paycheck, of course — and move on.
How to provision your server to handle multiple clients
The best advice a long-time server admin like myself can offer is to set up individual cPanel accounts on the VPS. Create a cPanel account for each individual customer. Never put all your sites into a single cPanel account.
If one site gets compromised, they can all be compromised and then you're stuck with a lot of downed sites and unhappy customers.
The first thing you can do is set up a Package in the Package Manager, where you can denote certain features. These include disk quota, bandwidth, and much more. From WHM, in the top right search field, type "Package" then select Add a Package. On this page, you will name your package and you will see a list of options to customize it.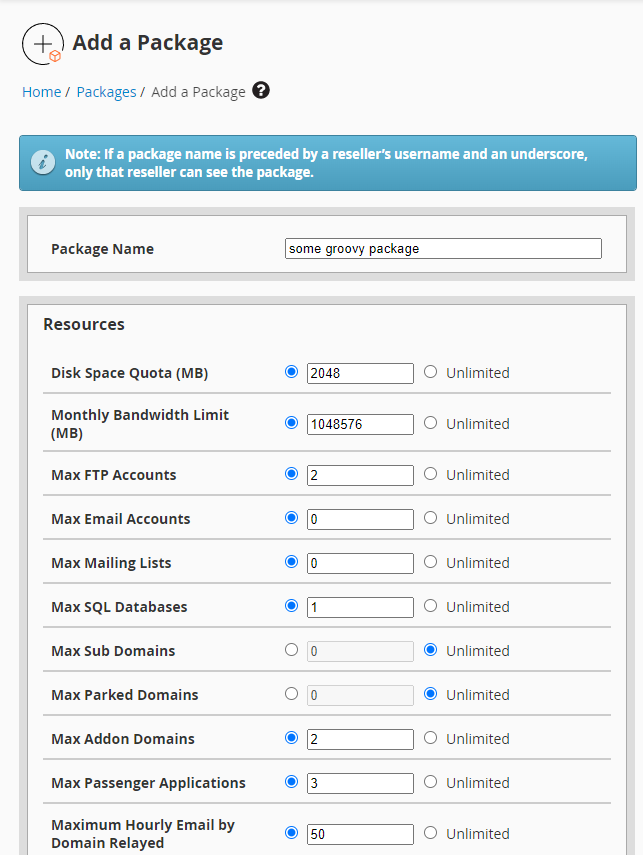 It is always best not to provide email on the server. Instead, sell a third-party email service, like Office 365. Allowing email on your server is a sure-fire way to give you a headache and max out storage on your server in no time.
It's also one more security hassle to deal with.
The next thing you'll want to do is set up a cPanel account on the server for a domain. From WHM, in the top right search field, type "Create" then select Create New Account. On this page, you will need to fill out the fields shown below and select Create.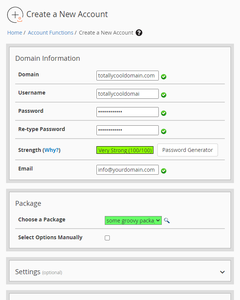 Once you select the Create button, you would then use WHM's search feature and search for List Accounts. This takes you to the list of all cPanel accounts on the server. Select the orange cP logo to the right of the domain and you will be taken to that account.
You can then either upload your local site files through File Manager, in cPanel, or via an FTP client (like FileZilla). If you're creating a WordPress or other site you can also utilize the power of Installatron, in cPanel.
With Installatron you can create all the necessary files and even a default admin user for the site with just a few clicks. This saves you loads of time in comparison to manually installing an application.
Additional resources to help your budding enterprise
Remember the little equation we did at the beginning of this post? Well, when you sign up for GoDaddy Pro, it includes a 30% discount on all GoDaddy products — further boosting your profit margin.
You'll also benefit from the GoDaddy Pro Community, where you can post server-related questions or anything else to help your business.
Finally, you get access to The Hub by GoDaddy Pro, a platform that lets you manage multiple websites with a single login as well as handle key areas of your business. It doesn't cost anything to sign up for GoDaddy Pro, making it a painless experiment if you're just testing the waters at this point.
Closing thoughts on hosting websites for clients
With the unfamiliar comes fear. But you can do this. After all, there is nothing to fear but fear itself. Once you get rolling, you'll be glad you began this adventure and will soon reap the benefits therein. Now go get em!