If you're already a designer or developer, polishing your skill set and enhancing your knowledge of search engine optimization (SEO), can set you apart from your competition and net you a whole other source of income as a freelancer.
If you're ready to take charge of your career, do work you love and help businesses succeed, then becoming an SEO freelancer could be your dream job. Learning how to become an SEO freelancer isn't a quick and easy process, but it's achievable for anyone with a little determination and time.
This article will introduce you to the life of the freelancer and seven basic steps to help you launch a rewarding and exciting career in SEO. From tips for honing your skills to strategies for finding clients, here's what you should know about pursuing SEO freelance opportunities.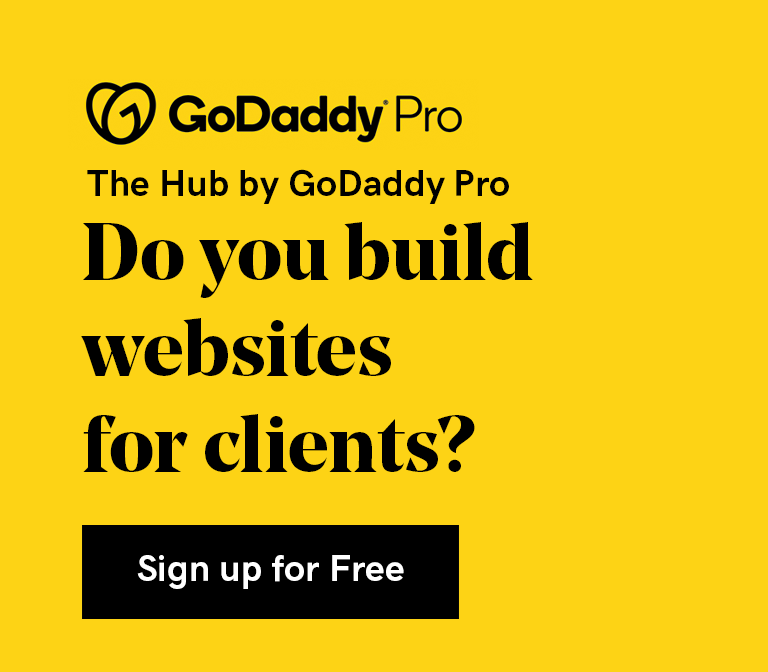 Manage client sites with The Hub by GoDaddy Pro
Once your SEO freelancing gig takes off, you'll be juggling multiple clients. The Hub by GoDaddy Pro will make your life easier by letting you house and manage all of your clients' sites in one place. You'll stay organized, on track and engaged with useful features like invoicing, traffic monitoring, project timelines and to-do lists. As a Pro user, you'll have access to prioritized 24/7 support and a like-minded community of web professionals.
What does an SEO freelancer do?
An SEO freelancer helps drive the process of either creating or enhancing a website's existing content to help users more easily find what they're looking for, optimizing it for search engines. As an SEO freelancer, your goal is to organize and/or write content so it ranks high up on the list of search results when relevant topics are queried. This will increase a page's visibility, driving traffic to it and the client's website. While this may sound simple enough, an excellent SEO freelancer performs many complex tasks, including:

Keyword research

: As an SEO freelancer, you need to understand what phrases or terms users are searching that will lead them to the content you write. You then need to understand how to strategically incorporate these terms throughout your content so it's ranked higher than competitor content in search results. This means regularly conducting keyword research and staying up-to-date with search engine ranking guidelines.

Competitive analysis

: Analyzing high-ranking competitors' content and comparing it to yours will help you understand what your content is ranking for and how your content is performing with regard to your competition. You can gain strategic insights by analyzing content that's ranking well. Competitive analysis will also help you identify gaps in content rankings, so you can use strategic keywords to fill the gaps and make your content more visible.

Project management

: Basic project management skills are important in your role as an SEO freelancer, especially if you're juggling multiple clients. Pitching content ideas, planning project timelines and strategies, knowing what to prioritize and following through on your promises are key to being an effective SEO freelancer who consistently delivers a positive client experience.

Client consultations

: Each project should start and end with client consultations. They're essential for understanding the client's needs, brand, voice, products, services, selling points and what they want to promote. They're also your chance to set client expectations and explain your process, as well as ensure the client is satisfied with the results.

Understanding of industry trends

: Search engines regularly update and change how search results are ranked. To excel at SEO freelancing, you'll need to monitor industry changes so you can follow best practices in real time.

On-page SEO

: Understanding on-site or on-page optimization strategies that make content rank higher is key to success as an SEO freelancer. These include the strategic use of keywords, internal and (reliable) external links to establish authority, relevant data and engaging content structures, making proper use of headers and subheaders (H1, H2, H3, etc.).
Is freelance SEO right for you?
If you're debating whether the freelance SEO path is right for you, there are several things to consider. While it's a rewarding and stimulating career path, it also requires dedication. With Google algorithms changing at least once a year, becoming an SEO freelancer means committing to continuous learning and improvement.
You also need to grasp new subjects quickly, as working with clients from a variety of fields means learning about a multitude of industries, services and products. No two projects will ever be exactly the same, which means your days won't be either. You'll need to be quick on your feet and adapt to new processes, while maintaining an exemplary quality of work. Reading this article can help you understand what to expect as an SEO freelancer and, if you decide it's the right path for you, what you'll need to successfully launch your career.
Become a freelance SEO in 7 steps
Becoming a freelance SEO professional takes time, but the process can be broken down into several steps. From expanding your skillset to establishing your business's pricing models, the following steps will help you get your freelancing business going.
1. Brush up on your SEO skills
Start your freelance journey by trying to become as SEO-proficient as possible. Research the concept of SEO and familiarize yourself with current best practices. Take online SEO courses and earn certifications that both build your practical knowledge and enhance your resume. Sign up for industry newsletters, and consume media released by SEO experts, including webinars, videos and blogs – or even by following SEO professionals on social media. You can even practice on your own website, which will be explained in more detail below.
2. Create a personal website
Once you've honed your SEO knowledge and skills, it's time to build and manage your own website. If you don't have one already, get some domain name ideas using our tool and create a website using WordPress, which is a free, user-friendly and comprehensive open-source content management platform. Having your own website allows you to promote your services and show off your resume or portfolio. It also lets potential clients find and contact you
Your website is also the perfect place to practice and display your SEO prowess. Post samples of your SEO content on your website. If using content from past clients, get permission from them first. It will give prospective clients a look at the work they can expect from you. Well-formatted and SEO-effective content will give them confidence in your abilities.
3. Update your resume and portfolio
Your resume and portfolio will help establish your credibility and authority as an SEO freelancer, demonstrating why clients should trust you for their SEO needs. Before posting them on your website, review and improve them so they accurately reflect your expertise. Add any relevant certifications or course certificates to your resume, and highlight SEO-related work experience.
For your portfolio, include basic information like your name, contact information and current or previous clients. Then, showcase the work that you're most proud of that demonstrates a range of SEO applications, like effective keyword usage and link-building to drive click-through traffic. Include data that highlights the efficacy of your approaches, such as performance metrics showing increased traffic, engagement or visibility.
Since you're just starting out, you might not have established clients or garnered paid freelance work just yet. In this case, create samples of different types of optimized content to showcase your skills. You could also offer a free consultation for prospective clients, where you pinpoint weak spots in one small piece of their content or website and explain how you would improve it. This consultation allows you to demonstrate your knowledge and your ability to apply it to the real-world challenges prospective clients are facing.
4. Dedicate time to thought leadership
Establishing yourself as a thought leader can be invaluable to getting your business off the ground. Write your own thought pieces about the SEO industry's trends or problems and reach out to well-known SEO professionals or blogs about guest writing opportunities. Attend and speak at SEO conferences and leadership events, and actively participate in educational summits and seminars. These efforts can help get your name out there, sharpen your skills, establish you as an expert for potential clients and help you build valuable relationships with other professionals.
5. Reach out to your existing network, while also making new connections
As your SEO freelancing career gets started, lean on your current network connections, which may include mentors, instructors and former colleagues or clients. They may be able to direct some clients your way to help you get started. At the very least, they could provide valuable references or reviews.
While reaching out to your current contacts is important, it's just as essential to begin building new ones. Staying active and visible in the SEO community will help you make new connections, attract new clients, gain recognition and establish your place in the industry.
6. Consider your pricing strategy
The question of, "How do I become an SEO freelancer?" is frequently followed by "How do I price my services?" You'll need to have this figured out before taking on clients. When setting prices, remember that you'll need to cover both your business and living expenses, so create a detailed budget to help guide you.
Once you've got your budget laid out, there are several pricing models you can use:

Hourly

Per-project

Monthly retainer



Hourly rates help ensure you get paid for all the time you put into a project, while per-project rates are ideal for high-value projects that won't take long to complete. If you have ongoing clients who want to be prioritized, use monthly retainers. You can also combine these pricing models to suit different projects or clients.
According to a survey done by Ahrefs in 2018, the average SEO hourly rate was $75 to $150. The average per-project rate was $500 to $1,000 (with scalability for project complexity and size), with monthly retainers falling in the same range.
7. Build your SEO toolkit
To become an effective SEO freelancer, you must acquire and become familiar with the tools needed for the job. These tools are used to gain keyword insights, monitor site and content performance, analyze competitor content, audit sites and analyze backlinks, among other tasks. You may also want to use project management or time tracking tools to stay organized and adhere to project timelines.
The Hub by GoDaddy Pro offers various project management, timeline and time tracking features. Utilizing some of the following tools can also help you better optimize your clients' sites for search, or to help you to create effective freelance SEO content:

How to get SEO freelance to work
You've honed your skills, begun networking, created a website with an impressive resume and portfolio, figured out your pricing and acquired the necessary tools. Now it's time to find clients. Start by reaching out to existing connections, as mentioned above. Promote your services on social media by posting in relevant groups or taking out advertisements on those platforms.
Freelance job sites are another option. They allow you to bid on a variety of SEO freelance jobs you like, so you work only on items that interest you or match your skill set. Freelance job sites can be a great place to start if you don't yet have many connections or clients, as they can help you find paid work experience that will bolster your resume and portfolio.
Begin your freelance SEO career today
While it can be a very rewarding career path, becoming a freelance SEO professional isn't the right move for everyone. It's an ever-changing and evolving role, so you'll need to continuously learn and adapt. If you want to launch your SEO freelancing career, start by building a solid foundation of knowledge and credentials, then establish your website, portfolio, resume and pricing model while building your industry presence and connections.
Just as tools like Google Analytics and SEMrush are crucial to effective SEO freelancing, The Hub by GoDaddy Pro will support your success by allowing you to manage your website and your clients' SEO websites from one convenient location. Plus, features like 24/7 prioritized support, project management tools, invoicing and monitoring will help you stay on track and organized.