Unfortunately for parties on both sides of the equation, the customer is not always right. However, rather than creating a confrontational environment (which isn't conducive to success), the key is to make sure the customer remains happy with small business customer support.
Having solid small business customer support in place is vital.
In fact, it's as key as your sales funnel for transitioning customers to become purchasers again. Think of it as your customer support funnel, and you're part of the way there.
With the above in mind, this post will initially look at whether your current approach needs revising, then going into how you should tackle it. Let's get started!
How you should position your business with the customer
It's fair to say that the traditional relationship between customer and business has been decidedly one way. Usually, the business provides the product, the customer purchases it and — unless there's a manufacturing fault — that's the end of the deal. However, there's a new approach that has slowly come to fruition over the past decade or two. We outlined this customer-driven marketing approach previously — whenever you're up for some more reading.
To summarize, your entire business should be centered around the customer, although it's the support element we're focusing on in this piece.
This doesn't mean to submit to the customer's every whim.
But it does mean tailoring your approach, sales funnel and other elements into a package that appeals to your customer base. In a nutshell, if you're thinking about whether your current approach to small business customer support could be better, you might need to create a structure that's more productive, efficient and effective.
3 simple steps to create productive small business customer support
We're going to take a look at three steps you can take to develop a productive small business customer support structure:
Identify business needs and build out the team.

Provide backup to ground-level support with supporting team members.

Offer opportunities for growth in your team.
Let's dive in!
1. Identify business needs and build out the team
Naturally, you won't be able to deliver anything without first working out what it is you're looking to achieve with your small business customer support. What's more, you also need to find the right team members to fulfil the roles you're considering before pressing forward.
This step is vital, mainly because you want to ensure a low turnover of staff on your small business customer support team (as we'll discuss later).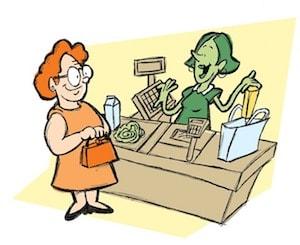 To do this, consider your business at its most basic level — i.e., what you sell. Next, look at how you currently receive support queries, and seek patterns in the results. For example, if you're an eCommerce business, you'll likely find the majority of your tickets are submitted via email. However, a brick-and-mortar store might find the sales registers receive a lot of face-to-face queries.
You'll then need to look at how your support funnel is structured and who is suitable for each role. Taking the brick-and-mortar store as an example, it might be good to create two tiers of small business customer support. First, a dedicated customer service representative who can deflect queries away from the cash registers, then a supervisor on hand to deal with any escalated queries.
2. Provide backup to ground-level support with supporting team members
It's escalation we want to look at next. Despite your best efforts, your foundational small business customer support team won't be able to handle every query, so it pays to have second-line support in place to provide backup.
This is a good idea for several reasons. One, it ensures your frontline team doesn't deal with every query. Also, depending on your structure and your team's skill set, it enables them to delegate advanced, difficult, or otherwise complex small business customer support issues to someone with suitable expertise.
As you may imagine, appointing these team members relies on certain key characteristics. These include:
Strong communication skills
Empathy
Calm and likeable approach
Professional attitude
In short, you'll want those with great people skills and a customer-focused mindset.
3. Offer opportunities for growth in your team
In the first step, we briefly discussed the need for low team turnover. This is because a settled and focused team will hopefully pull together towards a common goal — the best possible small business customer support.
In some cases, depending on your business, your team will need to forge ongoing relationships with your customer base — another reason to keep your team intact.
First, consider what opportunities team members have to grow and progress within your business. It might seem counterintuitive to keep turnover low by providing growth opportunities. But in practice, you'll have a more sustainable and scalable support structure. In addition, your longer-serving team members will be able to provide mentorship to the new recruits, creating solidity across the whole business structure.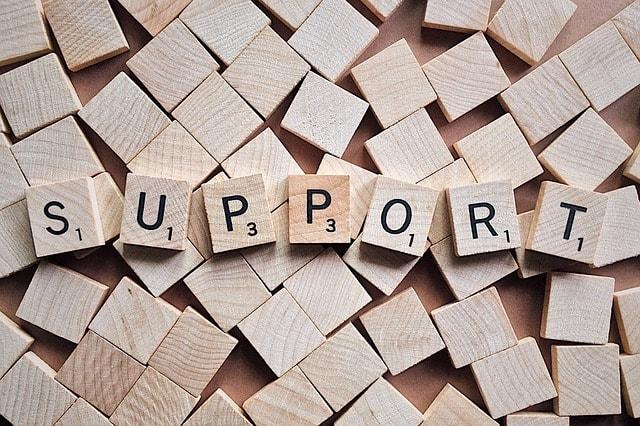 Of course, competent management of your small business customer support is important here. As such your managers will need to be well-drilled in how to motivate and communicate with your team, set goals, and hire the right team in the first place.
If it's not clear by now, we'll reiterate — productive small business customer support is a job for the whole team, not just one or two in the organization.
Conclusion
Small business customer support is one of the primary considerations you should make, regardless of your current position in the marketplace. As such, making it as organized, efficient, and successful as your sales funnel is key for a high conversion and retention rate.
This post looked at three steps for creating a productive small business customer support team. Let's recap the steps:
Identify your business's goals and needs, and create the structure you need to meet them.
Appoint team members to offer backup to your core support team.
Developing growth opportunities for your team helps to retain them — low turnover is your friend when it comes to customer support provision.
With those steps in mind, you'll be well on your way to offering support that builds loyalty among your existing customer base and helps to bring new customers in the door!